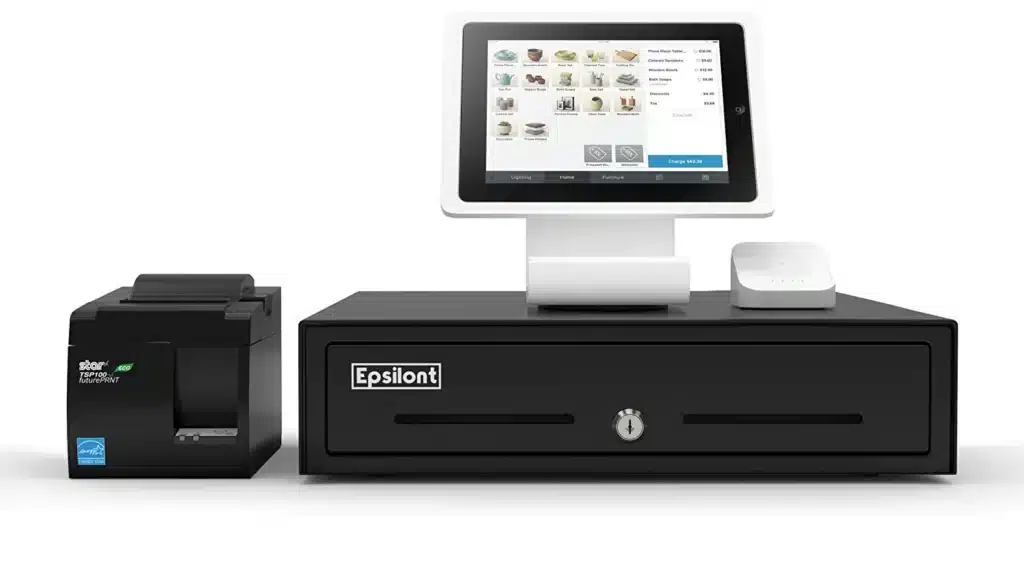 ---
When you run a small retail business with a limited budget, you don't have the luxury of winging it. You need the right tools for the job, and one of the most important ones is your point of sale system (POS). But with so many different options out there, it can be hard to choose.
One popular option is Square – and for good reason. It has a lot to offer businesses in terms of convenience, integration, and scalability. But all good things come with limitations, and that's true for Square, too.
In this blog post, we'll take a deeper look at what Square is, how it works, who it works best for, and its drawbacks. We'll also reframe those drawbacks as opportunities to explore alternatives that can help your business flourish in the long term.
Table of contents
What Is Square POS and How Does It Work?
Square point of sale is a platform that helps small businesses accept payments and run their business operations efficiently. It allows you to accept payments from any type of card or device and set up a payment processing system for your retail, food service, and professional services businesses. It also provides features such as basic inventory tracking, customer relationship management (CRM), and marketing tools. It provides some reporting tools as well, so you can gain deep insight into how your business is performing in real-time.
Square is easy to set up and use – all you need is a smartphone or tablet with an internet connection, and you're ready to go, though most users opt for an iPad. You can simply plug in the reader, enter your customers' credit card information, select a payment type (e.g., credit/debit), and click "Charge" to collect payment.
Finally, Square offers businesses powerful security features that keep your data safe. It encrypts all payment information so it can never be stolen or compromised during the purchase process.
What Types of Businesses Does Square POS Cater To?
Square POS is well adapted to the needs of a wide range of businesses. Whether you have a small retail store, restaurant or bar, cafe, or online business, Square can be somewhat customized to fit the exact needs of your business. Also, if you have a home and repair business or offer professional services, you may want to consider using Square POS because of its convenient mobility.
However, not all businesses have the same needs, and there are some limitations to using Square POS. Square POS may not be the best solution for you if you run a business such as a thrift store, liquor store, vape shop, convenience store, or any retail operation with a large inventory.
Analyzing Square POS Pricing for Different Businesses
A big concern for many businesses is the pricing structure of Square POS. It's essential to understand how the pricing works so that you can factor it into your budget. According to Square, their prices start from 2.6% plus $0.10 per transaction or 3.5% + $0.15 for transactions in instances when the card number is keyed in. Square Plus costs $60/month per location, plus an additional $40/month for any extra devices. Transaction fees are reduced to 2.5% + 10¢ for in-person sales and 2.9% + 30¢ for online sales.
These rates can change if your business meets certain criteria. For instance, if you process a large amount of payments, your rates will be lower—for instance, businesses processing more than $250,000 in credit card payments can get a rate as low as 1.9% (though these come with higher flat monthly fees). On the other hand, if you use certain payment types, such as American Express or Apple Pay, then you'll be charged higher processing fees.
For businesses wishing to leverage gift cards, Square POS also has pricing for that. There are three pricing plans for the gift cards: starter packs, quick cards, and custom cards
The starter pack gives you the ability to choose from design options for any occasion. For this option, Square POS charges $2 per card.
Quick cards allow you to add your business name to one of their background templates. Pricing starts at 99¢ per card for this option.
Custom cards allow you to upload your own design for fully customized gift cards. This option is the lower cost, at $0.81 per card.
Note that in addition to the fees Square POS charges per gift card, they still also charge a 2.6% + $0.10 processing fee.
Looking at Square POS pricing, you can tell that one of the drawbacks to using it is the high percentage fees charged on each sale and on gift cards. For many businesses, this ends up being much more costly than initially thought. Square uses these fees to keep their monthly flat fees lower than most of their competitors.
Luckily there are alternative POS systems that offer more customizable and cost-efficient solutions. These make taking payments more straightforward and convenient while helping to maintain competitive margins and avoid potential financial losses due to high fee pricing structures.
Limitations of Square for Your Business
While Square POS may be an excellent choice for some businesses, it does have its limitations. Some of the most common limitations of Square POS include the following:
Numerous complaints due to Square holding funds
When considering Square as a point of sale system, one of the biggest things to be aware of is its fund-holding policies. There is no traditional underwriter process, and accounts can be opened without human interaction. Although this is beneficial in terms of efficiency and avoiding pushy salespeople, there is a risk that the first time you receive significant funds or a one-off larger payment, Square can put your money on hold until they deem it safe.
Many customers have expressed dissatisfaction due to funds being withheld; the Better Business Bureau has received over 1,100 complaints in relation to these disputes. It's always concerning when so many users find that Square's terms and conditions are not straightforward.
Higher fees on sales
As mentioned, Square POS's flat rate pricing structure can become costly as businesses scale up. The system charges a higher percentage of transactions than other payment processing systems. For businesses that process high volumes of transactions, these fees can add up quickly.
Lack of customer support and service
Numerous complaints about Square's lack of support and customer service have been made public. Square POS does not offer phone support (and only limited chat support for their basic plan), which can be a significant issue for businesses that experience technical difficulties. While the company does offer email support, response times can be slow, leaving businesses without a solution for hours or even days.
Many cases of phishing scams reported
Square's primary form of customer support is through email and social media, leaving your business vulnerable to security threats. The company has also been the target of numerous phishing scams in recent years.
The BBB has issued a scam alert, warning customers of suspicious emails claiming there is an issue with depositing funds and requesting personal details, as well as clickable links containing malware. These threats may lead to financial losses and should be considered when weighing up whether or not Square is the best fit for your business.
The Best Alternatives to Square POS
Square is great for small businesses, but when scaling up your business, you need a POS with more features and fewer limitations. KORONA POS offers a variety of advantages over Square. For starters, KORONA POS offers custom eCommerce integration, powerful inventory management features, employee time tracking, and loyalty programs—all of which are missing from Square POS.
You also don't have to worry about hidden fees, support fees, or fees for using gift cards; KORONA POS keeps things simple with its pricing structure. You can also integrate with any payment processor to help you reduce rates.
Here are some of the unique features that you'll get with KORONA POS:
Employee authorizations
Receipt editing
Barcode printing
Enterprise loyalty integration
Multi-store management
Automatic minimum and maximum inventory levels
More advanced promotional tools
Simplicity of B2B billing
Employee access restrictions
Customizable customer display
Must-read: Key Features That Make KORONA POS Different From Other Retail POS System
In other words, KORONA POS gives you the perfect solution for scaling up your business—all without worrying about high fees or lack of customization options like with Square.
Resources To Check Out To Learn More About Buying a POS System
Wrapping Up Square POS
In conclusion, Square is an effective and reliable POS system, but there may be better fits for some businesses. Its inability to customize and its high fees can be detrimental to businesses as they grow and scale, making it challenging to remain cost-effective.
For companies looking for an alternative to Square POS, KORONA POS offers a reliable and scalable solution without the high fees. With KORONA POS, businesses can leverage features like sales tracking, employee management, custom loyalty programs, and more – all with no added cost. Click below to learn more!