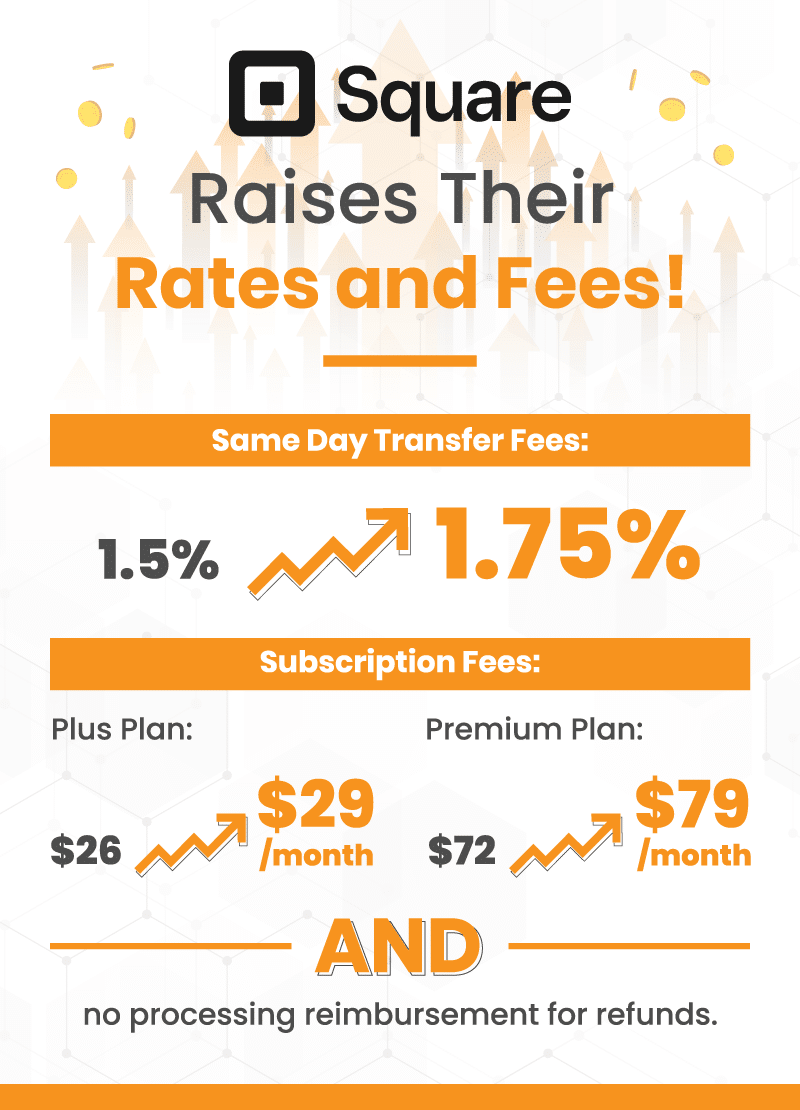 On March 1st Square announced that they will be making several changes to their pricing and fees across different aspects of their company. According to the announcement, the decisions were made so that the POS provider "can invest in our platform, create new features, and continue expanding the value Square provides its sellers." These changes are effective starting April 11, 2023.
As Payment Dive pointed out, there's no doubt that these decisions were in part made due to both an increasingly competitive point of sale industry as well as continued inflation across the economy.
But what exactly are these changes? The POS platform raised their fees for same day ACH transfers, increased their monthly eCommerce subscription, and reversed their refund policy for returns. Here's a little more info on how Square rates going up and the company's processing fees in 2023.
Square's Same-Day Transfer Fees
Square charges a fee for business owners using wish to instantly transfer funds out of their accounts. This month, the fee was raised from 1.5% to 1.75%. While this might not seem like a major change, its effects can be surprising.
There are certainly businesses that need to make instant transfers to pay bills or loan payments at specific times. And if they transfer large amounts of money, even a small change such as this can have a big impact on their bottom line. For instance, a business transferring $500,000 per year will now pay $8,750 instead of $7,500, a difference of $1,250.
Square's eCommerce Subscription Fees Changed
In addition, Square raised their monthly subscription for their eCommerce "Square Online" plans. Officially, they called this "simplifying" and "consolidating" their tiers to match the pricing on the rest of their software packages. Nonetheless, they raised their Plus plan from $26 to $29 per month and their Premium plan from $72 to $79 a month. These prices reflect rates that are paid annually and are now almost exactly the same as Shopify's monthly fees.
One of the main differences between the Plus plan and the Premium plan is the processing fees. For Plus packages, the fee is 2.9% + $0.30 per transaction. For Premium plans, the rate is lower, at 2.6% + $0.30 per transaction. Again, for high volume retailers these fractions can add up to considerable revenue loss.
No Processing Reimbursement For Refunds
Finally, Square is officially stopping their reimbursement promise on the processing fees for any refunds. They cited the fact that they do not "recoup in full" the fees per each transaction as the reason for making this decision.
Square elaborated that a large portion of their verticals, such as food, beverage, and services like barber shops don't process many returns. For retail businesses that often accept returned items, Square says that they will help them adjust to these changes.
Find out how much you're spending! Use our calculator below.
Lower Your Operating Costs With KORONA POS
One of the main differences that sets KORONA POS apart from competitors is our payment processing. We are credit card processing agnostic, meaning we allow our clients to shop around for the lowest processing fees they can find. Consequently, we can provide much more competitive rates than Square.
Give us a call today! Our team is ready to discuss how KORONA POS can help your retail business lower operating costs while increasing your revenue to make more money.