Last Updated: December 3, 2020
Shopping for a new cash register is a more critical business decision for retailers than it's ever been before. The modern-day retail cash register is not simply a till or cash drawer; it's powerful software and cash register hardware that can perform various business operations, accept modern forms of payment, and even provide actionable advice on inventory and ordering. But what are your main options when it comes to your POS cash register? Let's take a look at these different types of cash registers and how each can serve your business.
1. Electronic Cash Registers (ECR)
We'll skip over some of the more rudimentary options available. If you want more info on that, check out our post on the history of the POS machine. So let's start with the ECR. These machines were used for decades as the only option for accepting credit cards or any electronic payment. As they developed, they added features for sales tracking and reporting, as well as some simple inventory management data. Though thoroughly obsolete today, they can be adequate for smaller retailers who don't need assistance with inventory tracking or other business operations.
The standard hardware of electronic cash registers consists of a cash drawer at the bottom with some sort of input screen or pad above it. Older versions have an analog pad used to ring up sales and open the cash drawer, while newer ECRs have digital screens. These may be controlled with a mouse, keypad or touch. In addition, these machines also come with receipt printers and barcode scanners. Such scanners are necessary for the basic inventory operations that the machines can provide. Finally, these cash register machines can come powered by batteries or hard-wired into an outlet.
ECRs remain affordable options for those retailers desiring a system with basic sales operations, low setup costs, an overall ease of use. But for the vast majority of SMB owners, it's worth looking at a more powerful solution.
2. Point of Sale Cash Registers and Computerized Desktop Hardware
The past several decades have brought about monumental changes to the world of cash registers, namely with the onset of point of sale, or POS, systems. These systems add an array of new features to the ECR and offer far more flexibility, allowing for more niche customization.
These systems provide retailers with a vast array of business assistance. They always come with scanners that allow the business to collect and analyze data through the POS software. Such software can perform important business analyses and procedures:
Inventory management
Sales reports and metrics
Employee management
Customer relationship management (CRM)
Sales, promotions, and discounts
Multi-store consolidation
Commission calculations
Tip management
Accounting tools
eCommerce integration
And many more
These modern POS cash registers and computers give business owners a more powerful tool to run their stores and also improve the customer experience. Lines move more quickly, terminals and checkout areas look sleeker, and cashier mistakes or troubleshooting is minimized.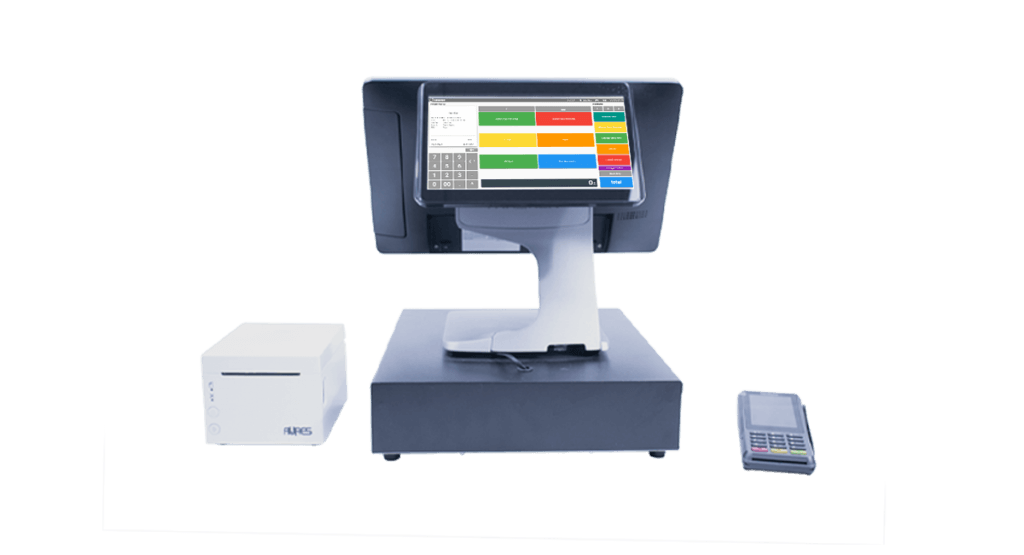 3. Mobile Cash Registers on Tablets
While large retailers often require large, desktop POS machines, many businesses can benefit from a tablet point of sale (mPOS). These usually come with the same features used to improve business operations but cost less than a traditional desktop point of sale solution. And unlike desktop cash registers, tablets can be easily moved about the retail space, allowing associates to check out customers quickly and conveniently. During busy times of the day, these tablets are fast to turn on and add a new checkout lane or mobile checkout.
There are downsides, compared to desktop machines, however. Tablets have less processing power and will not be able to complete transactions as quickly as desktops. They also are more difficult to navigate various back-end features. Finally, tablets are more prone to theft. They are easier to sell and much easier to walk out of your store with. While not a rampant problem, it's important to take basic security measures to prevent retail theft.
And like desktop cash registers, tablets should come with all standard cash register peripherals. It should come with a credit card machine that accepts EMV cards and contactless forms of payment, a laser receipt printer for speed and clarity, a sturdy cash drawer, and scanners used for checkout and inventory.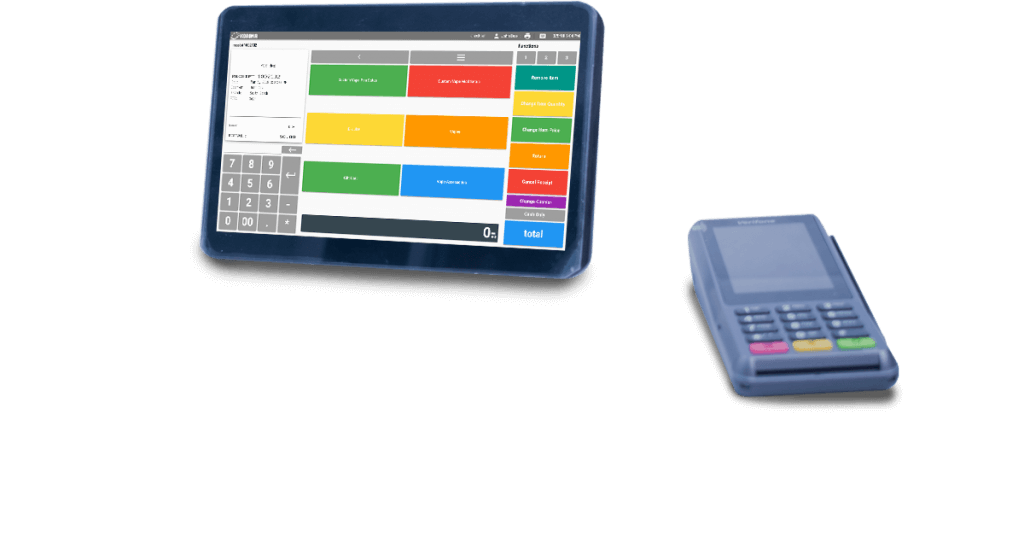 4. Cloud-Based Cash Registers
Both desktops and tablets can now be operated through the cloud, the most recent advancement made to cash registers. A cloud-based system comes with many benefits and great flexibility. The difference is in the software rather than the hardware.
Simply put, cloud POS software allows for greater connectivity. A cloud system can be accessed through any supporting device from any location with internet access. That means that these cash registers can be reviewed and updated from off-site. All data is held in a remote server and updated in real time. This means that business owners can see daily sales, manage inventory, complete orders, track promotions, and perform accounting tasks, from the store, from home, or on vacation.
And because the data is stored in secured remote servers, it's much more difficult to steal. On-site servers keep all inventory, product data, and financial information much better protected.
Finally, cloud point of sale cash registers keep your system up-to-date at all times with automatic software upgrades. Once a new version or small fix is made to the software, the POS will download the new version overnight, ensuring that you always have the best system.
The Different Types of Cash Registers That Are Best for Your Business?
Consider each of these cash register solutions. Each business and retail niche has a different need. It's important to have any feature that will benefit your store, while not overspending on expensive software and equipment.
KORONA's cloud POS software is a straightforward, cloud-based solution that can be run on tablets or desktops. To find out more about the options we provide and what types of businesses we cater to, click the button below. You can even sign up for an unlimited, no-commitment free trial and schedule a demonstration with one of our product specialists.
Get Started with KORONA POS today!
Tell us a little bit about your business and explore all features that KORONA has to offer. And there's no commitment or credit card required.