A merchant acquirer, also known as acquiring bank (or simply an acquirer), is a banking institution that processes credit or debit cards on behalf of a merchant or business. Acquirers enable merchants and businesses of all kinds to process and receive credit and debit card payments from financial institutions that belong to a card group or networks, such as Visa, Mastercard, or American express.
On the other hand, the merchant is the seller. It's the person or company that offers goods or services and gets paid by customers in return. Merchants are also commonly known as retailers.
Picking up the basics of payments? In this guide, we will walk you through:
Merchant Acquirer: 5 Questions for SMB Owners
1. What Does a Merchant Acquirer Do?
Merchant acquirers assist merchants in all aspects of card and transaction processing. In the payment cycle, the acquirers' role is to ensure that customers make their payments safely and that merchants receive the funds in their accounts. Some of the tasks of an acquiring bank include the following:
Identifying the cardholder and verifying if the card is valid

Ensuring the protection of the cardholder's data

Processing the transfer and receiving the payment from the issuing bank.

Facilitate the payment of all payment fees charged by the card-issuing banks on behalf of the merchant

Handle refunds, chargebacks, and returns

Provide payment terminals to merchants

Support payment gateways for merchants
Learn more about processing with our Credit Card Processing Rate Comparison!
Make payment processing smooth and easy
The primary function of an acquirer is to support the merchant by facilitating the processing of financial transactions. The merchant acquirer handles the digital dimension of the payment as well as all hardware needed for completing a transaction.
To make transactions more secure and simple, most acquirers provide the merchant with a card terminal. These acquirers purchase or lease POS terminals to facilitate payments for merchants.
The terminals, in turn, benefit from verification and protection by the PCS DSS (Payment Card Industry Data Security Standard). The objective of PCS DSS is to secure the entire payment card ecosystem. It ensures a secure transaction and strong protection for both the merchant and the customer.
Additionally, the acquiring bank can set up an online payment gateway enabling customers to carry out their transactions safely for merchants who own an online business.
Protect merchant and customer from fraud and other illegal activities
Due to the rise of credit card fraud, cybercrime, and money laundering, securing financial credentials has become a paramount concern for acquirers. Processing financial information is not risk-free. Merchant acquirers have therefore beefed up their security by implementing measures solely aimed at preventing fraud and chargebacks against the merchant.
Generally, merchants are held responsible for chargebacks on credit or debit cards. This occurs when the payment intended to be sent to the merchant's bank account is transferred to the customer's bank account.
If you own a retail store, chances are, you've witnessed a customer's contactless payment that was rejected, and the customer was forced to use the chip and pin. In this case, the cardholder's issuing bank or your acquiring bank may have declined the transaction due to security concerns and avoided chargebacks.
Learn more about The Ultimate Guide to The Complete List of Credit Card Declined Codes in 2021
In addition, acquirers also take strong measures to prevent illicit activity such as money laundering. They, therefore, perform checks on merchants to ensure the reliability of their business and the funds they receive. These measures are intended to not only protect customers but also other businesses and especially the reputation of merchant acquirers.
2. What Do I Need to Know About Payment Processing?
Knowing the different steps of transferring money from your customer to your company is helpful as a merchant. If a discrepancy occurs during a transaction, it helps you know where the problem lies and what to do to address it.
There are two steps to processing payments: The first step is the approval of the sale or authorization. The second one is clearing the transaction or the deposit of the funds to the merchant's account.
The approval process goes roughly like this
:
Your customer buys an item in your store and chooses to pay by credit or debit card. They insert or tap their card into the

POS payment terminal

.

The transaction information passes through the

payment gateway

, which encrypts the card data to keep it private.

This information is then transmitted to the merchant acquirer.

The acquiring bank sends a notification to the card network (i.e., Visa or MasterCard)

Next, the card network transfers the transaction information to the customer's issuing bank to ensure that the latter has enough money on their card to pay for their items.

The issuing bank approves or rejects the transaction and submits a response to the card network.

The card network relays that information to the merchant acquirer, which transmits it to the payment gateway, informing the merchant about the approval or disapproval of the transaction.

A hold is placed by the issuing bank on the cardholder's account, which will turn into a direct debit after the transaction is finalized.
The deposit of the funds to the merchant's account
The point-of-sale system

or card terminal prints a receipt to validate the customer's purchase.

The funds are transferred to the merchant's account 24-72 hours later.
Some of the terms related to payment processing can be confusing and difficult to understand. Let's break them down:
Payment gateway 
The payment gateway is a must-have technological feature in retail or wholesale. It is the online version of a point of sale system that connects your website to the payment processor. The payment gateway is also used to accept credit or debit cards. This system takes care of the technical side of the transaction and facilitates the payment for your customers.
Payment processor
As the name implies, the payment processor is the company that handles the transaction between the customer and your business. This institution transmits the credit or debit card information to your bank and the customer's card issuing bank. The payment processor handles card limits, card validity, insufficient funds on a card, or stolen cards. However, it is important not to confuse a merchant acquirer with a payment processor.
While some financial institutions act as both acquirers and processors, there has been a shift in recent years toward the use of separate third-party processors. Unlike acquirers, which handle transactions and communications between banks and hold funds at various locations, payment processors are solely responsible for processing payments.
Processors simply manage the technical services with merchants but do not take financial responsibility for those services. Only the merchant acquirer can do that. In short, the processor can be considered the technical arm of the acquirer.
Merchant account
A merchant account is a particular bank account intended to accept online payments and payments made by bank cards. Having a merchant account requires that you also have an acquiring bank.
3. What Is The Difference Between an Acquiring Bank and an Issuing Bank?
The acquiring bank processes the customer's card or online transaction information, while the issuing bank provides consumers with the credit or debit card used in stores. The acquiring bank does not communicate directly with the consumer's card-issuing bank in the payment processing.
The issuing bank is associated with a card network, which acts as an intermediary between the acquirer and the issuing bank.
4. Do I Need a Merchant Acquirer to Start Accepting Payments?
Not necessarily, but in most cases, yes. You don't have to have a merchant acquirer before you start accepting payments. Some smaller operations can use PayPal or Venmo to accept electronic payments. Others may simply be cash-only.
But the vast majority of businesses will need to find a merchant acquirer. If you decide to charge cards from a POS system, virtual terminal, or card reader, then the company that provides you with those services will contact an acquirer on your behalf.
When you accept a card payment from a customer in your store, the information is sent directly to the payment service provider, who in turn sends it to their merchant acquirer, who then sends it to the card company, and finally the issuing bank. Using a point of sale system to facilitate payment processing in your store is beneficial because this technology will serve as the foundation for your customers' checkout experience.
Our retail POS system, KORONA POS, is a cutting-edge technology designed specifically for all retail businesses. It also helps process sales, record transactions, and manage other essential elements of your business.
Since having a merchant service is mandatory from the moment you use our point of sale system, you don't have to worry about the procedures of opening a merchant acquirer. Although KORONA isn't a payment processor, the software integrates with any merchant service of your choice.
We take care of the entire process, allowing you to save time and devote your efforts to other aspects of your business.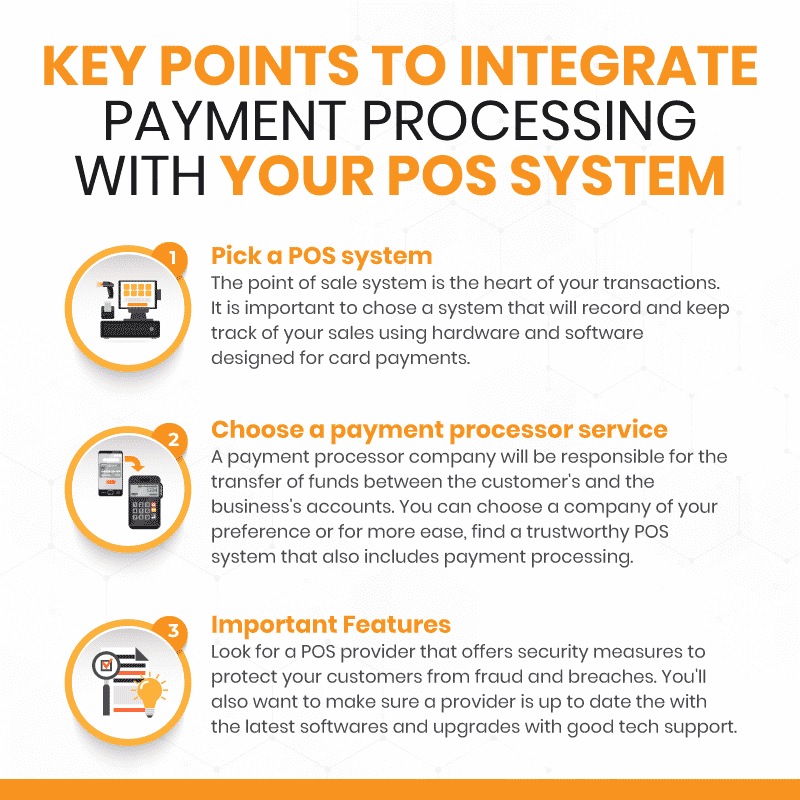 5. How to Integrate Payment Processing With Your POS System?
Integrating a point-of-sale system with payment processing has many advantages that need not be repeated. The process is simple and can allow you to reap tremendous dividends when you do.
Pick a POS system
Without a POS system, there is no POS credit card processing. Consider your point of sale system as the mastermind of your payment processing – retrieves the entries placed in the credit card reader and interprets them as financial transactions for your business. So, among many other things, a point of sale is at the heart of your payment operation.
As the POS system records sales directly as they occur, you need to have hardware and software that identifies your card reader. If you don't have a point-of-sale system yet, now is the time to consider an immediate setup. Take to one of our product specialists for information on how to find a payment processor – and one that's affordable.
See also: How to Set Up a POS System: 7 Steps for Retail Small Businesses
Choose a payment processor service
A payment processor, as defined above, is the company that is responsible for processing credit cards, including communicating with all parties, ensuring security, and facilitating the final transfer of funds between banks. Some of these processors provide payment terminals to merchants or card readers that are compatible with their services.
If you decide to contact a payment processing company other than the one that installed your POS system, then you'll need to do some thorough research. Check the hardware and software of both providers and make sure they are compatible. If you don't know how to do this, turn to your POS provider for help.
However, if you use the same vendor for your POS and card processor, you can leave it up to the company to manage updates and compatibility. But in this case, make sure you have chosen a trustworthy company that can assist you with software upgrades and doesn't gouge your business with its payment processing pricing.
See also: POS Systems vs. Merchant Services: What's the Difference?
Look for extra features, security, and customer service
With many transactions taking place online today, customers are more vulnerable to fraud. Therefore, choose a POS provider that offers security measures tailored to your needs, including protections against breaches.
Also, make sure your POS software provider is equipped with the latest technological advances. With KORONA's software-as-a-service, you'll receive any software updates and upgrades without ever having to request them or pay a single penny. Make sure that your company only has the best small business POS system on the market. Some of the latest features that KORONA POS offers include:
Fast transactions and user-friendly

Integrated payments

Customer-facing display

Business and marketing automation

Smart inventory reporting and analytics

Payroll and accounting integration

Commission and tip management

Employee and cashier permissions

Offline transactions and back-office access
Choose KORONA POS to simplify payment management and increase your retail sales. Try KORONA POS for free now by clicking on the button below.