For franchise and chain businesses, finding the right multi-store retail management software is so critical. After all, we all know it's hard enough to manage one location; but keeping inventory, sales, supplier relations, employees, etc. in order for businesses with multiple locations or franchises becomes exponentially harder.
Luckily, you have some options!
In fact, a lot of retailers will be surprised to learn just how powerful a great multi-location point of sale can really transform and scale a business. Let's go over the best ways that a multi-store or franchise POS works and what type of benefits it offers.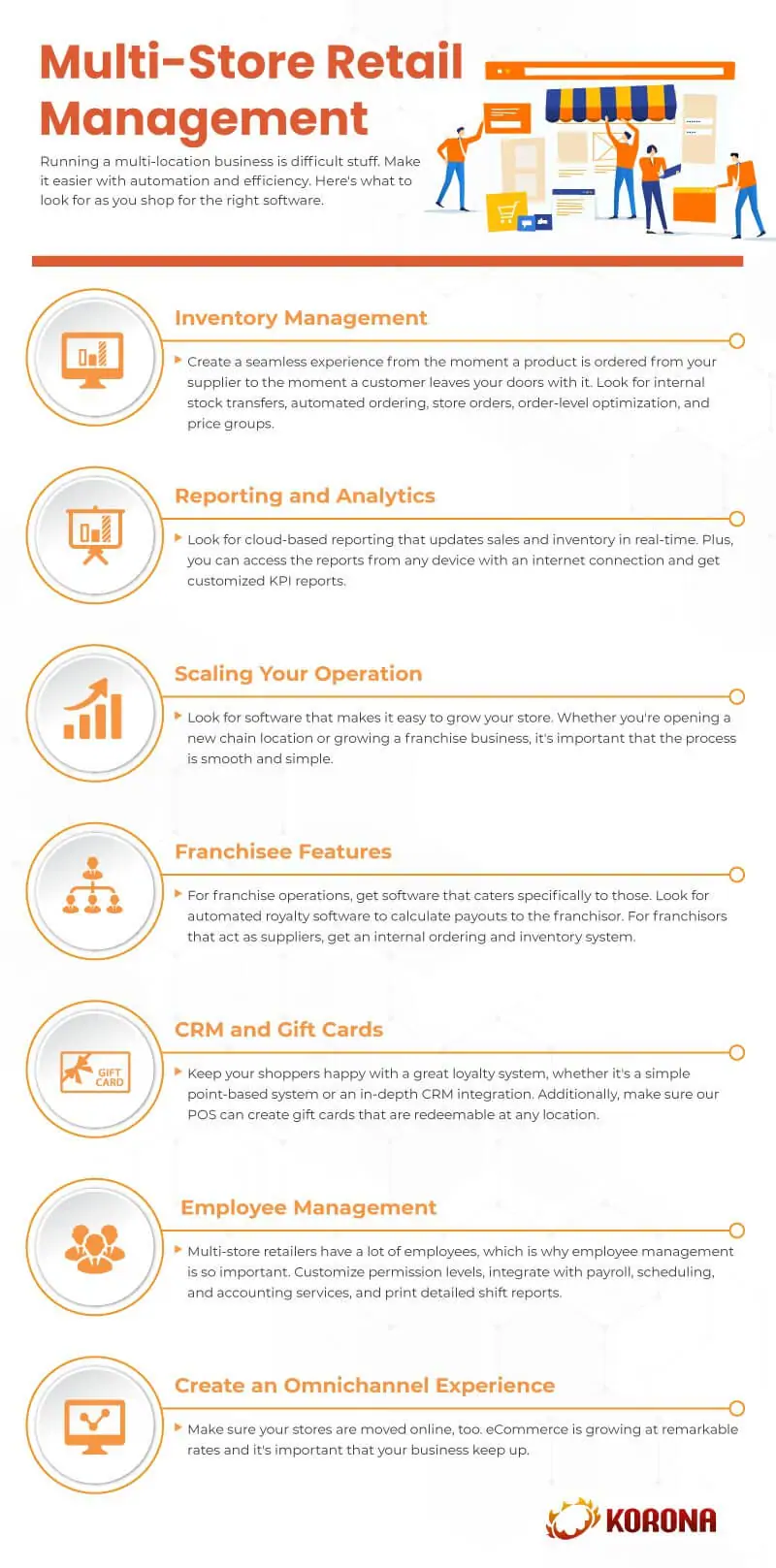 1. Integrated Franchise Inventory Management
First and foremost, multi-store retailers need powerful inventory management. You need a system that creates a seamless experience from the moment an order is placed to the moment it leaves your door. Below are some of the most common features that chains and franchises should look for with their inventory management software.
Internal stock transfers
In order to alleviate short stocks, one location can order from another instead of from the supplier. This reduces the turnaround time, while all inventory metrics are kept in order and accurate.
Automated ordering
For products that are repeatedly ordered by all or several locations, you can set up automated ordering with individual suppliers for specific time periods.
Store orders
Rather than having to go through the POS to place individual orders for every single item, store orders batch all orders into one, automatically communicating with each applicable supplier.
Dispatch notifications
Keep track of your products from the time an order is placed with a supplier to the time it reaches your store. Do the same with internal stock transfers.
Customized store reporting
See how individual stores are performing or your operation as a whole. With fully customizable inventory reports, you'll get profound insight into your operation.
Order level optimization
To ensure that you're always ordering a productive amount of inventory, your point of sale can optimize orders based on your sales history. This keeps your stock on hand at ideal levels consistently.
Multiple price groups
Many multi-store retailers need to set unique pricing and promotions at individual locations. Multiple price groups allow you to do this with ease.
2. Multi-Store Reporting
With a fully integrated inventory management system comes a fully integrated reporting system.
In-depth sales reports should be customizable by location or by the chain or franchise as a whole. This offers business owners more insight into various aspects of their operation and allows them to better target areas that need improvement.
With cloud-based reporting, these updates will occur in real-time. Owners and administrators can access the information from any location or even off-site. Decisions and productive changes can be made quickly and crises averted.
Better yet, look for franchise management software with custom KPI reporting. These allow the system to work for the business rather than force the business to adapt to the system. And for medium and enterprise-level businesses, this is a must.[
3. Scaling a Retail Chain or Franchise with Software
Multi-location management software also allows businesses to seamlessly scale.
With a cloud-based system, data transfers bring all existing product data to a new location in a matter of seconds with no manual work required.
Plus, there are no additional server costs for each new location. Instead, all product and sales info is stored in remote servers hosted by your POS solution.
And with integrated inventory management, it's also simple to add new suppliers, customize automate ordering, and set various par levels at each individual location.
Overall, your point of sale system increases efficiency and profitability, making it more likely that your business will be in the position to scale sooner rather than later. And then when you're ready to do so, the software makes it fast and easy.
4. Franchisee Royalties and Ordering
For franchises, your POS software is even more critical for a number of unique factors. And like retail chains and multi-location operations, you'll also need the other features on this list – i.e. inventory management, consolidated sales reports, employee management, etc.
The first major item that franchises need is royalty calculation. Many franchises use the royalty model where the franchisor takes a small percentage of total profits from each franchisee. These, of course, are meant to compensate the franchisor for the established brand name, marketing, and, in some cases, supplies and equipment. Therefore, it's important that franchises use a POS software that makes this part easy. With real-time and customizable reporting, franchisors are able to break down the sales at each franchisee, set up custom royalty rates, and have that money be automatically deducted at any time interval they choose.
Additionally, franchises need software to manage internal ordering. Many franchisors supply their franchisees with various products. For such operations, it's important to have software that makes the ordering process simple for each franchisee, while also automating supplier relations and order placements through the franchisor.
See related: How to Deal With Suppliers: 8 Supplier Negotiation Strategies
5. Loyalty and Gift Cards
A great CRM system is critical for attracting new customers as well as retaining existing ones. And it's important that these shoppers are recognized universally across all locations. So an integrated loyalty and gift card program is a critical feature for multi-store retailers.
Look for software that has a point-based solution or integrated CRM that you can use across locations or franchises.
The same goes for your gift card program. Your customer must be able to redeem gift cards between locations and all sales must be in turn accurately reflected.
6. Employee Management
Likewise, employee management should be universal across all locations.
First, look for a system that allows you to customize access levels for each employee based on their role and location. A manager of one location needs access to most of what is happening at their specific location but not in other locations. A general, regional, or district manager, on the other hand, must have access to multiple locations. Cashiers, meanwhile, require less access and should have additional restrictions.
Plus, cashier reporting gives managers and owners detailed information on individual employee performance. This makes EOD reports and staff evaluations much easier to conduct. Such a system prevents mistakes, theft, and overall waste at your business.
Lastly, look for key features or integrations that your business will use to better manage your staff. These typically include time clock managers, payroll assistance, and accounting.
7. Omnichannel Multi-Store Retail Management Software
As the world moves more digital, eCommerce shopping has certainly followed suit – at an incredible rate since COVID changed the way we do business.
And if they didn't before, most multi-store businesses and franchises now sell a whole lot online. This is why it's necessary to get a POS solution with eCommerce integration. All sales, inventory, and reporting will be kept under a single system, ensuring smarter ordering and accurate data.
To learn how KORONA POS can help manage your business with each of these features, sign up below. You can upload your own data to our system as part of your free trial. And, if you'd like, one of our product specialists will walk you through each feature your business will use. Sign up below to get started.