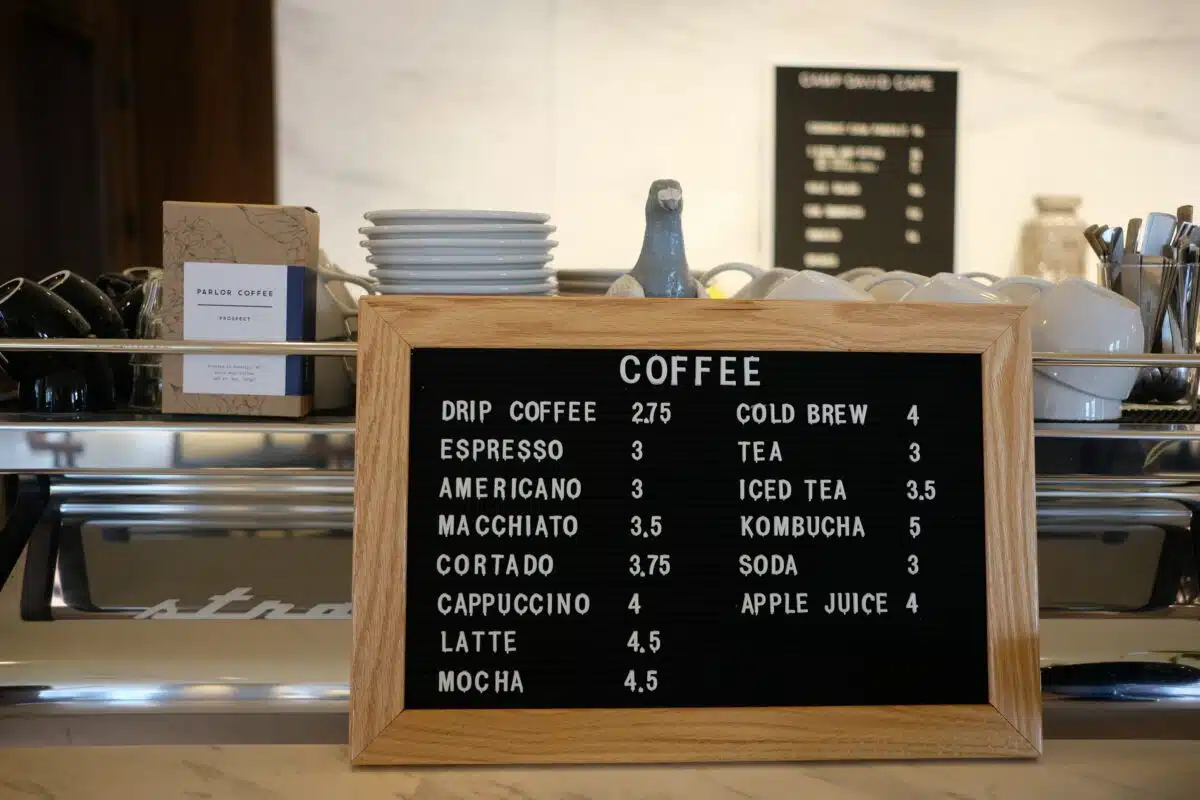 The United States currently has over 65,000 coffee shops in operation. From rural stand-alone shops to tiny cafés in bustling urban settings, you can find coffee shops in just about any type of environment. And better yet, they're succeeding across the board, both local mom-and-pop shops and multinational chains.
There are two main reasons for this. One, coffee is exceptionally popular – 66% of Americans drink it daily. Two, both coffee shop menus and clientele are diverse and adaptable. This can also prove to be a challenge since there are many different directions café owners can go when deciding how to make a coffee shop menu.
Nonetheless, there are some staple items that must be included. From there, designing your food and non-coffee items requires planning and fine-tuning. Read on for an in-depth guide to designing a menu for your café.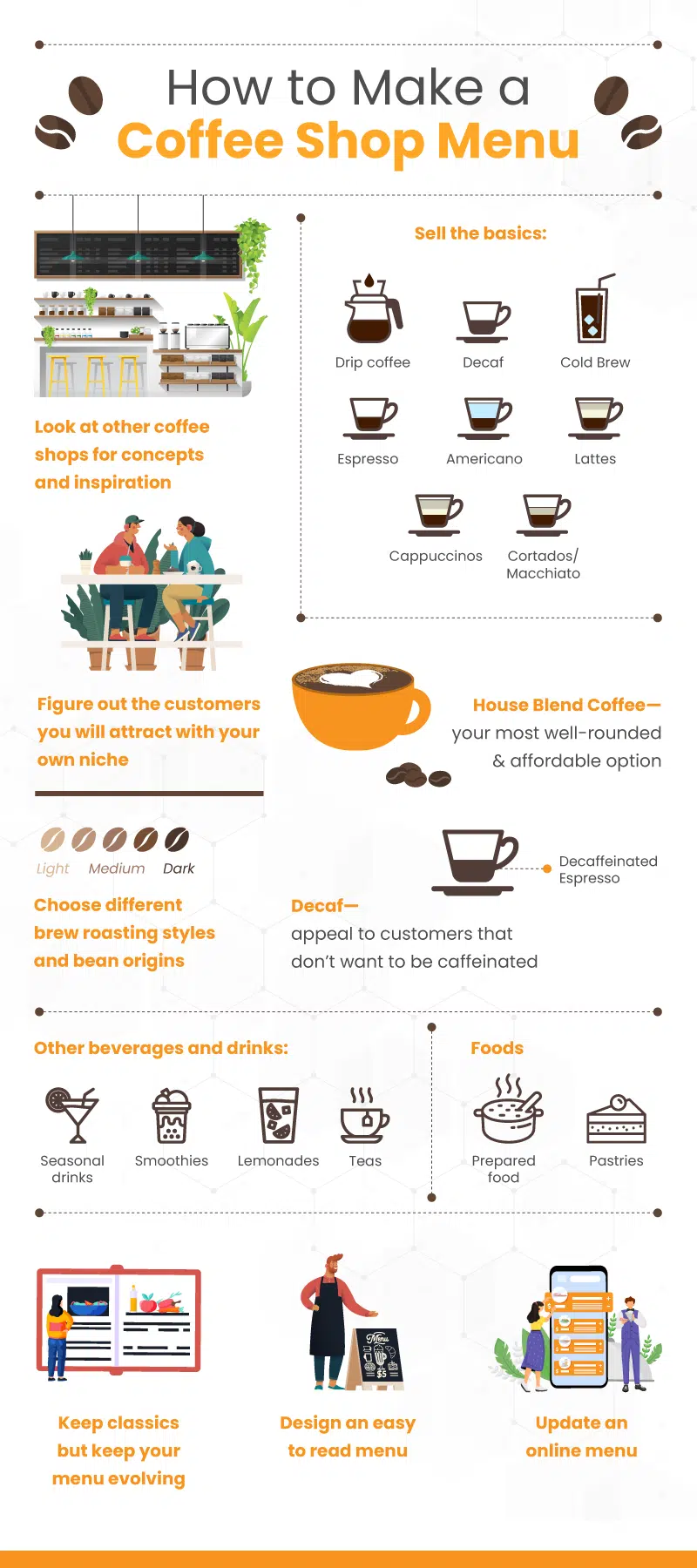 ---
Table of Contents
Check Out Café Concepts That You Like
Just like starting any business, opening a café and building a coffee shop menu requires market research. Visit some local cafés and see which styles appeal to you. Keep the good and bad in mind when designing a new shop. It's easy to remember your favorites, but don't forget about the spots that you weren't so keen on. It's important to improve upon any shortcomings of your competition.
Try to pick spots that are conceptually and spatially unique. Go to a warehouse-style shop that roasts its own beans or doubles as a brewery. Then pop into a fast-paced smaller café downtown area with high foot traffic. Check out a sleepy coffee shop that's laid out like a living room. Sample some food, pastries, or other specialties at each. What kind of coffee businesses speak to you? What do you think would work for your management or leadership attributes?
Figure Out Your Coffee Shop Niche
Remember that no matter what type of shop you choose to open, it must make sense for your location and community. Who will be your main customers? Will you appeal to commuters with quick-service pastries and cookies or will you try to draw more of a delivery and dining crowd with sandwiches and salads? Will people want to be in and out quickly or prefer to spend a few hours there?
The ability to answer these questions from the outset also relies heavily on how much space you have to cook and prepare food. Some coffee shops have full restaurant-size kitchens and can prepare everything in-house. Others choose to stock their displays with outsourced baked goods, which can be of great quality, too, as long as you establish relationships with great vendors.
Some coffee shops will focus more heavily on the actual coffee itself. More and more Americans care about drinking high-quality coffee. Thus, a shop that caters to coffee aficionados is another great idea. However, be sure to do thorough market research to ensure that there is actually a local constituency of people who are willing to pay for more costly products.
Get Your Basics Down
Whether you choose to offer a full menu or simply sell coffee drinks with a few pastries on the side, you need to have the basics down first. Many coffee shop visitors have come to expect certain staples to be available in every café they visit.
These basic drinks typically include the following:
Drip coffee

Decaf

Cold Brew

Espresso

Americano

Lattes

Cappuccinos

Cortados/Macchiato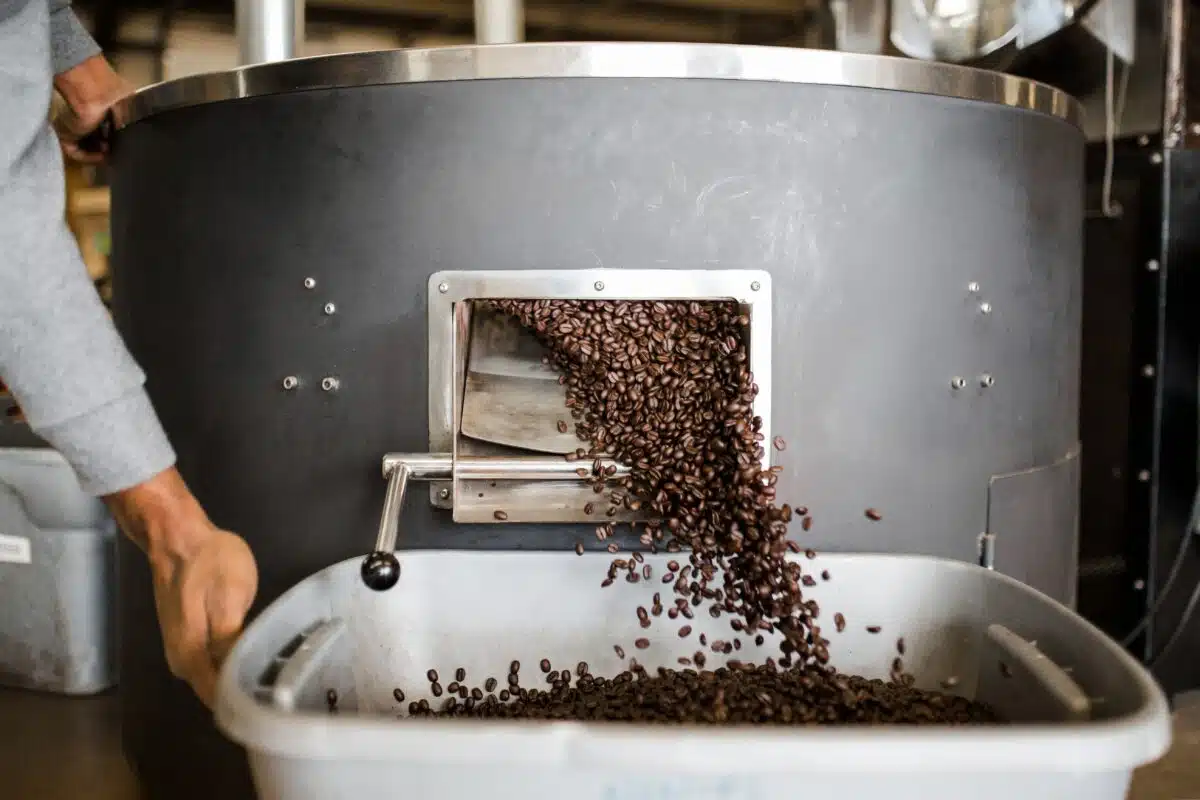 ---
Coffee Shop Beans and Brews
While we've talked plenty about how many Americans drink coffee on a daily basis, it's important not to forget the rest of the consumers. There are a seemingly endless amount of choices you can put on your menu for non-coffee drinkers. These drinks should offer variety while also catering to your niche clientele.
Many coffee shops have different bean options to appeal to the varied tastes of consumers. And, to be sure, there are a lot of variations between types of beans and roasts. Coffee is grown in many different countries around the world, including Brazil, Vietnam, Colombia, Indonesia, Ethiopia, Honduras, India, Uganda, Mexico, and Peru, to name some of the highest producing. As you can imagine, there's an immense diversity in flavor profiles and prices depending on the origin.
In addition, there are different coffee roasting styles. These styles are generally broken down as light, medium, and dark roast. One isn't really better than the other; rather, it's a matter of taste. Although certain beans are considered more appropriate for roasting light, others are better suited for dark. For example, fruity acidic highland coffee from Guatemala and Southern Mexico is considered too delicate to roast dark.
Part of your market research prior to making your coffee shop menu should involve tasting coffee with different origins and roasting styles. When you do your sampling of coffee shops, consider tasting as much as possible to decide what you want to include on your menu.
House Blend Coffee
Generally, you want to have several coffee bean options available for your clientele. A house bend is a classic way to pronounce your shop's identity. It should serve as a crowd pleaser – affordable, well-rounded, flavorful, and good for drinkers that use sugar, milk, or cream. As a general rule, house blends shouldn't lean too far in one flavor direction. They are usually medium roasts of multiple-origin coffees.
Decaf
You can't overlook decaf. While it may seem like a minute detail for a coffee shop, a significant amount of people actually drink decaf coffee every day. According to this survey, nearly 1 in 5 coffee drinkers only drink decaf. For a busy coffee shop, that will add up to a significant amount of beans and drinks over the course of the week. Many coffee shops will use a decaf blend similar to their house roast. However, depending on market prices, you can try out different decaf blends with your clientele and see how they respond.
Espresso
The second thing to think about are your espresso beans. The extraction process for espresso coffee is much faster and involves high pressurization (which is what creates a crema – the aerated foam that sits so perfectly on top of a properly pulled espresso shot).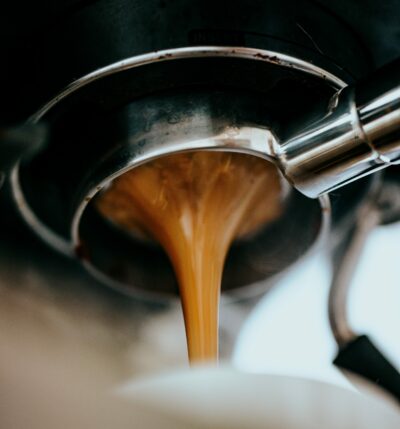 ---
This quicker extraction works better with beans that are roasted longer and darker. Such a longer roast releases more oil and reduces pronounced acidity. In addition, espresso beans will be ground finer than other types of coffee. Your coffee and espresso beans should NOT be the same!
Consider Offering Single-Origin Options
As previously mentioned, many coffee enthusiasts actually prefer single-origin coffee. These single-origin beans come from individual villages or towns. This style is usually brewed with the pour-over method and is consumed "black" or without milk, sugar, or cream.
Much like single barrel whiskey or vintage Champagnes in which the grapes are all from a specific year, these coffees are unhomogenized. Unsurprisingly, these beans can often cost a lot for retailers and, in turn, consumers. Consequently, keeping a seasonal or rotating set of single-origin coffees can help with keeping your cost of goods sold down and margins up.
Consider providing certification and in-depth information about where your coffee comes from. Buying beans from a local roastery is best, both for the community and for fresher beans. Sustainable and fair trade coffee helps justify the price that you are asking for single-origin beans. Plus, sourcing ethically is the right thing to do.
Other Drinks And Beverages To Add To Your Coffee Shop Menu
The first item of priority after all coffee beverages is tea. Make sure to offer an assortment of tea flavors and styles, including decaf herbal options. A house iced tea is also a great afternoon seller, with exceptionally good margins and high popularity in the hotter months.
Serve a ton of families? Then consider adding options for younger kids. Freshly squeezed juices, lemonades, and artisanal chocolate milk are great options. Do you have a high amount of health-conscious customers? Maybe carry some local kombuchas and coconut water. Sparkling mineral water is another plus for coffee shops. In fact, many cafés in Europe serve complimentary carbonated water on the side of their espresso shots.
More and more coffee shops are not also getting beer and wine licenses to be able to serve a variety of alcoholic beverages, too. This will increase the cost of getting started but can improve your margins in the long run.
Figure Out The Food Part Of Your Coffee Shop Menu
Next, think about your food menu. All coffee shops have some kind of food. For some shops, this can be minimal, serving pastries and cookies to accompany a latte. Others might go the route of a fuller menu with poached eggs, sandwiches, salads, quiche, and more.
No Kitchen, No Problem
If your shop has a tiny kitchen or even no kitchen, then you can skip any menu items that require actual preparation and cooking. Your best bet is to survey local bakeries and vendors for high-quality products. Start with a couple of items and see how they sell, but remember that it's important to offer variety.
Something healthy like an oat muffin or paleo cookie, along with other items that are more buttery, like croissants, is a good place to start. Remember, however, that offering minimal food options means that you will rely on drawing your customers in for other reasons like your location, foot traffic, quality of coffee, etc.
Preparing Plates Of Food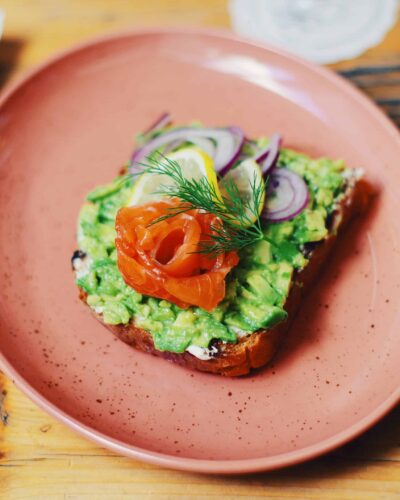 Serving food at coffee shops offers nearly endless possibilities. If you have the space and the setup, you can run a brunch-style menu out of your café. Egg sandwiches are a popular favorite, as well as avocado toast, smoked salmon, and salads.
You can still outsource pastries if you don't want to take on preparing hot food and baking at the same time. Weighing labor hours, quality of product, margins, and competing vendors is all part of the menu-building process. Keep in mind, however, that you don't want to add too many menu items at once. Your food costs will go up, and your staff will be more easily overwhelmed by a complicated kitchen setup.
Keep Your Menu Evolving
Most importantly, you will need to respond to customer demand. Run specials to see what your clientele is like. Chat with them and ask for as much feedback as you can. Utilize your POS sales data and reporting to corroborate this feedback and find out what's actually selling.
Consistently check your margins to see how your business is performing across different aspects of food and bev. Creating a coffee shop menu is an ongoing process, not a set-it-and-forget-it system. Achieving proper balance will require paying attention to aspects like seasonal preferences, emerging trends, and demographic shifts.
Design a Menu And Signage That Makes Sense
Your menu should be displayed prominently both on the inside and outside of your coffee shop. Many cafés with quick-service operations will put up a letter board-style menu that is easy to change and even easier to read. Section off coffee drinks, non-coffee drinks, and food items to allow people to quickly navigate the menu, decide, and order.
Omnichannel Menu And Ordering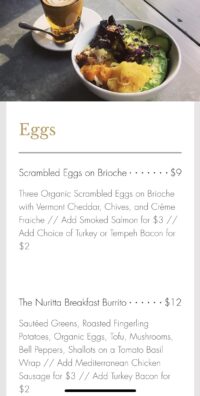 ---
Just like omnichannel selling in retail, listing all of your items on multiple points of access will ensure more familiarity and exposure to your products. Customers should be able to read all of your menu items from their smartphones through your Google business profile, social media platforms, and eCommerce site. Better yet, integrate your POS with an online ordering and delivery system. Opening up your sales to people who don't want to get up off their couches can increase your revenue significantly.
KORONA POS For Coffee Shops
Your coffee shop POS should be fast and reliable. People do NOT want to wait in a long line on their way to work in the morning. KORONA POS boasts the fastest and most reliable point of sale system in the business. Cashiers and baristas will be onboarded in no time with our intuitive, user-friendly software.
KORONA POS also offers full integration capabilities. Our in-house technicians design custom eCommerce builds that not only accentuate your branding and style but also feed all data and reporting into your point of sale analytics. Give us a call today to learn more and schedule a demo!
FAQs: Best POS System For Coffee Shops and Cafes
1. ​​What Are The Top Features Of A POS System For Coffee Shops?
The top features of a POS system for coffee shops typically include quick and intuitive order entry, menu customization for various coffee and food items, integrated payment processing, inventory management, and customer relationship tools to enhance loyalty programs.

2. How Much Is A POS For A Coffee Shop?
The cost of a POS system for a coffee shop can vary widely, but it often starts at around $69 per month for the core features and can increase with add-ons and user licenses. The price may also depend on factors like the size and specific needs of the coffee shop. POS hardware costs around $400-$1200 upfront per terminal.

3. What Is The Best Coffee POS System?
Determining the best coffee POS system depends on the unique requirements of your coffee shop. Popular options include Square, Toast, KORONA POS, and TouchBistro, but the choice should align with your specific needs, such as order types, customization, and integrations.

4. What's the best POS for a small cafe?
The best POS for a small cafe often includes simple, user-friendly features with affordable pricing. An option like KORONA POS is commonly considered for small coffees due to its ease of use and scalability to accommodate growth. Other popular solutions are Square, TouchBistro, Revel, Lightspeed Restaurant, and EPOS Now. Selecting a system that suits your cafe's specific size and requirements is essential.