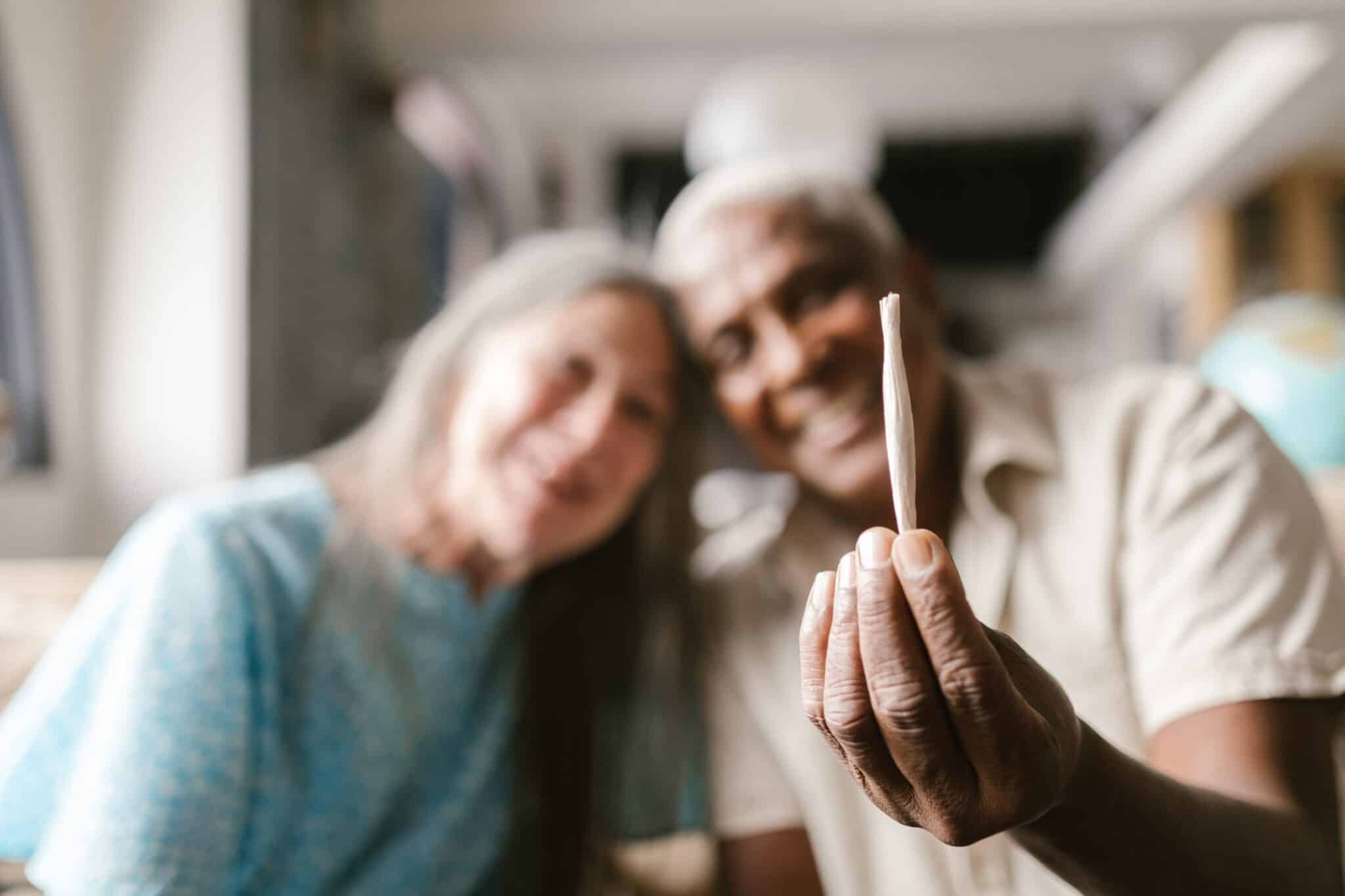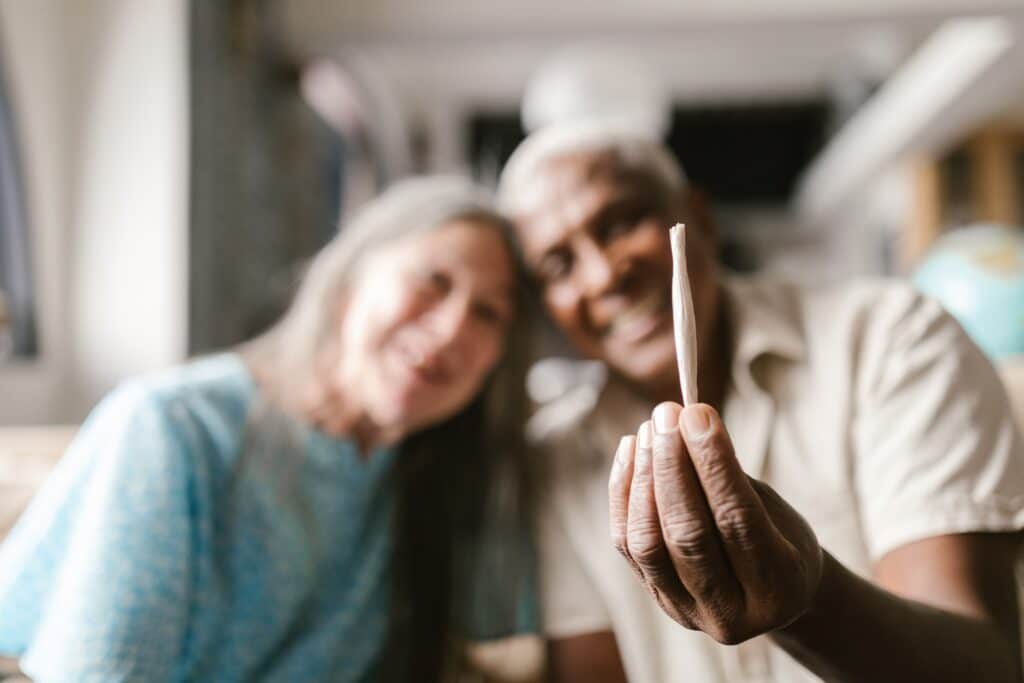 Most cities and states with recreational marijuana have fierce competition among their retail dispensary locations. A driving factor for many shoppers' choice is the customer experience offered by each cannabis retailer. As such, creating a comfortable and enjoyable shopping environment should be a central concern for marijuana retail business owners. Improving a dispensary customer experience is an ongoing process that should be continuously polished and adjusted.
Nonetheless, there are some key strategies that you can focus on from the start. These include providing checkout information at the dispensary digitally, investing in fast technology, training budtenders properly, responding to shopper requests, and more. Below are some tips for marijuana dispensary owners to improve the customer experience.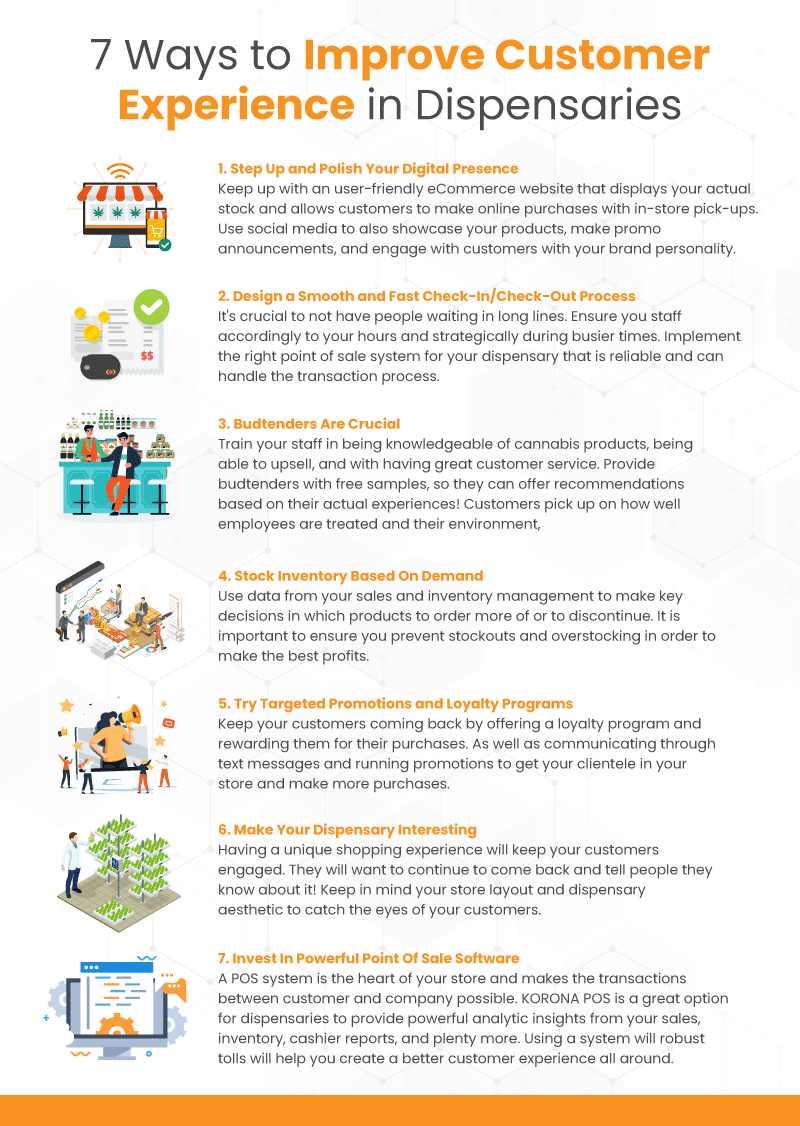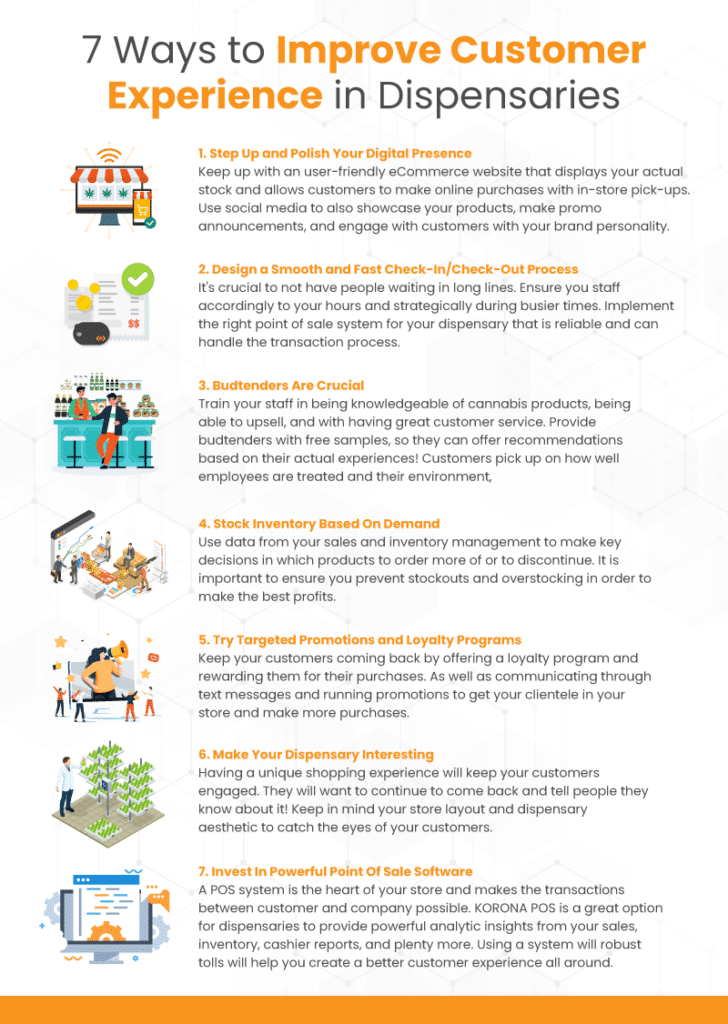 Make An Impression Before Arrival
Chances are, potential customers will see your store or brand online before they step in your shop. Therefore, you must have a strong social media presence, comprehensive eCommerce platform, and accessible menu on marijuana apps.
eCommerce Website
Synch your eCommerce inventory up to your actual stock to show viewers exactly what you have to offer. Better yet, allow your new or existing clientele to make their purchases online with in-store pick up. Also, consider offering brand and product-oriented articles on your website's blog to tell a story about what you're all about.
Weedmaps And More
Make your menu available to view beyond your own website. With apps like Weedmaps you can leverage the popularity of existing platforms to showcase your dispensary. Having your stock neatly placed on an interface that users are already familiar with the product or your brand streamlines their experience at your store.
Social Media
Use your social media to show the world not only the products that you carry but also the message and personality of your brand. Showcase what you do well, which brands you stock, and what your niche might be.
In addition, highlight the personality of your budtenders, as well as relevant educational content about marijuana. If your followers and browsers post questions or comments on your page, reply to them to open up an informal conversation. Customer engagement is key.
Improve Dispensary Experience By Designing A Smooth And Fast Flow
People hate waiting in line. Ensuring that your dispensary has a swift and efficient check-in and checkout process is crucial.
Use Data To Staff Strategically
With KORONA POS, built in analytics and back office sales data insights make it easy to see when your busiest times are. With this you can determine your staffing levels to make sure that you have enough people working when you get a big rush. Predictive forecasting will keep your lines moving so that your shoppers always have a quick and easy experience.
Invest In Powerful POS
With the right dispensary point of sale system, your checkout process will be exponentially quicker and more reliable. KORONA POS has an incredibly user-friendly interface for your staff and budtenders so you can keep your customers moving steadily through the shopping experience.
We offer the best customer service in the industry in case you ever run into a hiccup or have any questions about software functions. If you happen to have any internet outages during your workday, KORONA POS can still process sales until your wifi is back up and running.
Dispensary Experience is Shaped By Budtenders
Having good staff should be a central focus for your cannabis retail business. They are the ones that will interact with your customers on a daily basis, setting the tone of your dispensary's culture and facilitating transactions. Create a fun and welcoming environment and encourage your team to be themselves.
Educate and Equip Your Staff
While it's important to train your staff in upselling and cross-selling, it's also vital to educate your customers. Give your employees something to talk about that's actually meaningful. Provide them with free samples of your cannabis products so that they can offer recommendations based on actual experience using them.
Establishing long-lasting relationships between your budtenders and your clientele is just as important as any other aspect of their work functions. While merchandising is obviously key to dispensary success, nothing is more important than the "vibe" that customers get when they enter your store and communicate with your staff.
Stock Inventory Based On Demand And Feedback
Your dispensary should be constantly evolving to respond to the demands of your shoppers. KORONA POS has built-in key performance indicators like ABC analysis to provide detailed insight about your inventory. Utilize sales data to see what's flying off the shelves and what's lagging behind.
Improve your dispensary customer experience by offering the most popular merchandise. If you notice that sativa pre-rolls are selling like crazy, you can consider expanding your stock to more strains or brands. On the other hand, if your cannabis-infused drinks seem to be sitting for too long you can pull back on how many or how much you keep in stock
Plus, KORONA POS offers its users order level optimization. The system recognizes historic sales and suggests optimal order levels for all products. Such retail-centric features prevent stockouts and overstocks so you always have the right amount of what you need.
Ask Your Customers What They Want
While point of sale data can provide deep insight into your customer purchasing patterns, it should also be supplemented by asking for feedback and recommendations from your customers. Get your budtenders to discuss favorite items while they are helping out shoppers. Try to get an idea of what they want to see more of, and use that information to expand your product portfolio.
Try Targeted Promotions and Loyalty Programs
Dispensary customers want to know more about what your store is offering. This includes sales and discounts, as well as restocks and new products. In addition, shoppers love being rewarded for loyalty.
Loyalty Programs
KORONA POS integrates with loyalty platform springbig to offer customers a comprehensive dispensary rewards program. Utilize springbig's digital rewards wallet to show your clientele exactly what they're on track for, giving them a big "thank you, we appreciate you" in the form of cannabis bonus points.
SMS Marketing
Communication is key! When you check out your dispensary guests at the point of sale, offer them the ability to opt-in to text message updates. Through SMS marketing you can send shoppers segmented and targeted texts about restocked items and sales promotions based off of their purchasing patterns.
Run Inspiring Promotions
Dispensaries thrive off of running many different types of promotions. Do so with ease through your point of sale. Welcome a new shopper with a 20% coupon, encourage repeat visits with scannable QR code coupons, add in free pre-rolls with orders reaching some minimum value. KORONA POS makes it easy for dispensary retailers to both create the promotion and to track its success.
Make Your Place Interesting
Finally, try to design a unique shopping experience. There are plenty of ways to make your dispensary stand out. Get creative and fun with it! Black-owned dispensary blunts + moore in Oakland, California has a taco truck and a mini basketball court outside of their shop. This shows people that they can come hang out, eat, and shoot some hoops while their friends or family grab their favorite cannabis products.
Learn more about store layouts.
Invest In Powerful Point Of Sale
Your dispensary customer experience can only be as good as the point of sale system with which you operate. Almost every function you perform will be run through your POS. As such, it's imperative that you invest in a smart, robust, cloud-based system that is integration-ready. KORONA POS for dispensaries will provide you with the best tools in the business to create a customer experience that is top-notch. Give us a call today to find out more about our extremely competitive pricing
Get Started with KORONA POS today!
Tell us a little bit about your business and explore all features that KORONA POS has to offer. And there's no commitment or credit card required.