If you're a retailer looking to expand your online presence and reach new customers, selling on Pinterest is a great way to do so. 83% of weekly Pinterest users make purchases based on the content they see from brands on the platform. It's no surprise that businesses are flocking to the platform to showcase their products and services.
In this article, we'll explore why Pinterest is such an essential platform for retailers and provide a step-by-step guide on how to start selling on Pinterest. Whether you're just starting out or looking to take your e-commerce business to the next level, we've got you covered. So, let's dive in!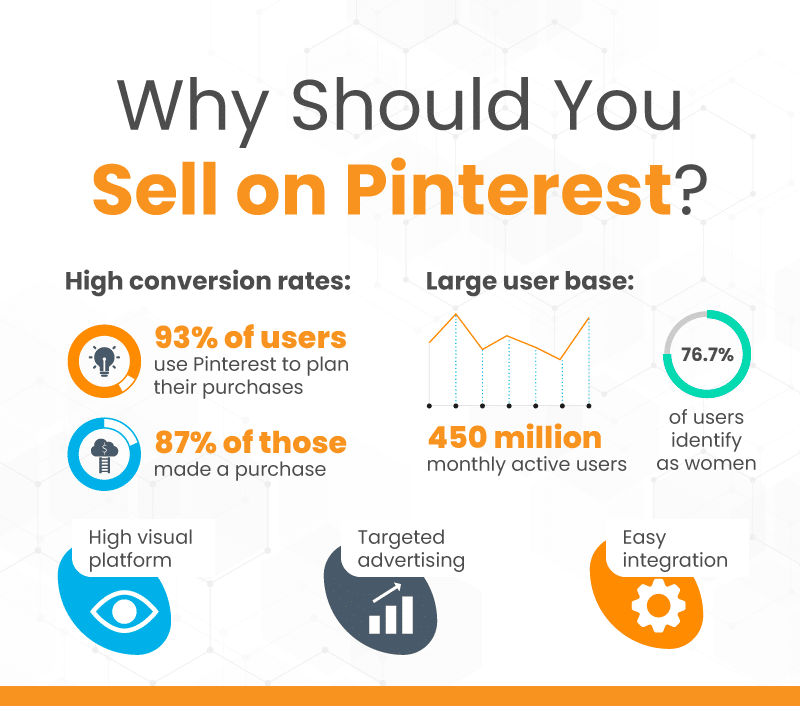 Table of contents
Why Should Your Retail Business Sell on Pinterest?
Retail businesses should sell on Pinterest for several reasons:
High conversion rates: Pinterest has higher conversion rates than other social media platforms. According to a report by Hootsuite, the average order value for sales referred by Pinterest is $50, higher than any other social media platform. Plus, 93% of Pinterest users use the platform to plan their purchases, and 87% have made a purchase because of Pinterest. This means that Pinterest is an excellent platform for retailers to showcase their products and increase sales.
Large user base: Pinterest has a massive user base, with over 450 million monthly active users as of February 2023. This means that retailers have a vast potential audience to reach on the platform. Additionally, Pinterest's user base is largely female, with 76.7% of users identifying as women. This presents an opportunity for retailers to target female consumers.
Visual nature: Pinterest is a highly visual platform, with users primarily searching for and saving images and videos. This makes it an ideal platform for retailers to showcase their products and brand aesthetic. According to a report by Shopify, Pinterest is the second-largest driver of website traffic among social media platforms, second only to Facebook. This demonstrates the power of visual content in driving website traffic.
Targeted advertising: Pinterest offers a range of advertising options, including Promoted Pins, Promoted Carousels, and Promoted Video Pins. These advertising options allow retailers to target their desired audience based on various factors, including interests, demographics, and behaviors. Additionally, Pinterest's advertising platform has a high return on ad spend (ROAS), with advertisers seeing an average of $2 in profit for every $1 spent on advertising on the platform.
Easy integration: Pinterest can be easily integrated with a retailer's website, allowing them to showcase their products directly on their Pinterest profile. This integration allows users to discover and save products directly from a retailer's website, increasing the likelihood of them making a purchase. According to Pinterest, retailers that use Rich Pins (which provide more information about a product) see a 36% increase in clicks to their website.
What Type of Retail Business Can Sell On Pinterest
Pinterest can be a highly effective platform for retail businesses that offer visually appealing products, allowing them to showcase their products through eye-catching images and videos. Below are some of the types of retail businesses that can really benefit from selling on Pinterest:
Fashion and apparel brands: Pinterest is a great platform for fashion and apparel brands to showcase their latest collections, trends, and styles. For example, Nordstrom has over 4 million followers on Pinterest and regularly posts images of their clothing lines, which can be easily linked back to their online store. This helps them to drive traffic to their website and boost sales.
Home decor and furniture: Home decor and furniture businesses can benefit from Pinterest's popularity as a platform for home improvement and DIY enthusiasts. Wayfair, for example, uses Pinterest to create boards showcasing different home decor and furniture styles and links them back to their website, where customers can purchase the items.
Beauty and personal care: Pinterest can be a great platform for beauty and personal care businesses to showcase their products through tutorials, product reviews, and images of the products in use. Sephora is a great example of a business that uses Pinterest to showcase its products creatively, including makeup tutorials and product demos.
Food and beverage: Pinterest is a popular platform for food and beverage enthusiasts and can be a great place for them to showcase their products. Brands like Starbucks use Pinterest to promote their seasonal drinks and recipes, which can be easily shared and linked back to their website.
Steps to Follow to Start Selling on Pinterest
Below are the essential steps to selling on Pinterest:
1. Set up Pinterest
Sign up: Go to the Pinterest homepage and sign up for a business account. If you already have a personal account, you can easily convert it to a business account.
Complete your profile: Once you've created your account, fill out your profile with your business name, description, and profile picture. Make sure your profile accurately reflects your brand and provides users with a clear understanding of what your business is all about.
Verify your website: Pinterest allows you to verify your website, which can help to establish trust with your audience. To do this, simply follow the prompts to claim your website.
Create boards: Boards are where you'll organize your content on Pinterest. Create boards that are relevant to your business and add high-quality, visually appealing content to each board. Also, use descriptive board names and descriptions to make your boards easy to find.
Start pinning: Once you've created your boards, start pinning content to them. You can pin your own content as well as content from other sources relevant to your business.
2. Create high-quality visuals
Pinterest is a highly visual platform; high-quality visuals will help businesses stand out. Retail businesses can leverage high-quality visuals to showcase their products in an attractive way, which can help grab the attention of potential customers.
For example, the retail brand, West Elm, uses high-quality visuals to showcase their furniture products on Pinterest. They often use lifestyle imagery to showcase their products in a real-life setting, which helps potential customers visualize how the product will look in their own homes.
3. Leverage Pinterest SEO
Pinterest is a search engine, and businesses can optimize their content to rank higher in search results. Businesses can increase their visibility on the platform by using relevant keywords in board names, pin descriptions, and image alt tags. It's also important to use clear and concise descriptions that accurately describe the product or service being offered. Use relevant keywords in your pin descriptions and board titles to improve your content's discoverability. Use keywords that your target audience would use to search for products like yours.
4. Use promoted pins
Promoted Pins are a form of paid advertising on Pinterest that allow businesses to reach a larger audience. These Pins are displayed in users' feeds, search results, and related Pins. They can be targeted to specific audiences based on interests, demographics, and other factors. Promoted Pins can help businesses reach new customers and drive sales.
5. Rich pins
Rich Pins are enhanced Pins that provide additional information about a product or service. There are four types of Rich Pins: Product Pins, Recipe Pins, Article Pins, and App Pins. Product Pins, in particular, are useful for retail businesses because they include information such as pricing, availability, and where to buy the product. By using Rich Pins, businesses can provide more information about their products, which can help potential customers make purchase decisions.
6. Analyze your performance
Use Pinterest analytics to track your performance and see what's working and what's not. Use this data to adjust your strategy and improve your results. One of the most important metrics to track includes top pins, top boards, impressions, engagement, and outbound clicks (to your online store). If certain types of posts are consistently performing better, you can learn from them. If something isn't working, you learn from that.
7. Engage with Your Audience
Respond to comments and messages from your audience. This will help build a relationship with your customers and increase brand loyalty.
8. Streamline your multi-channel selling with a retail POS system
A retail point of sale (POS) system will greatly benefit multichannel retailers. It can allow retailers who sell on multiple channels, including Pinterest, to reach a wider audience and diversify their revenue streams.
A POS system can provide retailers selling on Pinterest with sales and analytics data, allowing them to track sales performance, monitor customer behavior, and identify sales trends. This helps retailers make data-driven decisions, optimize their product offerings, and improve their marketing strategies.
Also, a multichannel-retail business POS system can help retailers manage their customer relationships by providing tools for customer segmentation, targeted marketing campaigns, and personalized, 24/7 customer service. This helps retailers build strong customer relationships, improving customer retention and lifetime value. KORONA POS can help you. If you're looking for a new POS solution or just starting a business and want to learn more, click the link below.
How To Sell On Pinterest: Conclusion
Pinterest can be a powerful platform for retail businesses to showcase their products and drive sales. By creating high-quality visuals, leveraging Pinterest SEO, promoted pins, and rich pins, businesses can increase their visibility on the platform and reach potential customers.
Also, using a cutting-edge retail POS can also be beneficial. It can provide a range of benefits for retailers selling on Pinterest, from centralized inventory management to customer relationship management. By leveraging the power of a POS system, retailers can optimize their operations and grow their sales on Pinterest and other sales channels.
FAQs: How To Sell On Pinterest
How do I set up a business account on Pinterest to start selling?
To set up a business account on Pinterest, follow these steps:
-Go to pinterest.com/business/create/
-Enter your email address, password, and business name.
-Choose the type of business you have, and enter additional information.
-Verify your website and link it to your Pinterest account.
-Create at least one board and start pinning content related to your business.
What types of products or services sell best on Pinterest?
Products or services that sell well on Pinterest typically have visually appealing images and are related to the following categories:
-Home decor and DIY projects
-Fashion and beauty
-Food and recipes
-Travel and leisure
-Health and wellness
How can I optimize my Pinterest boards and pins for better sales?
To optimize your Pinterest boards and pins for sales, follow these tips:
-Use high-quality, visually appealing images.
-Use relevant keywords in your pin titles, descriptions, and board names.
-Use Pinterest's Rich Pins feature to provide additional information about your products.
-Collaborate with other businesses and influencers by tagging them in your pins and boards.
-Use Pinterest Analytics to track your performance and adjust your strategy as needed.
How can I drive traffic to my website or online store from Pinterest?
To drive traffic to your website or online store from Pinterest, follow these tactics:
-Include a link to your website or online store in your profile and pin descriptions.
-Use Pinterest Ads to promote your pins and target relevant audiences.
-Participate in group boards and engage with other users' content.
-Use Pinterest's "Shop the Look" feature to tag products in your images and make them shoppable.
-Offer exclusive promotions or discounts to your Pinterest followers.