Last Updated: November 4, 2020
eCommerce has revolutionized the retail industry in myriad ways. While we don't have time to get into all of these in a single blog post, let's take a closer look at one of the biggest changes: the disappearance of the salesperson.
While there are many automated reminders of abandoned carts, related items, etc., there is never a physical person explaining to shoppers why they would benefit from purchasing a certain item. Instead, the internet acts as your eCommerce salesperson. And internet reviews can make or break your business.
Online shoppers will almost always look at reviews to gauge the quality of a product and help them make a final decision. And, of course, negative reviews or a lack of reviews will leave many potential customers shopping elsewhere.
Getting positive reviews is the easy part if you run a good business. What's tricky is getting the reviews in the first place. In fact, 38% of Americans do not leave reviews on products and services.
So how do you build your business's online reviews? Check out these easy steps toward getting more positive feedback from your customers.
It's Important to Get Reviews
First and foremost, the average consumer trusts online reviews. A group of positive reviews is an immediate incentive for a shopper to finalize a purchase. While an exact number is hard to determine, general consensus shows that the vast majority of online shoppers check reviews before making a purchase. And most of them trust a review site as much as a recommendation from a friend or family member. This boost in brand awareness and social trust will directly lead to more conversions.
Additionally, generating more reviews on your website and third-party review sites will help your search engine optimization (SEO). Search engines are always looking for new content and product reviews are an important part of that. It shows active user engagement and will encourage more relevant traffic to your eCommerce page or platform.
A review page will also save you time answering common customer queries. In-depth reviews will often answer many questions that prospective buyers are contemplating. This creates a better user experience and makes your life easier.
Finally, review pages are just another form of free online advertising. Branded content only creates more awareness and, in turn, more sales conversions.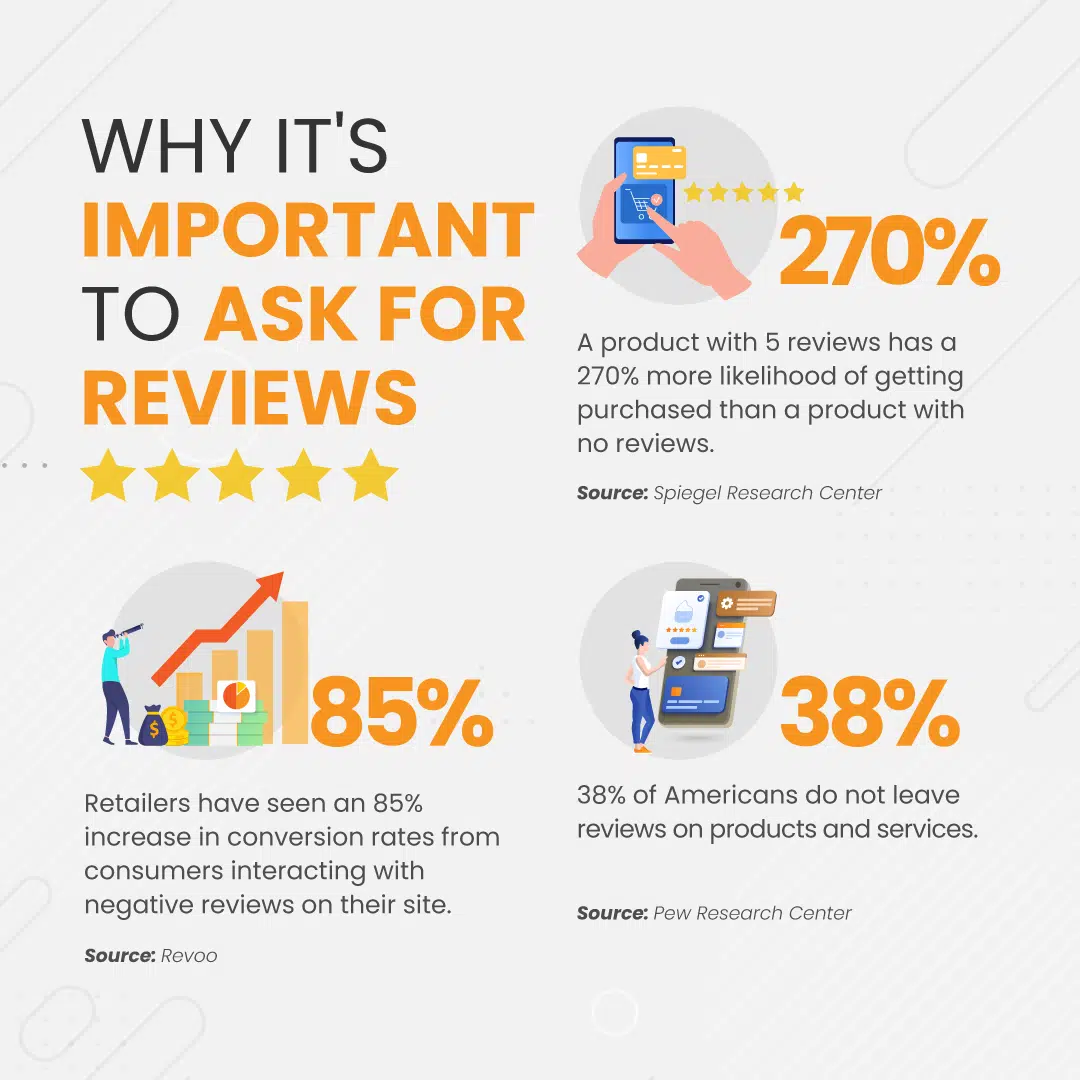 The Difference a Review Can Make
While most shoppers choose businesses with more reviews, having at least a few reviews can make a big difference. A product with even just 5 reviews will have a 270% more likelihood of getting purchased than a product with no reviews at all.
More surprisingly, even having some negative reviews give online retailers an advantage, seeing an 85% increase in conversion rate from consumers interacting with negative reviews on their site.
This is partly due to shoppers being skeptical when they notice too many positive positive reviews or perfect ratings about an online product or service. So businesses should worry less about having some negative reviews and focus more on collecting as many reviews as possible.
1. Find the Right Time to Ask for a Review
While you want to be proactive about requesting reviews from your shoppers, you don't want to be pushy, annoying, or unreasonable.
DON'T ask for a review before your customer receives the product. Be careful about automatic email prompts for reviews if you have a shipping delay or an out-of-stock item.
Ideally, wait for at least 2-3 days after the product has been delivered before asking for a review. This gives them time to have tried it and formed an opinion.
Many eCommerce retailers ask via email or through the platform itself (such as directly on Amazon). For brick and mortar stores, train employees to ask customers for reviews and print reminders on the back or bottom of receipts.
It's acceptable to ask multiple times for a review, but again be careful not to become a pest. Use your best judgment; reviews are important but not if they come at the cost of a regular customer. And make sure to say thank you for the purchase and and extra thank you for the review!
2. Ask for Help Answering a Question
In addition to asking for a review, use your reviews as an opportunity to put together FAQs. Have your customers fill out a brief questionnaire that gives you feedback on their customer experience. This keeps you updated on what your customers are looking for. It also shows shoppers that you care and are listening to what they have to say. Finally, it helps out future customers by quickly answering any questions that they might have. This also saves you and your team time by not having to answer the same questions over and over again.
3. Make Leaving Product Reviews Really Easy
Just like you want to keep your eCommerce checkout process fast and simple, the same goes for your review process. You don't want to lose reviews just because it's tedious, time-consuming, or confusing, so make it as easy and intuitive as possible.
Leave an option for leaving just a star review. Sometimes, shoppers don't have time to type out a written review. Keep a text box available, but don't make it a requirement.
If you have a questionnaire attached, ask simple, clear, short-answer questions. This section should allow customers to leave text reviews but with only one-word answers or a single sentence. Again, it's fine to include a longer form at the end, but make it an option.
Finally, enable the review to be made on the same page as the request that you're making. So if you send a review request by email, make it possible to complete the review within the email itself. Or if it's through mobile texting, the review should be able to be left directly through the text message. Following links, logging in, or other extra requirements will result in far fewer review conversions. Again, approach the process as you do with product pages and finalizing sales: make it fast and easy.
4. Incentivize Reviews with Rewards and Prizes
Often, small businesses build their review base by offering some sort of reward for some positive feedback. Many restaurants offer a discount or free item for customers that leave a Yelp or Seamless review, for instance.
In other cases, businesses will offer future rewards. Though less appealing in the moment, this method is beneficial because it incentivizes those customers to return. This means that you're more likely to gain new loyal customers in addition to getting a review.
Finally, a more exciting twist is to offer a contest entry for those who review your business. This makes the shopping experience more fun, keeps your brand on shoppers' minds, and brings people back into your store. Plus, it's certain to increase word-of-mouth marketing.
5. Share Your Favorite Reviews but Don't Delete Negative Reviews
Once you start gathering reviews, it's important to highlight them in productive ways as a part of your marketing strategy.
Find different outlets to showcase your best reviews:
Share them on your social media accounts
Add a review section to your website
Print them on menus or other pamphlets
Show them on Google searches
But don't be afraid of negative reviews. And never delete them! Trying to falsify reviews or delete bad reviews will get you some bad press pretty fast. Instead, use the poor reviews as an opportunity to learn and improve your business. You can also turn a bad experience into a great one by surprising an irritated customer. Listen to their concern, offer a way to fix it, and surprise them with amazing customer service.
6. List Your Business on All Relevant Review Sites
Like we mentioned above, adding all avenues for shoppers to leave reviews will make the process easier and convert into more feedback. Don't limit it to your website. Instead, add your business to third-party sites, like Google, Facebook, Yelp, and others. Reviews on these sites are even more valuable because shoppers will view them as more authentic and trustworthy. And a large portion of consumers are active regularly on at least one social media platform, so it's a great way to reach an otherwise untouched group.
Google
Start by adding your business to Google My Business. This is an easy way to get started and adds a lot of value. Most importantly, it increases your business's visibility. When a shopper searches for your store, all basic information will be given on Google's page itself, making the user experience more seamless.
Later, focus on getting shoppers to leave you reviews on Google. More and more consumers are using Google Reviews than ever before.
Facebook
Set up a basic business profile on Facebook and stay active. Post content regularly, keep your profile page up-to-date, and look at advertising options. All of this will keep you on users' radar and increase your visibility.
After you have this established, request reviews from shoppers. If you have reviews elsewhere, but few on Facebook, this is a good opportunity to sweeten the pot with a gift, discount, or prize in exchange for a friendly review.
Yelp
We've all dealt with a Yelp Elite Squad. It may not be the most pleasant, but they hold some sway. Despite starting with mainly restaurants and coffee shops, Yelp has also expanded reviews to all types of businesses. And even people who aren't religious Yelpers will go to this site before most others.
Again, boost visibility and build positive reviews on Yelp to increase your brand's trustworthiness.
Get Started with KORONA POS today!
Tell us a little bit about your business and explore all features that KORONA POS has to offer. And there's no commitment or credit card required.