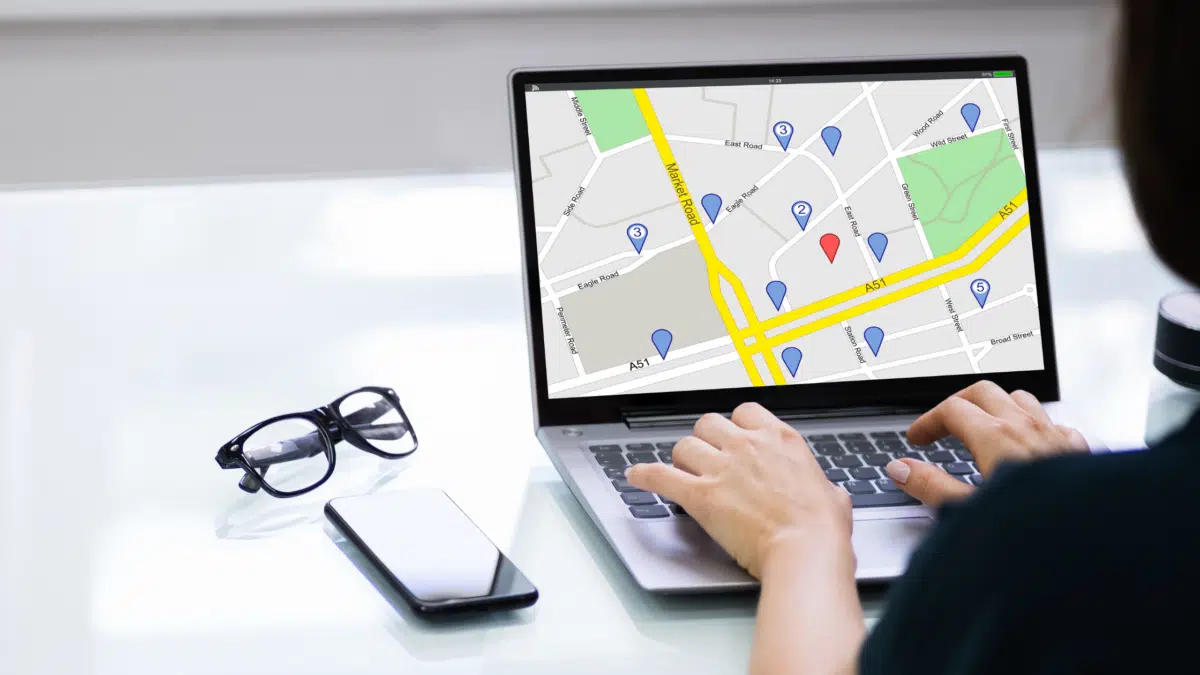 If you're considering starting a quick-service restaurant, retail business, or any type of business activity, scouting out the right business location should be on your priority list.
A business location should not be chosen on a whim, because even if the product you want to offer is top-notch, it must be tailored to the needs of the population where your business is located. If it doesn't, your business is doomed to fail, which is what you want to avoid.
Let's say you open a coffee shop along a highway, where the foot traffic is slim. No matter how good the coffee drinks you offer, you'd sooner or later shut down your business as the location isn't appropriate for a coffee shop business.
Finding a location for your business depends on certain factors such as the type of business you want to start, your target market, your products or services, and many other aspects that we'll walk you through in this blog.
Overall, we'll help you understand how to find a good location for a business with real-world examples. Let's dive in!
What are the Factors to Consider When Looking for a Business Location?
As a business owner, choosing a location for your business is critical as it is the place where customers will come to you and buy your products. The wrong location will waste your time, energy, and investment. So, there are some factors to consider when choosing your business location, especially if you're in the retail space, restaurant, and other small business industries.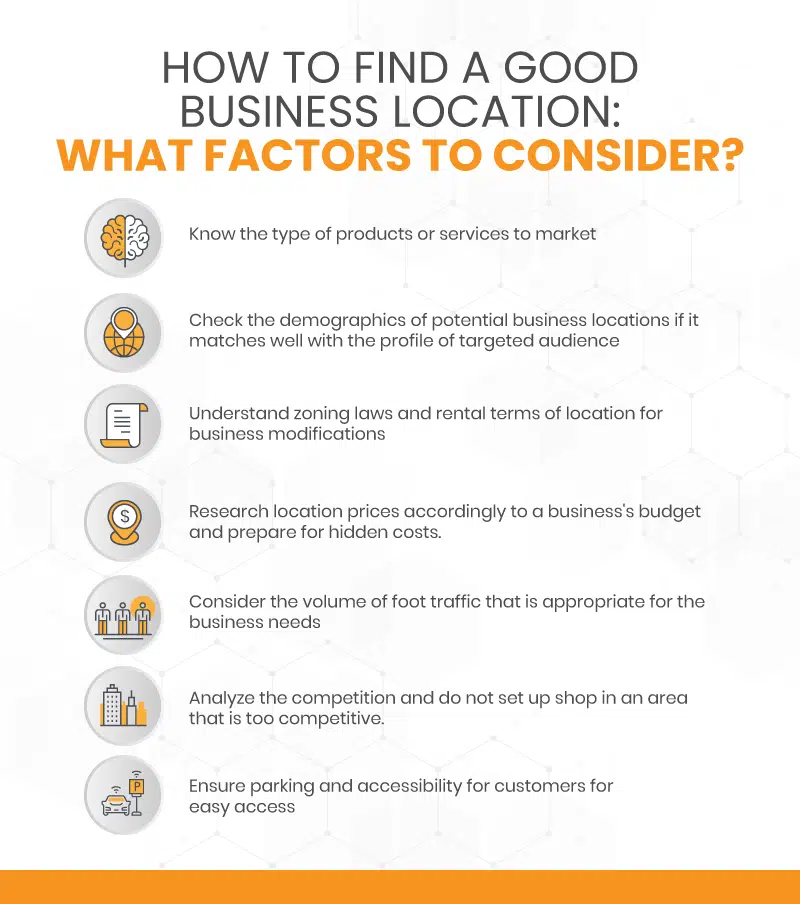 The Type of Product You Want to Sell
You need to know exactly what kind of products you want to market. Marketing certain products or services requires a certain type of location. Would you consider your store as a convenience store, a specialty store, or a sales store?
Convenience products, in general, need to be easily accessible for customers to make their purchases. These products are also of general interest to consumers. As a result, a shopping mall is not suitable for convenience products because the prices of these types of products may be slightly higher or different from other retail stores in your area.
Most customers will be more inclined to look for convenience stores located on their daily commute. Therefore, if you are considering opening a convenience store, it is best to occupy a site in or near a transit center or along high-traffic roads.
Selling specialty products means meeting more specific requirements than general-purpose products. Usually, for these types of products, customers do not hesitate to drive out of their way to get them, as they are not found in regular or general retailers.
If you are considering opening this type of store, it is advisable to establish your business location near other shopping centers, as their offerings may complement each other.
If you want to sell higher-value items or products such as cars, high-end clothing, furniture, or any other product that customers rarely buy, then you need a big-ticket shopping store.
Since these are high-priced products, the customer will be more likely to compare prices before purchasing. Retailers in this segment will need to establish their business location away from their competitors.
The Demographics of Your Business Location
To better understand the question of demographics, there are two essential aspects to consider. The first aspect comes down to thoroughly researching the area's population before making a final decision.
If you choose a city or a state, check with the Chamber of Commerce or the Census Bureau for demographic information about your business location. For retailers and other service-oriented businesses, this information is crucial.
The demographic profile of your target market will help you know if the location you choose is a good one or not. Research or survey companies that focus on retailers can also be helpful.
The data collected from all of these sources should give you more detail on the population's average age in the area, income levels, and an estimate of the population size.
For example, if you sell game consoles in an area where the population's average age is 50 and over, you will have a hard time selling your product quickly. It will be better to set up in an area populated with a younger generation.
Ask yourself the following questions to make sure the business location you choose is the best one: Is there a sufficient percentage of the local population that matches your target customer base?
Does your customer base have the purchasing power to support your business? Is the economy of your target market solely dependent on a particular industry? If so, a downturn in that activity could significantly impact business.
Tip:

A good way for a company to decide on location opportunities is to determine where its customers are and its competitors. For example, Subway avoids spending millions of dollars on market research by basing its location decisions on where McDonald's restaurants are located and are most successful since their customer profiles and demographics are similar.
Zoning Laws and Rental Terms of Your Business Location
Before signing a lease, make sure you understand the local zoning rules and ordinances. These will determine your ability to make changes to your site. Modifications may include limits on the size and imagery of signs advertising your business.
Contact your local city hall or planning agency for more information on signage restrictions to better understand how your business location is zoned. You may also want to contact an expert attorney to help you with the process.
If you're running a home-based business, certain zoning restrictions will apply to you. The most common restrictions are those related to limiting or prohibiting signs or displays pertaining to your business outside your home.
You may be prohibited from altering the exterior of your home in connection with the business. Finally, there may also be restrictions related to traffic or noise.
Location Costs
Finding the right business location is also about getting a site that meets your company's budget. In addition to the base rent or initial purchase price, be prepared for additional expenses related to your store location.
Examples of hidden costs that you should consider are painting, roofing, flooring, utilities, state or city wage requirements where your business is located, taxes, maintenance, electricity, heating/air unit repairs, and any other renovations.
For example, for a retailer who decides to sell high-end clothing, it is vital that they take care of and renovate the exterior of their store, with well-designed windows that give passers-by a reason to stop by the store.
It is difficult to predict the sales projections of a new business or whether a new location will be successful. That's why when you start a new business, make sure you have some cash flow to cover expenses three to six months after opening. If you do not have enough financial means, you can opt for a bank loan or alternative financing options.
See related: Tips On Managing Small Business Emergency Expenses
Foot Traffic
Foot traffic is a metric that tells you how many customers enter a store, mall, or location. High foot traffic tends to increase your sales and revenue. It's a significant metric for retail businesses to track.
Good foot traffic can be a strength of some small businesses. When looking for the right location, visit the potential site several times during the day to get a sense of the crowd's flow, the back and forth.
Keep an eye on the foot traffic outside the potential location at different times of the day and on other days of the week. This will give you an idea of whether the traffic volume is appropriate for your business needs.
Competition
It is essential to know the location of your competitors so that you do not set up shop in an area that is already too competitive.
By understanding the site of your competitors' stores, you can take the opportunity to analyze the places where they are located and even the particular characteristics of these areas and use them to make your choice better.
Find a commercial location that allows you to establish your own base. This will enable you to evaluate your market and products or services in relation to other businesses.
Parking and Accessibility
Easy access to your business location should be a priority for you when searching for your location. If the site is located on a busy street, you'll need to have a parking lot that facilitates the entry and exit of cars.
The location must also be accessible to your suppliers depending on the type of delivery you are likely to receive.
Consider having adequate roads and loading docks for trucking companies if you need to receive goods on pallets. Also, think of the people with disabilities, as your premises must also be accessible to them.
Get the Best POS Software to Grow Your Retail Business
A point-of-sale system is essential for any retail store. From inventory management to credit card processing to detailed sales reports and analysis, a cloud-based pos system is a tool you need to track all of your store's sales and other operations in real-time without being there yourself.
Our retail POS software, KORONA POS, gives you a 360° view of your business by offering features ranging from loyalty programs and CRM to advanced inventory management, employee time-tracking, reporting and analytics, and many more. The data collected from the software will serve as a reference to reorient your marketing strategy and help take the best decisions for your business.
You can try KORONA POS for free now to discover the full range of features that are essential for your business. Click on the button below to get started.
FAQs: Finding A Business Location
1. What location is best suited for the business with more potential customers?
The best location for your business depends first on the type of products you sell, which then determines the business location type. If you're a retailer or small business owner, the best location for your business will be a place where the foot traffic is high enough to increase your chances of sales but also a place with few competitors around. 
2. Why is a good location important for a business? 
A good business location has a significant impact on the growth of your business. It helps attract customers to your company, and without customers, your business will not grow. Your business location also helps attract the right talent to make your business a success. The site also helps create a brand and image for your business. It is where you meet your customers and where almost all transactions take place. It is therefore crucial that it is well-positioned and meets specific criteria.