Starting an online store can often feel like navigating through a maze of technical jargon, confusing options, and a never-ending list of tasks. WooCommerce promises an easier route, but even then, many retail business owners need help with the many settings, plugins, and choices that come with this popular eCommerce platform.
If you're pulling your hair out wondering how to configure payment gateways, sort out shipping options, or optimize your product pages, you're in the right place.
This blog will walk you through setting up an online store using WooCommerce. We'll cover everything from installing and activating the plugin to customizing your store's design, adding products, setting up secure payments, and more. You'll also discover how the KORONA POS team can help you rapidly build your WooCommerce online store through an easy-to-use plugin.
1. Choosing a Business Name
Select a business name that is unique, memorable, and reflects your brand. Check if your desired business name is available as a web domain and social media username. Purchase the domain name to secure your online presence. Once you've settled on a name, register the corresponding domain through registrars like GoDaddy, Namecheap, or Google Domains.
2. Choose a web host/ hosting provider
A web host stores your website data and makes it accessible on the Internet. They offer different types of hosting, so choose one suited to an eCommerce site. Shared hosting is affordable but limited, while managed WordPress hosting is optimized for WordPress stores. VPS or dedicated hosting provides more control and resources for larger stores.
Compare web hosts based on the following:
•eCommerce features: Some offer WooCommerce installation, caching, security, and performance optimizations for online stores.
•Storage and bandwidth: More is better for product images and shopping traffic.
•Pricing: Balance cost and features. Managed WordPress hosting may cost $20-$50/month for an online store.
•Reliability and support: Uptime guarantees of at least 99.9% and 24/7 support are essential for stores.
•Scalability: Can the hosting accommodate your store as it grows? Some hosts offer easy upgrades to more powerful plans.
Web hosting service providers like Bluehost, SiteGround, SiteGround, Hostinger, and WP Engine are popular options.
3. Installing WordPress and Woocommerce
With your business name and web hosting in place, you can install WordPress and the WooCommerce plugin to start building your online store. WordPress is the world's most popular open-source content management system, and WooCommerce is a WordPress eCommerce plugin. Here's how to install WordPress and WooCommerce:
Log in to your web host's admin portal and look for the WordPress installation tool. This will automatically install the latest version of WordPress for you. Alternatively, you can manually install WordPress by downloading the files and uploading them to your web server via FTP.
In your WordPress admin dashboard, install the WooCommerce plugin by going to Plugins > Add New and searching for "WooCommerce." Install the plugin and activate it.
4. Set up your store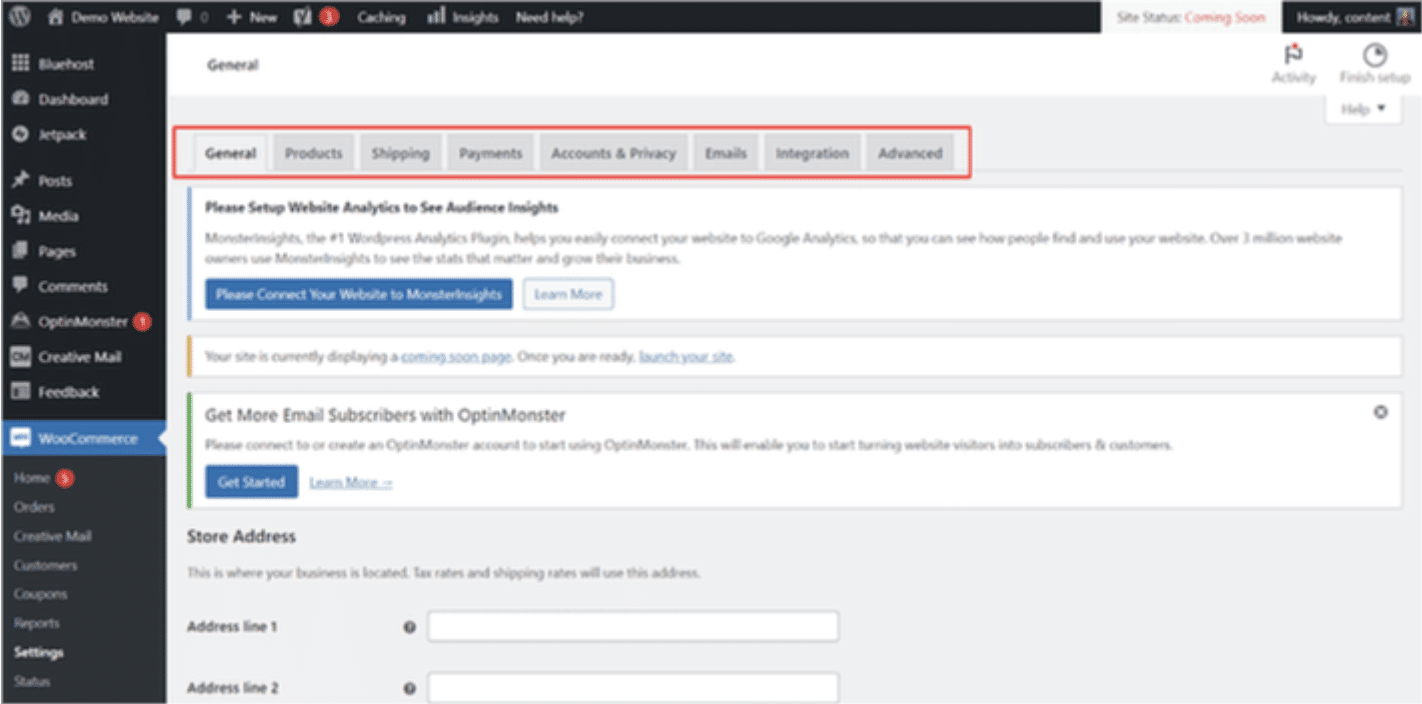 Once you have installed WordPress and the WooCommerce plugin on your site, you need to configure the settings to set up your store. WooCommerce will prompt you to install initial settings and pages to get your store up and running.
Follow the prompts to create products, set up payment gateways, configure shipping options, and design your storefront. You can further customize WooCommerce through the many free and paid extensions available. Add functionalities like subscriptions, bookings, memberships, and more. Style your store using a WooCommerce-compatible theme.
General settings
Under WooCommerce > Settings > General, enter details like your store's location, currency, and units of measure. Select a currency that matches where most of your customers are located. Choose whether you want to sell products by weight, dimension, or quantity for units of measure.
Products

To add a product in WooCommerce, navigate to Products > Add New. Here, you will enter details about your product:
Add a product name and description to inform customers about the item. Be descriptive and include details like dimensions, materials, and features.
Define product categories to help with searchability and organization. You can create main categories and subcategories.
Add product images to showcase your item. Include multiple high-quality photos from different angles. Images are critical for giving customers a sense of what you are selling.
Set a price and choose whether to charge tax. You can also run sales or offer coupons.
Choose to enable reviews so customers can provide feedback about your products. Reviews build trust and help with conversion rates.
Assign an SKU to help with inventory management.
Indicate whether the product is virtual, downloadable, or a physical good that requires shipping.
Once you've entered a few items into your database, the products area on your dashboard should resemble the following: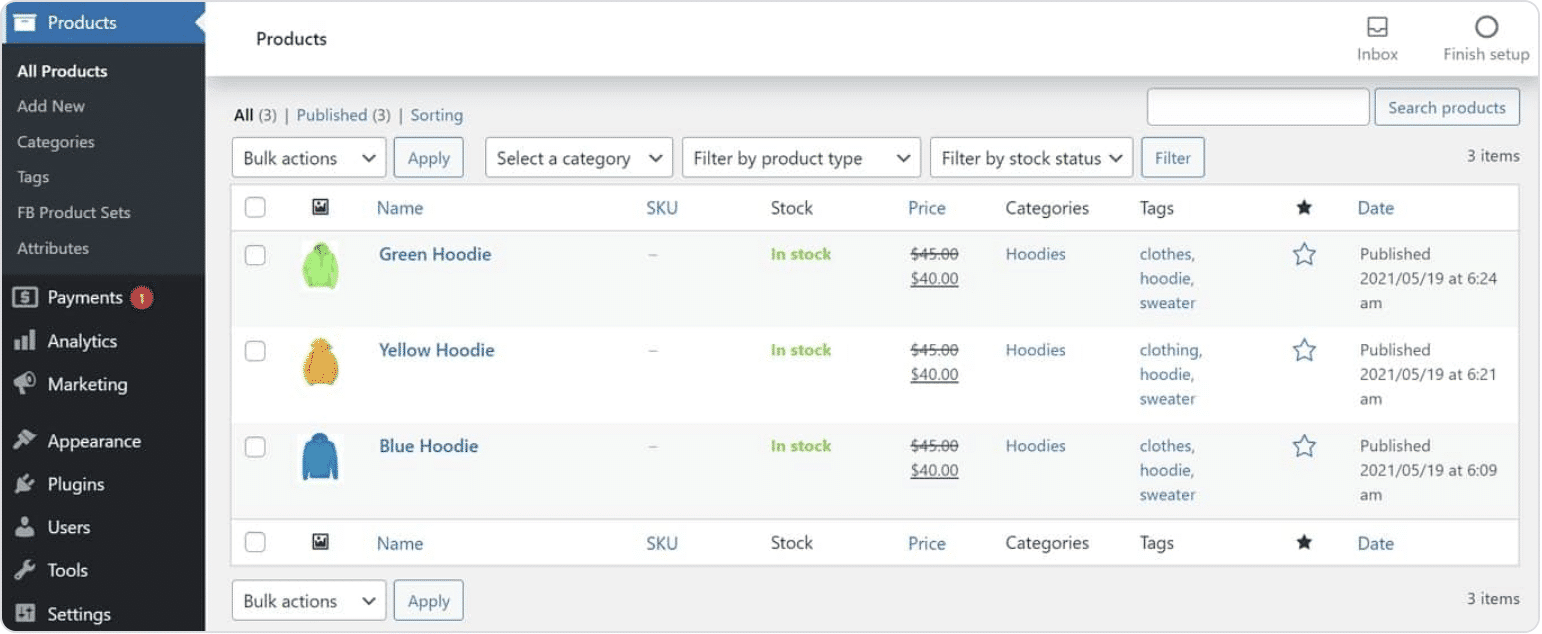 You might want to read: How To Find Trending Products to Sell in Your Online Retail Store
Shipping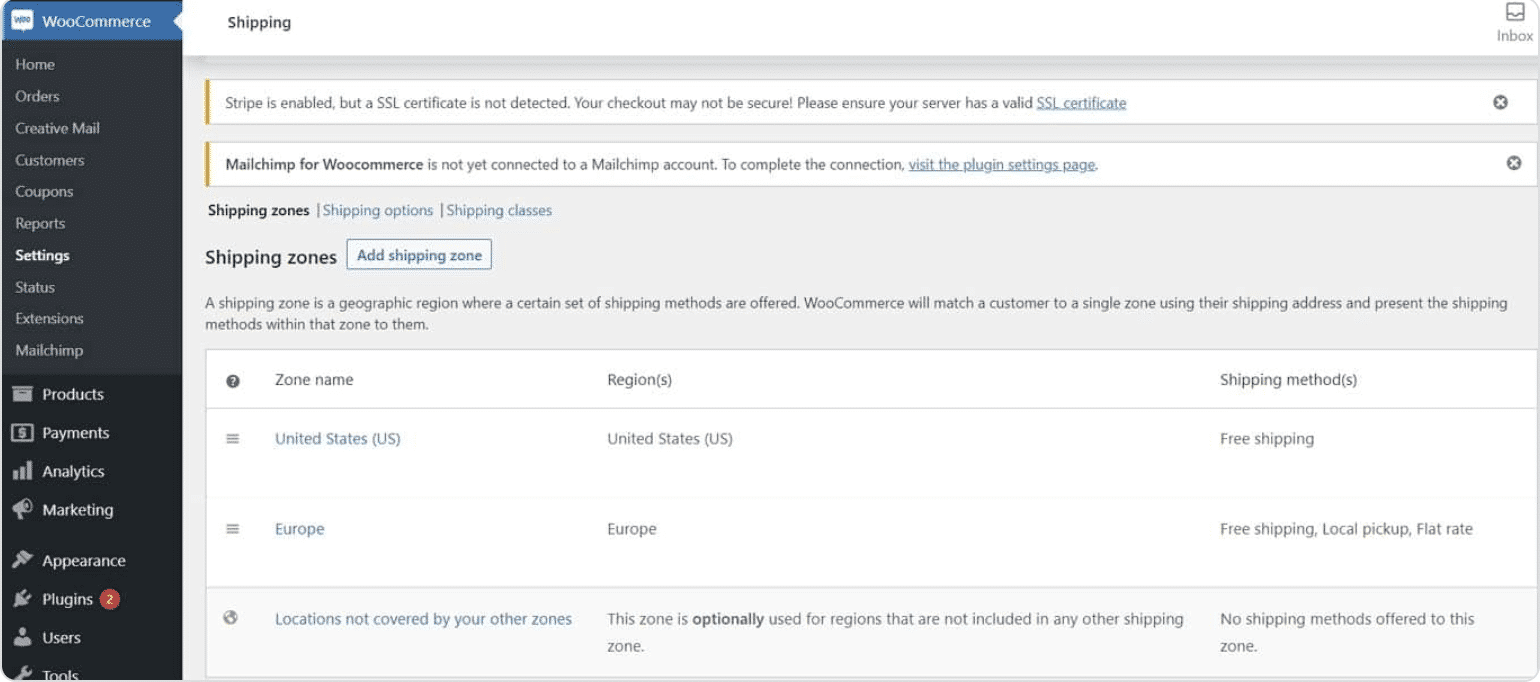 Configure your shipping zones and methods in the Shipping tab if selling physical products. Set up zones for countries or states you will ship to, and choose between flat rate shipping, free shipping, local pickup, or carrier-calculated shipping. Connect your UPS and USPS accounts to provide live rates.
For virtual products, disable the shipping settings. Optimizing these settings for your specific store and customer needs will provide a smooth experience for your buyers as they browse products, checkout, and receive their orders. Experimenting allows you to determine what works best for your online store.
See also: 12 Ways to Reduce eCommerce Shipping Costs: Optimize Retail Shipping
5. Setting up payments

To accept payments, you will need to configure payment gateways in WooCommerce. Users have a few options:
PayPal Standard to accept PayPal payments. This is a popular choice for beginners.
Stripe to accept major credit and debit cards. Stripe is a simple way to take card payments with low transaction fees.
Other gateways include Authorize.net, Braintree, and Square.
See also: What Is a Third-Party Payment Processor? The Ultimate Guide
You must create an account with your chosen payment gateway(s) and enter your login credentials in Woocommerce to connect your store. Test transactions to ensure everything is working properly before launching your store.
With your products, images, and payments set up, your WooVommerce store is ready to accept customers and complete purchases.
6. Configure Taxes
Here are the steps on how to configure taxes with WooCommerce and WordPress:
Enable taxes. Go to WooCommerce > Settings > General and check the Enable Taxes and Tax Calculations checkbox. Then, click Save Changes.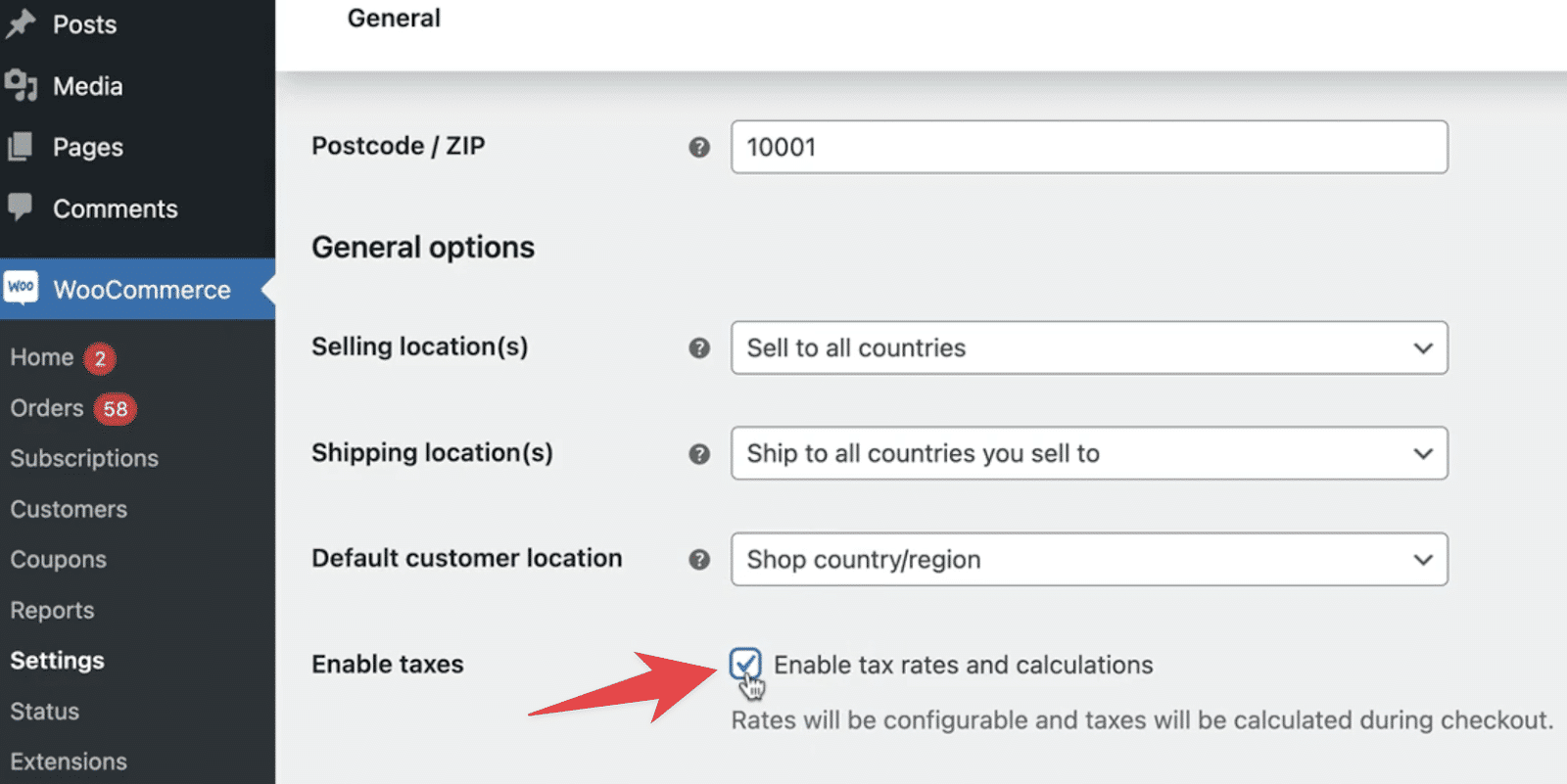 Configure tax options. Go to WooCommerce > Settings > Tax.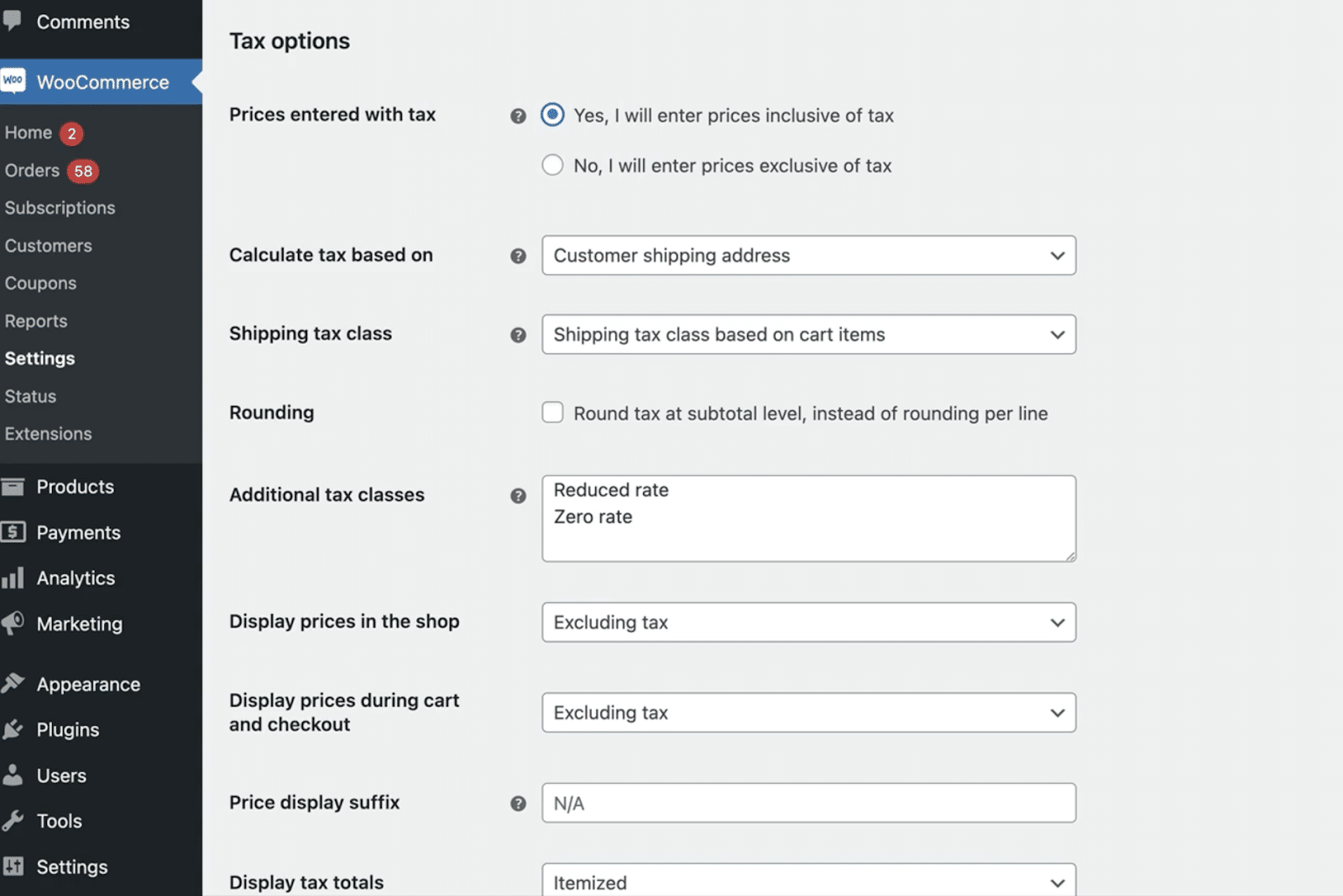 7. Promoting and Designing Your New Online Store
Once your online store is set up and products are loaded, it's time to promote your store and optimize the design. This involves driving traffic to your store through marketing and ensuring your store is sleek and user-friendly.
To drive traffic to your new store, employ search engine optimization (SEO) techniques like using relevant keywords in your page titles, URLs, image alt text, and content. Create blog posts about your products and industry to generate organic search traffic. You should also use social media platforms to spread the word about your store. Post updates, photos, and videos on Instagram, TikTok, and Pinterest to increase brand awareness and engagement.
Consider offering promotions and discounts to new customers to incentivize sales. You might offer a percentage off or free shipping for their first purchase. Loyalty programs that offer rewards for repeat customers also boost sales.
For the design, choose a theme that fits your brand and is optimized for eCommerce. Ensure all elements, like product images, descriptions, and prices, are clear and consistent. Your theme should display well on mobile devices since many shoppers browse on their phones. Keep your homepage uncluttered and make it easy for customers to find products or categories.
Test your store to identify any issues. Try making a purchase yourself to ensure the checkout process is smooth. Get friends or family to review your site and provide feedback. Make any necessary changes to create an enjoyable shopping experience before launching your store to the public.
With some basic promotions and a polished, user-friendly design, you'll be on your way to building a thriving online store. Continually improve over time based on customer feedback and market changes to keep your store competitive.
Read also: 7 Tips To Improve Retail Store Performance
8. Build Your eCommerce Store With KORONA POS With a Few Clicks
Transitioning to eCommerce is now easier than ever for retailers with KORONA POS. The seamless WooCommerce plugins allow you to quickly set up an online store and sync inventory in just a few clicks. That lets you avoid the headache of manually managing separate in-store and web databases. KORONA POS handles the technical complexity behind the scenes so you can focus on sales.
KORONA POS goes beyond essential POS integration. Our robust eCommerce solution unifies physical and digital operations into one streamlined system. Get a holistic view of stock levels, order history, and customer data, whether they shop in-store or online. This automatic syncing saves time, reduces errors, and optimizes omnichannel management.
Ready to take your retail business online and connect in-store sales? Book a call with our eCommerce POS experts today to schedule a personalized walkthrough of our POS eCommerce capabilities. We'll demo how the KORONA POS WooCommerce plugin makes it easy to create a website and centralize systems. Simplify operations with one unified platform covering both your physical and digital storefronts. Click below to get started.
Conclusion
The key steps and essential components required to create a fully functional eCommerce store with WordPress and WooCommerce are choosing a name, getting your domain, picking a hosting provider, and installing WordPress. From there, configure WooCommerce, add products, and set up payments and shipping.
Once your store is designed, and taxes are set, start promoting to increase traffic and sales. If you still find the process daunting, contact KORONA POS for assistance. Our product specialists will help you build your online store with Woocommerce and help you sync your physical and online shop.