If you're looking for a new POS system you've likely seen a lot of offers for free POS systems. In fact, there are more offers for free point of sale systems than ever before.
But why would so many businesses be flocking to offer a free product or service? Of course, as we consumers know well, nothing is really ever free. And these POS offers are no different.
Predictably, free POS systems are too good to be true. Instead of actually being free, they typically offer free aspects of a point of sale solution, while still charging for other components. For instance, they commonly offer free software but charge extra fees for credit card processing.
We'll look more into how these offers work and why they often do more harm than good for small businesses.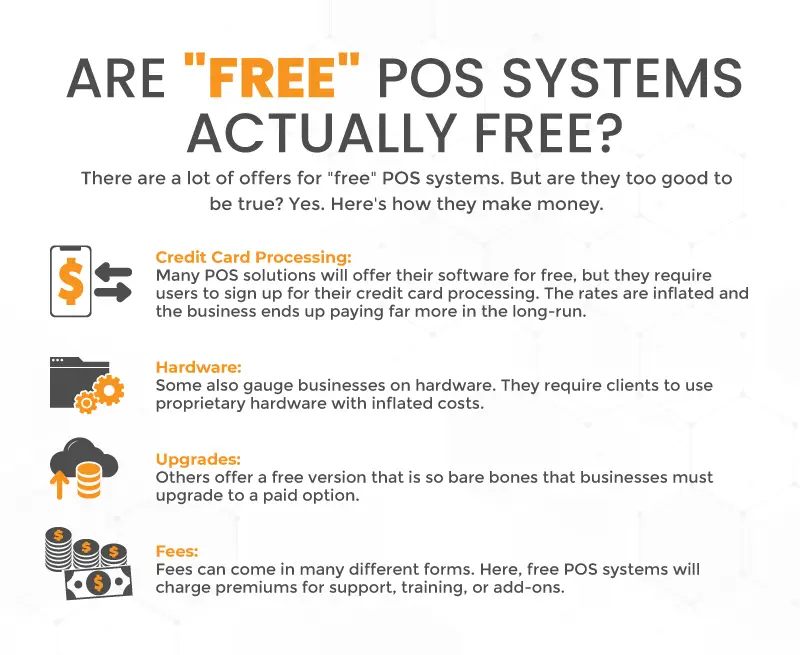 What Are the Components of a POS System?
Often, business owners are unsure of what exactly comprises a POS system. And too often, POS software and POS system are conflated. But in reality, POS software is just one component of a POS system.
POS Software
The software is what powers the system. It's responsible for your inventory management, analytics, employee management, loyalty system, etc. It's by far the most important aspect of your point of sale solution.
POS Hardware
Your POS hardware is what your software runs on. Most POS software runs on desktops and tablets. Some can run on multiple operating systems, while others are more particular. A few simple options can run on smartphones, too.
Credit Card Machines
To complete transactions, credit card machines are connected to your hardware. These are responsible for all debit and credit transactions.
Payment Processing
Your POS provider or third-party payment processor must be responsible for maintaining secure and consistent transactions.
Receipt Printer
Most brick-and-mortar businesses still have receipt printers connected to their hardware.
Scanners
For faster checkout and inventory management, handheld scanners are another important component of a complete POS system.
Cash Register
Finally, a POS can't be complete without a cash drawer.
Are There Any Free POS Systems?
So with all of those components considered, do you really think there is a free system? Of course not.
Instead, what some POS companies advertise are free components of the entire system. Others commonly only offer an extremely limited version of the software for free and charge for features that any legitimate business will require.
While there are big differences in POS pricing, there are no free systems. Beware before signing yourself up to anything long-term.
How Do "Free" POS Systems Make Money?
So now that we've established that free POS systems don't exist, you might be wondering just how they make their money. There are several main ways that they do so, and each is equally frustrating and lacking transparency.
Credit Card Processing
The most common way that "free POS systems" make their money is by bundling their POS users with their processing solution. While it might seem convenient to have a single payment processor and POS provider, it often comes with exaggerated rates.
There are several different ways that businesses can pay for their credit card processing. And while it (much like POS systems) can never be free, it is true that most businesses are paying too much.
This is because businesses like those that offer a free POS quietly charge an additional premium on each transaction. While the fraction of a percent might seem small, it adds up quickly. And, in most cases, it adds up to far more than a business would pay for a normal POS solution.
POS solutions that are processing agnostic allow their users to find the best rates out there and avoid such costly mistakes.
Hardware
While the processing ruse is the most common (and the most costly to small businesses), there are a few other tricks that you'll likely run into.
Some companies offer free software but then require that you use specific hardware. Again, the rates for their hardware will likely be inflated.
Upgrades
As we mentioned above, others will only offer a completely basic model for their free version. An unknowing new business might sign up and start to use it only to find out that its meaningful features come at a cost.
Usually, these will set an absurdly low limit to users, transactions, or inventory products.
Fees
Finally, some charge businesses additional fees for training, ongoing customer support, feature add-ons, integrations, etc. Such fees add up over time and always come out to more than a traditional point of sale would have cost.[
What Does the Average POS System Cost?
The cost of a POS system will vary greatly depending on a number of factors:
Features

Business type

Number of terminals

Integrations
There are several other factors that some POS solutions will use as excuses to raise rates, but others will include:
Number of users

Number of locations

Number of products

Customer support time

Training
All told, software subscriptions by the terminal are typically between $50-100 per month. Credit card processing should be between 2-3% of each transaction. Tablets, desktops, and kiosks range from $500-5,000+. Most hardware peripherals are $100-200, though scanners can exceed $1000.
Many POS providers also offer bundled deals or lease options for their hardware so that the up-front fees aren't too steep.
How Can I Find the Right Point of Sale?
Shopping for the right POS system is a big task. And it's such an important business decision. A great fit will help businesses have more insight into their operation and healthy scale. A bad system will be a confusing nuisance that provides more frustration than value. And a horrible system will skim money off your profits margins with shady processing agreements and long-term contracts.
Start by making a list of the features that your business needs. A winery will need far different features than a bike shop. Look for solutions that cater to your business type.

Ask about hardware options and pricing. See if they can integrate to any existing hardware you have.

Explore useful integrations that you may need for other operational software.

Figure out your payment processing and find a provider that doesn't make you sign up with them.

Stay away from long-term contracts or add-on fees.

Ask about customer support and try calling in a few times to see if you get an actual person.

Use any free trial offers to test out the software before implementing it.

Schedule product demos if the solution offers.
Get Started with KORONA POS today!
Tell us a little bit about your business and explore all features that KORONA POS has to offer. And there's no commitment or credit card required.