Let's face it, not much in life is actually free. There was an argument for Facebook before we found out they were selling the privacy of half the world's population to Russia. Maybe McAfee Antivirus but doing business with that guy hasn't historically turned out to be a smart move. We've found it out the hard way enough times by now to walk into such an offer with at least a touch of skepticism.
But, well, we don't. The realm of retail point of sales is no exception. To be fair, if your business has very few transactions or limited sales, such offers might not be your worst option. But too many small businesses take the bait of "free POS software," or a "POS system for free" offers, only to have their bottom line suffer horribly down the road. So take a look a few of the catches that some of the biggest and most popular points of sale companies regularly employ on small businesses across the world.

Free POS Software But Overpriced System Components
One of the most common tactics these POS companies use is highlighting aspects of a POS system that are free. Plenty of POS businesses cover their website with free software offers. This looks great until you get their quotes on their $8000 monitor and $600 receipt printer. Small print can bind you into buying their specific hardware which will inevitably be substantially more expensive than the market price. Many companies also charge retail stores for any software add-ons aside from the most basic. This could be adding products to the database, giving more employees access, integration with loyalty or accounting software, to name a few.
See related: How Do Free POS Systems Work?
Credit Card Processing Fees
It goes the other way as well – "free" hardware offers generally mean that you will be paying for it elsewhere, namely, with overpriced software or high credit card processing fees. And these can be even more lethal to any small business. The more slimy POS companies promise free hardware but sneak in credit card processing fees near to or over 3%. Unlike a one-time hardware fee, these fees are charged for every single credit card that is run. Forever. Setting up a business is expensive, and spending a chunk of change on a POS system probably won't be the most exciting purchase you'll make. But it's a purchase that MUST be smart. 3% off the top of any successful business will end up costing you a sickening amount of cash, especially considering average credit card processing fees are under 2%.
Below is Square's pricing: the POS software is hardly free with a 2.75% processing fee.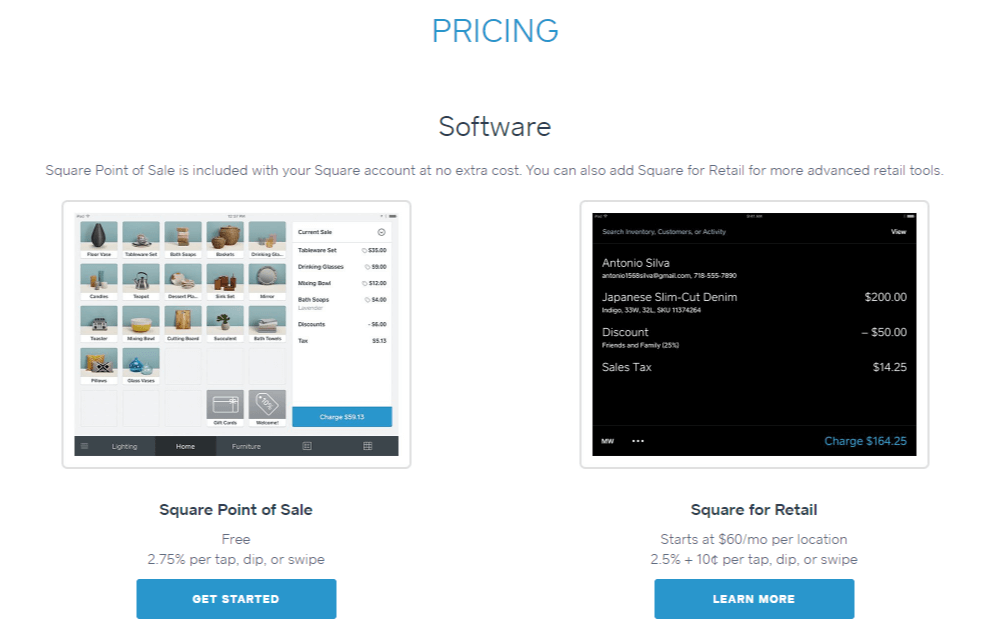 Cancellation Fees on a Free POS System
We've probably all dealt with difficult cancellation policies from our cell phone or cable providers. They're the worst. Don't add your POS company to the list of businesses you dread calling. Many point of sale companies incorporate hidden cancellation policies that can end up haunting you. Make sure your POS solution is an at-will contract with month to month billing. Don't lock yourself into an unsure situation.
Service Downtime & Support Issues
So let's say you found the dream scenario: a point of sale system that truly is completely free. Well, it's still going to cost you. If you are actually being charged NOTHING, you can't expect all that much in return. And that means limited support and poor management. Your system will be more likely to experience downtime and any support that you need will cost you money. Additionally, interrupted service will cost you money in the moment and down the road. Customers might leave and those that stick around will be less likely to return.
So Does Your POS Have to Cost an Arm and a Leg?
Absolutely not. It's a valuable service and will never be free, but it can be reasonable. KORONA point of sale software provides small businesses across the world with reliable, affordable service. We don't even offer contracts, and our monthly subscription is a flat rate which includes every aspect of your point of sale. Support is 24/7/365 by phone, email or chat, and there's no limit to how often you can contact us. We really believe that you can't beat it. So before you fall for a trap of false promises, ask us about our free trial and you can see for yourself what's so great about KORONA's POS solution.
Get Started with KORONA POS today!
Tell us a little bit about your business and explore all features that KORONA POS has to offer. And there's no commitment or credit card required.