Last Updated: March 26, 2021
One of the most crucial investments you will make in your retail business is your point of sale system. Shopping for one can be overwhelming and confusing, especially with the range of features and prices throughout the market. But promises of a "cheap POS system" or "free point of sale" are misleading at best. From long-term contracts to overlooking compatibility, here are a few common traps to watch out for.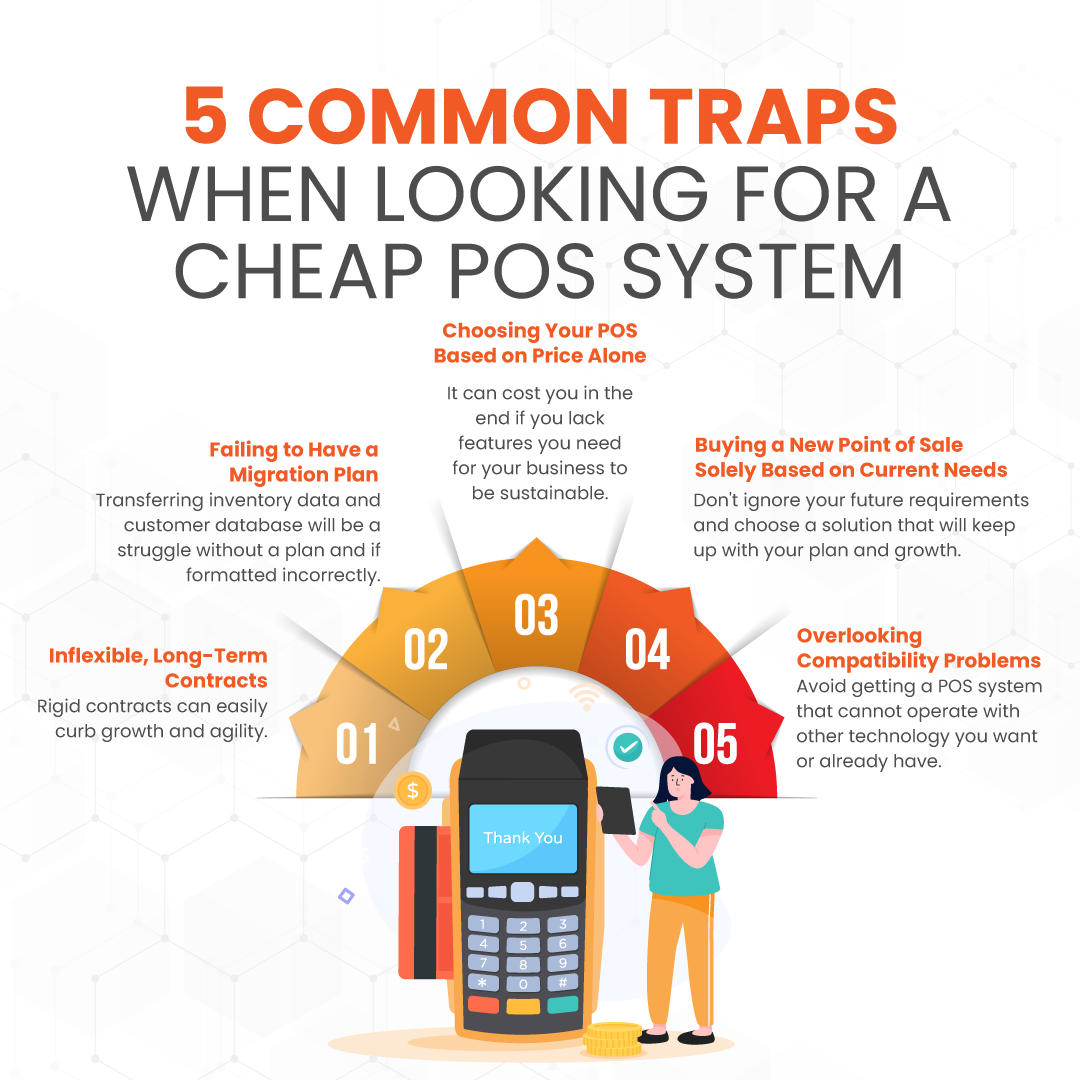 1. Inflexible, Long-Term Contracts with a Cheap POS System
Any sort of contract can put you in a bind, especially if a solution becomes a poor fit for your retail business. The retail world that we live in today requires business owners to adapt quickly. Therefore, rigid contracts could easily curb growth and agility.
It's imperative to choose a point of sale system that is subscription based. This type of POS software will make it easy for you to scale up or down based on your requirements. It allows you to figure out what systems and tools fit your business over a period of time, without locking you into a one-size-fits-all solution. It provides flexibility while still being affordable.
2. Failing to Have a Migration Plan
You must plan how you will transfer information from one source to the other. Transferring inventory data and customer databases can be a major headache if they are not done right. It's necessary to iron out all details to avoid a migrating process that is time-consuming and expensive.
Allocate ample staffing resources and time for the process of migration. You will need to clean and organize the stored data and format the data files correctly before transferring them to the new system.
3. Choosing Your POS Solution Based on Price Alone
It's great to settle for a cost-effective POS, but you need to make sure it will handle your business needs adequately. A growing business benefits from features like advanced inventory management, data analysis, and customer loyalty programs. And a cheap POS system may not have the critical functionalities and features that are needed to run and manage a competitive retail business. You might save some cash by going for a free or cheap option, but the time you'll spend dealing with the shortcomings of the system will end up costing you in the end.
When deciding on a point of sale solution, you must first list the primary features that you are interested in and then search for solutions that meet your needs. Next, decide on a budget for your POS. Treat it as what it is: an important investment for your business's growth and competitiveness.
4. Buying a Cheap POS System Solely Based on Current Needs
You should treat buying a new POS system as an investment. Like other aspects of your business, shortsightedness in this department can come back to sting you. Unfortunately, that's exactly what happens when you choose a cheap POS system that addresses your current needs and not your potential future requirements.
Go for a solution that keeps up with your plans and growth. You should think about the direction you want your business to go and ensure that the new solution aligns with that goal.
5. Overlooking Compatibility Problems
Check that your POS system is easily compatible with any third-party loyalty, accounting, or eCommerce software. The last thing you would want is to buy a new system only to realize that it does not operate with some of the technology you want or already have. If you're planning to keep existing hardware, make sure your new POS software is compatible with this as well. Come up with a list of your current hardware and software.
KORONA POS for Your Point of Sale Solution
If they can't be integrated, then you need to consult experts like KORONA POS on the options that you have. KORONA POS never binds customers to a contract. We offer 24/7 support for an advanced retail point of sale solution that will help your business grow.
Get Started with KORONA POS today!
Tell us a little bit about your business and explore all features that KORONA POS has to offer. And there's no commitment or credit card required.