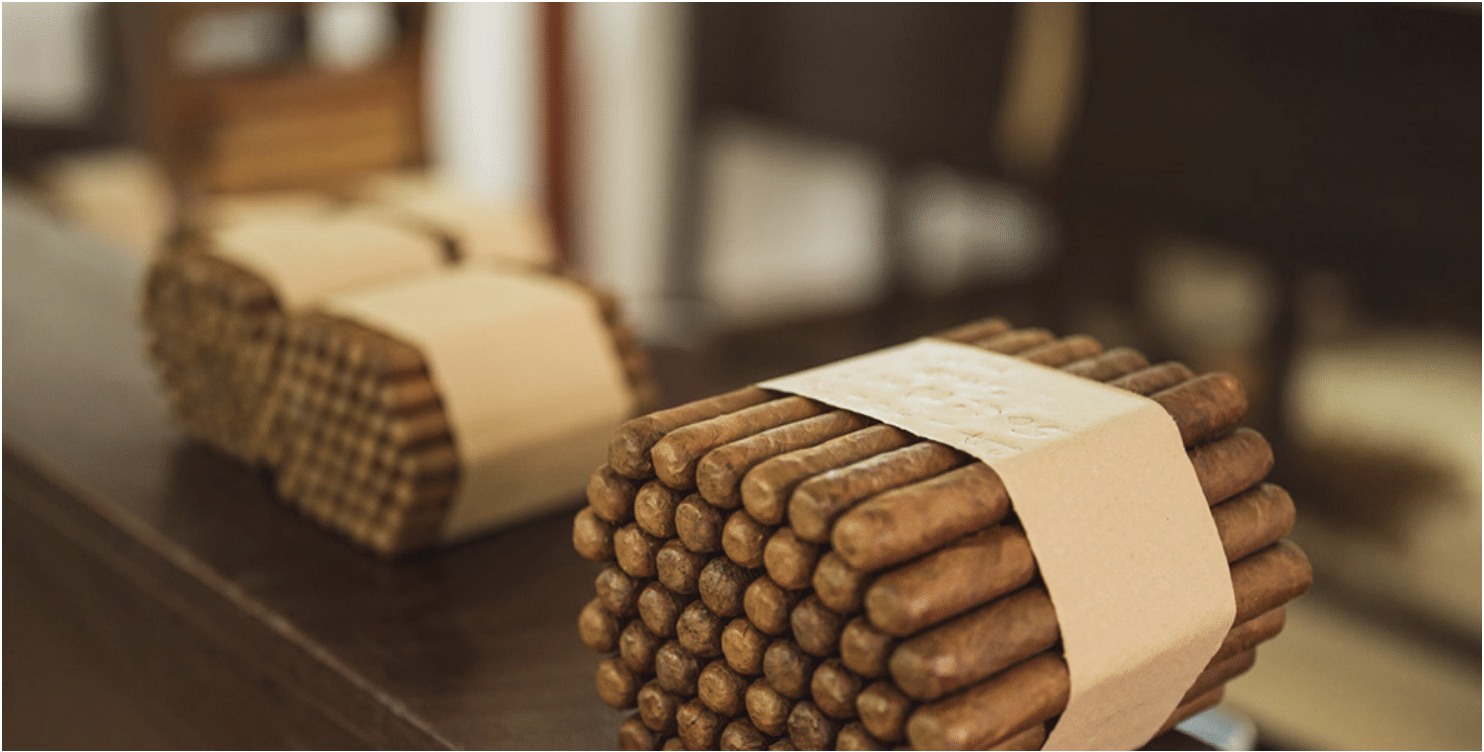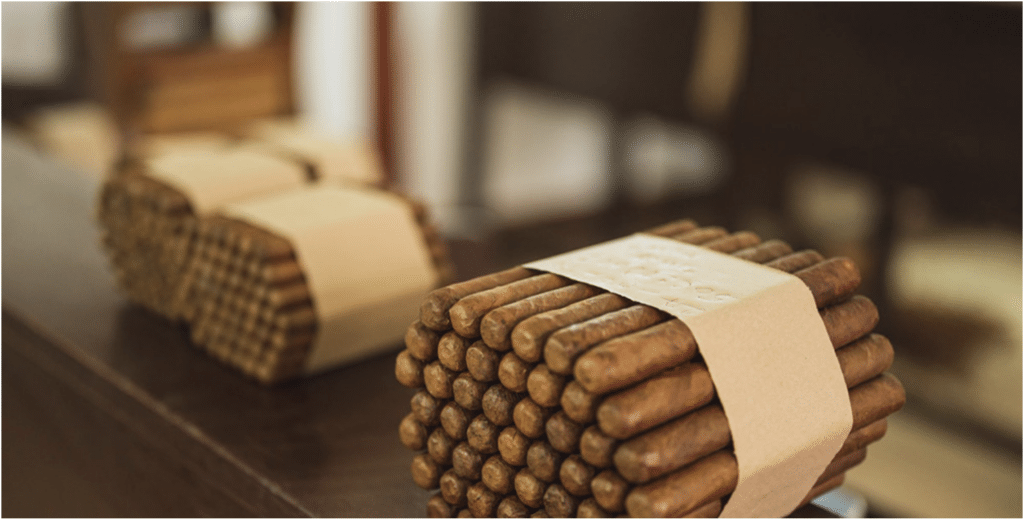 ---
Selecting the right point of sale (POS) system is crucial for smoke shops to run their business efficiently. With age verification requirements, extensive inventories, and compliance with various regulations, smoke shops have unique needs that demand specialized POS software.
This guide explores the key features smoke shops must consider when evaluating POS systems for their tobacco retail business. It also provides recommendations for top POS system providers that are tailored for smoke shops. Read on for insights into choosing the best POS system to manage your smoke, vape, or tobacco shop smoothly and effectively.
Essential Smoke Shop POS System Features
Running a smoke shop comes with unique challenges that require specialized point of sale systems. When researching your options, look for these key smoke shop POS system features:
1. Age Verification
One of the foremost requirements for a smoke shop business is strict age verification. A robust smoke shop POS system should have built-in age verification mechanisms, including ID scanning and age calculation based on birthdate, to ensure that tobacco and smoking-related products are only sold to customers of legal age. This helps your business maintain compliance and safeguards you from costly legal issues.
2. Inventory management
Smoke shops typically carry a wide range of products, from tobacco and vaping supplies to accessories. A quality smoke shop POS system makes tracking inventory simple. Look for robust reporting on inventory levels, sales volumes, and other metrics. Automatic reorder reminders ensure you never run out of top-selling products. The system should also sync inventory across multiple locations if you have more than one shop. This level of visibility leads to smarter purchasing decisions and less waste.
3. Compliance with regulations
Smoke shops are subject to various regulations and restrictions, including those related to age verification, taxation, and product labeling. A smoke shop POS system should be designed to facilitate compliance with these regulations, helping you avoid fines and legal troubles. Select a system with reporting specifically designed to meet legal requirements. Avoid manual compliance processes that increase the risk of errors.
4. Employee management
Efficient employee management is key to running a successful smoke shop business. Your point of sale must allow you to track employee hours, monitor sales performance, and implement security measures, such as unique login credentials and permissions, to prevent unauthorized access to sensitive data.
5. Multiple payment options
To cater to a diverse customer base, your smoke shop POS system should support multiple payment options, including cash, credit/debit cards, cashless, and mobile payments. Providing flexibility in payment methods will enhance the customer experience and boost sales.
6. Cloud-based POS
Opting for a cloud-based smoke shop POS system offers several advantages, including real-time data access, automatic updates, and data backup. This ensures that your system is always up to date and minimizes downtime.
Instead of being locked into in-store servers, your data and software live in the cloud. This allows for remote management from any mobile device or computer. Cloud platforms also simplify software updates without manually installing patches or new versions. For smoke shops with multiple locations, the cloud allows centralizing data and operations into one dashboard.
7. Discount and promotion management
Effective discount and promotion management attracts new customers and retains existing ones. A smoke shop POS system should allow you to easily create and manage discounts, loyalty programs, promotional campaigns, and gift cards, helping boost sales and customer loyalty.
8. Integration with accounting software
Streamlining financial processes is crucial for any business. Integration with accounting software simplifies bookkeeping, reduces the risk of errors, and provides accurate financial insights. Look for a smoke shop POS system seamlessly integrating with popular accounting software like QuickBooks or Xero.
What Are The Best POS System Providers For Smoke Shops?
KORONA POS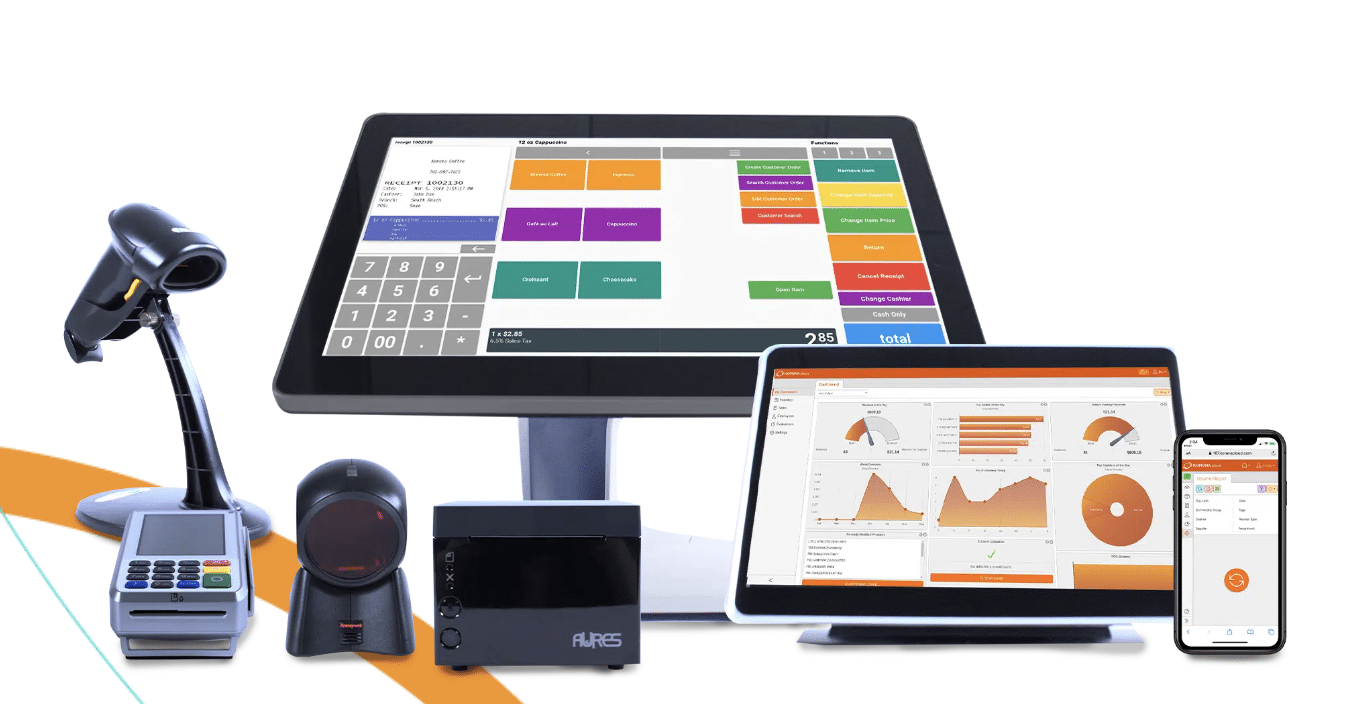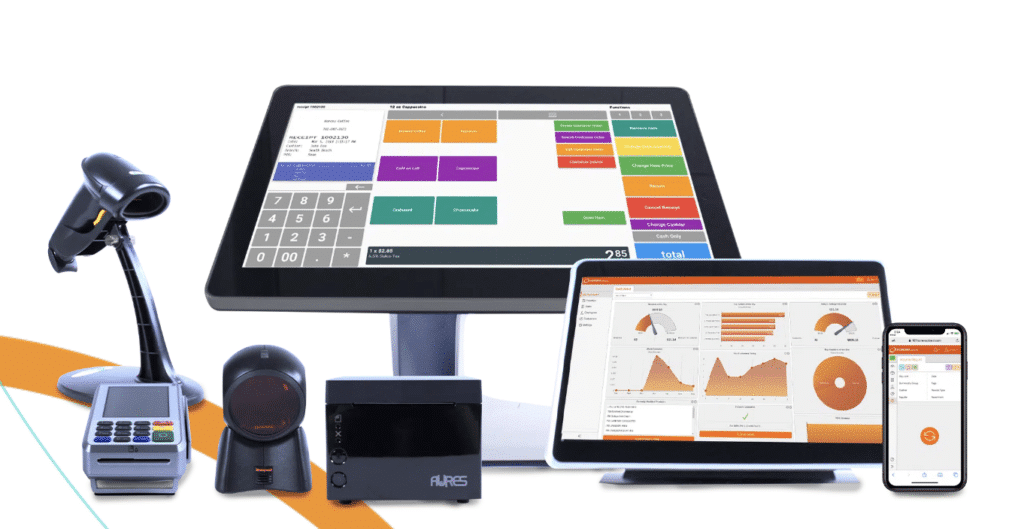 ---
When it comes to selecting the ideal POS software for smoke shops, the industry's top recommendation is KORONA POS. KORONA POS boasts a comprehensive range of essential features tailored to manage tobacco stores efficiently. Let's delve into what sets KORONA POS apart as the ultimate choice for your smoke shop:
Inventory management
With KORONA POS, you can seamlessly manage a diverse range of tobacco products, from cigarettes to cigars, by using barcodes. What sets it apart is the ability to assign unique container quantities and special prices to each product code without the hassle of duplication or recounting.
Carton/pack inventory counting
For efficiency in receiving and counting inventory, KORONA POS enables carton/pack inventory counting. Staff can quickly enter the quantity of cartons or packs during shipments rather than counting each item individually. This saves smoke shops considerable time managing wholesale orders and stocking shelves.
Moreover, KORONA POS's intelligent reordering system removes the guesswork from inventory replenishment. Analyzing purchasing history, seasonal trends, and market data automatically recalculates ideal reorder levels, a feature that most other POS software systems lack. This means that even for stores with extensive inventories, managing order levels becomes a quick and effortless task, saving valuable time and resources.
Beyond its core capabilities, KORONA POS offers a comprehensive suite of additional inventory management tools:
Automated counting to simplify the inventory process
Shipment tracking to monitor incoming orders
Label and tag printing for streamlined product labeling
ABC analysis for strategic inventory management
Features to prevent product theft and minimize losses
See related: Features That Make KORONA POS Stand Out
ID scanning for age verification and security
KORONA POS stands out as one of the best POS systems for smoke shops thanks to its ID scanning for age verification and enhanced security measures. With its ID scanning capability, KORONA POS ensures strict adherence to age verification regulations, safeguarding your smoke shop from legal issues. ID scanning is fast and accurate and can be integrated with various scanners. This makes it easy for cashiers to check IDs quickly and easily without having to worry about making mistakes.
Processing-agnostic solution
With tight margins in the smoke shop industry, it's crucial to partner with the most affordable payment processor. KORONA's processing-agnostic POS system gives smoke shops that flexibility. That means that smoke shops can choose to partner with any payment processor of their choice. Unlike POS systems that lock you into specific payment processors, KORONA's software integrates with virtually any processor.
Cashier permission levels
KORONA POS allows you to set different permission levels for each cashier. This helps to protect your business from fraud and theft. KORONA POS includes various loss prevention features, such as employee time tracking, sales auditing, and access control. With detailed reports on cashier check-ins/outs, sales, and voids, managers can monitor employee performance and minimize theft.
Multi-location and franchise management
KORONA POS gives smoke shop owners powerful capabilities for managing an expanding business. Centralized menu, employee, and inventory management streamline operations across all locations. Revenue/sales reporting provides visibility into overall performance or individual franchise profits.
POS Nation for Tobacco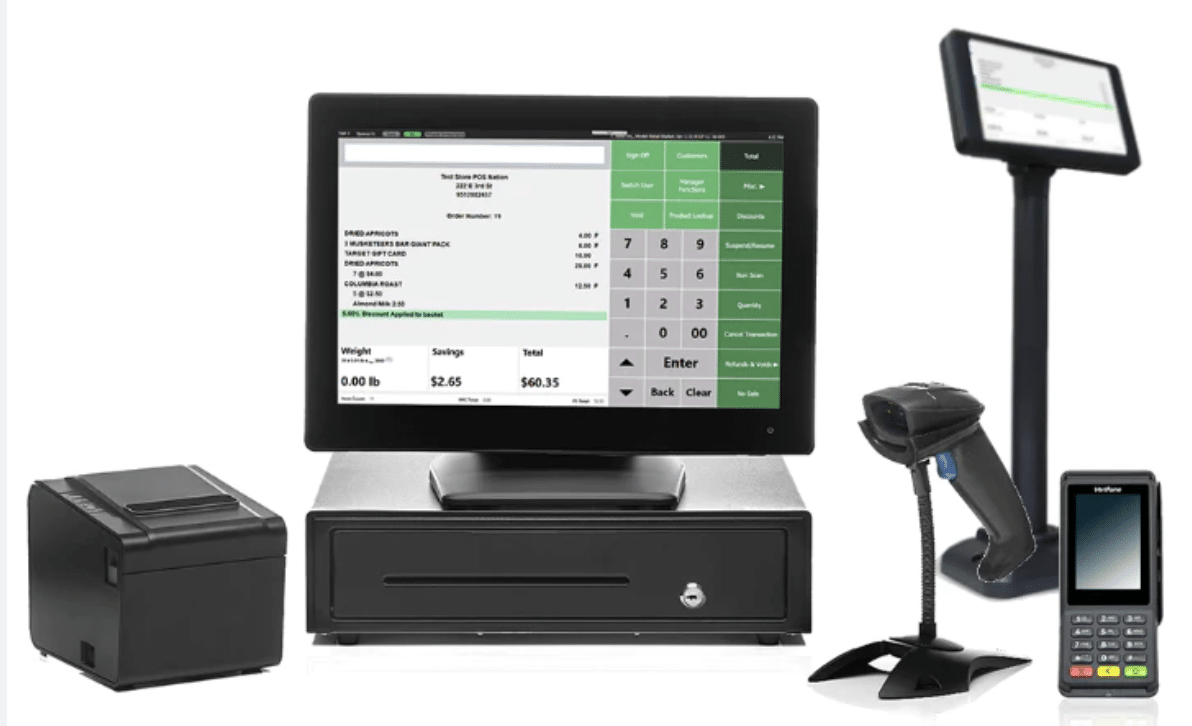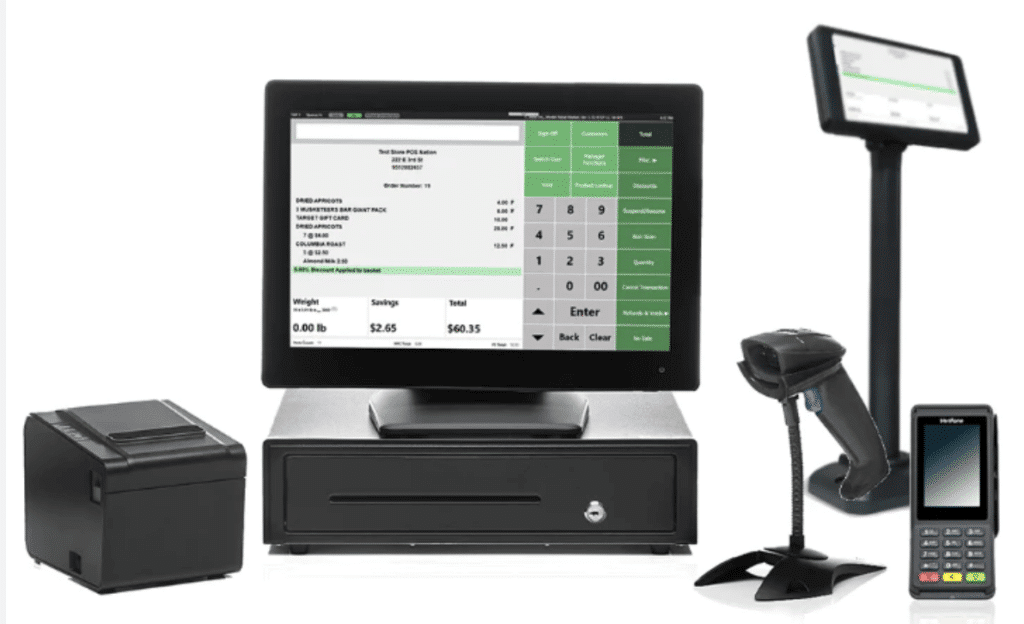 ---
POS Nation is recognized as a top supplier of point of sale software tailored for cigar stores. While the solution lacks some flexibility with payments and higher up-front costs, it comes with various appealing features, establishing it as a strong option for smoke shop owners.
Carton-pack inventory tracking
POS Nation's CAP Retail POS system simplifies inventory management for products sold in multiple configurations. The Break Pack Link feature enables linking cases, packs, and single-item inventory while automatically updating quantities. When a cashier sells a single cigar from a pack or carton, the POS automatically reduces the available pack and carton inventory. This eliminates the need for time-consuming manual inventory adjustments when selling items packaged in different units.
With POS Nation's carton-pack inventory tracking, smoke shops can painlessly track intricately packaged tobacco products. The system removes the inventory headache of selling singles from multi-unit cases and cartons.
Reduce retail shrinkage
POS Nation's CAP Retail POS system includes powerful features to minimize costly shrinkage. To prevent theft, granular employee permissions control access to actions like returns and cancellations. Inventory tracking logs reasons for stock loss, whether due to employee errors or shoplifting. Blind drawer counts enable surprise cash audits to catch discrepancies immediately.
With POS Nation's employee management, inventory tracking, and cash drawer controls, smoke shops can significantly reduce unexplained losses. The software bakes in shrinkage prevention to protect hard-earned profits.
POS reporting
POS Nation for Retail offers over 50 prebuilt reports to help smoke shop owners and managers easily track sales, inventory, customers, and employees. Key reports include daily sales summaries (showing revenue, costs, and profit margins), departmental sales breakdowns detailing top-selling items, inventory reports listing current stock levels and reorder needs, and sales rep performance reviews.
With the ability to customize date ranges and create custom reports, POS Nation provides insightful analytics that smoke shops require to efficiently run operations, identify top-performing products, optimize inventory, and drive business growth. The powerful reporting makes POS Nation an extremely valuable solution for smoke shops of all sizes.
Auto Ranking
Smoke shops can optimize inventory and increase sales with POS Nation's Auto Ranking feature. This AI-powered tool analyzes real-time sales data and automatically assigns letter grades (A-D) to each product. Best-selling items are marked with an A, while slow-moving inventory is flagged with a D.
With this easy visual cue, smoke shop owners and staff can instantly identify top-performing products to promote and popular brands to reorder. Deadstock stuck on shelves is also quickly spotted, so you can markdown or discontinue those items.
Cigars POS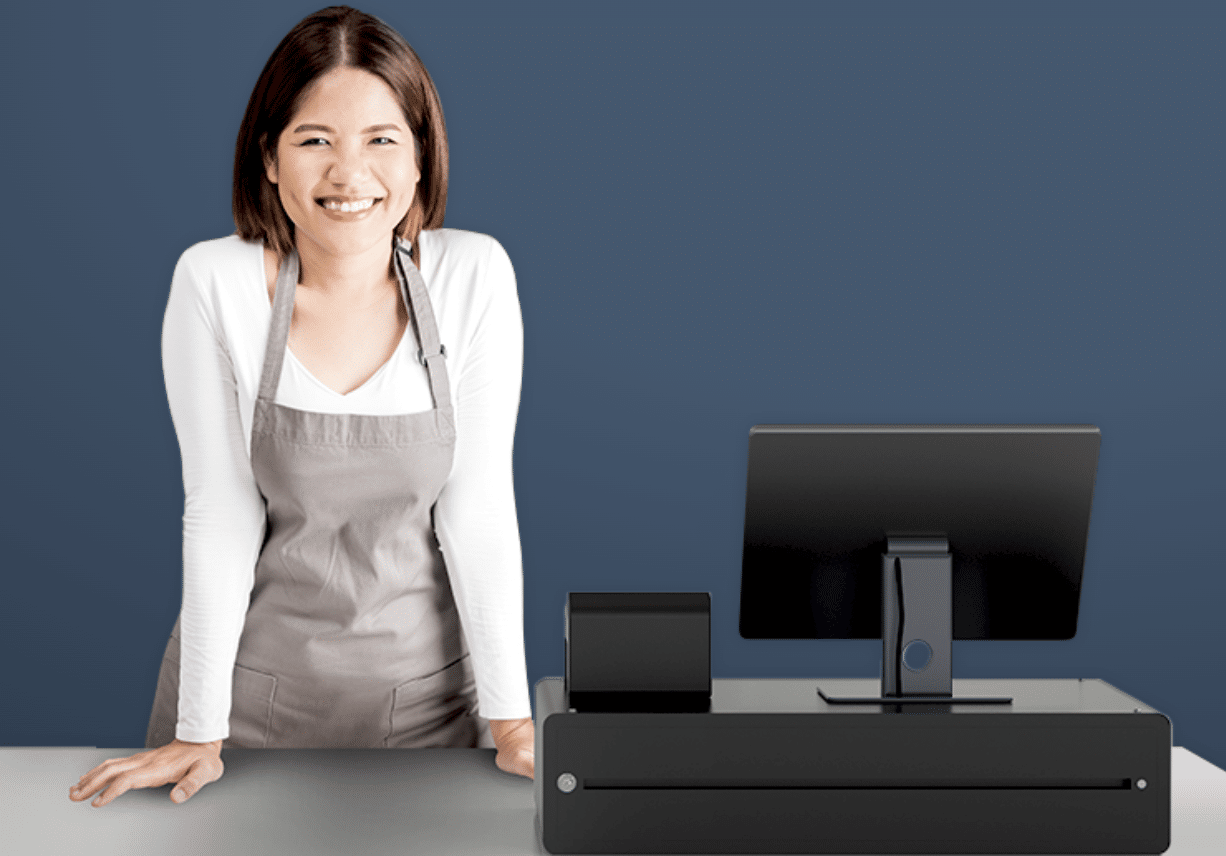 ---
Cigars POS is also a well-suited option for smoke shops, offering essential functionalities that cater to the needs of smoke shop owners. Similar to POS Nation, Cigars POS does not offer payment processing flexibility; it also lacks some transparency with its pricing. Still, it possesses several noteworthy features contributing to its reputation as one of the top point of sale systems for smoke shops.
Inventory management
Cigars POS can track individual cigars, packs, and cartons, making it easy to keep track of stock and avoid overselling. It also includes features like case breaking and kit building to help you create custom offerings for your customers. Business owners can split packs or cases of cigarettes and cigars into individual items for sale to easily and automatically track a tobacco shop's inventory.
Cigars POS enables real-time inventory tracking and management for unlimited products. It allows you to track product quantities, set reorder points, and get alerts when popular items run low, so you can keep your shelves fully stocked.
Performance analytics
Cigars POS comes with powerful reporting and analytics tools that provide valuable insights into your tobacco shop's sales performance. It includes specific reports from major tobacco companies like R.J. Reynolds and Philip Morris.
You can also use the system to track sales trends, see which products are selling best, and make data-driven decisions to grow your business, all accessible on your computer or mobile device. Cigars POS provides a variety of reports and analytics, such as sales trends, product popularity, and employee productivity.
Customer loyalty
Cigars POS helps you build customer loyalty with flexible features like a points-based loyalty program. You can set up the system to automatically award points for every dollar customers spend. Customers can then redeem accumulated points for discounts on future purchases, such as getting 10% off for every 100 points earned.
Age verification
Cigars POS can automatically verify the age of customers purchasing tobacco products, forcing you (and all of your cashiers) to comply with all applicable laws and regulations.
Scan data reporting
Cigars POS also allows smoke shops to participate in tobacco Scan Data programs. These programs are offered by tobacco manufacturers and allow smoke shops to earn rebates and other benefits based on their sales of certain tobacco products.
To participate in a tobacco scan data program, smoke shops need to collect scan data for eligible tobacco products. This data is then submitted to the tobacco manufacturer on a regular basis. The tobacco manufacturer will then review the data and issue rebates and other benefits to the smoke shop.
Best POS System For Smoke Shops: Conclusion
The top three recommended point of sale systems for smoke shops are KORONA POS, POS Nation, and Cigars POS. KORONA POS stands out as the most comprehensive choice, offering greater flexibility in terms of payment processing, pricing options, and inventory management features.
However, both POS Nation and Cigars POS also provide essential features necessary for the tobacco retail industry, including carton/pack inventory tracking, employee access controls, detailed reporting, age verification, and more.
If you're in the market for a POS system for your smoke shop, don't hesitate to click the button below to connect with one of our product specialists. They can provide you with more information on how KORONA POS can benefit your business.