A while back we looked at some of the potential benefits of retail gift cards. After all, gift cards are a proven way to increase sales. Sales have steadily increased over the past few decades and 2018 projections are estimating the gift cards will account for $160 billion in retail sales. Plus, approximately $1 billion of gift card purchases are never redeemed. So it's clear that every retailer, no matter the niche, stands to benefit from offering gift cards. But how about gift card marketing in retail? There are several ways you can boost these sales and your bottom line. This is especially important as the holiday season nears. Gift card sales soar during late November and through December. Have your store ready to sling lots of last-minute presents and make your holidays an even better season this year.
1. Make Gift Cards Visible
Half the battle is just getting the cards out there. There are plenty of places you can feature a small rack or display: near the POS system or checkout, in heavily trafficked areas, at the hostess stand, or even as suggestions on receipts.
Visibility in your brick and mortar store also means active promotion by your staff. Train your cashiers to always offer gift cards or at least let each customer know that you sell them. Many retailers have a gift card program but expect interested customers to inquire about it. Instead, focus on being proactive with everything that you sell.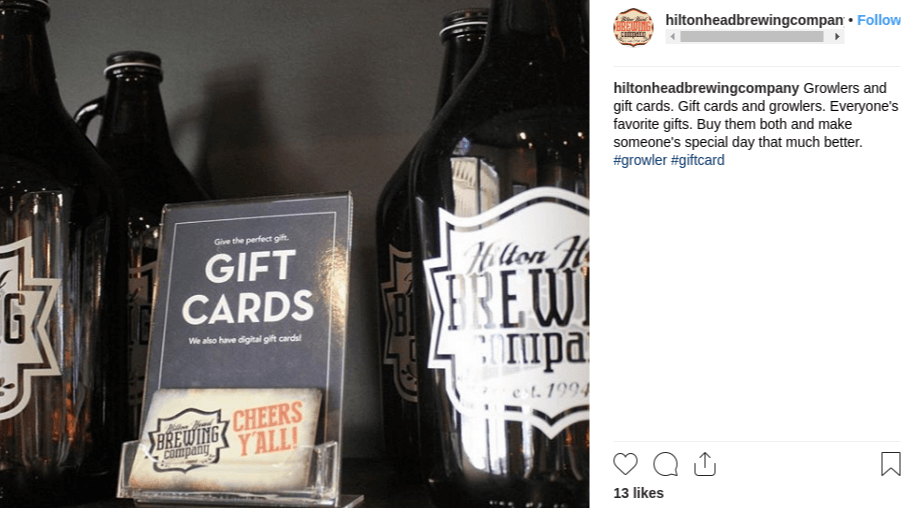 2. Offer Gift Cards on Multiple Channels
Your retail store as a whole will benefit from offering an omnichannel shopping experience. This is also true for your gift cards.
eCommerce – Make your gift cards an obvious option for guests on your site. Place a link to your gift card purchase page in the main header or footer. You can also add pop-up banner advertisements during the holidays for an extra push.
Email Marketing – Retail email marketing is a critical advertising outlet for many reasons. Take advantage of easy communication by reminding your customers about your gift cards from time to time. Like any email campaign, don't overwhelm your audience.
Social Media – Talk about them on Facebook and Twitter. If you have a well-made card, take a nice photo for Instagram. These are great for last-minute reminders during the holidays.
3. Incentivize Purchases with Gift Cards
Many retailers offer small gift cards for purchases over a certain amount. They also may offer them as incentives for downloading a store's app, signing up for an email list, referring a friend, or following them on a social media platform. Gift cards can be leveraged in many ways to help your business down the road.
Importantly, this means that the money is staying in your store. Sure, you'll lose money you spent on whatever product is redeemed by the gift card, but it's better than someone shopping at another retailer. Additionally, most consumers redeeming a gift card will spend more than the amount on the card, helping to negate the loss.
4. Holiday and Event Promotion
Market around holidays and special events. The vast majority of gift cards are purchased for birthdays, Christmas, and Mother's Day. Offer cards designed for each event so that the gift-giver can more easily personalize the gift.
Selling a lot of cards for the holidays can also help with the January/February lull in sales. Market special redemption days with extra bonuses. Again, consumers typically spend more than whatever is one the gift card, so getting those people in the store during the slower months can really help your sales.
It's worth noting, too, that gift cards are the most highly requested gift by recipients. And they are the third most common gift purchased by consumers. Most of these purchases are surrounding the holidays and other important milestones.
See Related:
5. Packaging and Brand Awareness
This may not be too shocking to you, but most gift cards are used as gifts. What some retailers forget, though, is that designing the card to be gift-ready is very important. The convenience of the shopping experience is a major factor for consumer decision. Include a cute card holder and envelope.
It's also an opportunity to go the extra mile and improve your branding. Make the packaging so memorable that the recipient of the gift will show it to friends and spread the word about your brand. Check out the great example below.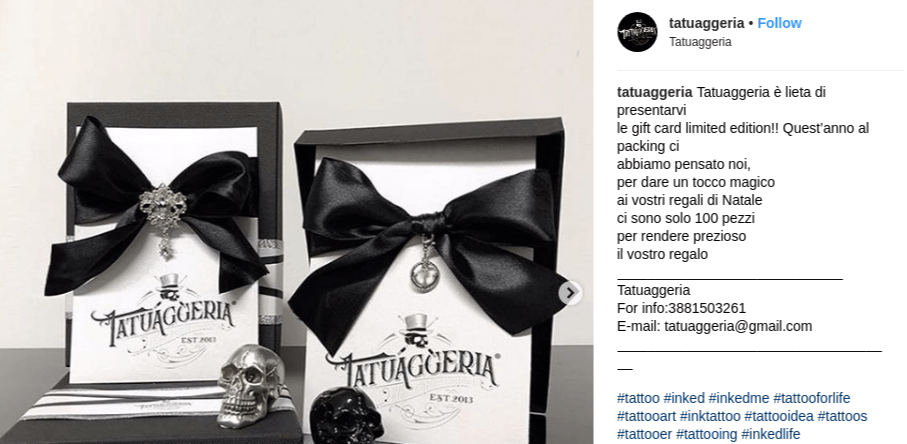 6. Charity and Partnerships
Giving away gift cards to charitable organizations and local community events is a great way to show your support for important causes. They're easy items to give away as a prize or as an auction item.
This marketing strategy is also an easy way to introduce new customers to your store. Gift cards bring in shoppers who might never have otherwise come by. Use this as an opportunity to add loyal new customers to your base.
7. Employee Rewards and Customer Returns
Looking again at the idea that it's better to keep money in your store, you can also use gift cards as employee rewards and as an option on your return policy.
Gift cards rewarding great performance from one of your team members is a nice way to saying thank you. Gift cards cost you less than cash, yet offer a lot of value. It's also productive to give employees the opportunity to try your product, no matter your industry. People are better at selling products that they are more familiar with.
Similarly, include gift cards in your return policy. It's important to also offer full cash returns, especially with a receipt present, but you can always suggest a gift card in lieu of a cash return. More customers will accept this than you might think.
8. Promote Gift Cards As a Treat
More and more gift cards are being purchased for the person actually buying it. They are a guilt-free way of treating yourself, and people are taking advantage. Of course, you want to focus on them going to people as gifts, but don't shy away from advertising gift cards in a way that appeals to the people already shopping there for themselves.
9. Offer a Guide with Each Gift Card
Show the recipient of the gift card exactly what they can purchase with the present. Simple guides that feature your newest products, promotions or discounts, special events, or experiences are helpful for getting people excited about buying and redeeming the gift cards. Show them you care enough to highlight the ways it can be used.
Gift Card Marketing with Your POS System
However you market your gift cards, make sure that you have a retail POS system that can seamlessly manage your gift card inventory and their eventual redemption. Also, watch out for any points of sale solutions that require you pay extra fees to go through their payment processor for gift cards. You should have your choice in the matter and avoid any unnecessary fees. Click below to start your free trial with KORONA, and contact us with any questions you might have about gift cards and our POS software.