If you're an espresso, latte, macchiato, or any other caffeinated beverage lover, chances are you've already tasted it either in a coffee shop or a café. Coffee shops and cafés are two terms that are often used interchangeably. However, there are differences between them. This article will answer the question, "What is the difference between a coffee shop and a café?" We will define a café and a coffee shop and examine the similarities and differences between these two terms.
Table of contents
1. What Is a Coffee Shop?
A coffee shop is an establishment where people gather to enjoy a cup of coffee, tea, or coffee-based snacks that can be taken with coffee, such as pastries, cakes, muffins, donuts, and sandwiches. Coffee shops generally offer a wide range of coffee drink types, from simple coffee to a selection of specialty coffee drinks (latte, cappuccino, hot chocolate, mocha, ristretto, flat white, cold brew, macchiato, americano, etc.) that are often difficult to find in restaurants and other venues. Many coffee shops also offer a limited selection of food and other beverages, making them ideal for a quick snack or light meal.
2. What Is a Café?
A café is a type of restaurant that serves food, or at least salads and sandwiches. A cafe may also serve more involved food items, too. In some places, the café may also offer wine or beer. For example, California has a lightweight license for low-alcohol beverages, which is different from that for bars.
Must-read: What Licenses Are Needed To Open A Coffee Shop: 6 Common Café Licenses
Some people go to a café for lunch, as they offer a more social setting than a coffee shop in some ways. In a café, food and drink are served in perfect balance. In addition, because the food is the focal point of the café, there is a strong emphasis on providing seating that encourages people to stay longer.
3. What Are The Differences Between a Café and Coffee Shop?
Many people use the term "coffee shop" or "café" interchangeably. However, there is a difference between these two terms, and if you are considering having your own coffee business, it is worth looking into.
Coffee vs. Shop Café: The Atmosphere
Coffee shops are typically more casual spaces. Certainly, there are no restrictions on conversation, but you will often find customers visiting the place alone with their laptops, books, or newspapers. Many coffee shops offer mixed seating. They may have an area set aside for independent tables for groups or customers who need space to work. They may also have areas filled with lounge chairs, sofas, or loveseats.
See related: Coffee Shop Designs for Small Spaces: 7 Ingenious Ideas
Since cafés focus on food, they often offer more seating, encouraging people to stay longer. People often go in groups, which means the atmosphere can be louder but not so loud as to disrupt a pleasant, classy environment. You'll find a mix of free-standing tables and booths in a café. Customers can order their food and drinks at the counter, although table service is not uncommon.
Both spaces can feature live entertainment, though the focus of the shows differs. In a coffee shop, you may find a pianist or jazz trio adding to the atmosphere without interfering with customers' ability to chat. Coffee shops may host open mic nights, allowing local musicians or poets to perform. Coffee shops and cafés encourage customers to sit and stay a while. However, while you could walk into a coffee shop and order a coffee to go, you probably wouldn't do that in a café. Additionally, if you're looking for a place to sit and work for several hours, you'll feel more comfortable in a coffee shop than in a café.
Café vs. Coffee Shop: Menu
The menu at a café includes an assortment of coffee drinks, but the main thing that's emphasized is the food. You can venture into a café for brunch on a Sunday afternoon and order an omelet or a sandwich. The emphasis on food is also reflected in the tradition of the so-called "greasy spoon" cafés in the UK and North America. Food is prepared to order so customers can deviate slightly from the menu based on their allergies or preferences.
On the other hand, a coffee shop prioritizes the drink menu over the food menu. There are usually various drinks, from specialty lattes to herbal teas and even smoothies. Food is often limited and simple, prepared in advance, and presented at the counter. It should be noted, however, that these rules are not immutable and can vary considerably from city to city and country to country. You can go to coffee shops that offer café-quality food and, on the flip side, cafés with tiny menus.
See related: How To Make A Coffee Shop Menu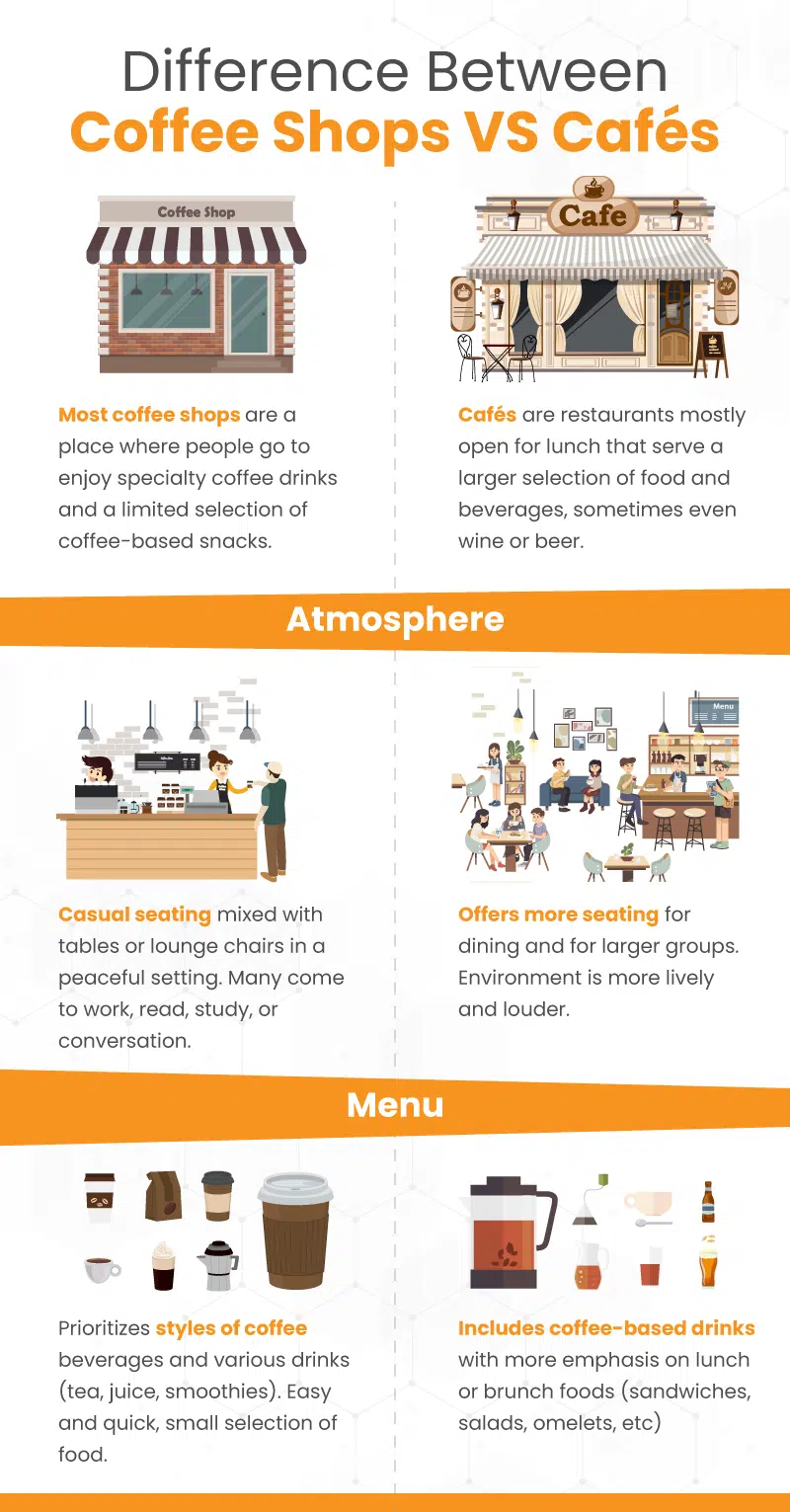 Open Your Own Café or Coffee Shop
To determine whether your new coffee business should be a café or a coffee shop, consider the menu you want to offer and the atmosphere you would like to create. Finding out what your community is missing may be a good idea. What doesn't already exist? A place to sit and eat a made-to-order meal with your coffee or a place to try dozens of specialty drinks while finishing your homework?
Sometimes, the coffee shop is part of a larger business. When this is the case, decisions about the types of coffee sold are made at the corporate level. The company often has specific instructions on the kind of coffee maker used in the store, as well as a particular brand of roaster for the raw coffee beans purchased in bulk and resold to local franchises. This consistent approach ensures the same level of quality in all stores associated with the company.
See related: 8 Essential Pieces of Coffee Shop Equipment
Locally-owned coffee shops generally have more control over their product offerings. A local coffee shop may offer a daily brewed "green" coffee or a fair trade coffee. It also can provide other offerings, such as different types of tea, branded sodas, and other products that allow the local store to compete with larger chains. A local store is also more likely to offer a more comprehensive selection of freshly prepared foods, such as salads and sandwiches.
Chains and local coffee shops have recently added other amenities to attract customers. It's common for one to offer customers free wireless internet service or various forms of merchandise, such as branded coffee mugs and other products that make great gifts. Most strive to create an atmosphere that keeps customers returning by offering high-speed service or providing comfortable, spacious seating that invites customers to sit back and enjoy their purchases in a peaceful atmosphere.
4. Making Coffee Shops and Cafés Successful Business
Despite the differences between a coffee shop and a café, some essential rules of the hospitality industry must be followed to succeed. Your customers will have certain expectations regarding the service and products offered. Providing a quality hospitality experience must be a priority.
In addition to the customer experience, your coffee business's location will determine your business's success. Until you establish a loyal group of customers, your business will depend on foot traffic and word of mouth. For example, if you are trying to catch the morning rush of commuters, try to find a location near a train or bus stop.
Although the idea was once limited to metropolitan areas, coffee shops can now be found in many small towns and even some rural areas. With a product line built around one of the world's most popular beverages, the store has an excellent chance of becoming a popular gathering place, provided the location is good and the prices are reasonable.
The menu is the last aspect to consider regarding a coffee shop's success. If your focus is on your coffee, ensure you get the best beans possible and perfect your roasting, brewing, and shot-pulling techniques. Hire baristas who can work quickly without sacrificing coffee quality and offer friendly customer service.
If you want to open a café instead, hire an experienced chef who can help you design a delicious menu that your target audience will love. You can also study the menus of popular cafés and use them to develop your own.
5. Difference Between Coffee Shops and Cafés: Wrapping Up
The main difference between a coffee shop and a café is the food and drinks they offer. Coffee shops tend to provide coffee-based beverages and food that can be eaten quickly on the go. You will find many specialty drinks in dedicated coffee shops, such as espressos, macchiato, and americano, and different ways to roast and prepare coffee. On the other hand, cafés tend to offer food as the main menu and some coffee drinks. They also are more likely to offer full-service dining options.
6. Choosing The Most Appropriate Hospitality POS
Whether you own a coffee shop or a café, choosing the right POS system for your business is crucial. If you run or want to start a coffee shop or café, KORONA POS offers a complete point of sale system to help your business thrive. KORONA POS, the best POS system for coffee shops, offers the following features, among many others:
Barista cash drawer permissions

Coffee franchising and scalability

Coffee shop promotions and discounts

Employee time management

Advanced-data reporting

Real-time and remote access

Time-based discounts

Accounting software integration

Tip management features

CRM and loyalty integration

Contactless payment options

Inventory management and order notifications
To learn more about how KORONA POS can help your coffee shop, click on the button below for a demo with one of our product specialists.