Each year, retailers face an increasingly competitive eCommerce market. It's an uphill battle of gaining more traffic, raising your rates of conversion, and then keeping those customers coming back. And it must go hand in hand with your brick and mortar store. Remember, your business and marketing will be most successful if you take a more holistic, or omnichannel, approach.
The varied ways of increasing your online sales are a bit of a double-edged sword. On the one hand, the number of ways that retailers can improve eCommerce performance can be overwhelming. At times, it seems to be an insurmountable task. But of the other hand, businesses can make one or two changes at a time and easily measure how they affect business. It's not imperative that you pursue every avenue at once.
So consider this list of ways to improve your online store and try to implement a few of these at a time. Use your trusty A/B testing to see which make the biggest difference for your small business.
Upsell and Cross-Sell Just Like You Do at Your Brick and Mortar Store
Just as you train your retail associates at your brick and mortar store, take the opportunity to upsell in your eCommerce store as well. And keep in mind that this doesn't mean that you have to sound like you're slinging snake oil. Approach it as a matter of education. Perhaps your customers don't even know that you carry a higher-end product. Or maybe they don't know why it's worth upgrading. Don't push a product, just emphasize attractive differences in your more expensive products.
This process is more nuanced in the in-person setting of a brick and mortar store, but the basics are the same in an eCommerce setting. Any upsell must be a similar product to the original and should fall within a reasonable price range. The upsell should highlight the aspects that make it a superior product and be at a price point that isn't shocking or upsetting. Using your eCommerce platform, set up a similar product section, or suggested upgrades with a few of your products. Measure their performance and make any necessary adjustments going forward.
Take Advantage of Instagram
Instagram hosts perhaps the most active social media platform in the world. While Facebook advertising is cheap (and you might consider starting a Facebook store), Instagram is where most retailers focus. Instagram seamlessly connects consumers with brands and their influencers.
Plus, Instagram is relatively easy. A basic page is free, and building a following can be a fun way of expanding your brand. Here, the smallest businesses can compete with the world's biggest retailers. You have the opportunity to highlight your brand identity and show the social media world exactly why you do what you do. Check out what Allbirds is doing with their Instagram. Not only do they have beautiful product shots, but they also use Instagram for customer feedback, like the post shown below.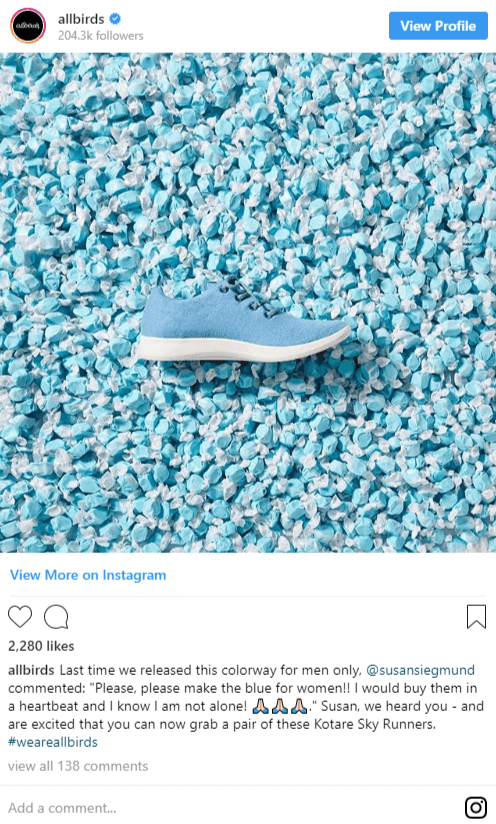 Lower Abandoned Cart Rates
Abandoned carts have long been a thorn in e-tailers side. Though it's hard to exactly measure, most experts agree that abandoned carts account for the greatest losses among all eCommerce retailers. In fact, it's estimated that abandoned carts accounted for nearly $20 billion in losses in 2017.
The most common reason for losing a customer at the last minute is due to unforeseen costs added to the total at the checkout. Consider offering free shipping or including it in the subtotal so the shopper can see it prior to the checkout. Building the tax into the price might also help lower your abandoned cart rates.
Also, focus on improving the overall usability of the site. Make sure that your eCommerce store is performing well and eliminate any frustrating hiccups at the checkout, such as requiring a registered account. While gathering customer data is an important marketing tactic, don't do it at the cost of potential sales.
Some abandoned carts are out of your control and unavoidable, but focus on ways that you can lessen that rate at your shop. Even lowering it a small amount could make a big difference in sales.
Build Your Email Marketing
Retail email marketing has been proven to be the most cost-effective marketing channel out there. And comparatively, it's rather easy. The hardest part is building your subscriber base.
Add ample opportunities on your eCommerce site and social media channels to get customers or followers to sign up. It's easy to create a prompt on your website (again, not at the checkout though!). You might also incentivize it by offering discounts or small coupons, like the offer from High Sierra shown below.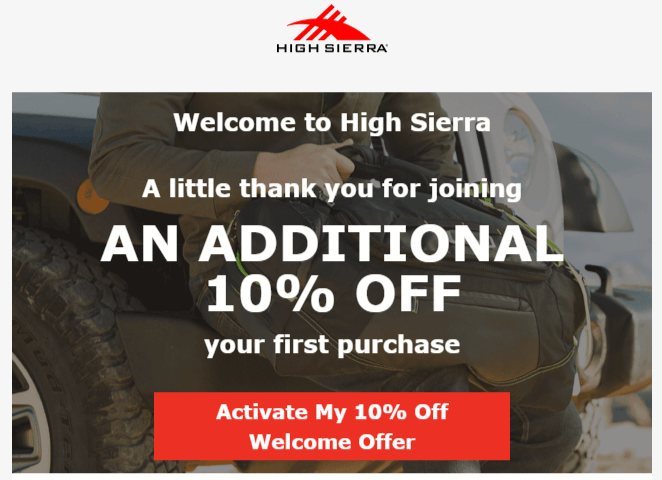 Email marketing affords you the opportunity to be personal in a world that is increasingly detached. Using automated tools, it's easy to segment your audience and address customers by name with each email you send.
Be sure to send different types of emails, too:
Start with a welcome email that features an exclusive offer or discount code.
Share regular newsletters with helpful, relevant advice that will also bring traffic to your blog and eCommerce store.
Send seasonal sales and promotion emails.
Remind lapsed customers of your eCommerce store and notify customers who have idle carts.
Thank and reward your best customers with special offers and gifts.
Ask for reviews and feedback. Reviews have become increasingly important and feedback, good or bad, is helpful for any business.
Improve Your eCommerce Site Navigation
A poorly designed store won't work for brick and mortar or eCommerce. But managing each store design is very different. With your online store, it might be poor toolbar navigation, no brand identity, bad color or font choices, or unorganized product pages. You can change these easily with most eCommerce platforms, allowing you to try out various solutions to see what has the best conversion rates.
The most important aspect of eCommerce navigation is segmenting your products in a reasonable way. Clearly categorizing your products in simple ways makes exploring your site easier and more enjoyable.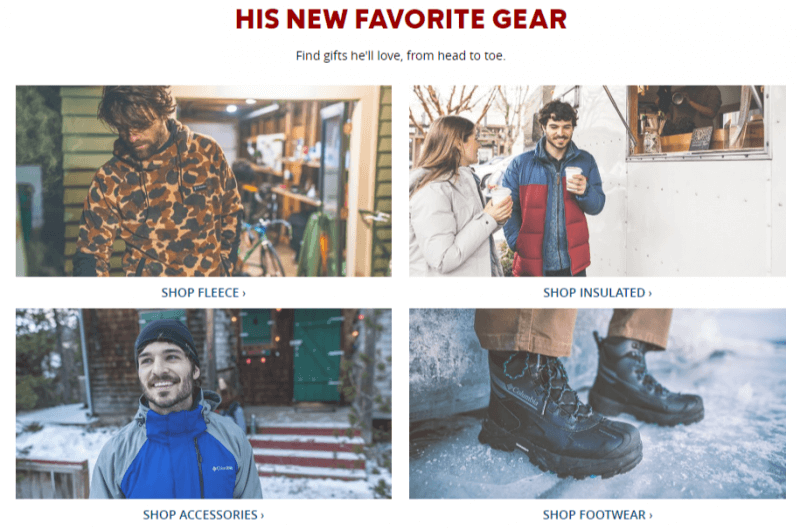 Install a Live Chat or Chatbot Feature
Adding a live chat feature to your website is an easy way to increase engagement. It's relatively unobtrusive and can be a helpful tool for many shoppers. Done well, live chat can make online shopping feel more like a brick and mortar experience.
Chatbots can be helpful for basic support or customer service issues. It saves the customer time from sending an email or making a phone call.
KORONA's live chat, for instance, is part of our support system. Our customers, in addition to email or calling us, can easily communicate with one of our great support people through the live chat, 24/7. Don't be afraid to say what's up to Beatrice!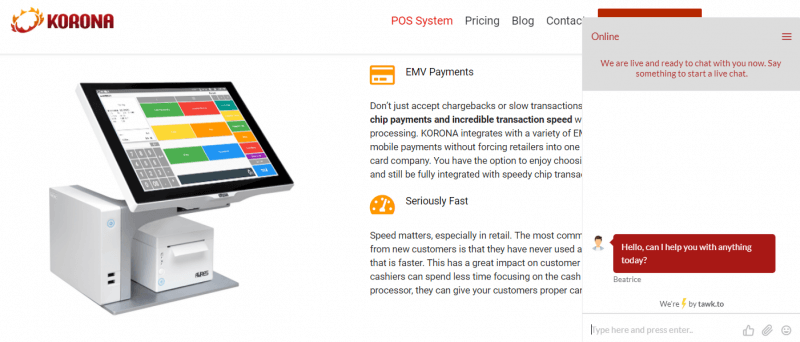 Build Your Online Content
Just having an eCommerce store isn't enough. It's important to have a newsletter or blog as well. It's another opportunity to communicate with your customer base and provide additional value.
In addition to blogging, you might also start a podcast or YouTube channel. Many stores also put together buyer's guides (like this one on what to look for when shopping for a POS system!) and provide content for related stores as a way to cross promote.
Like your email marketing campaign, build your subscriber list for your blog or channel.
Optimize Your Pages
At the most basic level, optimizing your pages means increasing your sales. This conversion rate optimization (CRO) helps you identify the best and worst parts of your eCommerce store. Again, you can A/B test any changes that you make to be sure that you're making the best decisions for the store.
Web optimization also means mobile optimization. With about half of eCommerce being conducted via mobile phones or tablets, it's essential that your website is as easy to navigate on a phone as it is a PC. One common feature that many online stores have is an "add to cart" and "checkout" button that continuously stays at the bottom of the screen even as you scroll. This provides a more convenient shopping experience and makes it easier to buy more.
Start a Great eCommerce Loyalty Program
It's more cost-effective to keep existing customers than it is to attract a new one. Throughout all types of retailers, regular customers account for a greater percentage of sales than they do shoppers. This simply means they spend more money than the average customer. You should focus on rewarding this. And loyalty programs make this easy.
Customer loyalty programs come in many shapes and sizes. From simple punch cards to membership services with automated monthly shipments, find one that fits your business. And if you want a more advanced option, research loyalty programs that integrate with your point of sale system.
How Will You Improve Your eCommerce Store This Year?
There are plenty of other strategies to use in order to boost sales at your eCommerce store, but these are a good place to start. Remember that each tactic will vary based on what type of retail business you operate; what works for one may not work for others. And take advantage of the easily accessible analytics that comes with the best eCommerce platforms. These will help provide you with more actionable advice with each product.
Get Started with KORONA POS today!
Tell us a little bit about your business and explore all features that KORONA POS has to offer. And there's no commitment or credit card required.