Last Updated: May 28, 2021
Since its acquisition by Mark Zuckerburg, Instagram seems to have hit its highest-ever ratings and publicity. Some significant changes in the algorithm, interface, and modern features make Instagram a continuously evolving app for users and businesses alike.
Instagram has now over 1 billion users. And its users are active. There are 500 million daily users, handing out 4.2 billion likes to the 95 million photos uploaded every single day.
More and more businesses are joining Instagram and using the platform to engage their customer base and build their brand. This is true for all social media platforms, but Instagram provides businesses with a unique opportunity to not only raise brand awareness, but also show off their craft and to build a community around it.
90% of Instagram users are now following a business, so there will be a lot of missed opportunities for business owners who do not take advantage of this platform.
As with any marketing, it's not as simple as making a profile and posting a few photos. But it does provide a great opportunity to affordably market your business. And if done well, can give you some serious results. So let's look at how to set up your business profile and put together an effective plan focused on Instagram marketing for retail businesses in 2021.
Getting Started with Instagram Marketing for Retail Businesses
First, if you've never used Instagram before, try out a personal account for a while before opening one for your business. The stakes are lower and it'll give you some time to research competitors profiles and think about your identity and niche.
Open Your Account
Next, follow the easy steps Instagram provides:
Go to your profile and tap the settings button

in the top-right corner.

Tap Sign Up for a Business Profile.
Choose to Create a New Account or Convert an Existing Account (any personal account can be converted to a business account as long as it's public).
You will have the option to connect your account to any existing Facebook business accounts. This is a necessary step if you're using third-party apps for your social media management.
Add Your Content
Once you've successfully opened an account, you can add content to your profile. Instagram profiles are limited so use your space wisely. It's basically three parts:
Your profile picture can simply be your logo. If you get more creative, be sure to have the logo clearly present somewhere in the image.
Your account name will be how people find you. It's critical that it's exactly the same as your other social accounts. The username will be the same but with no spaces.
Your bio can be up to 150 characters. Aside from paid ads, this is the only space you'll have to include a direct link to your website or product page (this link can be changed as often as you want). Use this space to set the tone for your profile. It can be minimalist or more eye-catching, but it should reflect the style of posts you plan to make going forward.


Hack: Use a link in bio tool that will allow you to link to more content and pages. When users click this link it will lead to a page that includes a list of all the pages and accounts they can visit. There are many different tools that you can choose from that offer different features so take time to see what will best fit your needs.

Businesses can also

add their location and additional contact

information, including buttons for a direct call, email, or chat.
So that's about all it takes to have a basic business profile set up! Not too bad, right? Check out a few good examples below. TED keeps its design minimalist but clear and appealing while using a link in bio tool. Target has a bit more going on using emojis, hashtags, and some call to actions. Go with the style that works with your aesthetic and goals.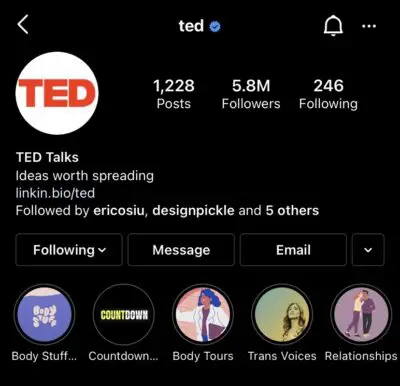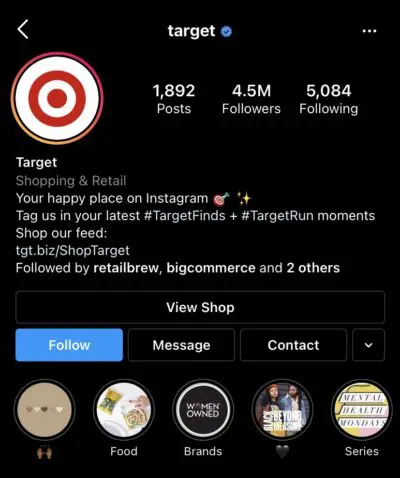 Types of Instagram Posts
Standard Photo or Video
Start simply with the basic photo or video. Uploading or taking the photo directly from the app is pretty self-explanatory. From there, follow this basic checklist:
You can change the width and focus of the photo.
It's also possible to add multiple photos to create a carousel for users to swipe through.
You can edit photos within Instagram by adding additional graphics, words, filters, etc.
Editing photos with third-party apps prior to uploading to Instagram is also possible.
It's often worthwhile to tag a location in your post. This is a simple way to target a local demographic if that's beneficial to your product.
Tag the photo with other users or businesses.
Add relevant hashtags.

You can add up to 30 hashtags but most Instagram experts recommend 11 hashtags as an optimal number.

You can automatically share the post on your Facebook, Twitter, and/or Tumblr business accounts.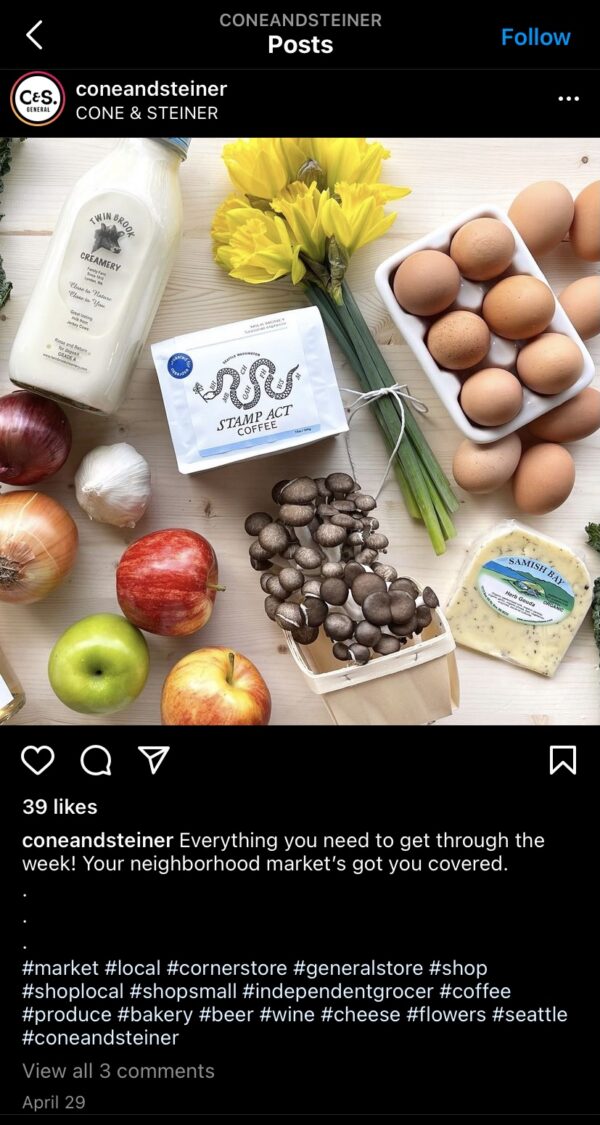 Cone and Steiner, out of Seattle, WA, have a great Instagram page featuring customers, holiday themes, staff, and some beautiful product photos like the one above. You don't need a major budget to come up with a few great posts.
Video posting follows the exact same steps with the added choice of your cover photo. You simply have to select a still shot from anywhere in the video as the screen before the video plays.
Photos and Videos are great for highlighting in-store events or products. It's a great way to let customers know about events, sales, or new products.
Instagram Stories
Instagram stories can consist of photos and short video clips that fill up the entire phone screen once you click on them. They are critical because they appear at the top of your followers' Instagram feed for 24 hours before being deleted. They also appear in the explore section of people's feeds, attracting more new followers/future customers.
Stories can be shared with the entire Instagram community, a particular group, or even just an individual. People like to see how things are made, so Stories are useful for behind-the-scenes content. It's also a chance to highlight user-generated content. This encourages more participation and shows that you care about your customers.
If you have 10,000 followers or more, you can use the "Swipe Up" feature on any story to link to a certain page. This is a great marketing opportunity to bring more traffic to a specific campaign.
Instagram Live
As part of Instagram stories, Instagram Live lets you broadcast video in real-time and will disappear as soon as the broadcast ends. Your followers can stay updated with the latest things happening in your business. This can also create a sense of urgency for followers to jump in as the video cannot be replayed afterwards. Business owners can take advantage of Instagram Live to share exclusive content and create more engagement by responding to comments right in the moment.
Instagram Highlights
You can now also save your stories and organize them into highlights. This allows you to provide more value to your audience by making it easy for them to access specific types of content they are interested in. For example, you can have one highlight titled "What's New" where you feature all new products that you have posted on your stories in the recent week. Leveraging Instagram Highlights greatly contributes to providing your customers a valuable experience.
Tagged Products
A standard post has no clickable link options available (you can include your website in the caption but it can't be a link). These shoppable pages allow you to place virtual product tags on the image. Users can see the price and availability of a product within Instagram and then also the option to click directly to a purchase page on your website. It's best to save your highest quality product images for these posts. If you're feeling particularly ambitious you can set it up like a showroom or window display with multiple products tagged in one image.
This ability requires approval from Instagram as well as a Shopify account. Shopify offers a range of paid subscriptions as the eCommerce host. You must also register a product catalog on Facebook.
Instagram Ads
You can promote within Instagram itself or through Facebook Ads Manager. You can choose any existing post that you'd like to promote. Your first step is choosing an appropriate business objective:
Brand awareness

Reach

Traffic to Website or eStore

App Downloads

Engagement

Video Views

Conversions
After selecting your objective, choose a call-to-action text, a link, and a location. You also have the option to customize the demographics the add reaches based on behaviors, interests, locations, etc. Set your budget and the length of the campaign and you're set!
Showcase people in these images so it seems more like an organic post. It's also a good opportunity to use videos to prove product effectiveness and get creative. Once up, the comment section is a great way to get feedback on the ad and the product itself.
Instagram Reels
Instagram's newest feature called Reels competes with TikTok, a quickly growing video social media platform. The best way to leverage Instagram Reels is by using it to create educational and entertaining content relevant to your business and the value that you offer.
What's different about Reels compared to IGTV is that the videos are shorter so business owners must quickly grab the attention their customers. Since you can add fun effects, music, and text, you have easy access to be as creative as you can in crafting an engaging content for your small business. The goal is to instantly hook your audience and keep them entertained in the limited time of 30 seconds.
New Instagram Tools and Features
Have Some Fun with Remix Reels
Remix allows users to respond to an existing reel with another reel. The Remix option in Reels is available for all public posts; however, privacy tweaks are possible, and it can be disabled. The original creator will always be notified if somebody makes a remix of their reel.
The remix feature is here to make collaboration easier for Instagram users, and people can engage readily with such interactive features. Everything from the original audio volume, voiceover, and volume controls is super adjustable as per need. Remix allows you to record your reaction, respond to existing fans or be creative enough to start your own trend. It's a great way to increase your reach on the platform.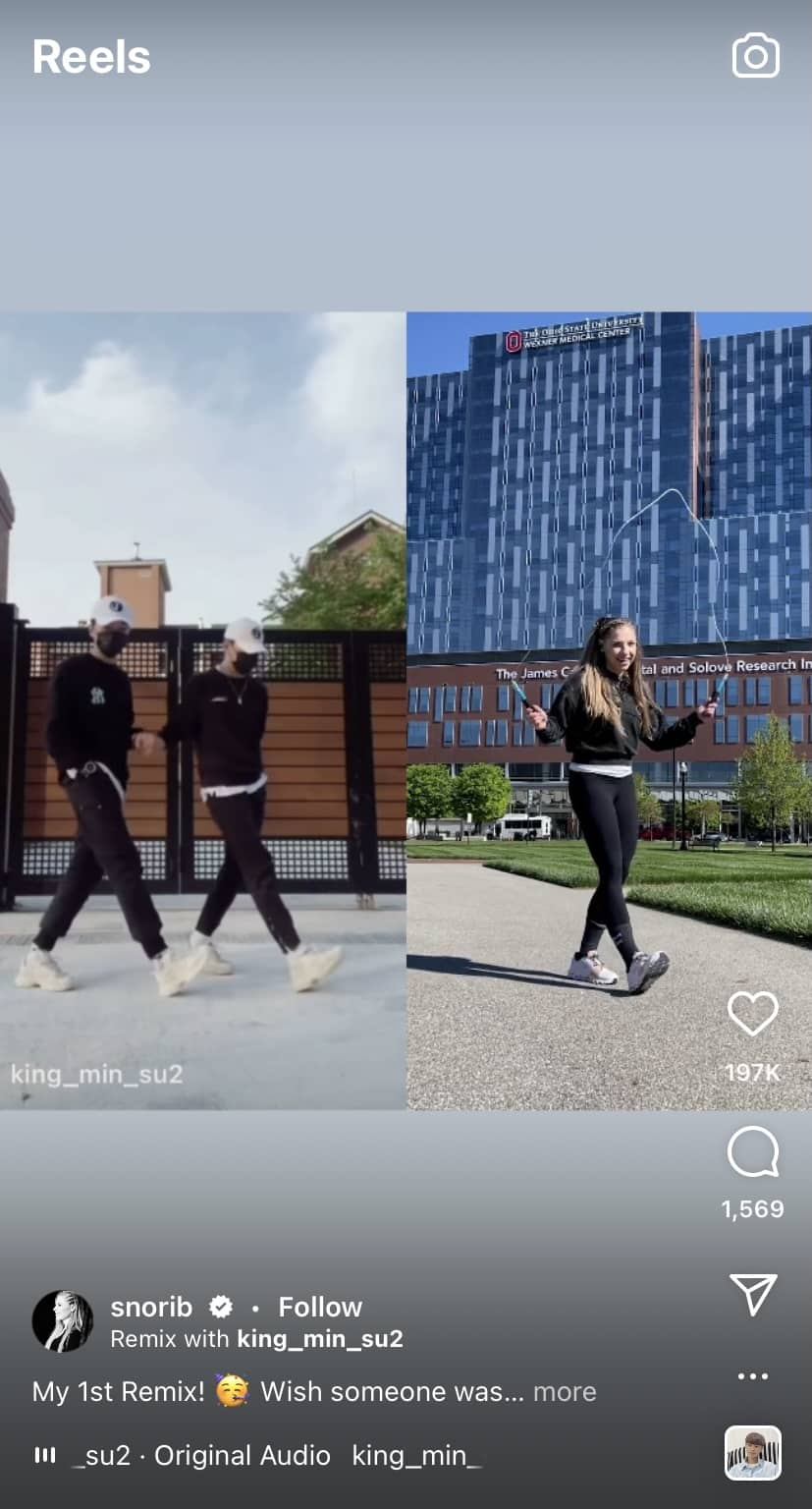 Stay Connected with Instagram Guides
Instagram Guides is a great way to stay connected, especially with a curated flow of posts along with commentary. This feature works wonders if you are planning for a to-do guide, tips and tricks, and even recommendations.
The guide feature started as an exclusive add-on for medical and health workers. This can be attributed to efforts for helping people with COVID-19 and reaching out with added resources. The feature was then thought to be rolled out for the masses.
The process for creating the guide is pretty easy and smooth. You can tap on the plus sign on the top-right section of your profile to start. Select the Guide option and choose between 3 different Guide types:
Places

: You can opt for this format to recommend places around you.

Products: This format allows you to recommend your favorite products just like you are reviewing and endorsing them.
Posts: Here, you can recommend the posts you created or saved.
The three different types of formats are designed to suit the different needs of the creator. If you want to create a thread of posts with customized headlines and commentary then the Post format is an ideal one. Some creative ideas can be put together to share inspirations, tell stories, and list guidelines through this platform.
The Product option can come in handy for influencers and brand ambassadors. It's an excellent opportunity for collaborations and partnerships as a business owner planning to work with influencers. Only products available on Instagram Shop can be used here, and influencers and bloggers can list their recommendations through this feature.
However, if you are looking for a location-based recommendation about local eateries and cafes, then Places is the best option for accuracy. Small businesses can leverage this feature to cross-promote their brand with other small businesses.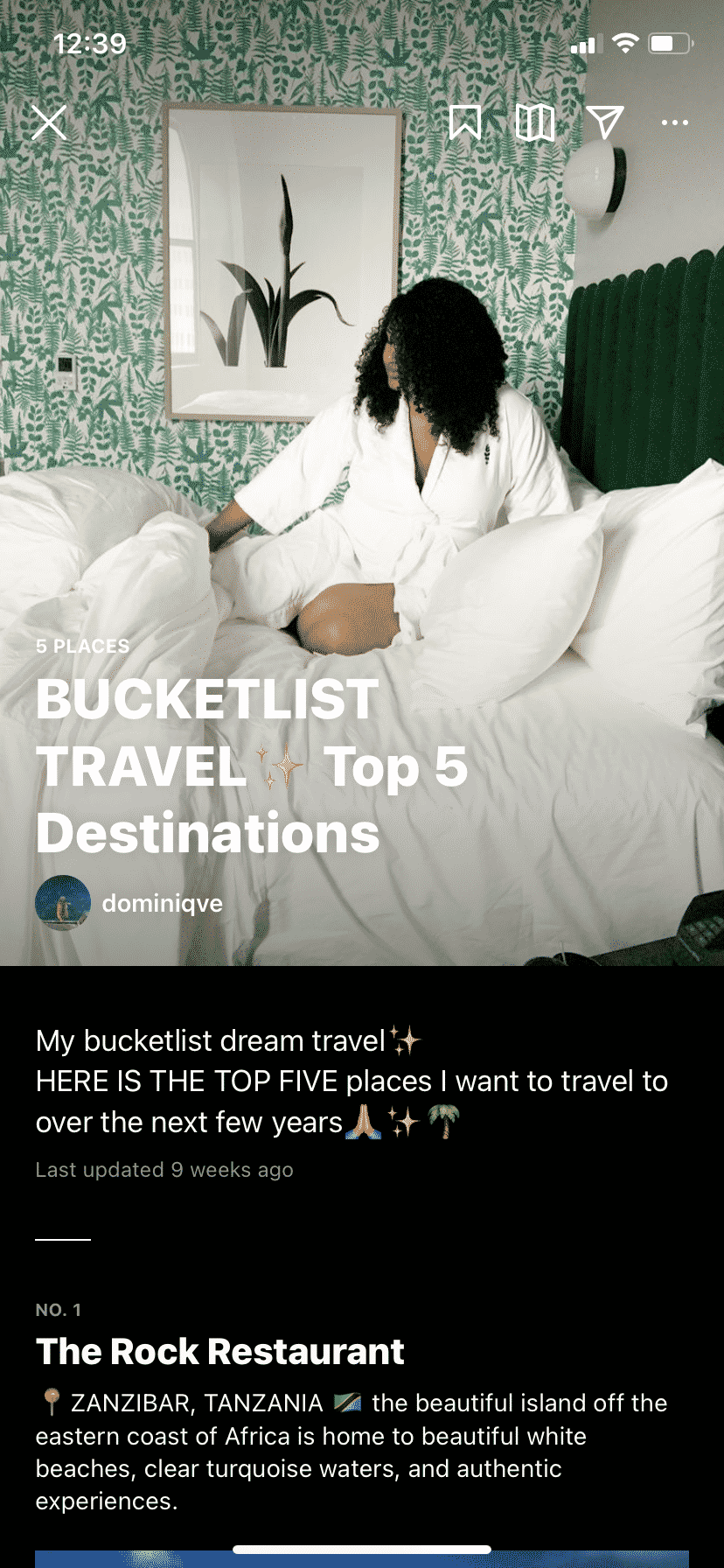 Future Tweaks: Story Drafts on Instagram
Earlier in 2021, a teaser of the story draft feature was released. This is a great tool to work with as it provides chances to save data loss. If you are working on an Insta Guide at the initial stages, you can actually keep it for later editing. This would most probably feel like saving an in-progress story. Right now, saving stories is only possible through the downloading feature. Saving for later also means that creators can add posts and media.
Instagram Rooms: Enjoy Meet-up with 2, 3 or even 4 People at a Time
After the launch of Instagram Live, another leading platform is Live Broadcasting for up to four participants and named it Insta Rooms. These additions were a result of pandemic feedback when most people were working from home. The format will allow fundraisers and live shopping.
Posting to Multiple Accounts
This feature allows posting the same posts to multiple Instagram accounts, which might be fruitful for businesses. It is a great time-saving tool for people wishing to maintain numerous accounts with similar themes.
Approaches to Your Instagram Page
Get Creative
Instagram generally has more engaged users and less ad competition so it's important to offer a clear added value to each viewers experience. Share your business's culture and values, highlight a charity, be funny, display products in new ways. There is so much freedom in your approach to your Instagram page.
Just stick to clear visuals, bright and bold colors, and concise messaging. Make use of the best lighting of the day and avoid posts in the midday sun or a dark indoor space. Look at competitors' pages to get an idea of how they design product pages if you don't want to hire a professional.
Use Hashtags Wisely
Hashtags can be specific to a campaign or more broad. Either way, market with hashtags carefully. Don't litter your brand name everywhere. Likewise, don't only go for getting traction with the biggest hashtags. Some of the more general tags have millions of photos attached to it, so you'll be unlikely to get any additional viewers from going that direction. Stay relevant to your brand and product but you can also include funny or trending hashtags as well.
A useful tool is top-hashtags.com. They highlight trending hashtags and allow you to click on a term to see how often users are tagging it and what types of photos are under the category.
Collaborate and Embrace the Tribe Mentality
With over 25 million business profiles now, you're not going to be able to stand out without some help. That's what makes Instagram more communal. You can engage your users by highlighting customer success stories. It shows that you're involved and that you care.
You can also cross-promote with other organizations. For companies with a similar number of followers, you might be able to simply exchange promotional posts. For those with a larger number, it might cost you a couple bucks. Find your niche as well and be active in that community. Comment, like, share and follow within reason.
Engage Influencers
Nowhere are social media influencers more powerful than on Instagram. A shout-out from one of them can change your brand overnight. Start by commenting on their photos, tagging them in your posts, and connecting with them on other platforms. You can also send them free products to try. If you choose influencers who have a history of responding you're likely to get a product placed in one of their posts.
Make Products Exclusive and Anticipated
This is your chance to reward loyal customers and get new customers intrigued by your product. Offer limited time deals or add a layer of mystery to a post about an upcoming release. You can also offer discounts or free products for follows or tagged posts.
You can also bring products to life with third-party editing apps. This can help you create great content while keeping your budget reasonable.
Goal-Oriented Content
Define exactly why you're on Instagram. Are you try to build brand awareness? Highlight a more defined culture in your company? Place more product photos? Whatever it is, create a narrative with it. It can come in a variety of ways: adventure, motivational, empowering, helpful, bold, etc.
Once you find your groove and your posts consistent, managing your account will be a lot easier and more important, your business more recognizable.
Analyze Your Data and Build from There
The great thing about online advertising is the extensive feedback that is immediately available throughout a campaign. Using Instagram's own tools or Google Analytics, figure out what worked and what didn't. The more you test, the more you can tweak to improve the next campaign.
Instagram Marketing for Retail Businesses with KORONA POS
So I know that sounds like a ton of Instagramming. And, well, it is. But it's a valuable tool available for any business out there. It doesn't have to be time consuming or expensive. There are plenty of services available as well that can help you manage your Instagram account. And if you ever need someone to take care of your retail point of sale needs, KORONA POS is the way to go. Our sleek POS terminals will improve any Instagram post 😉
Check out a few more guides for social media management below:
Get Started with KORONA POS today!
Tell us a little bit about your business and explore all features that KORONA POS has to offer. And there's no commitment or credit card required.