Small businesses across the world are scrambling to figure out ways to stay afloat and keep their bottom lines in the black over the next few weeks and months. Without a doubt, it's a remarkably tough time for nearly all of us. But as we've talked a lot about, it's a great opportunity to implement better practices into your retail business.
There are plenty of ways to cut costs at your small business; one of them is to identify the difference between controllable and uncontrollable costs and then find ways to cut back on the controllable costs. But understanding each and how to manage them is a critical step in increasing your efficiency and profitability. Below, we'll go over the differences and give you some examples of where you can cut down your costs.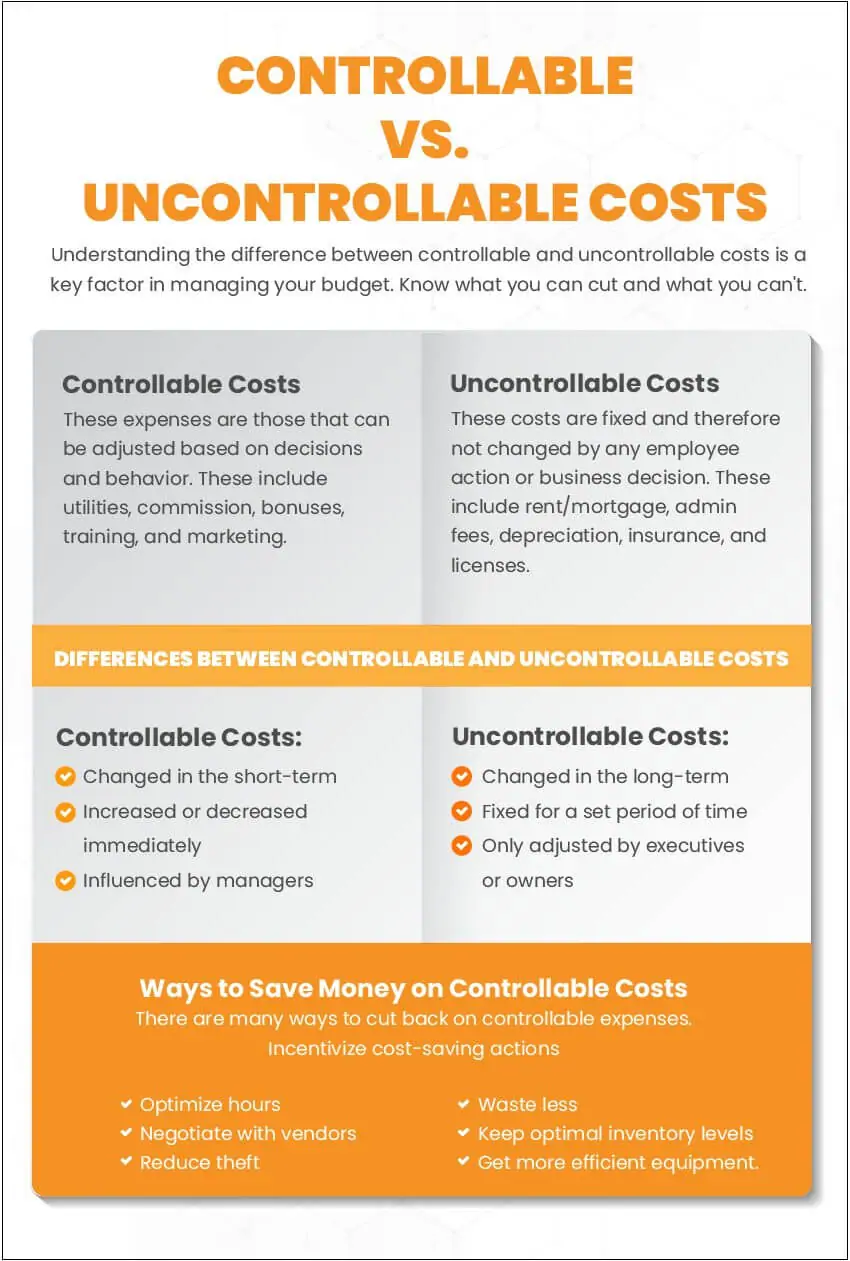 What Are Controllable Costs?
Controllable expenses are those that can be adjusted based on employee or owner behavior. These costs can be either increased or decreased based on decisions on how to operate your business. Below are some examples of common controllable costs for small businesses:
Utilities
Commission
Bonuses
Supplies
Training
Marketing
Materials
There are plenty of more examples of controllable costs, and more specific examples of these, but this is a good place to start.
There are several broad types of controllable costs, too.
Variable Costs
These change with the total level of production. When more of something is produced, the total production costs will increase. Materials, labor, overhead, etc. are all types of variable costs that will increase when production goes up.
Incremental Costs
Additional costs that come when a certain decision is made. Since controllable costs can be changed by short-term decisions, an incremental cost is another type.
What Are Uncontrollable Costs?
Uncontrollable costs, however, are fixed. These are not changed by employee action or business decisions. Instead, uncontrollable costs are set expenses for a long duration of time. Below are a few common examples of uncontrollable expenses:
Rent/Mortgage
Administrative fees
Depreciation
Insurance
Licenses
While some of these can be changed in the long run, the costs will not vary during the year. Some controllable costs can be made uncontrollable in certain businesses. For instance, at most small businesses, marketing costs are controllable. A business owner can decide on a case-by-case basis how much money is allocated to any given marketing source. Larger companies, however, typically have a central team that decides on the marketing budget each year, meaning this cost has now become uncontrollable.
There are also a few specific types of uncontrollable costs:
Fixed Costs
These costs are not altered based on how much is produced.
Regulated Costs
City, state, and federal taxes are the biggest types of regulated costs, but many businesses also find them in the form of loan repayment and interest. Additionally, all licensing, safety standards, or other legal regulations fall under this category.
What Are the Differences Between Controllable and Uncontrollable Costs?
Again, the major difference between the two is that controllable costs cannot be affected by an action or short-term decision from an employee or business owner.
Controllable costs can be:
Changed in the short-term
Increased or decreased immediately
Influenced by managers
Uncontrollable costs can be:
Changed in the long-term
Fixed for a set period of time
Only adjusted by executives or owners
Relative costs can be:
Either controllable or uncontrollable
Depend on location of business
Transportation
How Can You Save Money on Controllable Costs?
There are MANY ways that businesses can save money by monitoring their controllable costs. And, like most things business, it's all about striking that perfect balance. You want to save money in as many areas as possible, but you never want it to come at the cost of future sales. For instance you don't want to cut out an important marketing outlet if it brings you additional sales. It may be expensive, but if it brings in more dollars than it costs, it's worthwhile!
Plus, in many cases of small business owners feeling a cash crunch, the items that are cut are ones that have a negative impact on the customer experience. Often, the biggest expenses are uncontrollable and businesses feel forced to cut employee hours, benefits, promotions, etc. These will eventually lead to a loss in total sales.
But there are some smart immediate ways to control your controllable costs:
Add employee incentives – Offer your staff rewards for helping you cut down on costs, such as utilities, supplies, or even bags.
Analyze ebbs and flows in traffic – It's not wise to cut employee hours across the board, but there might be some times of the day/week/year that require you run with a small team.
Discuss pricing with vendors – Many retailers think that their product supply is uncontrollable, but there are plenty of opportunities to negotiate better deals.
Reduce theft – Sadly, retail theft is a major issue for many small businesses. Use your inventory management system to get an idea of how much you're losing, and implement anti-theft devices to cut it back.
Waste less – Reducing your retail waste is not only environmentally beneficial, but it also saves business money. Cutting back on packaging, bags, tags, and more will add up to make a big difference.
Keep your inventory optimized – Ordering the right quantities each week or month will leave you better organized and saving money by not having to run promotions to move through old product.
Use efficient equipment – Your utilities are a great way to cut back on controllable costs. New, energy saving equipment will emit less waste and again, save you money.
Learn How to Lower Your Small Business Costs with KORONA
With our powerful inventory management system and powerful integrations, we help small businesses break down their data and analytics in new ways. This gives our customers better insight into their business operations, and allows them to take action immediately.
Better yet, you can try it all for free before spending a single penny. Simply set up your trial account by clicking below and get in touch with one of our product specialists to walk you through a demo. We're here to make sure that once we return to normal your business is stronger than ever.