Some of our favorite clients are our group of vomFASS franchises. Many of the U.S. locations use KORONA's retail POS so we decided to visit Huntington Beach, CA to learn more about the store, meet some of their team, and see how their point of sale has fit the business.
What is vomFass?
For those of you who have never heard of or been to a vomFASS, that must change. It's a truly unique retail experience that makes you want to return for more.
Founded in Germany, vomFass focuses on selling products that are difficult or impossible to find anywhere else. In 1994, vomFass opened its doors to franchise buyers and quickly expanded across Europe. It wasn't long before its amazing concept spread to the United States. Today, there are over 250 locations in 20 countries, including about 30 in the U.S.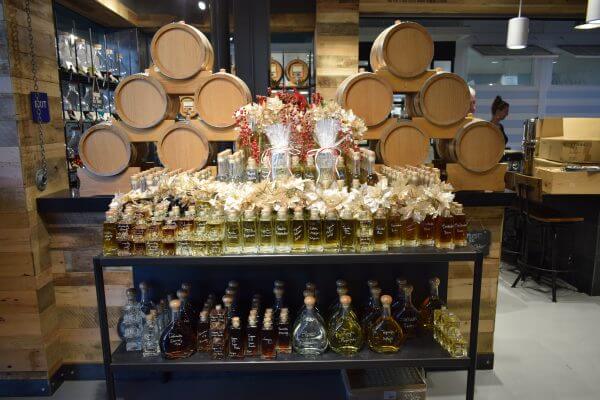 So what makes vomFASS such an amazing retail destination?
First, they have a narrow scope of what they sell: fruit vinegars, artisanal oils, fine wines, and handcrafted spirits from all over the world. They take great care and pride in the sourcing of every single product, some of which come from a centuries-long history of craftsmanship and art. Each store is filled with an astounding array of international products.
To add to the experience, vomFASS provides exceptional customer service. Each member of every franchise must learn an incredible amount of information on every product offered in the store. They are there to educate rather than sell, and it makes for a wonderful retail shopping experience.
The best part? Each product can be tasted straight from the jar or cask, so you know exactly what you're getting. You have an array of sizes available and any purchase is poured into bottles that can be personalized or designed however you wish.
The vomFASS in Huntington Beach, CA
We were welcomed by the general manager, Natalie, at their Huntington Beach franchise. On the eve of their one-year anniversary, business is thriving. It's located right across the street from Huntington Beach State Park and in just a year has attracted tourists and local regulars alike. You can tell that Natalie and her team are passionate about what they do and make sure every customer has a valuable and memorable experience.
This vomFASS also has a small bar open all day for tastings, flights, or one of their amazing cocktails, each of which uses at least one of their specialty products. Whether you go with an Aviation with a sour cherry liqueur from Spain or an Old-Fashioned with their incredible hand-pressed pistachio oil, there's simply no bad decision. tail
store
Natalie also attributed their loyalty program to the success of their first year. "For $60 a month, our members get two free cocktails a week, a quarterly gift of a selected bottle of wine, spirits, oil, and vinegar, and 15% off everything in the store," she explained. NUTS. No wonder they've been such a hit.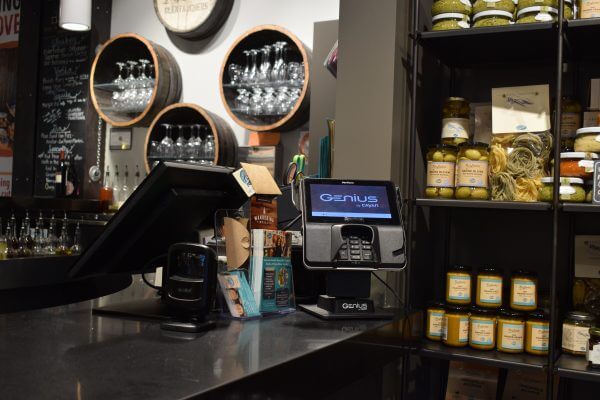 POS
vomFASS and KORONA's Point of Sale
This franchise opened using KORONA and life is a lot easier because of it. As Natalie pointed out, "Coming from a background in restaurants, KORONA was a breeze to learn and to train all new staff on." That's something we hear often. The software is intuitive and there are rarely any hiccups during a transaction. Plus, KORONA comes with software that is built for franchises.
Natalie also told us that they've "been able to get through long lines remarkably quickly with KORONA's transaction speed." Plus, in a store that prides itself on the amount of time they spend with customers, worrying about your POS is the last thing you want. "We spend on average 6-8 minutes with each person who walks in the door," she said. "KORONA has allowed us to really focus on customer service and to take the time to explain the product to every customer." And with their generous tasting service, this becomes even more important.
We also discussed inventory. Their diverse and rotating array of products are easy to manage with KORONA, even with the free samples and different platforms. "Whether the product is used at the bar, during an event, or sold by the bottle, the inventory is automatically accounted for in one system. This allows us to keep an accurate count of revenue and profit each month," Natalie went on to say. "Even better are the back office tools to run detailed reports and analysis on our sales. This is especially important to have for such a brand new store."
Swing by a vomFASS near you!
We had such a wonderful time getting to know Natalie and the other vomFASS staff, seeing the store, and of course, tasting a handful of their products. It's always great to see retailers who take such pride in their business and what they're selling. Check one out if you haven't already. Who knows, you might even be inspired to open a vomFASS franchise yourself! And to find out more, go to their Instagram, Facebook, or Yelp pages.
See some more stories here: