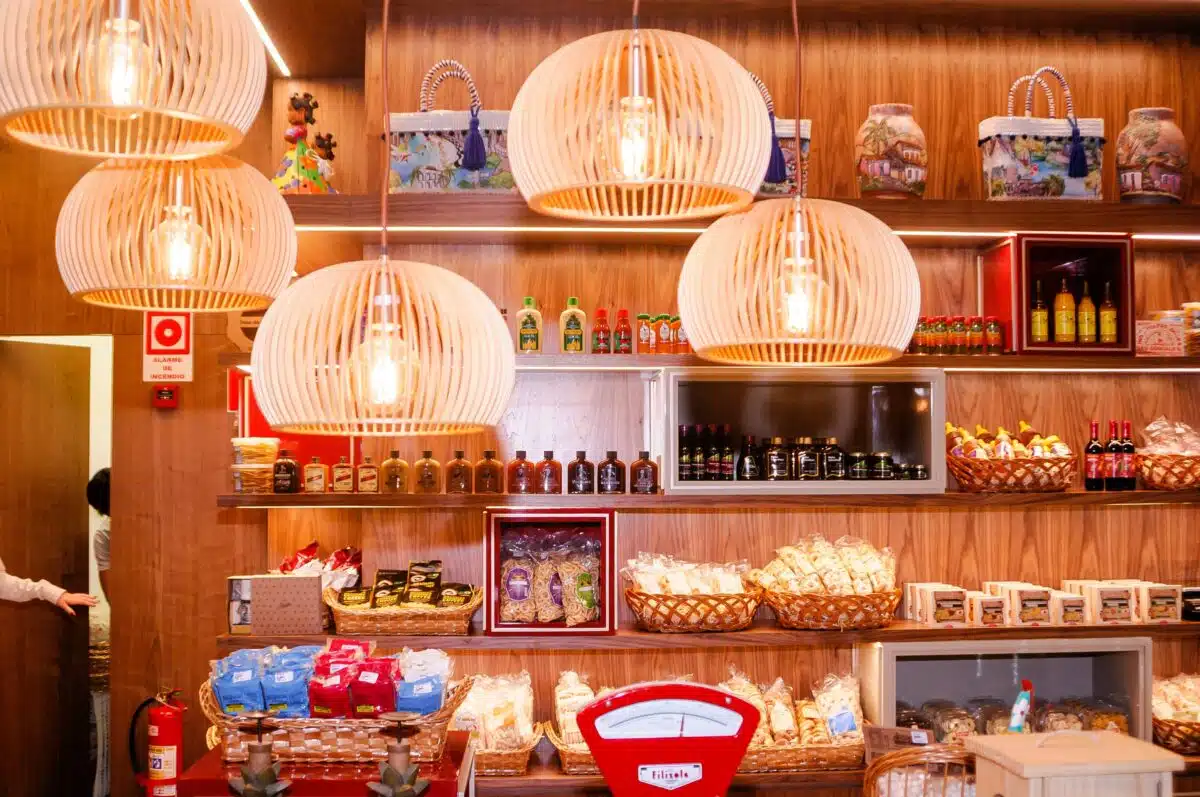 Love at first sight doesn't only apply to finding a soulmate. So many of our impressions of everyday things are generated by how they appear to us. In fact, 90 percent of the information transmitted to our brains is visual. So it's no great mystery that visual merchandising is important for retail businesses. Nonetheless, implementing effective visual merchandising techniques can be quite complex and demanding.
Effective visual merchandising certainly requires creativity and careful planning. All retail stores and brands must continuously work on their merchandising design and displays. There are some general rules and guidelines to think about when doing so. Read on for more details on how to best utilize visual merchandising strategies at your retail business.
Table of Contents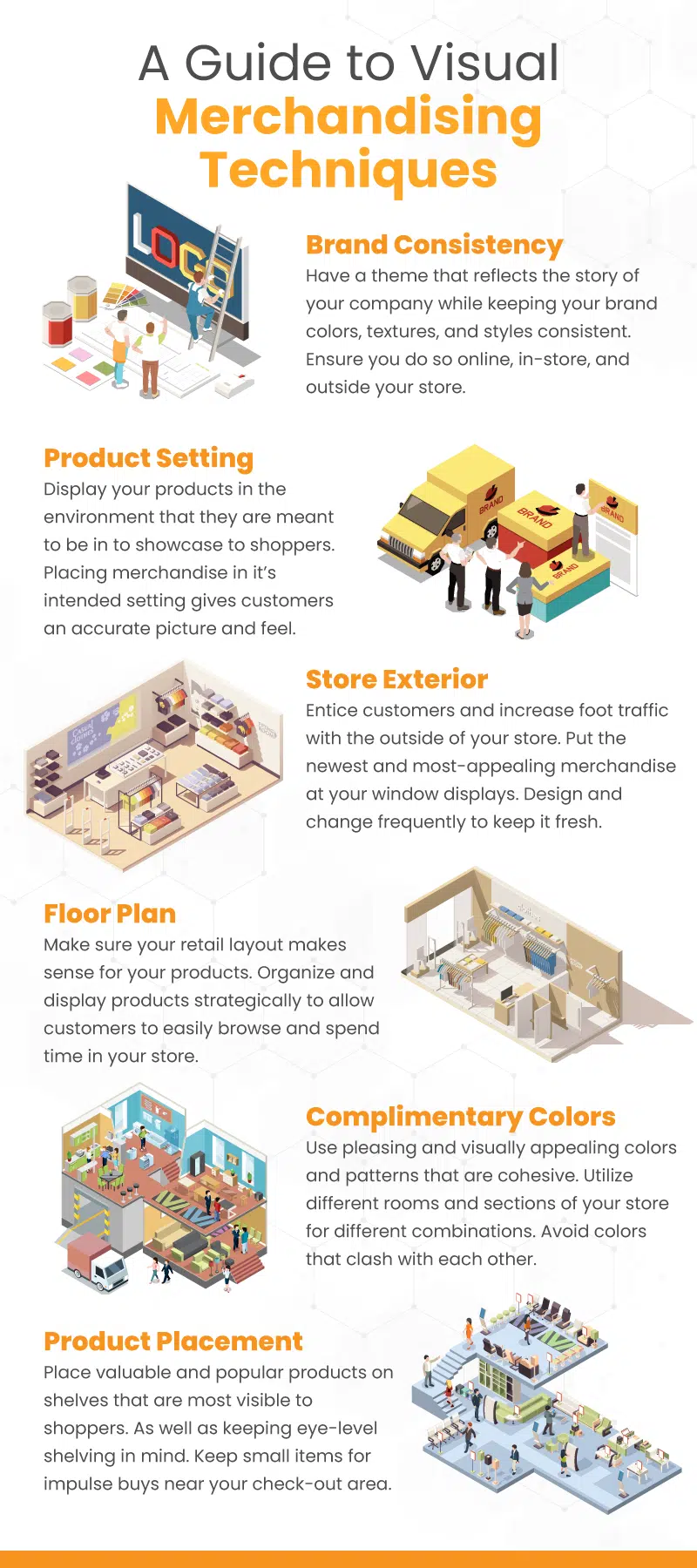 Build Consistent Visual Merchandising Within Your Brand
Before you get started with anything, remember that your visuals should stay within the message of your brand. The colors, textures, and styles of your displays must be consistent with your greater branding and product at large. There should be continuity between a customer looking at your exterior signage, window design, and indoor visual layouts.
Try To Tell Your Brand Story
This is not to say that everything needs to be the same. However, there should be some constant thread throughout your displays. This retail environment theme should reflect your company's story and the products you sell. 
Take Warby Parker, for example. Their location in the Upper East Side of Manhattan has an old-school apothecary vibe. Even though they sell fashion eyeglasses, they make you feel like you're stepping into a traditional pharmacy setting where you will be helped not only by a stylist but also by someone who knows about eye health. Of course, such an apothecary layout doesn't work for every store and product, but there are ways for any brand to get creative.
Smaller businesses like liquor stores can thematically enhance their visual merchandising as well. Try setting up a whiskey tasting on top of some old wood barrels to show off a new brand or kickstart a promotional campaign. Offer shoppers some bar snacks or a cocktail showcase to liven up the mood and create a memory that customers will always associate with your shop.
Effective Visual Merchandising Technique Starts With Your Store's Exterior
Try to bring people into your store by setting up a kiosk or tent outside. Interacting with community members on the street by offering coupons, samples, or information about your brand or shop can do wonders for increasing foot traffic. Think seasonally, like setting up a Halloween-themed tent in October. Own a gift shop? Display a christmas tree with all kinds of ornaments and wrapped boxes to show people what you're featuring inside.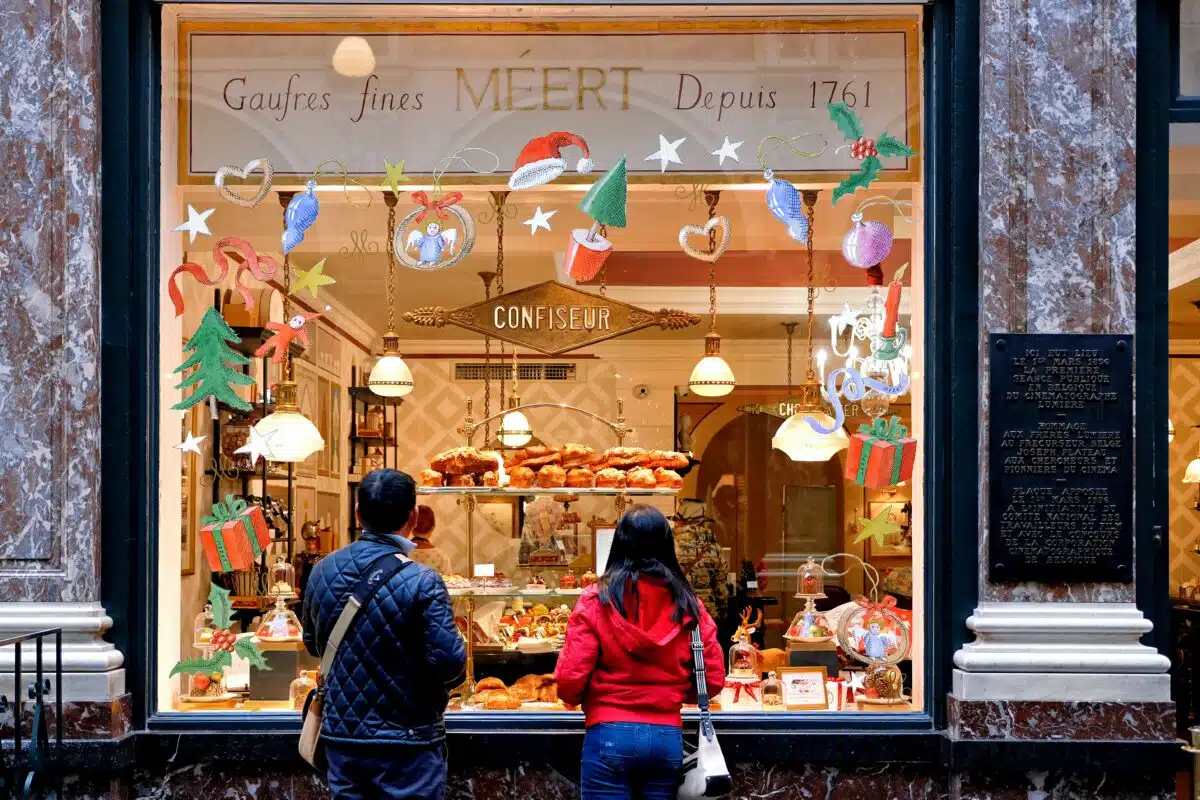 Window Display Visual Merchandising Strategies
Classic department stores have always spent a lot of time and money on their window displays. Macy's in Midtown Manhattan famously spends 9 months of the year on their infamous holiday displays. While the viability of the department store has waned a bit, the necessity to capture shoppers' attention with window displays remains as important as ever.
After all, the window display is often the first line of communication between your store and your customer. It's vital to put the newest, most compelling, and highly appealing merchandise in the window display. And it's not something to haphazardly put together. Window displays tell passers-by a lot about your store's style, taste, and message. 
A consistent theme within a particular window is generally a good rule of thumb. Feel free to use helpful and related props to tell your story and supplement your products. However, don't feel the need to clutter the space. Sometimes, less is more.
Like the interior of your store, proper lighting is essential. Objects should be highly visible without being overly flooded with bright light. Finally, change your window display frequently to keep it fresh and maintain interest.
Be Sure Your Retail Layout Makes Sense
Different products and brands require different store layout plans. Think about how apparel shops are organized versus supermarkets, for instance. Many clothing stores have a free-flowing style floor plan and are much more open in design. They are meant to allow customers to pick up and feel items or see mannequins across the store with visually appealing outfits. 
Grocery stores, on the other hand, are much more utilitarian, using a grid-style floor plan. They're packed with as many products as possible in long, straight rows that allow shopping carts to pass through.
Another well-known type of layout can be found in Ikea stores. They use a forced-path floor plan to send customers into different themed rooms that highlight the style and setting of each product.
Determine which style floor plan makes sense for your store and your products. Remember, this is the foundation for the rest of your visual merchandising techniques. If the layout doesn't make sense, the displays won't either.
For a more in depth look at floor plans check out: 8 Retail Store Floor Plans: How to Find the Best Retail Store Layout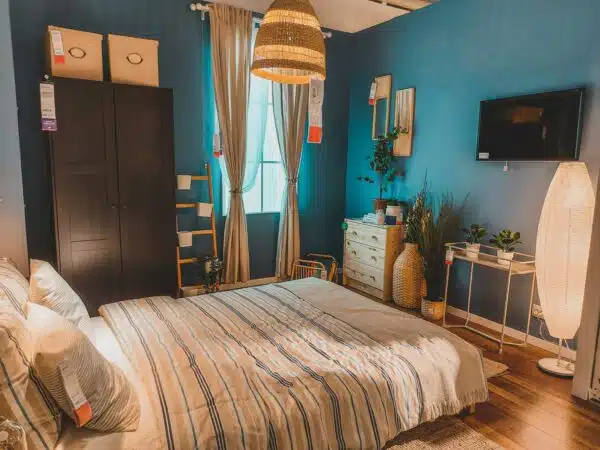 Put Your Merchandise In Its Natural Setting
Visually merchandise your products so that your shoppers can see them in the environment they are meant to be. The lighting and textures should make sense for the particular item you are trying to offer. For example, if you're trying to sell plates or glassware, you should display floor samples on a kitchen table. Skip the fluorescent bulbs that they used in your middle school cafeteria and instead go for something warm and homey. 
The outdoor apparel and equipment store REI takes this to another level. They have actual mini boulders on the floor in their shoe department. When customers try on shoes, sales associates encourage them to climb the boulder to test durability and comfort. Offering customers to see how the shoes feel in their intended environment provides a more accurate, interactive, and thematically linked in-store experience.
Cohesive Color Arrangements
Avoid having your colors clash with each other. Ensure your visual merchandising design is cohesive and agreeable to the shoppers' eye. Think gradients – grouping similar colors and slowly fading into other colors or patterns is much more pleasing and visually appealing.
This doesn't necessarily mean you must have the same color throughout the store. Naturally, some colors go great with others. If it's the holiday season, green and red will obviously help create a stronger Christmas energy. But maybe don't put a blue Hanukkah-themed display in the same line of vision.
In other words, feel free to work with combinations as long as they make sense. Utilize different rooms and sections of your store to isolate these combinations.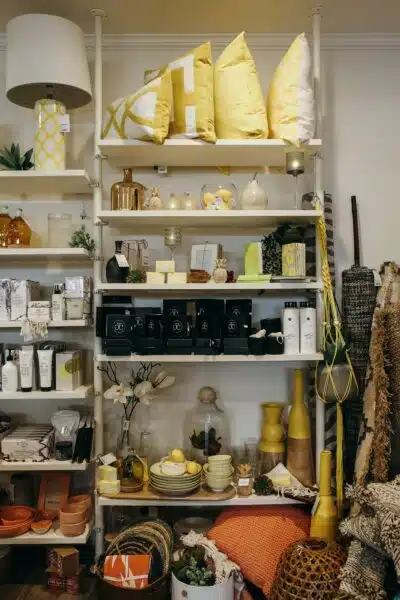 Use Your Store To Physically Suggest Merchandise
One of the most effective visual merchandising techniques is the physical placement of items to make non-verbal suggestions for shoppers. For example, utilize end caps by putting items that you want to sell first. These are the most visible shelves of your store and will generate more views than any other displays.
Many retail businesses will also put their most popular items at eye level. Shoppers are much more likely to see these items and make a purchase. Additionally, don't forget to make the most of the cash register area. Stocking this area with impulse buys can increase your revenue significantly.
For more information about merchandising the checkout area click here: 8 Ways to Market the Retail Checkout Counter and POS Area
Keep Your Visual Merchandising Themes Omnichannel
Work on cultivating the same visual energy and vibe for your online presence as you have in-store. To reiterate, merchandising should be consistent across all channels, including digital ones, like your social media pages and eCommerce website. Coherent omnichannel visual merchandising techniques will ensure more effective brand recognition and awareness. That means eCommerce pages should have similar colors and themes as your display designs in-store. And your social media content should be influenced and informed by your overall visual identity.
KORONA POS For Omnichannel Retail
Luckily, KORONA POS offers custom, in-house eCommerce web design. Keep your branding consistent and native, while feeding online sales data right into our powerful point of sale software. With built-in reporting and analytics and an array of integration capabilities, we offer the best POS solution in the business. Give us a call today to chat with one of our in-house technicians!