Online retail, or eCommerce, is currently growing three times faster than the wider industry. It now accounts for 21% of total retail purchases, shattering most predictions. Additionally, many of these transactions are now being completed on mobile devices, so it's essential for retailers to optimize their eCommerce retail marketing strategies.
This added channel of business is great for all entrepreneurs, opening up new customer bases and offering a level of flexibility that was unimaginable a few decades ago. Businesses also have new retail space that doesn't require rent or insurance and only costs small domain and hosting fees. eCommerce also provides businesses with more visibility, while automatically profiling customers and keeping valuable data.
But it's also forced most businesses to compete on another platform, something that can be time consuming and expensive. It's too easy to get lost in the crowded and vast landscape of the internet. Brick and mortar stores allow for a bit more creativity and personalization than a website.
And to be sure, expanding your business to an e-commerce platform does not make sense for all retailers. If you sell products that can easily be found on Amazon, for instance, there is little impetus on your end to try to compete with their prices. Your physical store is an integral part of what makes your business tick.
But for many retailers, eCommerce provides an opportunity for incredible growth. And it doesn't have to be as stressful as it may seem. First, think about some key features that you'd want from your online retail platform:
Fast web hosting
SEO tools
Smart product search
Abandoned cart emails
Attached blog
Mobile friendly
Coupon and discount capabilities
Scalability with Facebook, Etsy, Instagram, etc.
Sync with Amazon, Ebay, Groupon, etc.
Point of Sale Integration
Ok, now we'll take a look at a couple of the top retail eCommerce platforms, including how they can work with your retail point of sale system.
WooCommerce
If you're familiar with WordPress, WooCommerce is the choice for you. WordPress itself is free and relatively easy to use and WooCommerce is simply a plugin option with WordPress. It comes included with a great content management system, hundreds of extensions and themes, and customizable designs. Because of its cost (free, aside from hosting and any paid extensions), flexibility, and scalability, WooCommerce has an overwhelming market share.
If you're not familiar with WordPress you might have a bit of a learning curve when using WooCommerce, but developers generally like working with WordPress because it's easy. KORONA is also integrated with WooCommerce – scroll down to see how that can help your small business.
Shopify
If you've heard of one eCommerce platform, it's probably Shopify. Well integrated with social media and mobile devices, Shopify is sleek and user-friendly. There are over 100 different store templates to choose from, set-up is a breeze and they offer 24/7 support. Basic Shopify is entirely affordable, but many of their add-ons and extensions are not free and add up quickly. They also use their own code language, making customization nearly impossible for amateurs.
Overall, Shopify is a proven eCommerce platform for thousands of businesses. It works well with Amazon and Ebay and is great for small retailers, new to the market.
BigCommerce
BigCommerce is slightly cheaper than Shopify and comes with an array of built-in features. It's mobile friendly and lightning fast, a key factor for online retail platforms (30% of customers leave the store for every two seconds of page load time). In addition to Facebook, Google, and eBay, BigCommerce also sells directly through Instagram, a portion of the social media market many eCommerce platforms have yet to tap. It also offers newsletters, coupons, shipping, and analytics for your business, saving you money on operations.
Though cheap and easy, BigCommerce is stubborn when it comes to customization. It also offers a limited number of themes. Like Shopify, taking the platform to a more advanced level can start to get expensive.
Magento
Magento is known best for enterprise level retailers; it's great for multi-location operations. It's widely regarded as intuitive and offers a favorable user experience. It comes with over 9,000 plug-in options, allowing for search engine optimization (SEO) management. Magneto also offers extensive online or chat training.
Because Magento is built for large retailers, it comes with a high price tag. It's also notorious for its lack of customization. Magento's language is unique and extensive so it takes a developer with substantial Magento experience to make large changes.
Big Cartel
Geared more towards artists and other independent sellers, basic level Big Cartel is free and extremely easy to set up and manage. It offers a limited, but aesthetically pleasing group of templates. Even their paid subscriptions max out at $30/month.
Because Big Cartel is free, it has functionality issues and few add-ons. It is integrated with very few apps and offers limited store/product management. But it does have most everything that any small retailer would need from an eCommerce platform.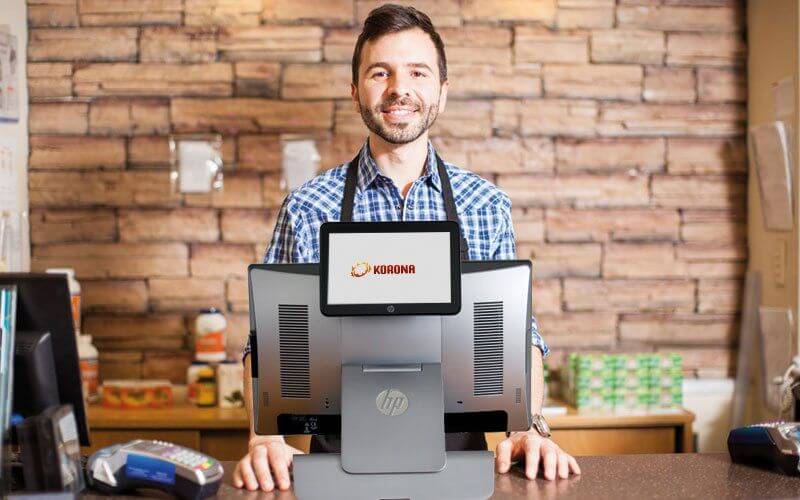 KORONA and WooCommerce
KORONA is now fully integrated with WooCommerce! So why is this exciting?
First, if you're thinking about expanding your store to the web, you won't have to enter each of your products again. Whatever products you've created in your POS already will automatically be transferred to your online retail shop. Depending on the number of products you offer this can save you an incredible amount of time and headaches, or labor costs.
KORONA and WooCommerce can also ensure accurate inventory and communication between your retail store and eCommerce site through a consolidated inventory management system. This prevents orders that must go unfulfilled and helps keep you on top of ideal ordering or production.
Lastly, all web sales are consolidated with sales from your physical location. This means one, simple report for all of your products. You won't have to worry about adding bits of information together and potentially making costly mistakes.
We know how hard it can be to adapt to new technology, so let us make it easy for you.