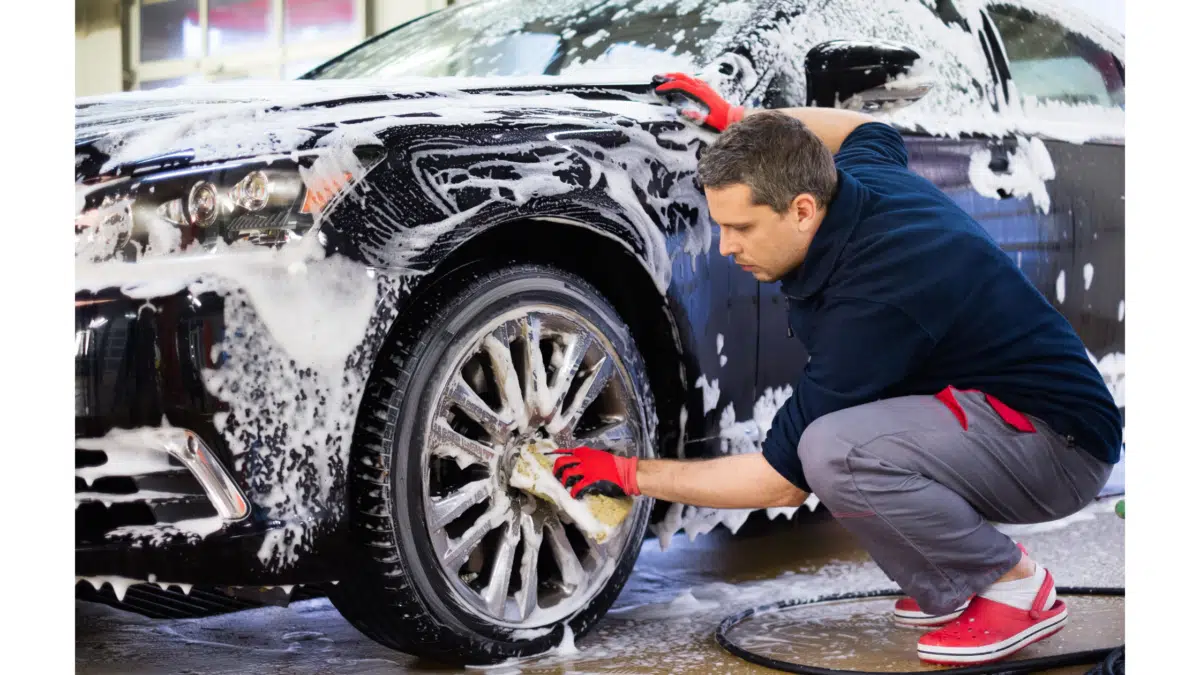 Starting a car wash business can be profitable if you're business-minded and willing to put in the work. According to ondesk, nearly 66% of car owners living in the United States use a car wash service once or twice a month. In addition, the average profit margin per car is about 29%, which accounts for $4.35 on an average ticket of $15.
So, by finding a good location for your car wash business, implementing an effective marketing strategy, and offering a quality service you can attract many customers who'd want to get their cars cleaned quickly and at a good price. However, opening a successful car wash requires good preparation and knowledge of some aspects related to the car washing industry. In this article, we'll walk you through the nitty-gritty you need to know before you start a car wash business.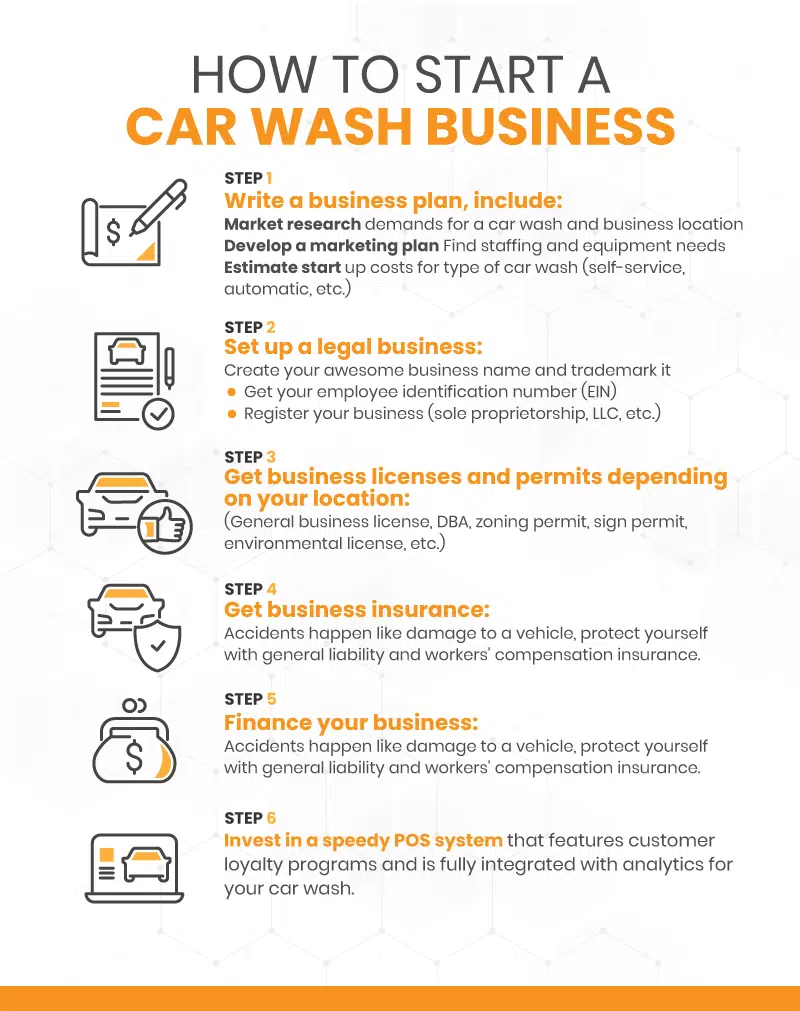 ---
Table of Contents
1. What Are the Different Types of Car Wash Services
Knowing how to start a car wash business primarily involves choosing the type of car wash service you will offer to customers. This choice depends mainly on your budget and which car wash service works best in your area. Each type of car wash has advantages and disadvantages and is likely to suit a specific type of business.
Therefore, it is imperative to know from the outset the different types available so that you know how much you need to budget in terms of capital and what type of equipment and machines you will be investing in.
Here is an overview of the main types of car washes:
Conveyorized tunnel system car wash
The conveyorized tunnel system car wash is a type of car wash that requires the customer to drive their car into the tunnel and let the conveyor system guide the vehicle through a series of detergent applications, wash equipment, and a rinse and blow system.
The advantage of the tunnel system car wash is that you can wash several cars at once in one tunnel, saving you time. In addition, the washing time of a single-vehicle is between 5 and 10 minutes.
Full-service car wash
A full-service car wash involves cleaning the exterior and interior of the vehicle and detailing the car thoroughly. The full-service car wash provides a more complete wash than other types of wash.
Self-service car wash
The self-service car wash is a type of car wash for people who like to clean their cars themselves. Customers wash their vehicles, paying separately for options such as soap, brushes, high-pressure water, and wax.
When opening this type of car wash business, consider providing customers with all necessary equipment such as wands and brushes to allow them to wash their cars as they wish. In addition, you can consider offering other services such as vacuum cleaners and tire inflation.
The benefit of self-service car wash is that the services provided are much cheaper than other car wash types and allow customers to take care of their cars if they cannot be washed in other car wash facilities.
Touchless car wash
A touchless car wash is a type of car wash that uses a flexible machine that can clean all parts of a car's surface using high-pressure water jets and a combination of cleaning and polishing chemicals. In this type of wash, no cloth, bristles, or mechanical action is required to clean the vehicle.
In general, a touchless car wash takes a little longer than a traditional brush wash. Also, improper or incomplete drying can leave stains on your finish.
In-bay touchless automatic car wash
In-bay automatic car washes are generally associated with gas stations and convenience stores. They are either friction, touchless, or both. This type of wash allows customers to choose from a menu of wash options. The menu can range from tire and wheel cleaning to undercarriage cleaning and spray waxing.
At a touchless in-bay automatic car wash, drivers pull their car into a bay while following the instructions on the lighted sign. The washing process involves running the automatic machines over a stationary car to wash it.
The equipment cleans the car with detergents and high-pressure water jets. The benefits of this type of car wash are that it is becoming increasingly popular and does not require regular staff. In addition, customers have the option of a wash menu to suit their budget.
An in-bay automatic car wash is one of the most profitable types of car wash. On average, an in-bay automatic car wash can generate $139,000 in revenue per year with a net annual profit of $86,531.
2. The Different Steps of How to Start A Car Wash Business?
1. Write a business plan
No matter what type of business you plan to open, you need to start with a business plan before launching your operations. Opening a car wash business is no exception to this rule.
Your business plan should outline your aspirations for your business, the results of your market research, a detailed plan of your marketing strategy upon opening the business, financial projections on the costs involved, and unforeseen expenses to be covered.
It should also indicate the expected financial performance and profitability potential over the next three years. Your business plan will be required to apply for financing from a financial institution.
It will be required by any bank or investor you approach to help finance your business. No investor will fund a project that does not have a clear and precise roadmap of its activities. Here is a detailed description of what the essential points of your car business plan should include.
Market research
Market research has three main objectives:
Ensure there is a demand or need for a car wash in the area where you want to set up your business.

Develop an appropriate business plan to meet this demand.

Help you collect the necessary information that will give you an overview of the sales potential.
The findings of your market research will help you understand the needs of your potential customers and ensure that the location or area you have chosen has enough traffic.
Location is everything if you want to successfully start a car wash business. You need to know how often people visit a car wash, how many car washes there are in the area, and what type of car wash is preferred by most customers.
See related How To Find a Good Business Location
The market research should also give you an idea of the demographics of the people surrounding your future business location.
Here are some questions you can ask yourself to establish your study market better:
On average, how many times do customers visit a car wash per week?

Who prefers which type of car wash: full-service, touchless car wash, self-service car wash, pressure washer?

What is the average budget per customer?
How many car washes are there in the area?

What services do they offer, and how much do they earn?
Develop a marketing plan for a car wash
Once you've completed your market research, you need to think about the marketing strategy you will implement to attract customers. The first thing to do is to look at your competitors' communication and marketing approaches to attract and retain customers, whether it's a jiggle ad on local radio stations or posting car wash discounts on social networks.
Learning more about other people's strategies allows you to adopt better strategies to promote your carwash. While having a great location is the most critical first step, you'll still need to find a way to turn potential customers into regulars.
You can also offer personalized services to your customers. Paid Ads, advertising in your local newspaper, creating a website and loyalty cards or developing offers, and creating Instagram and TikTok promotional accounts are great ways to do this.
The staffing and equipment needs of a car wash
The choice of staff and equipment will depend on the type of car washes you choose. Also, selecting the type of car wash shouldn't be done on a whim. Base your decision on the results of your market research.
For example, if you are opening a self-service car wash or an in-bay touchless automatic car wash, you will not need enough staff to run the business. However, you will have to invest in the necessary equipment and renovations.
On the other hand, if you open a car wash that only offers hand washing like a full-service car wash, you won't have to spend a large amount of money on equipment but rather on employees. You'll need to hire many employees to provide fast service to customers.
Estimated start-up cost
As an entrepreneur who wants to know how to start a car wash business, the financial aspect is important. You can't start a business without knowing the start-up costs. Here's an estimate of the starting costs of a car wash.
Hand Car Washing

: $1000-5000

Self-service car wash

: $200,000-500,000

Automatic car wash

: $500,000 and more, depending on the size of the business

Touchless Washing

: $1,000,000+
The costs of opening a car wash depend on the type of car wash you want to open. However, there are certain unavoidable expenses, such as water and electricity. To limit the expenses, it is advisable to collect the water by capturing it and passing it through a filtration system to clean it before reusing it. This will help conserve water use and cut back on your water bills. As for automatic car washes, they consume a whole lot of electricity.
2. Set up a legal business
After writing your business plan, you must think about actually opening the car wash. But before launching any operations, you must first set up a legal business. And setting up a legal business means first getting your business a name and trademarking it, getting your business registered, and then forming a legal business structure.
Find a business name and trademark it
You can't open a car wash business without giving it a name. Your business name is what defines you and differentiates you from your competitors.
For example, if you don't know how to name your car wash business, you can simply add your first name to "Car Wash."
If your first name is Bobby, you can name your business "Bobby's Car Wash". Once you have found a name that suits you, you need to start trademarking it.
Trademarking your business name allows you to avoid legal disputes, attract investors, and build your brand. Apply to register a trademark on the USPTO website.
Get your employee identification number
Also known as the Federal Tax Identification Number, the Employer Identification Number EIN is like a social security number for your business. Obtaining an EIN is mandatory if you are going to register your business. It is also required when you apply for loans from investors or for bank loans. Applying for an EIN is done online, and it is issued immediately. You can then use it to open a bank account for your company and other suppliers.
Register your business name
Registering your business name is all about finding the best business entity for your company. There are several business entities under which you can register your business, each with different advantages depending on the circumstances and needs of your business.
One option is to register your business as a sole proprietorship. This is the most accessible and popular type of business entity to create. As a sole proprietor, you are the only one who manages your business and assumes all liability in the event of your business failure. In addition, it should be noted that if you set up your business as a sole proprietorship, it will be difficult for you to obtain loans from banking institutions.
A limited liability company (LLC) is another option and is the most recommended business entity if you want to start a car wash business. This type of business structure makes it easy to set up your business, pay taxes, and keep your personal assets separate from your business's financial operations. In addition, registering your business as an LLC increases your chances of receiving financing and determines how you pay business taxes.
You can also choose to incorporate. This is also another form of business structure that gives you more control over how the business pays its taxes and protects you from liability if the business fails. However, this type of business requires a more complex governance structure.
3. Get business licenses and permits
If you want to know how to start a car wash business, you also need to know about the various licenses and permits required before opening your business. Permits and licenses vary depending on the state, municipality, or county in which your business is located.
Most importantly, your state or municipality may close your car wash business if you don't have them. To make sure you have all the information you need about the licenses and permits you need to obtain, check with the Secretary of State or Chamber of Commerce in your area to get all the information you need.
General business license
Among others, you will need a general business license. This is the most basic type of license that almost all states require before opening a business.
Doing Business As (DBA) licenses
You may also need a Doing Business As (DBA) License. This type of license allows you to conduct transactions on behalf of the business and manage accounts.
Zoning permit
Another essential type of permit to have is a zoning permit. You cannot start a car wash just anywhere. Obtaining a zoning permit is proof that the structure or building you have chosen complies with zoning guidelines and that you have the authority to operate your business at the chosen location.
Sign permit
The final permit that is essential to your car wash business is the sign permit. Sign permits give you the legal authority to post information about your business. This information can be your name, logo, or any other signs associated with your business.
Learn more about Types of Business Licenses for Small Businesses
Environmental licenses
Additionally, climate change and environmental protection issues are becoming increasingly important. Most states and local governments have strict rules for car washes to control the disposal of wastewater and grit, allowable air emissions from customers' cars, and proper storage of fuel tanks. Since running a car wash is a business that requires the use of many chemicals, there are strict rules to limit the effects of these chemicals in nature. Ask the relevant authorities to find out more and prepare yourself accordingly.
4. Get business insurance
Just like licenses and permits, your business needs insurance to protect you and keep you running safely and legally. There are several types of insurance policies, and they depend on the type of business you are operating.
The most popular type of insurance to purchase is general liability insurance if you are unsure of the risks your business faces. However, many things can happen when it comes to a car wash business.
For instance, accidents or damage to a customer's vehicle will happen at some point. You need to ensure that you have insurance that will get you out of any undesirable situation. In addition to general liability insurance, you should also have workers' compensation insurance to protect your employees.
If you have employees in your car wash business, your state will likely require you to carry workers' compensation insurance. For more information, consult an attorney or a commercial insurance agency.
5. Finance your business
Financing is an essential part of the car wash industry. Purchasing the machines needed to operate a car wash can be expensive. The equipment needed to operate a touchless car wash, for instance, will cost approximately $250,000.
Plus, the construction of a building for a car wash costs about $500,000, not to mention other additional costs. So whether you choose to rent or buy new equipment or add new services to your business, it is important to make wise financial choices.
However, there are several options for financing and operating your carwash. While you may be able to get loans or support of any kind from investors, it is also essential that you contribute to the financing of your business. Loans or alternative financing will not cover all of your financial expenses.
Here are some of the financing options available to you.
SBA-backed loan
The most common way to finance a car wash is through a loan from the Small Business Administration (SBA). The SBA allows you to obtain loans at low-interest rates and generous repayment periods.
However, the SBA is not a direct lender. Instead, it provides guarantees to lenders. The SBA's most popular loan option is the SBA 7(a) loan program. Loans can provide financing up to $5,000,000, with very competitive pricing and flexible requirements.
The SBA 7(a) program is not the only option you have. The SBA 504/CDC loan is designed to assist small businesses in purchasing large, expensive items or equipment that they may need for their business or commercial property.
This type of loan is ideal for entrepreneurs who wish to open a car wash business, as it will cover a good part of the expenses related to the purchase of equipment.
There is also an SBA micro-loan program for new or small businesses needing loans up to $50,000. This type of financing is ideal for opening a self-service car wash or a mobile detailing business where the start-up costs are lower than for a touchless car wash. SBA loans require individuals to submit annual tax returns and tax returns to support the loan agreement.
Credit cards
Credit cards are still one of the fastest and most effective ways to obtain financing and get your new car wash business up and rolling, although they are a little risky because of the high-interest rates required by lenders.
The best way to assure lenders is to pay regularly and on or before the due date. Not meeting your commitments can put you in compromising situations later on and prevent you from getting more financing when you need it most.
6. Invest in a POS system
It's true that a point of sale system is not the number one priority in starting a car wash business. However, it plays a vital role in the smooth operation of your car wash as it allows your customers to pay and checkout and be swiftly on their way once their car is ready.
Although the right equipment, knowledgeable staff, and proper training all contribute to the quality and speed of your service, there is another aspect that comes into play: an excellent point-of-sale system.
A car wash point-of-sale system can benefit both the customer and the business owner in several ways. Here is how it can help your business:
Customer loyalty programs for a car wash business
When it comes to increasing your revenue, half the battle is won if you keep your existing customers coming back regularly. That's where loyalty clubs come in. Setting up a loyalty program is very difficult if you do not have a good car wash POS software system.
Loyalty programs help promote repeat business and customer loyalty and allow your company to collect data about your customers who agree to join the program.
This data will, in turn, allow you to provide special offers and wash reminders and can be designed and sent automatically, thus introducing an element of CRM and marketing into your car wash business. The use of an automated and cloud-based point-of-sale system is, therefore, essential in managing a loyalty program.
Track your car wash business operations in real-time.
Ideally, when choosing a point of sale software solution, it should be linked or integrated with your management or accounting software. This helps you more easily track business and slow periods, the profitability of key periods, staff scheduling, the effectiveness of marketing campaigns, and even blocking equipment maintenance periods.
The more connected and automated the information, the smarter you can make decisions and the less room for error. Point of sale systems offer a range of automation and marketing opportunities, promoting more effortless and accurate month-end accounting.
If you're looking for a cutting-edge POS system for your car wash business, feel free to click on the button below to get in touch with us.
FAQs: How to Start a Car Wash
What are the benefits of owning a car wash?
Depending on the type of car wash you own, some can be self-sustaining, with little maintenance and employees. In return, making it a very profitable business because of low over-head.
What is the target market for a car wash?
The target market is usually best in urban areas with many drivers. New car owners is also a specific group to market to, who will always want to keep their brand new car smell and keep their vehicle in pristine condition.
How do I make my car wash successful?
Giving exceptional customer service will create a winning relationship with customers. By creating that relationship, you will grow a loyal clientele. In addition to great customer service, put in a sense of care and urgency. It will ensure your services are worth the price and keep your customers returning.