Starting a car wash can be a profitable business to get into. More than 72% of drivers in the U.S. frequently use professional car wash services, and the conveyor car wash is the most revenue-generating service.
However, starting a car wash conveyor as it requires a more enormous investment capital. Though there are several other types of car washes that are less expensive to start, they will bring in less profit.
So, the question that many people ask is how much do car wash owners earn on average. The answer to this question is not straightforward, as your income will depend on several factors. If you have thought about opening a car wash and wondered if it's worth it, you've come to the right place. In this guide, you'll learn about the different aspects that can affect a car wash owner's annual or monthly income. We'll also discuss how much a car wash owner earns based on the type of car wash they run.
Table of contents
1. How Much Do Car Wash Owners Make?
The annual income from a car wash depends on the type of car wash you own, how much you charge per vehicle, and the recurring expenses associated with it. As a baseline, it's estimated that the average annual profit for in-bay automatic car washes is $86,531. It's worth noting, however, that this figure represents only one specific type of car wash and does not accurately reflect the actual income levels of other car wash professionals. Regardless, the growth of the car wash services industry is apparent. According to Report Linker, the U.S. car wash services market size is expected to reach $20.74 billion by 2028, expected to grow at a CAGR of 4.8% between 2021 and 2028.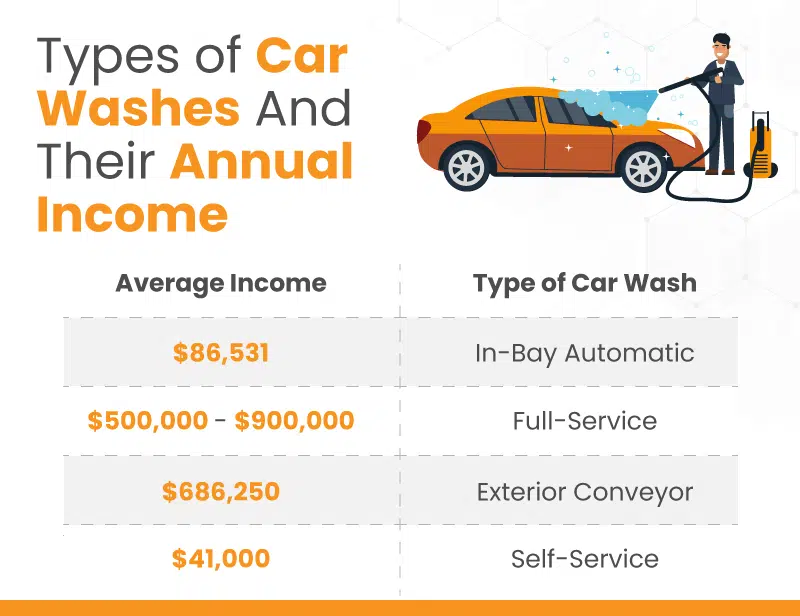 2. What Are The Different Types of Car Wash And Their Annual Income
In-bay automatic car wash
The typical fee for this type of car wash is about $6.34, with a profit of $4.35 per wash. On average, it can generate annual revenue of $139,000, which translates into an average profit of $86,531. The in-bay automatic car wash doesn't require much space and can be easily added to an existing business, such as a gas station or mechanic shop. It also doesn't require much labor, as it operates automatically as soon as the customer pays and enters the bay. Consumers are also more likely to opt for in-bay car wash services because they cost less and the process is much faster and more efficient. Additionally, in-bay services use 10 to 50 gallons of water per car, while tunnel services use 14 to 60 gallons.
Full-service car wash
The full-service car wash is the most expensive of the car wash types, but it is also the most cost-effective. The average cost of this type of wash is $15, which is more than double the cost of an in-bay car wash. A full-service car wash business can actually make anywhere from $500,000 to $900,000 annually in profits. The full-service car wash offers exterior and interior cleaning services. It provides additional services, including vacuuming and detailing services for the interior of the car. The exterior service is sometimes performed at an indoor car wash or on a conveyor belt.
Exterior conveyor car wash
These are car washes that place cars on a motorized track and drag them through a tunnel where they are rinsed, soaped, washed, rinsed again, and eventually waxed. The exterior conveyer car wash is the second most cost-effective type of car wash after the full-service car wash. It is estimated that with this type of car wash, you can earn an average of $686,250 per year.
Self-service car wash
The self-service car wash system allows the owner to clean the car at their own pace. It does not necessarily follow the schedule and procedures found in an automatic car wash. Compared to the previously mentioned types of car washes, this type of car wash is inexpensive and can bring in $1,489 per bay each month and an average annual revenue of $41,000. This is, of course, far less than the revenue from the other types of car washes, but remember that it comes with minimal maintenance and staffing costs.
3. What Are The Factors That Can Affect Car Wash Income?
Other than the type of car wash, other factors can affect the monthly or annual income of a car wash owner. Here are a few of them:
Location
The location of your car wash business largely determines its success. Many customers discover the carwash they patronize when they notice it while driving by. If the location is not ideal, you will need to add signage visible from the road to attract the attention of a potential customer.
Seasons and natural disasters
A car wash may experience a slowdown during rainy periods or natural disasters such as hurricanes and earthquakes, while it may flourish in the spring when pollen is abundant or in the winter when salt builds up. So, when starting a car wash business, you should avoid areas prone to natural disasters. Carwash owners need to forecast their profits based on weather conditions and have a financial strategy that prevents them from going into debt during periods of low profitability.
Recurring expenses
Many recurring expenses can chip away at your profits in different ways. The type of car wash you decide to own will play a role in each of these expense categories. Here are some of the most common expenses that car wash owners face regularly:
Employee salaries, taxes, and benefits (automatic and full-service car washes only).

Business taxes

Supplies (cleaning products, polishes, and waxes, brushes, rags, vacuum hoses, etc.)

Lease or mortgage (for the site/building)

Commercial loan repayment

Utilities (water, electricity, gas)

Equipment repairs/maintenance

Commercial insurance

Signage

Food/beverage for customers (full-service only)

You may also be required to pay an annual license renewal or permit fee, depending on the location of your car wash. Each of these recurring expenses will come from your revenue, which means less profit and less income.
If you decide to open a car wash from scratch, there are some significant additional costs that you'll incur:
Land acquisition

Construction

Car wash equipment
These three aspects can be expensive depending on your location and the type of car wash service you wish to offer.
Marketing
Another element that can affect a car wash's income is marketing. Marketing doesn't just help increase the number of customers and profits. It plays an essential role in keeping repeat customers coming back to your car wash facility and attracting new customers. Social media channels (TikTok and Instagram, in particular), website bookings, posting notices, sending out flyers, putting up attractive signs, and yellow page ads are all marketing strategies you can implement to promote your business.
Washing services prices according to the type of engine
When it comes to washing cars, the price of washing can vary depending on the size of the engine. While small engines are less expensive, modified engines and large engines bring in a lot of money, and you can make a lot of money. You're not going to charge the same price for washing a GMC Yukon Denali XL as you would for a Smartcar.
4. Don't Confuse Profits And Revenue
The concept of profit and revenue is often misunderstood. If your business made a certain amount of money in a month or year, it doesn't mean that's all profit. It is advisable to break down your monthly bills. Then, whatever is left after expenses (including any taxes you may owe) can be considered your monthly income (or net profit). The higher your daily costs, the lower your monthly income will be.
Budget for expenses that are not so regular, such as a broken vacuum cleaner, possible equipment replacement, termite fumigation, or even vandalism. Subtract the sum of expenses incurred from the revenue. The rest is your profit.
5. Managing Your Payment With the Best Car Wash POS System
An important aspect that is often overlooked when opening or managing a car wash is the daily management of payments with point of sale software. There is a plethora of POS software on the market. The wrong choice of POS software can be highly detrimental to your business.
KORONA POS software offers several secure and powerful options for business owners. The software also allows you to track your business performance and is cloud-based, which means you can track your business and other important data without being onsite to refine your marketing strategy better and make other important decisions. To learn more about KORONA POS, click on the link below.
FAQs: How Much Do Car Wash Owners Make?
1. How profitable is a car wash business?
The profitability of a car wash business depends on the type of car wash service you want to offer, the location of your business, the types of cars you wash most often, and the daily expenses. On average, it can start from $41,000 per year for a small self-service car wash to $686,250 for a large luxury car wash.
2. What are the cons of owning a car wash?
Owning a car wash comes with many challenges. According to the opinions of many carwash owners, the challenges they face are usually related to the smooth running of the operation, managing the team, and customer satisfaction.
3. How much capital do I need to start a car wash business?
Start-up costs vary depending on the type of car wash you open. You can start a hand wash business for as little as $2,500 or a self-service, automated car washes for $150,000 or more. The main expenses at the high end are facilities and machines.
4. What U.S. state has the most car washes?
California has the largest number of car wash businesses available to citizens when it comes to car washes in the United States. However, based on population size, the District of Columbia actually had higher average sales than California.