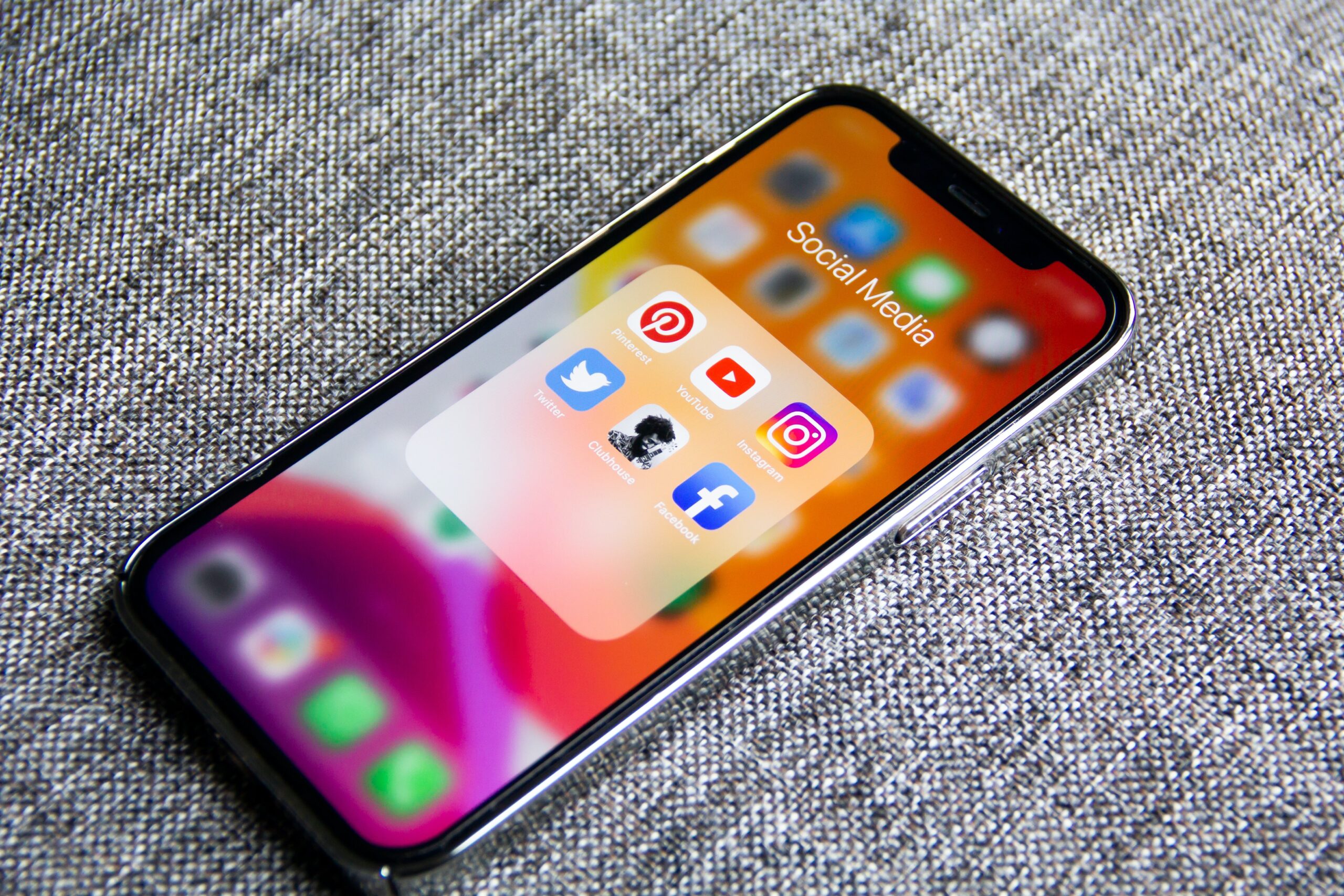 It's no great secret that Americans spend a ton of time each day on social media apps. And social media can be a huge marketing asset for dispensary owners. Reaching your current clientele and potential customers through apps that they're already using is a great way to expand sales, and make your dispensary stand out.
Still, there are complicated regulations on what kind of content you are actually allowed to post. Many hugely successful cannabis-related pages with thousands of followers have been shadowbanned. As such, while it can be a potent marketing tool to establish a social media presence for your retail cannabis business, there are several factors to pay attention to. Read on for a detailed guide about social media and cannabis retail marketing.
Table of Contents
Have a Marketing Strategy Before You Start Posting
Before you do anything, know why you're posting. What audience are you targeting? Part of your dispensary's business plan should involve market research to focus on a target audience. Keep that in mind when you post content.
Consider which segments of your clientele would be interested in your posts. It's great to diversify your post content and format, but they should be strategically aimed at specific profiles of customers that you hope to drive towards your eCommerce or brick and mortar location.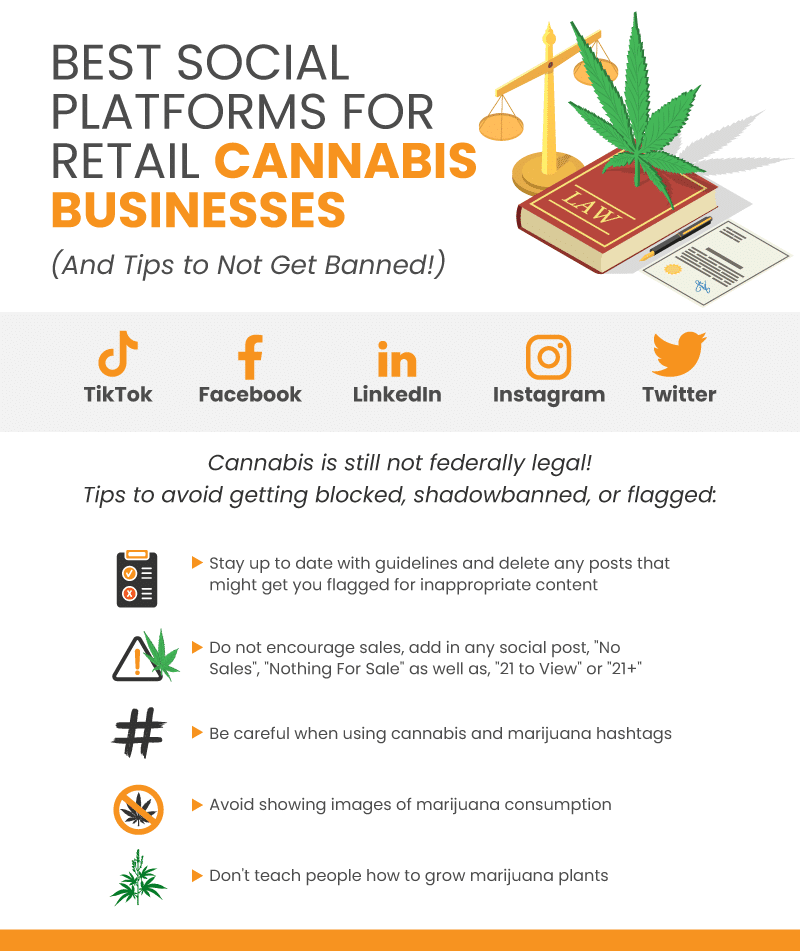 Why Do Dispensaries Get Banned?
There are numerous reasons that cannabis-related Instagram pages get banned there and on other social media platforms. In many cases, dispensaries don't know the rules and post banned content.
Other times it's not even necessarily their fault. Hostile dispensaries have been known to target their competition by repeatedly and maliciously reporting them for violating social media platforms terms of use. This can lead to unnecessary and often unfounded shadowbans.
Once your business gets banned or blocked it's exceedingly hard to get things back to where they were. However, there is a lot you can do to prevent bans on your end. Not to sound like a buzzkill but watch out for these common pitfalls for cannabis social media marketing:
Stay Away From Appearing To Encourage Sales
Paid advertisements are a no-no because technically dispensaries aren't allowed to promote commerce of controlled substances on any social media apps. Similarly, avoid using any dollar signs on your pages, as this triggers monitors, both AI and human, to flag your page as trying to encourage sales.
No Cannabis Hashtags
Don't use hashtags that are directly related to marijuana words. This is a quick way to get in trouble since most platforms deem searchable cannabis terms as pushing controlled adult substances to potentially underage audiences.
Avoid Photos Of Consumption
Do not show people consuming marijuana. As cool as your budtenders look lighting up a hash and goo pre-roll, it will surely get you flagged for inappropriate content. Pop stars might get away with posting blunts on their socials, but they're probably not using their accounts as a cannabis business.
Don't Teach People How To Grow
As a cannabis retail entity on Instagram or Facebook, do not teach people how to grow marijuana. There are other opportunities to post educational and informational content on your social media platforms, which we'll get to later.
Which Is The Best Platform To Use For Retail Cannabis Businesses?
Instagram is the best social media platform for retail cannabis businesses. Still, all of them can offer help to increase your presence and audience. Here's a little more about each social network that you can use to promote your dispensary business:
TikTok
You will not be able to use certain hashtags to directly promote your page (including #dispensary). But there are still approaches that make sense. TikTok's audience wants to see short snippets of funny, entertaining, easily digestible, and, most importantly, trending content, often synced up to even more aggressively trending songs.
Try showing the personality of your staff and sales room by asking your team to post videos with the hashtag #budtender. You can still add traction to your presence by acquiring followers who appreciate getting to know your employees. Essentially, this means you have to create a dispensary page that is centered around people and experiences rather than products.
LinkedIn
Having information about where you are, what your company is all about, and topics that your dispensary might specialize in can help you build connections with other marijuana brands. LinkedIn serves as a social network that can help cannabis retail entrepreneurs connect with peers within the same industry but in different fields or vocations. 5
These B2B connections can lead to useful relationships with industry experts and potential partnerships. Overall, LinkedIn can help substantially increase your industry visibility and professional network on the back end.
Twitter
One of the most lenient social networks for marketing marijuana retail is Twitter. There, you can post all kinds of content from brand partnerships and new products to news about marijuana-related legislation and social equity.
Some dispensaries go so bold as to funnel their Twitter followers right into their online sales. Medmen posted this image of a cannabis bud on their Twitter last week to drive Californians to their eCommerce menus.
Still, most dispensaries use Twitter sporadically because of its fleeting nature and text heavy format. Even some cannabis retail pages with over 25K Twitter followers prefer to keep their promoted posting focused on Instagram. However, it's a good idea to keep a twitter page going to be able to reach your customers in the event that you do get locked out of other social media accounts.
See related: Learn more about hashtags on Twitter
Facebook
While dispensaries do use their Facebook page to post similar content as they would on other social platforms, Facebook just doesn't seem to get as much attention for cannabis retail businesses.
Still, it's a place where people may go to verify certain aspects of your website information, basic business info, or check out product reviews. Thus, the best use of Facebook for dispensaries is to create a mini version of your website. Offer as much information as you can about how you operate without breaking their vague and murky rules.
While articles about Facebook's rules make it seem like it's a violation to post contact info or hours of operation on your Facebook page, many dispensary's profiles offer that much information and more. It appears that since the heavy crackdowns on cannabis-related Facebook profiles in 2016, and 2017, Zuckerburg and his team have eased up on banning and blocking pages.
Instagram
For most retail companies, and especially ones with eCommerce, Instagram is the first choice when it comes to social media marketing. It allows dispensaries to show followers what's going on and engage their audience on a platform that they likely use daily and can easily share socially. The main purpose of establishing a well-trafficked Instagram account is to get customers to naturally flow towards your eCommerce page or menu website.
Mix Up The Content
It's actually okay (and probably wise) to put pictures of big buds of marijuana flowers on your page as long as you don't overtly say it's for sale. Showing your clientele what brands and cultivators you work with is crucial to creating a dispensary identity. Collaborative posts with your partners will also help pass along such information about your dispensary to potential consumers.
Still, make sure to keep your content diverse. Include some interesting informational content on your page alongside the aforementioned inventory promotion posts. Upload a video or series of photos showing how live resin is made, for example. Even better are posts destigmatizing cannabis use, or infographics about decarceration. Meta's algorithm, for instance, rewards pages that offer educational content. Plus, you'll also be doing the right thing in your industry!
Try to remember that successful social media campaigns are deeply affected by trends and timeliness. Posts should be relevant to holidays, seasons, and cultural phenomena. This could mean anything from offering discounts on 4/20 to highlighting LGBTQ owned brands around pride month.
Mitigate Your Chances of Getting Banned
There are some steps you should take to ensure that you can expand your following without being blocked or shadowbanned. Include some clear indications that you are serious about following Instagram's rules for cannabis-related pages.
This includes putting the words "Nothing For Sale" or "No Sales" in your profile. In addition, be sure to write or add a prompt of "21 To View" or "21+". This sends a clear signal to the monitors that you are staying within the parameters.
Keep Up to Date With Rules And Trends
Looking at how Meta and other social media platforms have changed their rules and guidelines over the years, it's essential to keep up with the current laws as they continue to morph. As with any aspect of running a business, constantly monitoring the regulatory happenings in your industry is a must. If you see other businesses getting punished for posting similar content, consider taking a new approach and even deleting past posts that might appear to be overstepping any lines.
Utilize Analytics
Take advantage of social media platforms' business account analytics to see how your page is performing. Who are you actually reaching? Where can you expand or change things up? There is a lot you can learn about segmentation and targeted advertising from utilizing social network technology. Don't let that powerful aspect of digital marketing go to waste.
Consider Hiring Consultants
Sometimes producing and implementing your own content will just not suffice. If you have the means and scale to consider hiring out social media consultants within the cannabis field that's probably the safest way to get started. This type of outsourcing could be in the form of an agency like Cannabis Creative. who offer digital marketing strategies. It could also be more simply for highlighting your dispensary products and locations through digital art photography with a cannabis content studio like Dope Creative. Either way, there are experts out there to help you achieve higher social media status.
Reach Out To Followers!
Communicate with your followers as much as you can. Instagram is a social network as much as an image-driven platform. Reply to comments on your posts to engage with your potential customers. You can even take engagement to the next level and repost user-generated content. Establishing relationships with your clientele will help build your brand.
Consider looking for other cannabis-retail businesses in your niche or location and request to follow users that are following or liking their page. This is a classic strategy to initiate a relationship where that user will then follow you back and potentially establish an interest in your store or products. Steer future customers away from your competitors and towards your store!
The Future of Social Media And Cannabis
Restrictions of marijuana content on social networks are likely to get looser and looser as increasing legalization and decreasing stigmatization continue. This winter, Amazon and Apple lobbied for commercial reform in cannabis, as the retail technology space continues to widen and saturate.
Marijuana-Centric Social Media Apps
For now, some cannabis entrepreneurs, in the hopes of not having to worry about being blocked, are trying to create their own social media apps centered around the industry and its products. Berner, the rapper and founder of Cookies cannabis brand, launched a marijuana social network called Social Club, but has found other roadblocks and hurdles to get this feat off the ground.
For now, utilizing weed menu apps such as Weedmaps, and keeping your profile up-to-date on Google is just as important as marketing on social media. In fact, these apps are likely to add more social elements in the upcoming future.
Dispensary POS
Using social media to drive traffic to your eCommerce platform and brick and mortar stores can be a huge asset. KORONA POS offers a fully connected cannabis dispensary website platform to show your customers what products you have in stock.
In addition, we offer the fastest, most reliable, and competitively priced brick and mortar point of sale system on the market. Our software is integration ready, helping you utilize cannabis technology like Dutchie, Leafly, and springbig. Keep your store front running efficiently, while staying informed about all of the most vital sales and customer metrics that you need to boost optimize your dispensary. Give us a call today to learn more about our KORONA POS for dispensaries.
FAQs: Social Media And Cannabis Retail Marketing
How do you promote a dispensary?
Start an Instagram account for your cannabis retail business showing what your store is all about and what products you carry. Clearly note that nothing is for sale through your page. Try to diversify your content to include helpful educational information, fun stories about your staff, and product partnerships targeted towards your customer niche.  
Can dispensaries have Instagram?
Absolutely, and many do. Dispensaries use their Instagram accounts to highlight their personality and identity, as well as showcasing what products they keep in their inventory. Cannabis retail businesses also use LinkedIn, TikTok, Facebook, and more to help put their name out there and generate buzz. 
Can dispensaries advertise on Instagram?
No, it is against Instagram's terms of use to advertise cannabis products on their platform. Nonetheless, you can still show followers what types of products you have in stock, as well as highlighting what makes your dispensary different from others. Creativity and diverse content can help drive potential clientele towards your eCommerce and brick and mortar locations.
Can I post edibles on Instagram?
Sure, you can post pictures of edibles as well as marijuana flowers on Instagram. However, avoid posting pictures of people directly consuming cannabis products. In addition, don't ever show the prices of the edibles, tinctures, or any other marijuana products that you post.