There are still a lot of channels for direct marketing to your consumers, but none are currently better for retailers and other merchants than SMS marketing.
Print marketing is dated, lacks a target, and wasteful. Email marketing, while still cost effective, is often automatically filtered and seen by few recipients. Social media marketing is expensive and saturated with competitors.
Text message marketing provides businesses a great alternative to some of the more traditional forms of digital marketing. Shoppers are much more likely to open a message in an SMS campaign, and half of consumers actually say they WANT to receive marketing communication via text. It's a seamless way to connect with consumers through the device that most of us are on for hours each day.
In fact, let's jump more into some stats surrounding the industry. They do a good job of illustrating just how important retail SMS marketing is. Later, we'll look at some more of the benefits, how to stay compliant, and ideas for how to run a great text campaign.
Some Statistics Behind SMS Marketing
It only takes a few of these to show how productive text message marketing can be. It's a rapidly growing marketing channel in large part because it's one that consumers have readily embraced.
Unlike some other common marketing channels, SMS marketing annoys the average consumer less, leading to higher engagement and conversion rates. Check out these stats:
75% of consumers are comfortable with getting text messages from businesses

64% of consumers would like more regular communication from businesses

56% of consumers would rather communicate with a business by text than phone

59% of consumers don't want to use a native app

80% of consumers like to track orders via SMS text

98% open rate for promotional SMS messages

20% open rate for promotional emails

45% response rate for text message marketing

6% response rate for email marketing

36% click-through rate for SMS links
The list can go on, but you get the point. Text message marketing works. And luckily, it's easier and faster to get started than you probably think.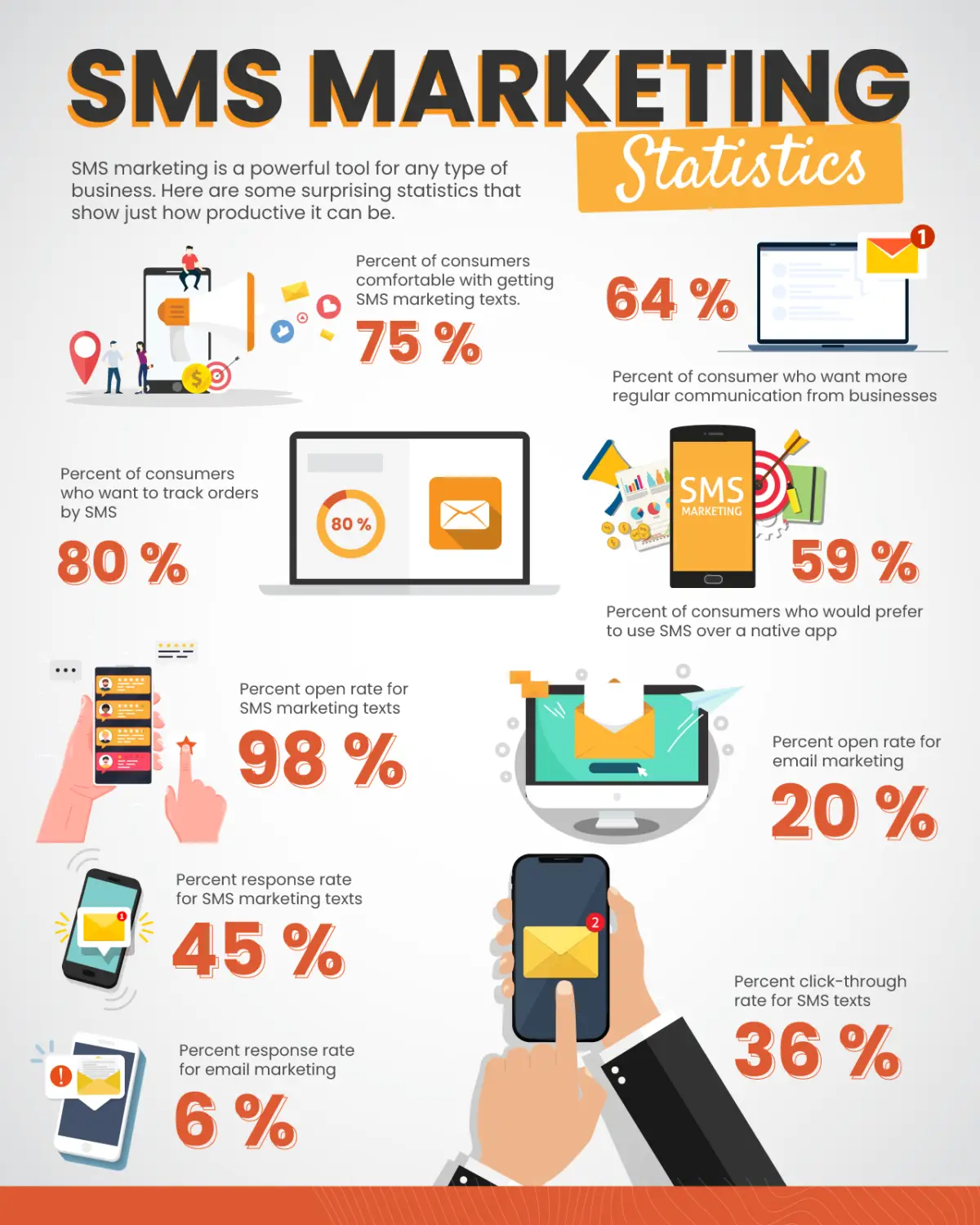 What Is Retail SMS Marketing?
Standing for short message service, SMS marketing is a rapidly growing way for businesses to communicate with their shoppers. All messaging is done through text. Consumers must opt-in to receive any correspondence.
SMS campaigns can be used to notify their shoppers about updates, new products, promotions, service reminders, or any other relevant alerts.
These marketing messages are shorter and more urgent than other marketing channels. Merchants can also personalize the messages and combine them with their loyalty program.
How to Run a Successful SMS Campaign
Aside from following the guidelines listed in the next section, there are several SMS best practices that experts recommend for increasing clicks and conversions.
All messages should be under 160 characters. Additional characters will be automatically cut off.

Encourage people to sign up with reminder prompts. Ask for permission separately from email marketing requests.

Get a short code for mass text messaging campaigns.

Set up drip campaigns to stay on people's radars without having to do anything manually.

Don't use annoying lingo or emojis. You don't want to sound like an MLMer.

Be clear who you are. Include your business name and why you're reaching out.

Include a link to a landing page.

Stay professional, respectful, and clear. Make sure it reflects the rest of your business communication.

Keep it to the point. Make it clear exactly how your shoppers can benefit from your offer.
Ways to Stay Compliant with Your Marketing
A lot of business owners have shied away from SMS marketing due to compliance issues. And though it does perhaps seem more intrusive than other common marketing channels, it's no more regulated or difficult to navigate and comply by.
Still, there are certain laws and regulations that businesses must follow in order to avoid costly fines and penalties.
For U.S. businesses, it's essential to be compliant with the Telephone Consumer Protection Act (TCPA) and follow all guidelines from the Cellular Telecommunications and Internet Association (CTIA). The former is a federal law, the latter is a lobby group for mobile carriers.
Take a look at the law yourself and always consult your HR/legal team, but below are a few of the biggest takeaways:
All consumers must actively opt-in to any SMS marketing campaign

Opt-ins must not be attached to other opt-in agreements, such as email marketing campaigns

Initial conversations must state what the communication will consist of

All texts must leave a clear path to opting out

Any opt-outs must be immediately honored

All SMS communication must take place between 8AM and 9PM of the recipient's local time
Failure to comply with these laws can result in lawsuits and fines of up to $1500/text message. Additionally, cellular providers can ban you from sending future SMS messages.
How Often to Send Messages
Like most marketing messages, there are optimal times to send out SMS messages. Most retailers should send messages during normal working hours. Between 10 AM and 12 PM is the most popular time.
Doing so minimizes the risk that you'll offend the recipient by interrupting personal time. And it maximizes the chances that it'll be seen.
Depending on your industry, the optimal time to send out new campaigns may vary. Test out different options and measure open and click-through rates to narrow in on the best time and content.
Avoid bombarding shoppers with too many reminders. You want to maintain a presence without overwhelming or annoying them. And make sure to mix up what you're offering. It's important that your offers provide value to the shopper. Keep this in mind when creating your campaigns.
The Benefits of Text Message Marketing
The statistical section above kind of speaks for itself, but let's dive into a few more specific benefits that SMS marketing can bring to your business. It beats email marketing, provides instant communication, is versatile, drives more sales, can be automated, is personal, and integrates with other business tools.

Remember, too, just how critical smartphones are to the average consumer. Most people are on their phones most of the day and the vast majority of consumers use their cell phone as their main device to connect to the internet.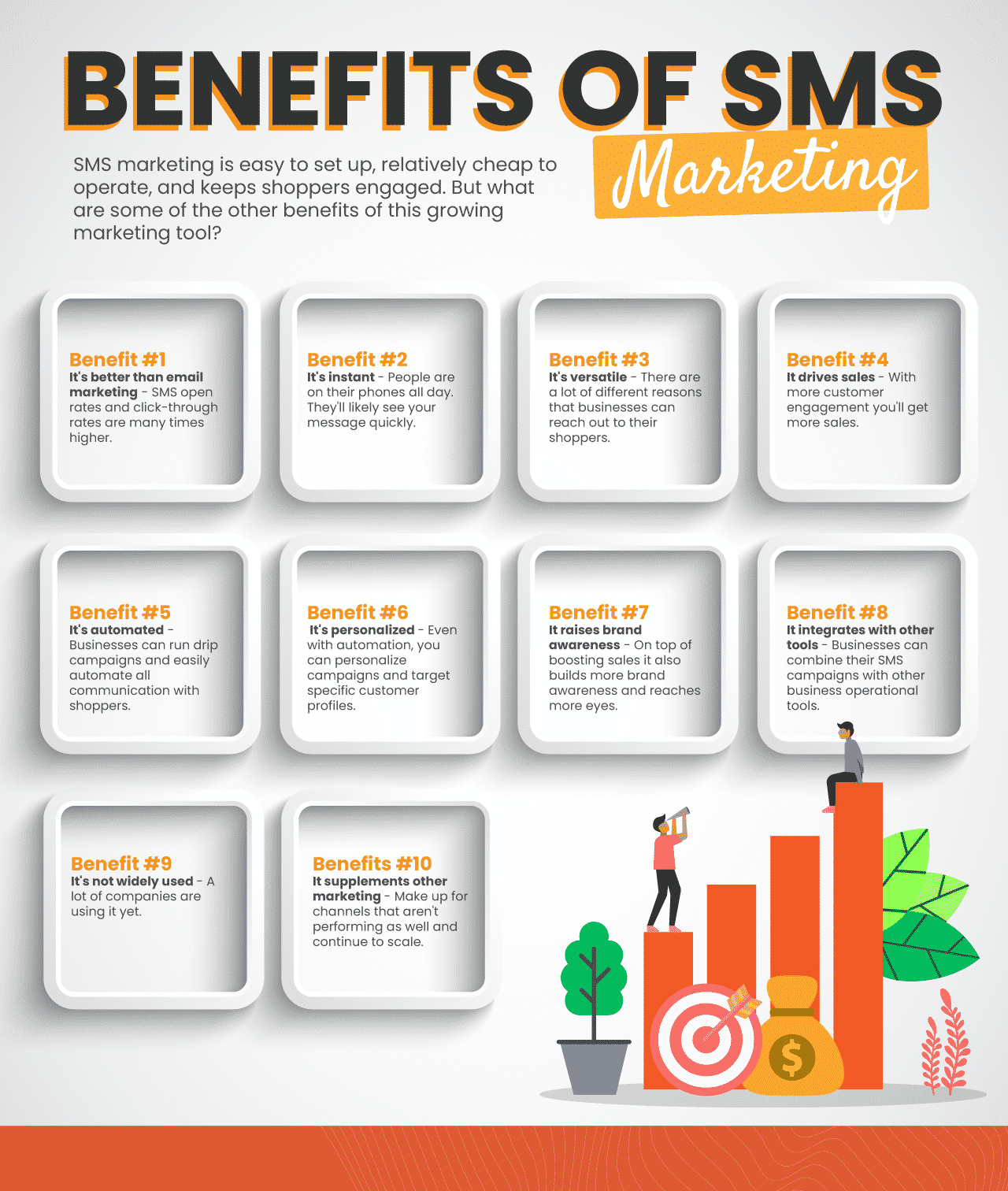 1. SMS Marketing Blows Email Marketing Out of the Water
Email marketing has an open rate of 20%. SMS is over 95%. You'll be seen much more readily.
And once seen, the click-through rate is about 8x higher than email marketing. SMS marketing CTR is around 20%, while the typical email is opened just 2.5% of the time.
2. Reach People Immediately
Most of us are on our phones for at least several hours each day. And even when we're not on our phone, it's almost always nearby.
Along with calls, SMS messages are also the most likely action to alert the user. Plus, most of the world is now connected to the internet through their cell phone.
Text message marketing lets you easily reach the right shoppers at the right time.
3. Run Versatile Campaigns
SMS marketing can be used for a variety of different purposes. You can promote a new item, run a big promotion, prompt users to redeem loyalty points, remind customers of appointments, and more.
Engage and nurture new shoppers, nudge lapsed customers, or reward your regulars. No matter how you cut it, you'll be reaching a larger audience and increasing your sales.
4. Boost Sales with Retail SMS Marketing
Despite stating the obvious, it's still worth noting this. SMS marketing will increase your sales. That's the most important element, and it's one that retailers across the board are seeing.
With higher engagement comes higher conversion rates. It's that simple.
5. Automate Text Message Marketing
New software makes running these campaigns easier than ever. Retailers can easily create campaigns and let them run without performing any maintenance.
It's simple to plan, schedule, and A/B test each campaign, too. When it's time to make changes, it's also easy to do so.
6. Personalize the Messaging
You can set up various segments to target your shoppers effectively. Modern technology makes segmenting your audience remarkably easy:
Location-based campaigns

Past purchases or lapsed shoppers

Engagement with previous SMS campaigns

Product recommendations

Custom customer profile tags
Like your email marketing and social media ads, you can really zero in on each customer. It's simple to impress your recipients.
7. Build Brand Awareness
It's critical for retailers to use every opportunity afforded to them to build their brand recognition. SMS marketing is yet another tool to use.
With the amount of time consumers spend on their phones, a text message is sure to reach a lot of eyes.
8. Integrate Your SMS Marketing with other Business Tools
As the popularity of SMS marketing increases, so too do the number of ways that you can integrate it with the rest of your business operations.
It's relatively simple to connect it with your eCommerce store, loyalty program, or retail POS to streamline operations and keep everything more organized.
9. It's Not That Widely Used Yet
The vast majority of retailers have yet to adopt SMS messaging as part of their overall marketing strategy. This leaves the door wide open for you. Stay ahead of the game and beat your competitors in this realm by starting early.
10. Supplement Other Marketing Channels
Remember, it's important to diversify your marketing. You never know when one channel will become unproductive or wasteful. Keep all doors open and give yourself the opportunity to run the most successful campaigns.
Campaign Ideas for Text Message Marketing
Once you tackle getting your SMS marketing automation in place and building up your list of subscribers you can start to focus on the type of campaigns you want to run.
Retailers have the luxury of running a variety of different types of campaigns that can be segmented for specific shoppers and have different end goals. Below are a few common SMS campaigns to get you started.
New shoppers
Welcome your newest shoppers with a quick text. Typically, these also include a promotion or coupon intended to encourage the shopper to return soon.
As with any SMS marketing messages, be sure to identify yourself and offer the user a clear opportunity to opt out.
Abandoned cart reminders
Abandoned carts cost retailers billions of dollars every year. It's important to remind shoppers who have left items in an online shopping cart that they're still there. This has been proven to boost conversions and bring in more sales.
It's simple to customize the sequences or flow of the emails to find an optimal strategy.
Customer service follow-up
Check-in on a recent experience or purchase to see how the customer is doing. Allow them the space to address any issues that they may have with a purchase before they take it to a review site or simply abandon shopping with you altogether.
Product updates
Send shoppers updates about your most popular products or new items you have in stock. Add some urgency and combine these with promotions.
Loyalty notifications
Merge your SMS marketing with your loyalty program. This gives you the ability to notify shoppers when they earn points, redeem points, or reach certain benchmarks.
Personalized notes
Your SMS marketing can also nurture existing client relationships by offering your shoppers personalized notes on birthdays, anniversaries, etc.
Incentivize reviews
It's so important for any retailer to get a lot of reviews. Ask your shoppers via text to leave you a quick review. Combine it with a discount or promotion to sweeten the pot. Doing so gets you more reviews. And more positive ones, at that.
Finding the Right SMS Marketing Platform
There are a lot of options out there to consider. And the list is seemingly growing by the day. So it's important to shop around to find the right fit.
Consider integrations
Get an SMS marketing provider that works with your other operational tools. This makes your day-to-day operations that much easier. The more you can automate, the more time you'll have to focus on other areas of your business.
This is particularly useful for online shoppers. Automate SMS marketing allows you to keep in contact with them with links bringing them right back to your store.
Reporting tools
If you use advanced reporting tools for other areas of your business, you'll want to include any marketing campaigns in this as well. It's important to measure the success of these campaigns against campaigns from other channels.
Price
While the cost for SMS automation isn't astoundingly high, it's not cheap either. Consider how much you want to spend. Measure the success of any initial campaigns to see what your ROI is. It's likely that it will pay itself off quickly, even if you use one of the more expensive options.
Compliance
Look for a solution that automates compliance and will prevent you from getting into any legal hot water. As we mentioned above, fines can rack up quickly. Customers can file personal lawsuits, too.
Segmentation and personalization
While still being developed and perfected, there are more options available for vast segmentation. Consider how in-depth you want your marketing segmentation to be and look for a viable solution. The more targeted and personalized your message is, the higher the conversion rate will be. Of course, this more advanced software will come with a higher price tag.
To learn more about how your point of sale can help with your marketing efforts, contact us by clicking below. KORONA POS integrates with some of the most popular CRM tools on the market, allowing our customers to connect their reporting, sales, and analytics with their marketing.