Last Updated: March 5, 2021
Buy online pickup in store (BOPIS) options have long been around. And slowly, retailers around the world have been adopting the new service at their stores. Retail pickup lockers have made the practice even more seamless, cutting any middle people out of the equation. This adds convenience to the shopping experience and reduces the amount of labor that your store needs to use on getting the customer in and out of the store swiftly. And consumers have responded well – nearly three-quarters of us have made multiple purchases online and retrieved the product in-store.
But as it's done with so many aspects of retail, COVID19 has forced retailers to adapt their BOPIS system. For many, this pickup portion of the equation has moved outside to curbside pickup instead of in-store. And with so much of the next year or two unknown, it's likely that the practice is here to stay. So it's important to have it done in an organized and efficient manner. If you haven't started retail curbside pickup or are trying to improve your operation, check out the guide below.
What Is Retail Curbside Pickup?
Curbside pickup in retail simply refers to any order that is retrieved outside of the store. These orders can be placed on an eCommerce website, a mobile app, or over the phone. The customer need only grab the product from an employee designated to do the drop off.
More and more retailers are using curbside pickup to grapple with recommended or required social distancing guidelines in the wake of COVID19. For many retailers, curbside pickup or delivery were the only options available to make sales.
Consumers have adapted so quickly to the new system that it may be here to stay, virus notwithstanding. So retailers take note! As always, it's important to be on the forefront of change so you're not one of the last to adopt new industry standards.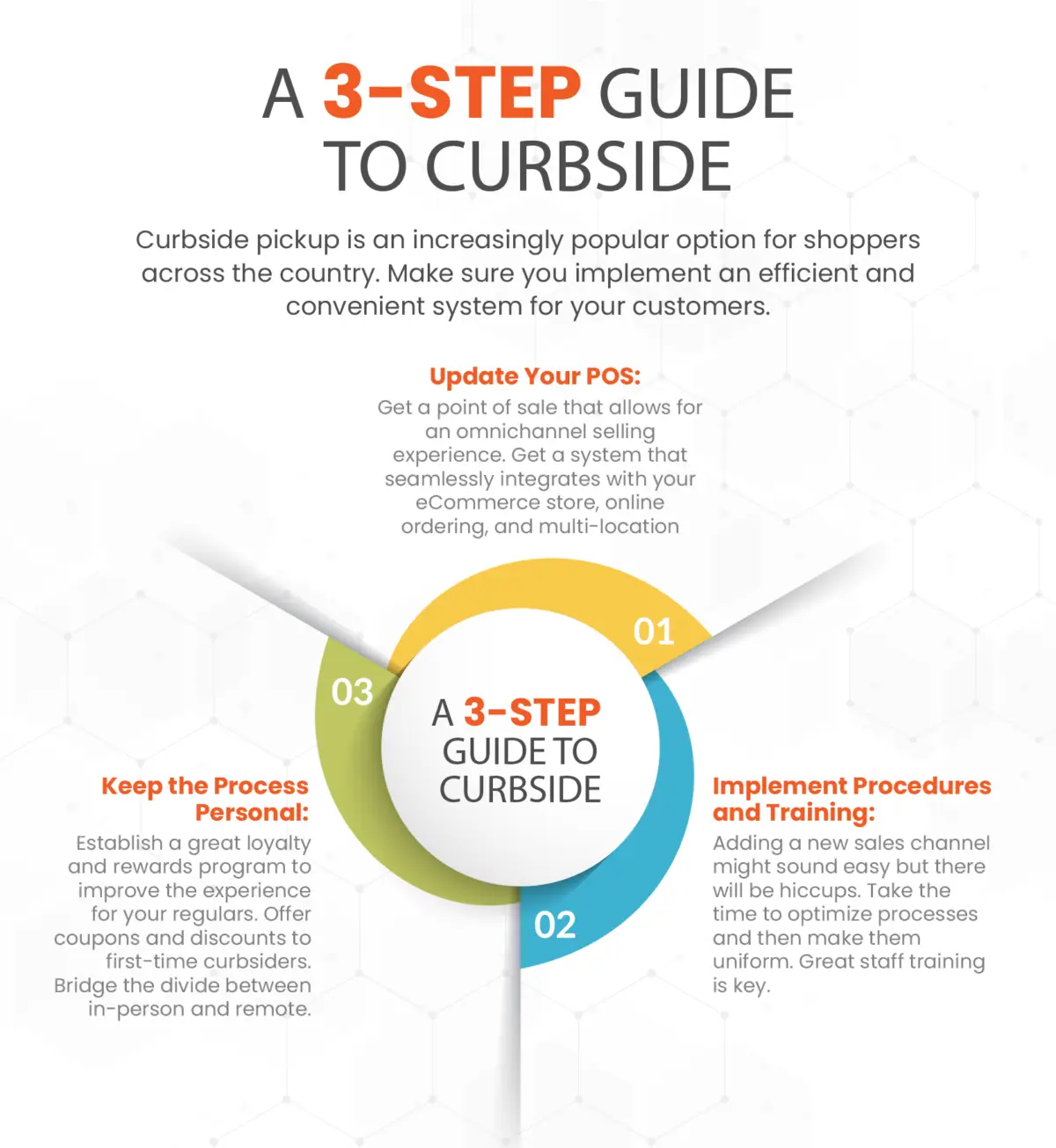 1. Update Your Retail POS System to Streamline the Buy Online Pickup In Store Strategy 
To get started with curbside pickup or to improve your existing curbside operations you need the system to be integrated with your retail point of sale and inventory management.
Most retailers these days offer an omnichannel selling experience. They give shoppers the opportunity to buy products both online and in-store. And this system, of course, must be integrated with their POS to make sure inventory, ordering, sales, margins, etc. are all organized.
The same goes for your curbside orders and pickups. You need the right tools to process the new service. It's imperative that you have the product on hand when an order is placed and that you can give each customer the right time window to pick it up.
2. Implement Retail Curbside Pickup Procedures with Staff Training
Not only is it crucial to properly set your ordering and inventory system up for curbside, but you also need to prepare your team for such a dramatic change in operations.
It's especially critical that a smooth and consistent workflow is established from the beginning. This keeps the experience the same for each customer and allows staff members to get accustomed and comfortable with the process.
Implement an order of operations and specific tasks for each employee
Assign roles for taking orders, checking on statuses, retrieving items, etc.
Have packaging materials ready, such as bags, utensils, and boxes
Make sure each step is updated in your POS system
Keep it contactless and offer shoppers the use of a mobile payment system
These steps are not difficult to implement and doing so will make your curbside pick up a whole lot smoother.
3. Keep the Shopping Experience Personal
Even though the shoppers aren't coming into your store during curbside pick-up, they're still customers and it's important to ensure that they have a great experience.
Be personable when taking and dropping off orders.
Add hand-written notes to orders thanking them for their patronage
Ask for feedback on your new system
Offer coupons and discounts for using your retail curbside service
Inform customers about your social media pages to ask for a review
The world has gone increasingly remote so offering small services that help bridge the divide that we all feel will go a long way.
And curbside pick-up is the best way to continue to reach your more vulnerable shoppers and to have your store on everyone's minds when in-store shopping becomes normal again.
To learn more about how KORONA can help, set up a free trial below or give us a call at 833.200.0213. Our integration with WooCommerce makes this process easy to get started.
Get Started with KORONA POS today!
Tell us a little bit about your business and explore all features that KORONA has to offer. And there's no commitment or credit card required.