Memorial Day is around the corner! For most of us, it's an excuse to light up the grill and sit in the sun. But in the world of retail, there is never any rest for the weary. In fact, as you all well know, holidays are a time to work especially hard to take advantage of the spike in shopping. While Memorial Day is no Black Friday, it's still a busy holiday with plenty of people out and about. So that means it's time again to get your name out there and grow your sales.
And on the heels of large-scale closures across the country, the holiday is even more important for small businesses. In many parts of the country, reopening has only started happening in the few weeks leading up to Memorial Day weekend. And though many small businesses qualified for and received one or several of the SBA loans and grants, sales for most retailers are down significantly. And likely to recover slowly. So, use the holiday to get back on your shoppers' radars and kick start your summer season. Just make sure to do so safely and demonstrate that you're reopening your business responsibly. Check out these Memorial Day marketing ideas to help improve your business.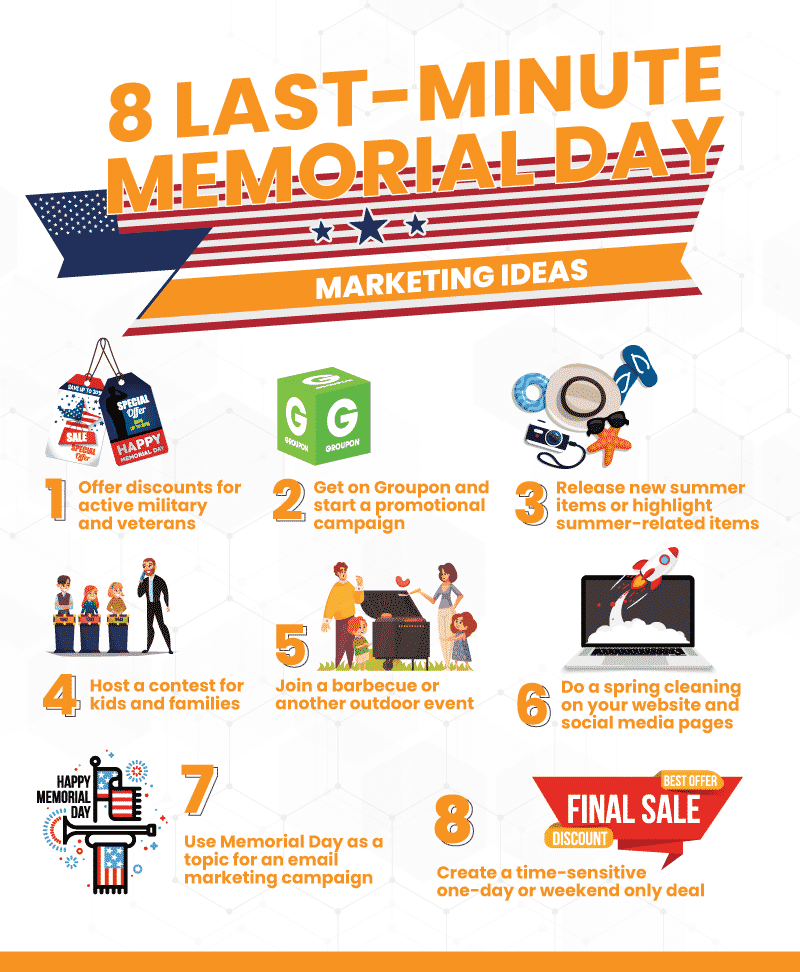 1. Offer Discounts for Active Military and Veterans
Though most people think about Memorial Day as the gateway to summer, the real purpose behind the holiday is to celebrate those who have died in uniform. Originally created after the Civil War, Memorial Day has long been one of the country's most important holidays.
So what better way to honor the veterans who have passed than by honoring the living active and veteran military members. You can make it as simple as offering a flat discount to all members and their families. Or you might also think about specific products to give away as gifts. Whatever you decide on, make it simple and valuable. It will get people excited about your store and generate future business.
2. Get on Groupon and Start a Campaign
It's easy to set up a Groupon campaign. And with nearly 50 million active users, it's a great outlet to build your brand identity and recognition. Groupon will highlight holiday-related deals, so a Memorial Day themed promotion is more likely to be shown to a greater segment of users.
There are many different ways of running the sale, but a popular direction is to sell winter and spring products at a steep discount.
If your business offers services, make sure the deal is geared towards families/groups. Most people spend Memorial Day with loved ones.
For additional inspiration, hope on Groupon now! Check out what other retailers are offering. It's not cheating to scope out what your competition is up to.
3. Release New Summer Items or Highlight Summer-Related Items
The holiday weekend is a great opportunity to release new products, especially if they're summer-related. Of course, not all retailers sell merchandise that can be deemed seasonal, but there are ways to make it relate at least tangentially. Here are a few ideas to get you started:
Apparel stores can highlight a themed, put-together outfit

Sporting goods retailers can promote summer sporting items

Water parks and amusement parks can just offer holiday discounts

Bike shops might pick a few clothing items or gear to discount

Bookstores can put together a catalog of beach reading

Coffee shops and bakeries can make Memorial Day themed pastries
Any retailer can find some item that will be suitable to introduce or promote on the holiday. And it's also easy to decorate your retail store for the occasion. Add American-themed decor around the floor and the outdoor storefront area. Figure out what is best for your store and run with it.
4. Host a Contest for Kids
Memorial Day is typically a day spent with family, so it's a great idea to gear part of your holiday marketing plan towards kids. If you get the kids excited about coming, their parents won't have much of a choice.
Contests are a great way to interact with kids and get them pumped about visiting your store. Bean bag tosses, social media photos, coloring competitions, water balloon fights, and pie eating contests might be the right fit for your store!
5. Join a Barbecue or Other Outdoor Event
As the unofficial start of summer, Memorial Day is a holiday best celebrated outdoors. It's an extra day off for adults and, for much of the country, the first week off of school for students.
If possible, start your own event. Think about neighboring businesses that might want to collaborate on something. Hosting an event becomes a lot less stressful and expensive when you have some assistance. Joining others with cross-promotions allows you to cut costs and delegate tasks to make it a smoother event.
Most towns also organize community or city-wide events that businesses can participate in as sponsors. These are always worth participating in. They often draw large crowds and business participation shows a commitment to the community. Come up with an attraction, contest, or gimmick to set your booth apart and draw big crowds.
6. Do Spring Cleaning on Your Website and Social Media Pages
Use Memorial Day as a benchmark for taking care of some longer-term tasks. One that many small businesses forget about is basic website and social media maintenance.
Start by evaluating your website to check for any dead pages, bugs, or other basic issues. Spend some time revamping tired looking pages and add some new content.
If you have an eCommerce store check out your product pages and payment portal to make sure there are no errors. Consider making some changes to the checkout process to make it faster and easier. Many people abandon online carts when the payment process requires too many tasks.
Finally, spruce up your social media pages. Add some Memorial Day related content and freshen up your pages to entice new engagement from your audience. Get new followers to your social by incentivizing likes and shares at other Memorial Day events. For instance, offer free prizes at a community event for those that like your Facebook page or leave a positive Yelp review.
7. Use It As a Topic for an Email Marketing Campaign
Similarly, use Memorial Day as an excuse to start up your email marketing again. Send out a last-minute email to your subscribers with your Memorial Day promotions, events, or contests.
Rarely does an email marketing campaign hurt your business. And, in fact, this marketing outlet is proven to have one of the strongest returns on investment. So it's always worth a try. If you need to build up your user base, consider various customer relationship management (CRM) tools. These will assist your business in growing its marketing audience.
8. Create a Time-Sensitive One-Day Deal
Last-minute, time-sensitive deals create a unique sense of urgency among consumers. The key is to make it too good to pass up on. Advertise the deal through your email marketing, social media, and on-site signage. A deal that lasts only one day indicates that you have a product that is going fast; customers are more likely to add value to these products in their purchase assessment.
Memorial Day Marketing Ideas with KORONA Retail POS
Did you know your retail point of sale system can actually help with your marketing efforts? Your POS can manage your loyalty program and CRM to help you keep customers happy and coming back often. Advanced inventory management and product analysis can help you manage your pricing and promotions. Detailed reports and sales metrics allow you to monitor progress and ensure that any promotions are productive for your retail store. Check out KORONA's point of sale solution to learn more and set up a free trial so you can see for yourself!
Don't forget to check out our other seasonal/holiday marketing guides below: