Starting and operating a small business has many challenges and money management can be a top concern for small business owners. As a small business owner, streamlining your process and understanding that your business is its own entity can help you achieve financial success with both your personal and business finances.
But it's easier said than done.
From your initial business to day-to-day decision making far down the road, it's critical to consider how to manage your business's finances. Improper management can cause long-term issues that can cripple your business. But done right, proper small business financial management will lead to lasting success and a growing business.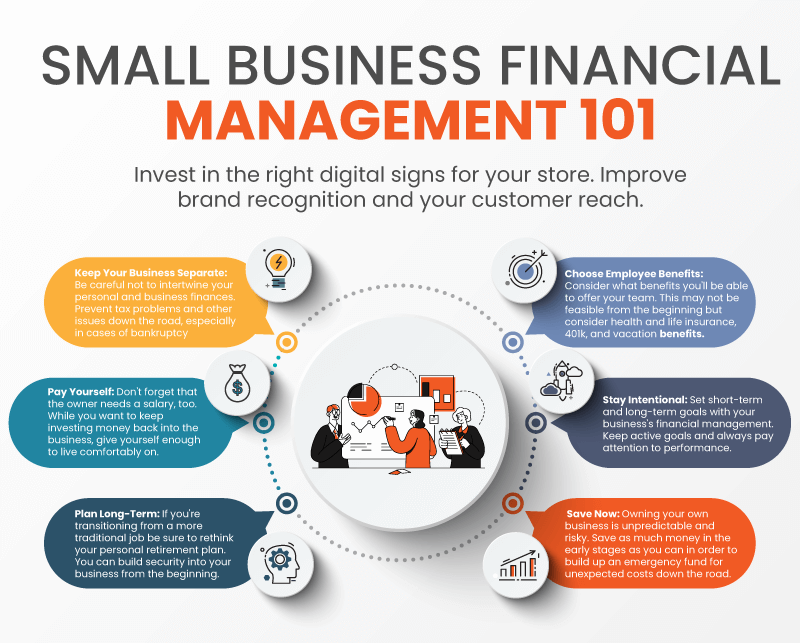 1. Be diligent about keeping finances separate
As a small business owner, it can be difficult to maintain separate finances between your business and personal needs. If you used some of your own resources to start your business, it is important to maintain this separation moving forward as your business grows. While it may seem minor, remember that keeping your business finances separate will prevent tax problems, difficulty projecting and scaling, and general liability issues.
It can help to be intentional about organizing both your personal and business finances to ensure separation. For example, when determining a budget for your personal finances, keep a spreadsheet and make sure to separate your receipts. Additionally, investing in software to track your expenses and assist with reporting can ensure that you have an organized process in place to better understand your business' financial needs.
The right small business POS system is key for this. With integrations to software like Quickbooks Online, your business can keep all ordering, payments, expenditures, revenue, and business taxes organized and consolidated. This will make your year-end task so much easier.
See Related: Cheap Marketing Ideas for SMBs: 5 Low-Budget Retail Strategies and Tips
2. Don't forget to pay yourself
When starting a business, one of the most difficult decisions to make is determining how much you should pay yourself. In the very early stages, calculating an appropriate salary can be challenging because there are many unknowns during this startup phase.
Depending on your financial situation, you can start by paying yourself enough to cover your basic personal needs during the first year. As your business starts to grow and you pass the break-even point, you can start to increase your salary. When calculating your salary, remember to pay yourself what you are worth, keeping in mind the current market value of your role and your time investment.
3. Plan for retirement
After transitioning from a traditional work environment to becoming your own boss, you are inevitably going to have more responsibilities and decisions to make regarding the future of your business and personal finances. For example, most companies offer retirement benefits that you can contribute directly through your paycheck. However, as a business owner, it is up to you to determine the best type of retirement plan to secure, how often to contribute to it, and the amount you feel comfortable taking from your paycheck to put towards retirement.
Although securing a retirement plan is an added task for your to-do list, it is an important step in ensuring long-term financial stability. While you might be in the early stages of starting your business, it is important to make sure that you have some kind of exit strategy in mind.
Likewise, you'll want to determine what sort of retirement benefits you'll offer your team. More and more small businesses are finding ways to offer their staff better benefits. These are proven to improve employee morale, productivity, and retention.
4. Choose the right benefits
As a business owner, there are certain safeguards that are offered through traditional employers that are important to independently secure to protect your long-term financial stability. Think about these common employee benefits.
1. Health Insurance
Health insurance coverage is one of the greatest advantages of working for someone else, as employer-sponsored plans tend to be much less expensive than securing a private policy. Obtaining health insurance is highly dependent on the size of your company, but when just starting out, you will most likely be looking for a policy for just yourself. As you're searching for coverage, check to see if it's possible to obtain coverage under a spouse's plan through their organization.
If this is not an option, then you can start looking for plans through the U.S. government's online marketplace. It is important to secure some kind of coverage, even a catastrophic plan with a very high deductible because an accident or large incurred medical debt could be disastrous for your long-term business plans. Remember to plan ahead if you are deciding to purchase a plan from the marketplace because the open enrollment period typically runs from November 1st to December 15th.
2. Life Insurance
Life insurance is another important benefit for small business owners to secure to act as a safeguard for their financial future. Life insurance provides an income replacement if you were to unexpectedly pass away. This is especially important to have if your family depends on your income. Additionally, if you used family assets to support your business or as collateral, having some kind of policy in place to protect these assets is essential so that your family members wouldn't be responsible for paying them off if you were to pass away.
Securing a life insurance policy protects your business as well to ensure that your family does not have to make any impulse decisions regarding selling the organization to recoup lost income. When starting out, a term life insurance policy could be a good option for your personal needs because you are able to obtain a policy for a set amount of time based on the medium to short-term needs of the business. As the business starts to grow and you pay off debts, you can then reevaluate the policy.
5. Be intentional about financial goal setting
No matter the stage you are at in your business, it is important to be intentional about the short- term and long-term goals you are setting. Setting goals and objectives for your business helps you keep on track and get more organized. A common goal for businesses first starting out is to achieve profitability. While this is a good goal to set, it is important to have more specific and measurable goals to determine how you will get to this point. By having realistic and quantifiable objectives to meet, you set yourself up to be less overwhelmed and motivated to keep going once you hit one of these achievements.
6. Save, save, save
In the early phases of your business, unpredictability is extremely common so having some cash built up is key to maintaining financial stability. As previously mentioned, you might be taking a salary that provides you with enough funds to cover your basics.
However, having an emergency fund built up can help you keep afloat in your personal life if an unexpected cost were to arise. While most experts suggest that individuals should have around three to six months of a personal emergency fund built up, small business owners might need a bit more given the volatility associated with operating a business.
Taking the plunge to become a small business owner has many advantages such as more autonomy, unlimited growth potential, and more flexibility. However, with these advantages comes challenges—especially when it comes to determining the best course of action to manage both your personal and business finances. By being intentional about money management skills, you set yourself up for long-term success in your personal life, which translates into a more successful long-term business model.