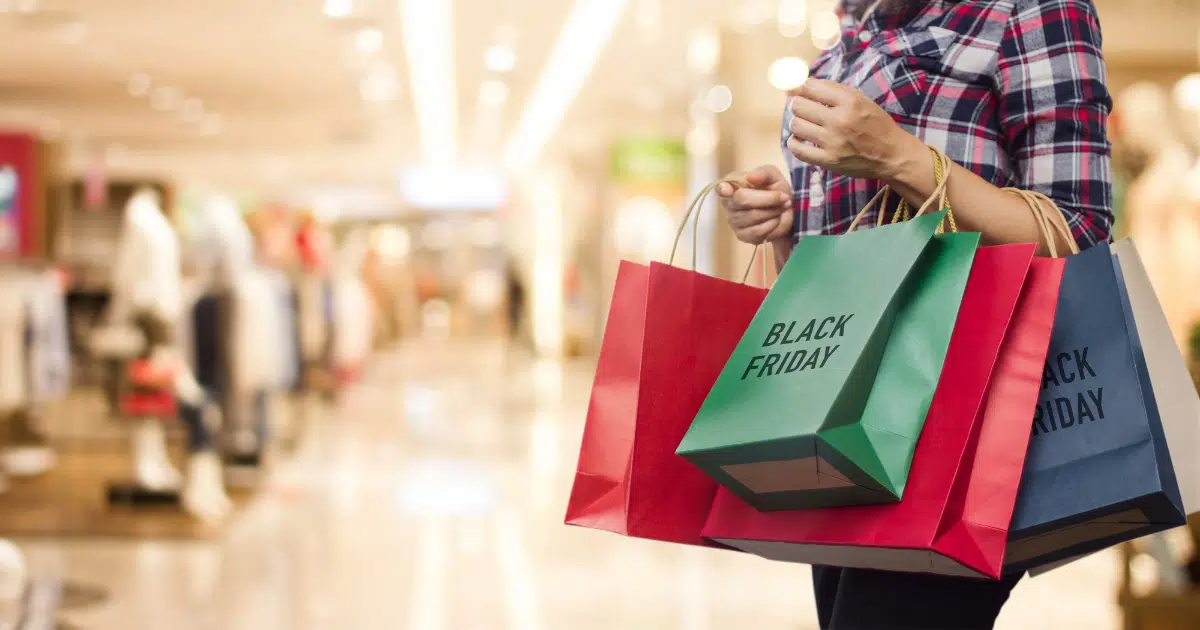 Small businesses across the country are in the final steps of preparing for the biggest retail season of the year. And, of course, Black Friday kicks it all off. Now, for some of you, this season may be a more integral time of the year than it is for others, but nearly every business sees at least a spike in sales during November and December. So it's a critical time of year no matter how you cut it.
Hopefully, you've already spent some serious time prepping for the start of the season. But even if you have, there are some ways to solidify the plan with some last-minute Black Friday marketing ideas. And if you've procrastinated for too long, this band-aid won't fix the whole problem, but it may very well help a bit.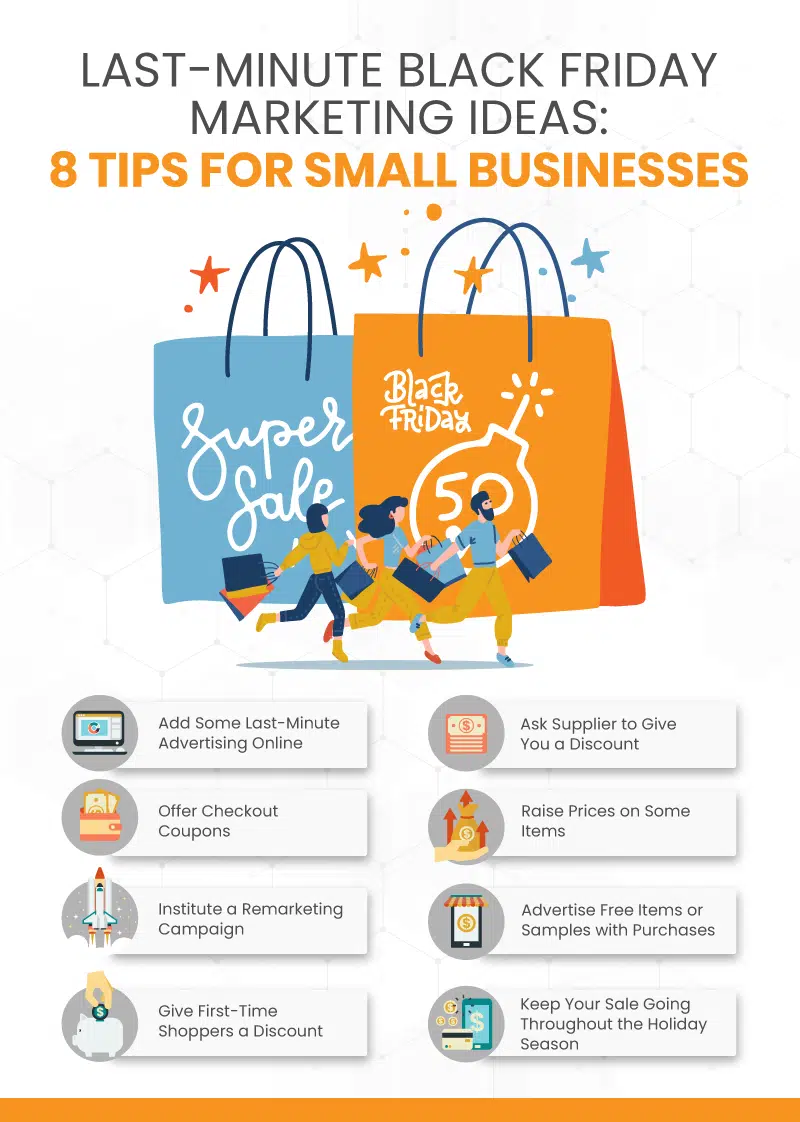 1. Add Some Last-Minute Advertising Online
Perhaps the most important part of this entire process is letting consumers know that you're having a sale. You need to make it clear that this is a special sale and not just a normal promotion. This might sound obvious, but the key is to make it just as obvious to your shoppers. Even if your discounts are more significant than other sales throughout the year, make sure that everyone else knows that, too.
Add banner ads or a "Black Friday Deals" to your website. Ensure these grab attention and meet the average consumer's expectations. If you buy ads on search engines or social media, make sure to mention Black Friday or Cyber Monday in the copy of the ad.
Do the same at your brick and mortar location. No need for a sign spinner or storefront banner, but a mention of your sale and a few specifics on what it entails will entice shoppers and get more people in your store.
2. Offer Checkout Coupons
Highlight coupon codes across your eCommerce site. It's the same as any other promotion but it adds an interactive feature to the shopping process and makes the process seem more exciting. Entering a simple code in the redemption field and seeing the discount get applied is more rewarding.
Discount codes also encourage more spending, especially if you make them dependent on reaching certain thresholds for discounts. A popular option is benchmark-level discounts, such as 25% off orders of $200 or more. Or free shipping for orders of $75. These provide value to the shoppers and encourage buying that one extra item to increase your average transaction value.
3. Institute a Remarketing Campaign
Remarketing campaigns track past visits to your website. The shopper will then see ads for your store on other web pages in the future. Remarketing is meant to target those who thought about making a purchase but didn't quite go through with it.
Often, this happens with abandoned carts, a costly phenomenon for online retailers. Even turning around a fraction of your abandoned cart rates will significantly boost your sales. Remarketing campaigns are a great way to stay on customers' minds and remind them to come back to your site. There are a lot of services that help retailers manage this. The software integrates with the eCommerce platform on which you operate and tracks all website traffic, making the remarketing campaign easy to install and automatic to run. Even if your shoppers don't make the purchase on Black Friday itself, they very well might come back later to complete it.
4. Give First-Time Shoppers a Discount
You've probably noticed that a lot of retailers have added pop-up discount windows on their eCommerce pages. These are easy to install on your website and can be done last minute with no issues.
These usually pop up a few seconds after a user enters your site or once the user begins to navigate off the page. Though slightly noisome to the user experience, they serve several important purposes:
Pop-ups generally target new customers with their promotions. Typically, they ask for an email address and offer a discount on the first purchase in return. This is great to make a friendly introduction to the shopper and offer new visitors a nice discount.
A first-time discount might convince the shopper to return again or to purchase a few extra items.
Lastly, these pop-ups allow you to capture the shopper's personal information, usually just an email. This builds your database for future marketing endeavors, particularly email marketing.
5. Ask Suppliers to Give You a Discount
Remember, you're not the only one trying to boost your sales during Black Friday with a big sale. Wholesale retailers are, too. So don't be afraid to ask for some discounts on your orders.
This might be a necessary step for small businesses that just can't offer traditional Black Friday deals. Lowering margins by 10 or 20% is out of the question for some businesses. And let's face it, most of us just can't compete with Amazon or Wal-Mart deals. And that's ok! But it's important to find ways to be able to bring your prices down on some of your products for holiday promotions.
Inquire about any deals they may be running. Often, wholesale retailers run sales on items that they need to run out of stock before the end of the year. Ask about different options they have for the holiday season and get them on your shelves for Black Friday weekend. Try to target items that are on your own best-seller list so that you can order in bulk and move through them quickly.
6. Raise Prices on Some Items
Yes, this might sound quite counter-intuitive, but this a great strategy for allowing you to drop prices elsewhere.
Pick out some items that don't traditionally go on sale during Black Friday or the holiday season. Increase their price a bit so that they can help compensate your margins from the reduction on the sale items.
These can easily be impulse purchases near your POS system. If shoppers came to your store for a great deal and found a few, they'll more easily justify paying a higher price for a few items that they forgot they could use. Use your point of sale area to market great stocking stuffers or simple gifts. Make them small, more inexpensive items.
You can also put together bundled gift packages. Shoppers will pay a premium on items that come gift-wrapped and ready to leave under the tree. Spend some time in the last few days before Black Friday putting together some great ready-made gifts.
7. Advertise Free Items with Purchases
Again, for some retailers, simply lowering the price across the board can be too costly to their bottom line.
Another way around this is to give away items with purchases over a certain dollar amount. It's far better to offer a free item than to discount an item that the shopper was planning on buying at full price.
One great thing to offer with a purchase is a gift card. Gift cards are popular last-minute purchases for holiday presents and most shoppers will spend more than what's on the gift card when they come to your store. Plus, it's great marketing – you're likely to get a new shopper out of the gift card.
This won't necessarily work for all retailers, but if you don't want to do a storewide sale or offer steep discounts, this is a great marketing scheme to still attract bargain shoppers for Black Friday.
8. Keep It Going!
Just because Black Friday is over doesn't mean that you have to end your sale. You can keep a great deal going through the entire holiday season or even throughout the year. In fact, many consumers expect to be able to find great discounts throughout November and December.
In order to decide if it's worth it to continue a great sale for an extended period of time, be sure that you have a point of sale system that can easily track your sales with inventory management and detailed reporting. You need to be sure that the sale is profitable for your business and not cutting too deeply into your margins.
To try out a great option, sign up for a free trial with KORONA! Our retail POS software makes running your business so much easier. You'll be able to optimize your ordering and pricing. Plus, the reporting gives you a thorough picture of the performance of your business so you can make the best decisions for your business. To learn more, click below and get started with no commitments! And for more holiday marketing tips, check out some of our other guides below.