Pinterest is a social network that users visit to discover new ideas and shop for new products. So if you have a small business and do not already have a Pinterest Business account, you are missing out on a direct marketing opportunity that could play a huge role in the growth of your business.
Different from other social platforms, Pinterest is primarily an image search engine and is designed to make saving and sharing the main activity of its users. The focus is on creativity and allowing users to navigate in search of interesting ideas.
Content is organized based on special interests and users are able to search for and scroll through seemingly infinite amounts of images (and videos too now) that they can then pin to their own virtual bulletin board that other users can also see and pin from. This allows for content to spread at an incredibly fast speed.
Learn how to use Pinterest for marketing and update your strategies for growth.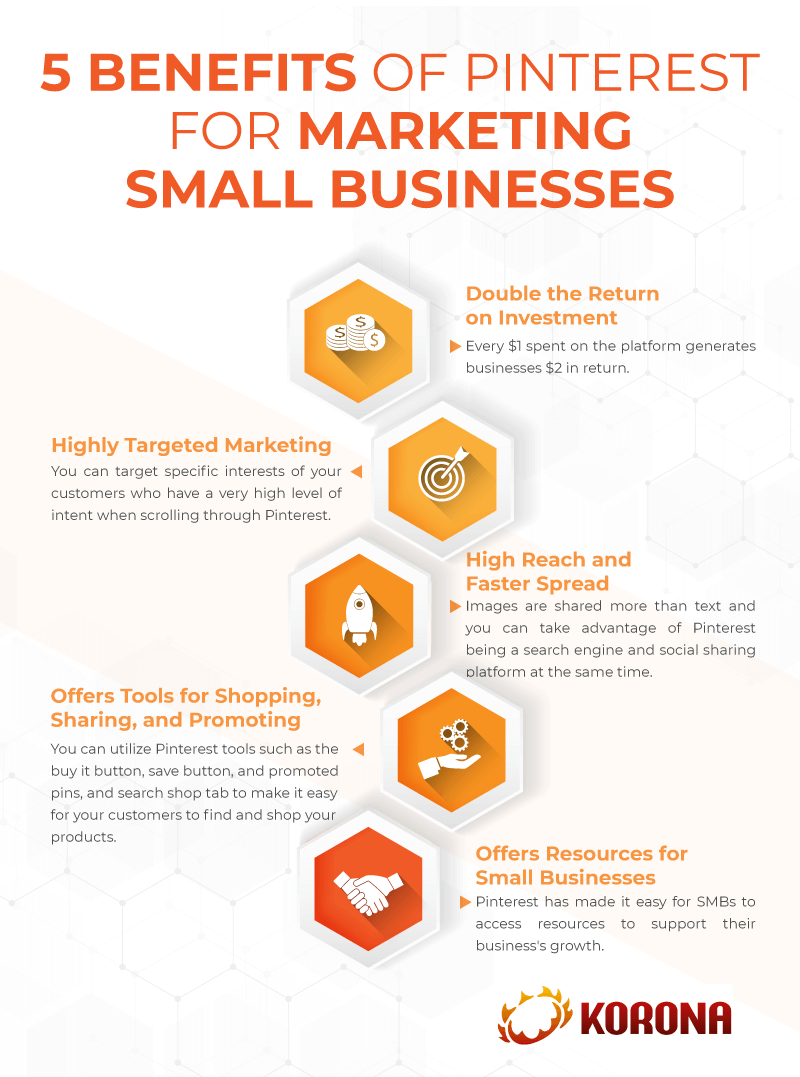 What are the Benefits of Using Pinterest for Marketing Small Businesses?
First, Pinterest is now the fourth largest social platform, just after YouTube, having 367 million active users in 2020. Despite not always having this large of an audience, Pinterest has always had a high conversion rate for small businesses who use the platform to market their products. With the increased number of users, businesses have the opportunity to reach an even higher number of prospective customers.
Double the return on investment
According to Pinterest, for every $1 spent on the platform, businesses typically make $2 in return. Unlike other social platforms, users actually find the ads they see useful as they browse and shop through the platform rather than interrupt the experience. In fact, 72% of users are actually inspired to shop even when they were not looking to buy anything.
More targeted approach
Users have a very high level of intent when they are on the platform. When creating an account, they are immediately asked to select their areas of interest. It then becomes common and natural for the users to discover new brands and products related to their special interests.
Most importantly, they are there to shop. In the US, almost half of the users use Pinterest when shopping for an item. As a business owner, you can target your ads according to your customer's interests.
High reach and faster spread
You don't have to rely on growing a number of followers to reach your customers. Because Pinterest is primarily a search engine, the potential to reach millions of people is easier compared to posting on other social media sites. Also images are shared more than text, so you can spread your brand's messages much faster by focusing on visual content marketing.
Tools for shopping, sharing, and promoting
Pinterest wants your business to sell more. The more you sell, the better the user experience is, and the more traffic Pinterest will see. You can take advantage of many tools to increase sales, such as the shop button, save button, promoted pins, and the search shop tab.
The shop button is a blue button that will show on the side after users click on your pinned image featuring your product. Once they click on the shop button, they are directed straight to its product page on your website for them to easily purchase.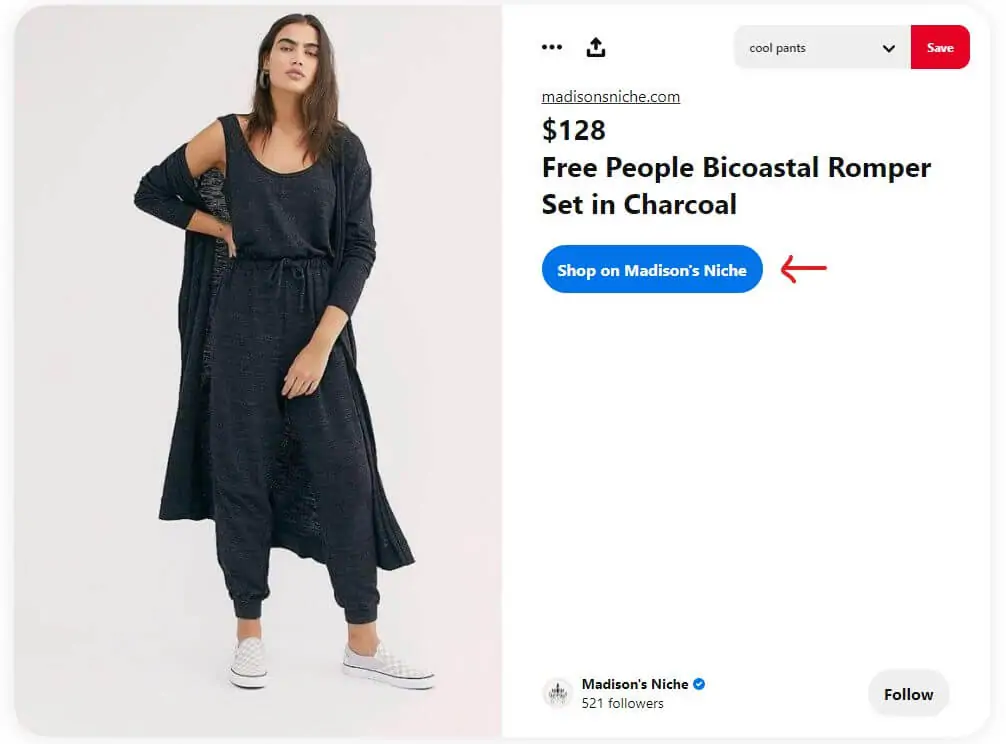 The save button is for businesses to use on their website and embed on their images to allow customers to pin them straight to Pinterest. This gives businesses the opportunity to be discovered by more people.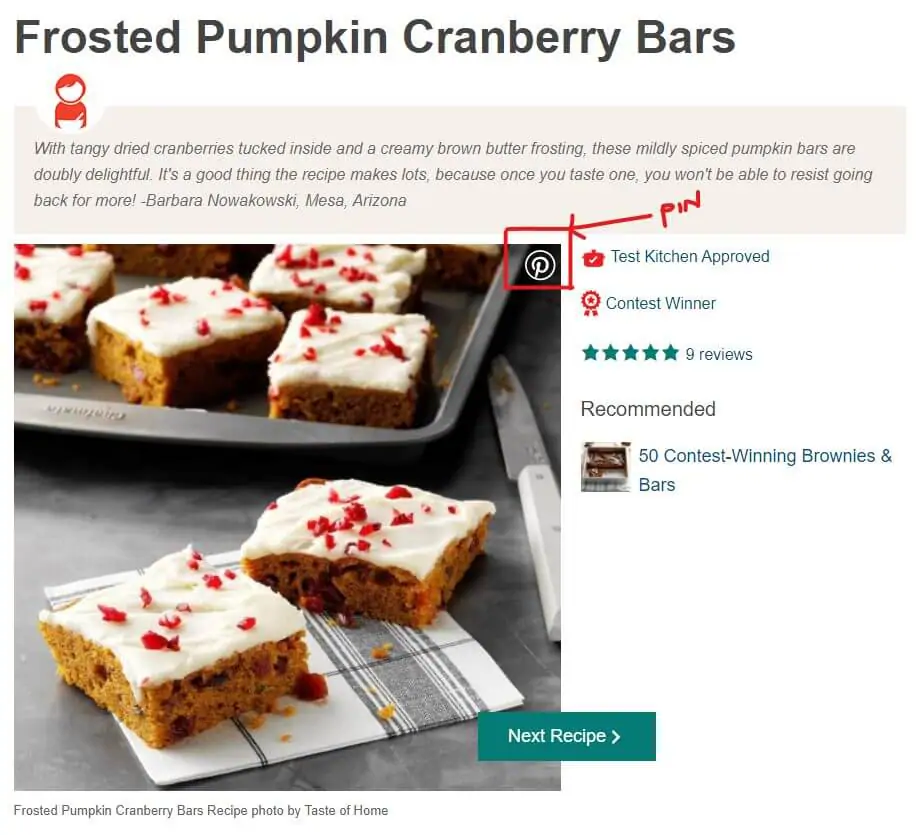 Promoted pins are basically paid ads, except on Pinterest they have a more targeted approach. The ads look just like regular pins, with the only difference being a text disclaimer on the bottom of the pin that says "Promoted By (Name of Business)". It blends in with the content the users are happily scrolling through.
When setting up the ad, businesses have several options of customizing their target. They can choose to show up on the smart home feed (the user's homepage which is automatically populated with content based on their interests and search history), related results, search results, or all three. Then, they can target by demographic, keyword, interest, or audience.
By reaching shoppers in an extraordinarily targeted way, the ad fits more seamlessly into the shopping experience instead of being a tacky interruption.
The search shop tab sits next to the explore tab when users type in a search query. This creates a filter for search results that will only display shoppable pins relevant to the keywords that were typed in. This is another great opportunity for your products to be discovered.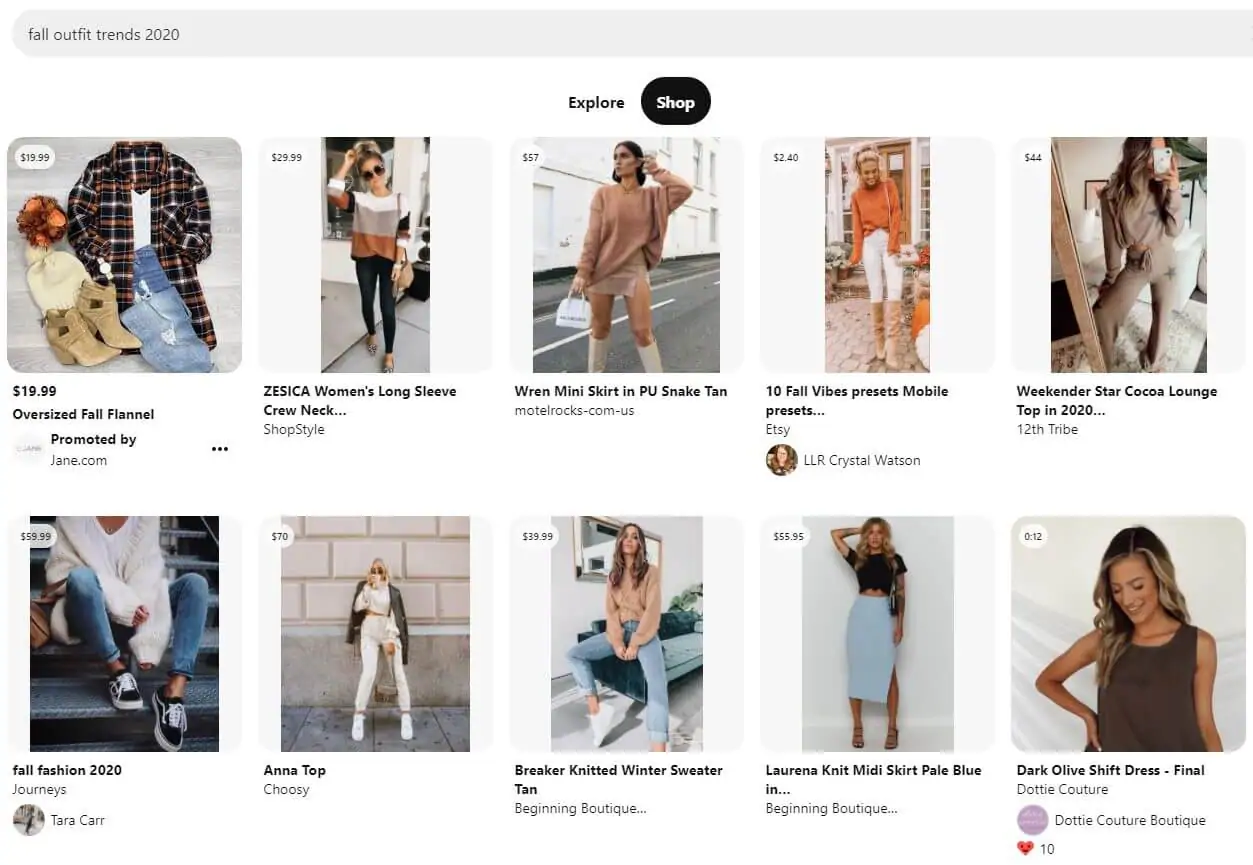 Tools and Resources Dedicated for SMBs
Pinterest organized some resources in an effort to support small businesses during the pandemic. They talk about the recent updates they've made here.
Some key resources include the following:
The Pinterest board titled

"Stay Safe. Stay Inspired"

features the best pins that help businesses manage different types of COVID-related situations.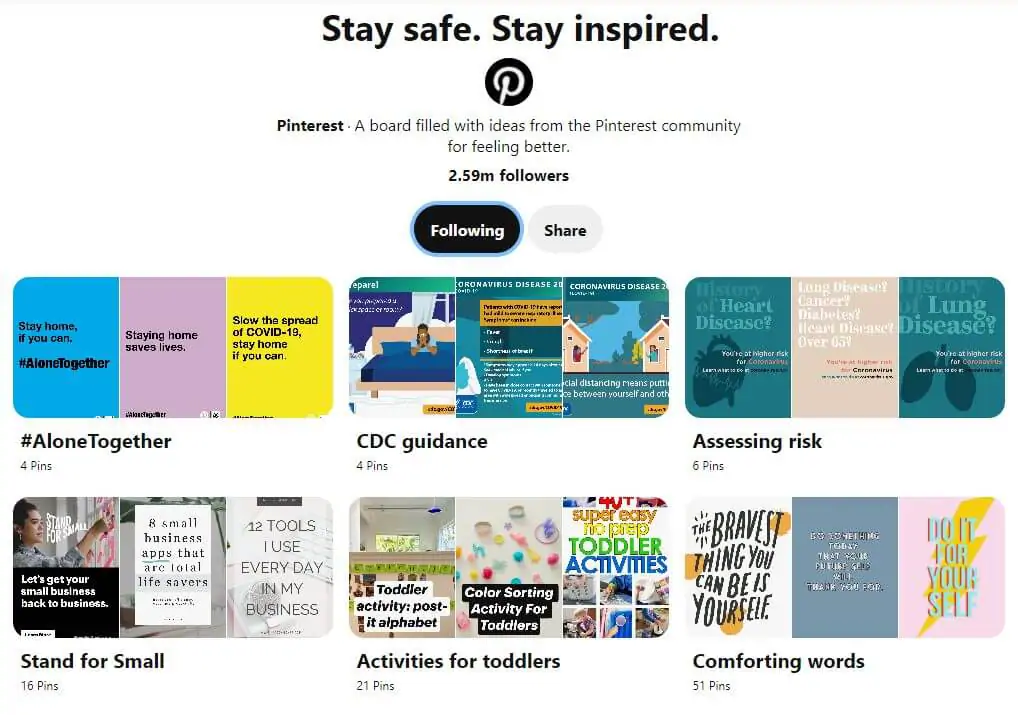 The Pinterest Shop

allows users to buy products from small business creators curated by Pinterest.

Verified Merchant Program

makes your small business stand out and look trustworthy by displaying a verified merchant symbol next to your brand name. This indicates that you meet Pinterest's Merchant Guidelines. Other benefits include appearing in related pins when users are shopping for other products, having a shop tab in your profile to let your customers easily find your shoppable pins, and getting early access to Pinterest's new Conversion Insights tool regarding your paid and organic pins.

Pinterest Business

is an entire website just for SMBs in assisting business owners with Pinterest's free and paid marketing tools.

Pinterest Academy is composed of 9 free online courses to help businesses master marketing. You can go through most of them within an hour with topics like creative strategy, targeting and buying, and campaign optimization.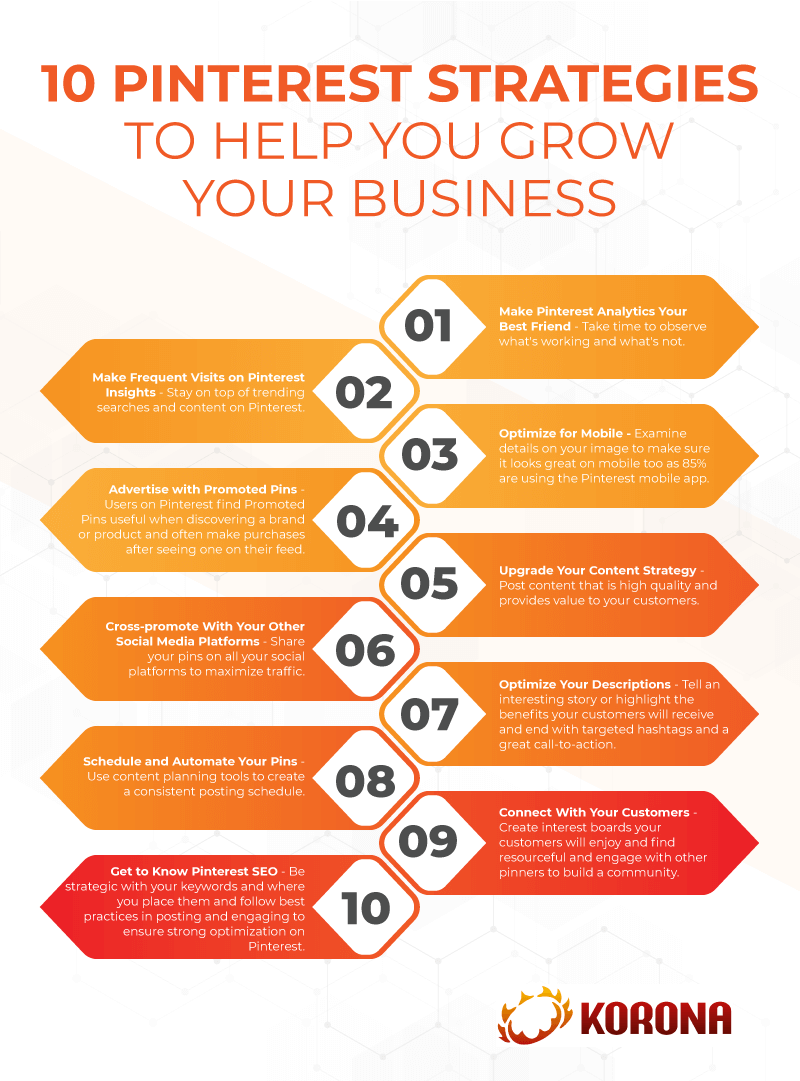 Strategies to Help You Grow Your Business
Utilize Pinterest Analytics
Base your content strategy on what is working and producing the best results. Pinterest has detailed insights that can show you how many impressions your pins received, how many clicks were made from your pins to your website, as well as what people are pinning from your website to their Pinterest boards. Listen to your audience and focus on content that is performing well.
Visit Pinterest Insights
Pinterest has a page called Insights where they post articles on behavioral studies, industry research, and measurement results. Use this as inspiration for new content to post. They also have a guide that shows what people are wanting to try next based on top searches that are appearing. Create content around top trending searches on Pinterest for greater discovery.
Optimize for mobile
There is no doubt that mobile usage has increased in recent years. For Pinterest, 85% of usage is through the Pinterest mobile app. Check to make sure your image looks as great on mobile as it does on desktop. Examine details such as your font size, style, and background.
Advertise by using Promoted Pins
Consider putting more advertising dollars on promoted pins. This is the platform where users are actually shopping first and then engaging.
Pinterest reports that 61% of users have purchased something after seeing a promoted pin.
You can optimize your Pinterest ads for either impressions, clicks, or conversions, giving you control of how you want to spend your budget.
Your promoted pins will then show up on a user's smart home feed, following feed (content that is being repinned by other users they are following), and search results.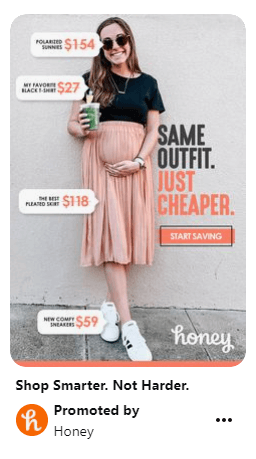 When drafting your ad, there are some details you'll want to follow:
First is the size of your image. It is recommended you keep your image size to 2:3 ratio or 1,000 x 1,500 pixels.

Apply text overlay that features the keyword you are targeting. This allows your users to quickly identify your content and for Pinterest to read for SEO purposes (yes, it is that smart!).

Lastly, input a strong call to action button that clearly states what you want your customer to do after seeing the ad.
Level up your content strategy
Come up with strategic searchable content that provides value for your audience. Pinterest is consistently updating their Insights page where you can view and read about top trending searches, so you can take some inspiration from there.
Some of the top performing pins are DIYs, quotes, infographics, how-to's, and tips. Lifestyle snapshots that evoke strong emotions also tend to do very well. Make sure to have high quality, eye-catching images and aim to inspire or educate.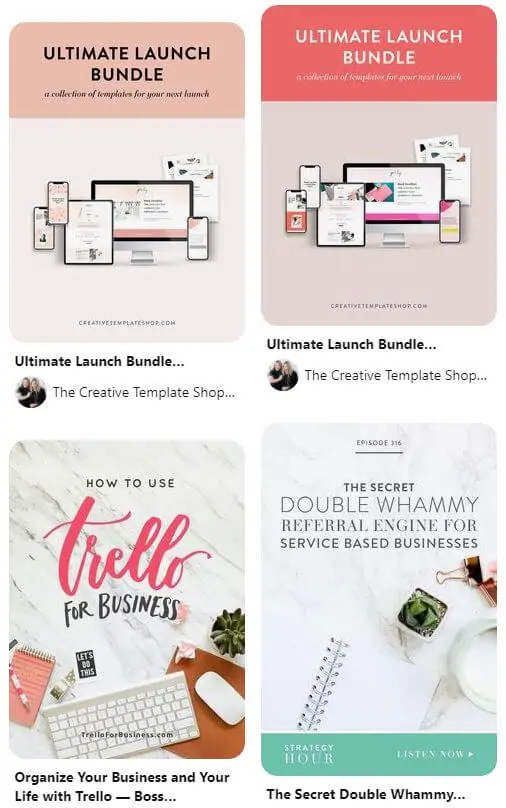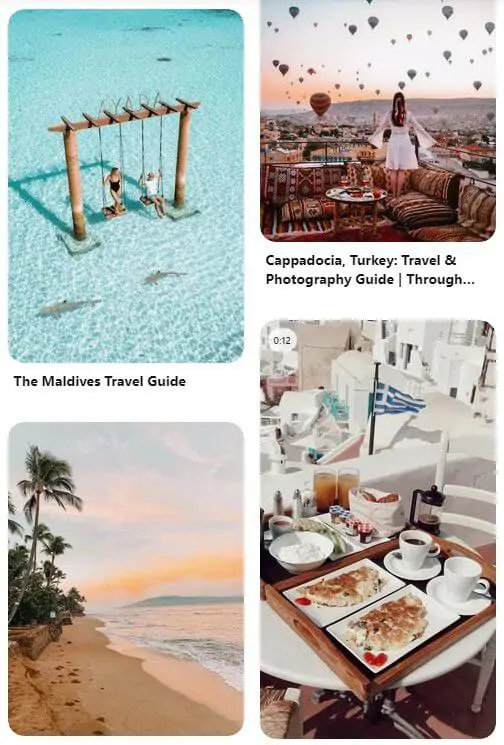 Cross-promote
Share your pins across all your social media channels for an even higher reach. Always link your blog or website on every pin so that you are maximizing your traffic. You can put a link in the source of the pin or the description of your pin.
There is also a way to connect your Twitter and Facebook accounts to your Pinterest Business account so make sure to do that as well to gain more followers and impressions.
Make good use of the description
Tell a story or highlight the benefits related to the image you're pinning. Compel your readers to want to know more and get them to click an image that leads to your website or blog. Take advantage of free traffic from Pinterest!
Your image should be the focus in enticing pinners to save your pin to their own boards, but your description is the second opportunity for you to make an influence. Grab their attention right away and be smart with the 500 characters you're given.
Use hashtags so you can be discovered in the hashtag feed. But select only a few very specific and targeted keywords that are relevant to your pin. Avoid general hashtags like "recipes" where your pin will be harder to stand out.
End with a great call to action combined with a benefit your customer will receive if they choose to continue.
Schedule your pins to stay consistent
There are several useful content planning tools available to organize the images you would like to pin ahead of time. Most of them even allow you to automate the task of pinning them to Pinterest which lets you shift your focus to content planning and content creation.
Connect with your customers
Content on Pinterest is often associated with powerful inspiration and creative ideas. Organize your pins into boards with interesting titles such as "Holiday Gift Guide" or "Spring Fashion Trends" that you know your target customers will enjoy.
Then make it a goal to be the brand your customers will think of when needing a source for certain ideas and inspiration. This will let you create a deeper connection with your customers.
Also, don't forget to socialize. Pinterest is a social platform, too. Make it a part of your routine to repin, like, comment, and follow other pinners and their boards to build a strong community.
Learn Pinterest SEO
First and foremost, your username should be SEO friendly. It's going to be part of your profile URL, so use keywords that may help to discover your business. Also, target keywords in the title of your board and in the first line of your pin descriptions. You can rank on search results by simply including the keyword you want to target in your description. You can rank even higher the more specific you are with keywords you choose.
Bonus tip: Type in a general keyword you want to use on the Pinterest search bar. Pinterest will display a variety of suggestions of specific keywords pinners are commonly searching. For example, if you type in "healthy recipes" Pinterest will suggest keywords such as "healthy recipes on a budget". You can use this for keyword research, hashtag ideas, and coming up with content to post.
Being relevant with your keywords and pins, posting high quality, valuable, and engaging content, and being a consistent and active pinner are the most important factors to keep in mind when attempting to rank high, appear on feeds, and be shared multiple times. But the Pinterest search algorithm is only getting smarter as more pins and users accumulate, so make sure to stay updated on any new practices that Pinterest will favor.
For more small business marketing strategies and tips, be sure to check out our other posts. We love helping out businesses with their strategies and growth. You can always come to us as a source for any of your business needs.
We also provide a unique cloud-based POS software designed for all types of small businesses. Click below for a free demo.