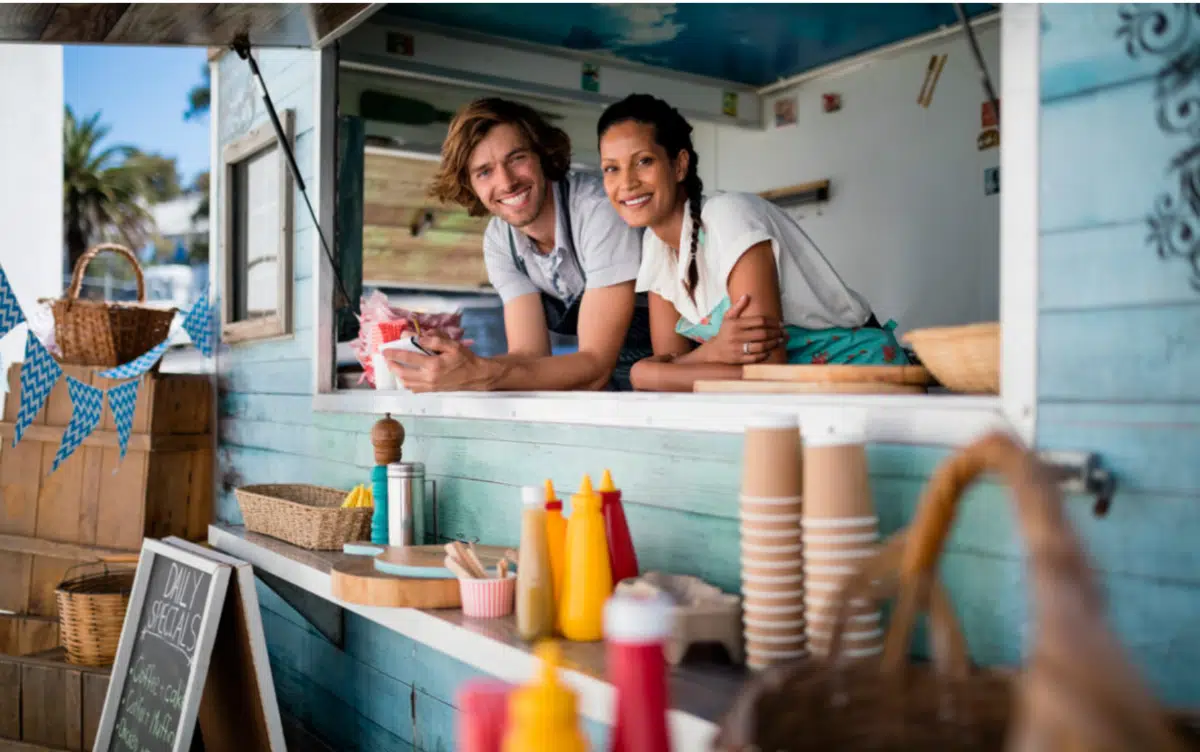 You can start a food truck business in eight steps: Firstly, determine your target market and competitors. Secondly, develop a business plan. Thirdly, determine start-up costs, identify financing sources and obtain the necessary licenses, permits, and insurance. Create your menu, choose the right location for your business, choose the right point of sale system, and at last develop a good marketing strategy.
More than 80% of American families eat at fast-food restaurants at least once a week. That's one of the reasons why the food truck industry is booming like never before. Whether it's tacos, sourdough pizza, or plant-based burgers, modern entrepreneurs are bringing street foods and experimental cuisines from around the world to our doorsteps.
That may very well sound like a great business idea, especially considering that 36.6 percent of American adults eat fast food every day, meaning the market is clearly there. And unlike brick and mortar restaurants that generally cost between $250,000 and upwards of $2 million, food truck start-up costs are a more modest average of $125,000. Starting a food truck can therefore quickly become a profitable business. In some cases, an investment of less than $100,000 can result in an average food truck revenue of $250,000 to $500,000.
So, if you're a "food connoisseur," ready to try out innovative chefs' unique creations, and eager to know how to start a food truck business, you've landed in the right place. This blog will cover the nuts and bolts you need to know about starting your business, from food truck startup costs to the proper permits and licenses to how to market your food truck business.
Table of Contents
1. A Brief Checklist For Starting a Food Truck
It takes more than just buying a truck equipped with a kitchen to start a food truck business. A successful food truck business requires planning and a good understanding of some essential steps. Here's how to get started: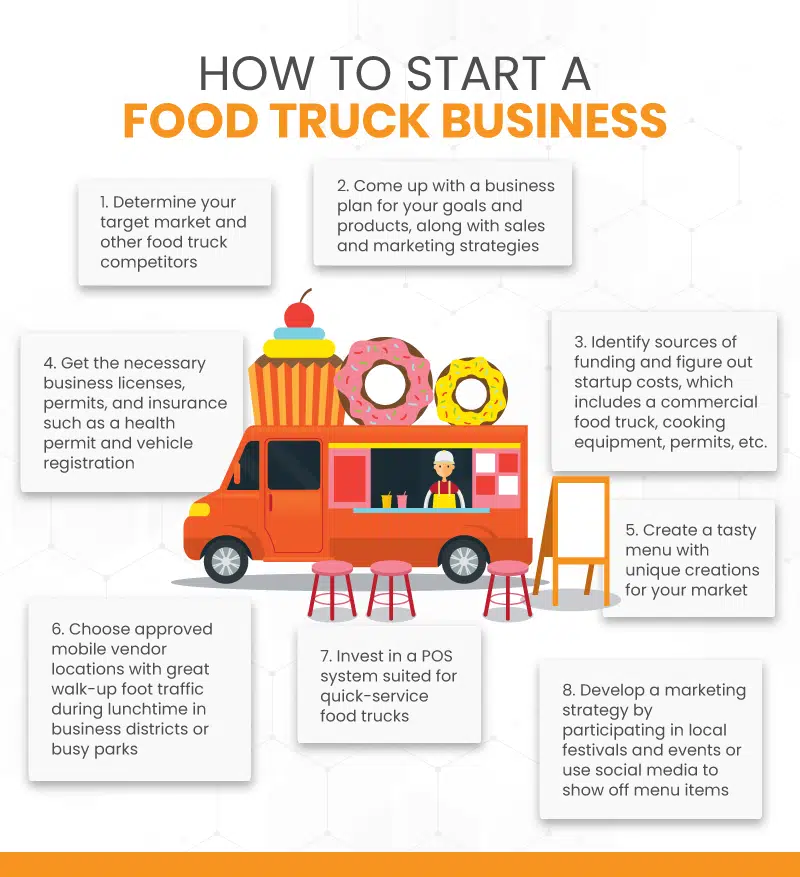 Determine your target market and your competitors
Understanding the target audience for food truck businesses is the key to developing a business or marketing plan. Middle-class millennials represent most of the target market for the billion-dollar food truck industry. In fact, nearly half of monthly food truck spending is generated by people between 25 and 44.
Learn about your target market to find out what they like (and don't like) and in what ways you can reach them. In addition to knowing what your target audience wants to eat, you should also look into what the competition looks like by researching other food trucks in the area. Make sure there aren't too many food trucks operating in your local area, and even if there are only a few, try to avoid offering the same menus to your customers.
Come up with a business plan
Many entrepreneurs are inclined to put the business plan on the back burner, which may be detrimental to their business's success. Knowing how to start a food truck business first comes down to writing down your main goals and objectives and the strategies you plan to use to make the business profitable.
Your food truck business plan should cover elements such as an executive summary, business description, market analysis, organization and management, line of services or products, marketing, and sales strategies.
Figure out the startup costs and identify sources of funding
Opening a food truck business can cost around $40,000 to $200,000, depending on your location, the cooking equipment you need, and the type of truck you purchase. Start-up costs also include paying for permits and licenses, investing in an appropriate point of sale (POS) system, and legal consultations.
Additionally, you'll need to consider ongoing expenditures that you may incur, such as payroll, business insurance, and advertising costs. Getting financing for your food truck business is one of the most crucial steps. Your business plan is down the drain if you don't have the funds to cover the expenses and other start-up costs.
So you need to make sure you have some personal funds before you jump in or use funding sources such as the Small Business Administration. For example, The SBA's 7(a) loans program is ideal for small and medium-sized businesses. You can apply and receive a loan that will give you a significant boost in your early stages.
Another option for financing your food truck business is to leverage your business credit cards. If you can pay off your debts, a business credit card can help you find some additional start-up money.
Learn more about Types of Business Licenses for Small Businesses
Get the necessary licenses and permits, and insurance
Opening a food truck business is contingent upon having specific permits or licenses required by the city, county, or state in which your business is located. You need at least three categories of licenses and permits: general business licenses, food service licenses, and vehicle licenses. Each state has its own laws and regulations, so make sure you are familiar with the business laws in your state to avoid legal delays or legal issues down the line.
Depending on the state in which you operate, most food truck licenses and permits cost between $100 and $500 each. Check your county clerk's website or the U.S. Small Business Administration's website for more information on the application process for a license or permit to operate.
Create your menu
It may sound like a trivial part of your food truck business, but your menu will have a significant impact on the success of your truck. Offer interesting food creations that are unique to your target market. Serving food that can easily be purchased elsewhere doesn't give you any competitive edge.
You may also want to read: How To Identify Your Target Audience: Define And Reach Your Ideal Customer Profile
Creating a food truck menu is more than just scribbling your specialties on a blackboard. Put in the time to plan, organize, and design your food truck to appeal to your target audience. Also, make sure your food can be prepped ahead of time or cooked quickly, as customers will be waiting outside your truck while you cook. There is nothing worse for a consumer than waiting in the hot sun.
Choose the right business location
Your business location is the be-all and end-all of your food truck business! A wrong choice of business location means low foot traffic to your truck. Low foot traffic will lead to few customers, resulting in shutting down your business. That's why it is recommended to park in areas with high foot traffic.
Learn more about How To Drive Foot Traffic To Your Retail Business
Some of the best locations for food truck businesses include food truck parks, street parks, farmers markets, business districts, gas stations, bars, college campuses, festivals, events or sports venues, etc.
You should also be aware of your city or state's rules and regulations regarding the location of mobile food vendors. For example, in the state of New York, it is required that your vehicle must have a current registration with the Department of Motor Vehicles. You must also install your unit at least 10 feet from a crosswalk, driveway, or subway entrance/exit. Each region has its own requirements. Find out what yours requires.
See related: How To Find a Good Business Location
Choose the right POS system
A great POS system ensures smooth and secure transactions for your customers. It also allows you to keep track of your inventory to avoid dead stock or a surplus of ingredients or other products that can spoil or take up valuable space.
To prepare for peak hours, you want your payment processor to take customer payments quickly so you can maximize sales. It is advisable to choose a point of sale system capable of integrating the payment processor of your choice and whose rates are affordable for your business.
Most food truck owners resort to POS systems with technology that can facilitate reporting and operations. KORONA POS offers inventory management and reporting features to help you manage and grow your business. Moreover, it allows you to choose the payment processor of your choice and provides customer support available to back you up in case of any technical problems.
Develop a sound marketing strategy
A good food truck marketing strategy starts with the truck's design that will appeal to the street and reflect your concept. Just like most food truck businesses, you should consider creating a website that highlights your menus and other services you offer. When mapping out your marketing plan, developing an email marketing strategy or loyalty program are other aspects to consider.
2. Finding and creating a food truck concept
If you want to know how to start a food truck business, you will need to determine the type of food best suited to your area. The most successful food trucks either choose very specific concepts, a unique version of a common cuisine, or something completely innovative.
Consumer demand must be considered, but food trucks are famous for their clever remixes and personal flavor. Some of the most accomplished food truck concepts reflect the owner's personal interests and experiences. Consider the famous Las Vegas-based food truck, Buldogis, which dishes out gourmet Korean-inspired hot dogs that reflect the owners' American and Korean backgrounds.
Some of the most popular food truck concepts include the following:
Comfort food

Regional cuisine

Organic and healthy foods

Gourmet sandwiches

Fusion dishes

Pizza

Healthy drink trucks

Street tacos and burritos

Indian food

Hawaiian food

Sushi

Lobster rolls

Mediterranean menus / Gyros
When looking for a concept for your food truck business, it's essential to ask questions like what type of food do you prefer and what can you easily produce within the constraints of a food truck. Then think of a special concept that will stand out from the competition. Once you have a concept in mind, you need to do a market test to know if the public will enjoy it or not.
"Once [entrepreneurs] figure out which route they want to take [with] their food, they need to know their customer segment really well: what they will pay, and how often. [This] all falls in line with what they choose to do. [If you have] cheap branding but good food, [you] can get away with being a cheap lunch truck, but really nice branding and a good-looking truck will be essential to one-time customers. One can never know how people will respond to a concept, but ample market research and testing your food with friends, foodies, industry experts, etc., can really help evaluate a concept."

Ian So, The Chicken & Rice Guys
The bottom line is that a market study is essential before launching a food truck. It enables you to validate or invalidate your concept.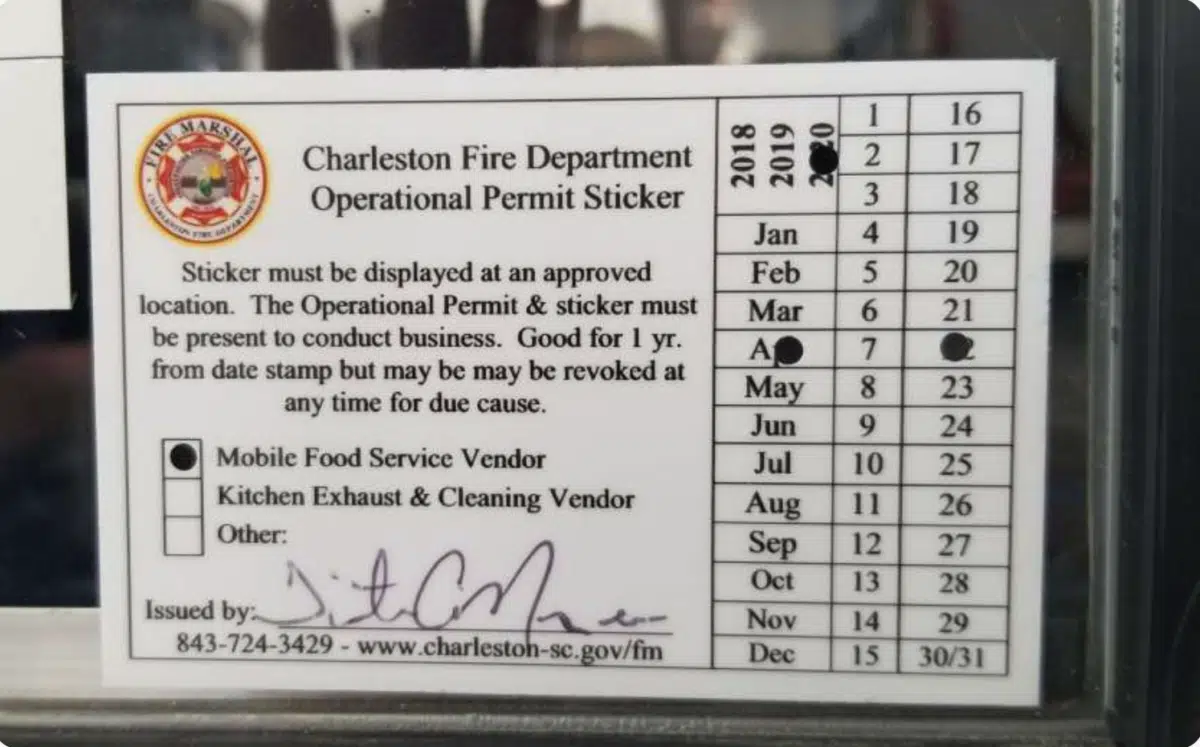 3. What Licenses and Permits Do You Need To Start a Food Truck Business?
Licenses and permits for starting a food truck business vary from one state to another. However, no matter which state you are in, you will need at least three types of licenses and permits: general business licenses, food service licenses, and vehicle licenses.
General commercial licenses
Wholesale license
Also known as a reseller's license, a wholesale license is a license that allows you to purchase goods or products in bulk from your suppliers at discounted prices that you will resell without paying tax.
See related: A Step-by-Step Guide For Retail SMB Owners To Get a Wholesale License
State sales tax permit
This license enables you to report your business to your state sales tax authority. Any sales from your food truck are subject to state and local sales taxes, and you will need to register with your state to accurately record your sales tax payments.
Employer Identification Number (EIN)
The EIN is a number issued by the IRS that serves to identify your business for tax purposes. The EIN will be required when you need to hire employees, register your business, or apply for a loan from a bank or other financial institution.
Doing Business As (DBA) Registration
If you run your food truck as a sole proprietorship or plan to operate it under a different business structure than the LLC you have registered with the state, you will need a DBA to register the fictitious name.
Foodservice licenses
Foodservice licenses are generally issued by the state or county health department. You will need different licenses to cover your truck, your kitchen, yourself, and sometimes your personal staff. Foodservice permits and licenses mostly require you to take a food safety test or have your facility pass a food safety inspection.
Health permit
A health permit allows the sale of food and beverages cooked or served to the public, which needs to be regulated for public safety. Health permits are typically under the purview of a county health department. Regulations governing the requirements for the types of food businesses that need a health permit differ considerably from state to state. Depending on the size of your business, the cost of obtaining such a permit can run from a few hundred dollars to nearly $1,000.
Mobile food facility (or unit) permit
The mobile food facility permit is a permit issued in some areas by the local parks department rather than the health department, although it still has a food safety aspect. Many cities offer lower rates for food carts, kiosks, small trucks, and trucks that serve only prepackaged food and non-perishable beverages. Prices generally range from $300 to $500.
Food safety manager's certification
This certification assures the restaurant and retail industry that a manager has the knowledge, skills, and abilities to supervise the safe storage, preparation, and serving of food in the workplace. Your food truck manager will need to take a food safety class and pass a food safety test to get one.
Employee food handling permit
Food handler cards are required in certain states for any employee who touches, prepares, or serves food. Generally, food handlers are expected to undergo brief food safety training and examine food safety topics to obtain their card. Some states, like California, mandate that all food service employees have their own food handling license.
Commercial kitchen lease contract
A lease with a licensed commercial kitchen is a prerequisite for obtaining your truck's foodservice permits for most locations. In some cases, health inspectors may require an affidavit signed by the kitchen owner, certifying that you are a tenant in good standing. Prices differ depending on the terms of your lease.
Vehicles Licenses 
You will need to go to the Department of Motor Vehicles to obtain commercial license plates for your truck. Some states require a commercial driver's license (CDL) if your truck exceeds certain length and weight limits. However, some states do not allow vehicles requiring a CDL to be used as a food truck.
You may also need to obtain a parking permit for your truck. Unlike a regular vehicle, a food truck can't park anywhere. Each town has different regulations that limit parking. In addition, neighborhood associations and local health departments may also require you to comply with their own guidelines.
Use this checklist to avoid any issues:
Check with your county clerk for a list of areas where parking is banned or for which a permit is required.

Contact your local motor vehicle department for lesser-known parking restrictions.

Include overnight vehicle parking in your commercial kitchen contract.
4. Where To Buy a Food Truck And What To Consider Before Buying One?
There are several options available to you for purchasing your food truck. If you consider buying a second-hand truck, you can approach an individual seller on eBay, Craigslist, or another online directory site. By purchasing a used truck, you can usually get a fully equipped truck for around $50,000. However, you will need to repaint the exterior and possibly renovate the truck's interior to fit your business.
There are also various ways of financing opening a food truck. Entrepreneurs can go a traditional route of a bank loan, ask friends and family for investments, or leverage existing assets. One popular option is to utilize a home equity line of credit loan (HELOC) to create some funding to kickstart your food truck business. A home equity line of credit allows you to borrow money that has been built up against the equity you already have in your home. A HELOC allows you to borrow as much money as you need and it can be used for anything, so it could be the perfect option to help fund your food truck.
A few good directory sites for finding used food trucks include the following:
Note: If you are buying a used truck online and haven't seen it, it is advisable to use an escrow service. The escrow service keeps your funds in trust until the seller ships your truck and only releases the funds when you accept the truck. For instance, eBay has a built-in payment option through Escrow.com to protect its buyers and sellers.
It is crucial to invest in the best quality truck you can afford. By investing in a quality food truck upfront, you minimize the risk of running into repair costs down the road. You should try to find a local food truck builder so that you can easily assure yourself that all your specifications are met.
Make sure your truck is equipped with equipment that meets basic standards:
Refrigerators and ovens that work properly

Fire extinguishers and first aid supplies are available onboard

Professional installation of essential equipment

Proper storage of food

Hot and cold water are available with appropriate pressure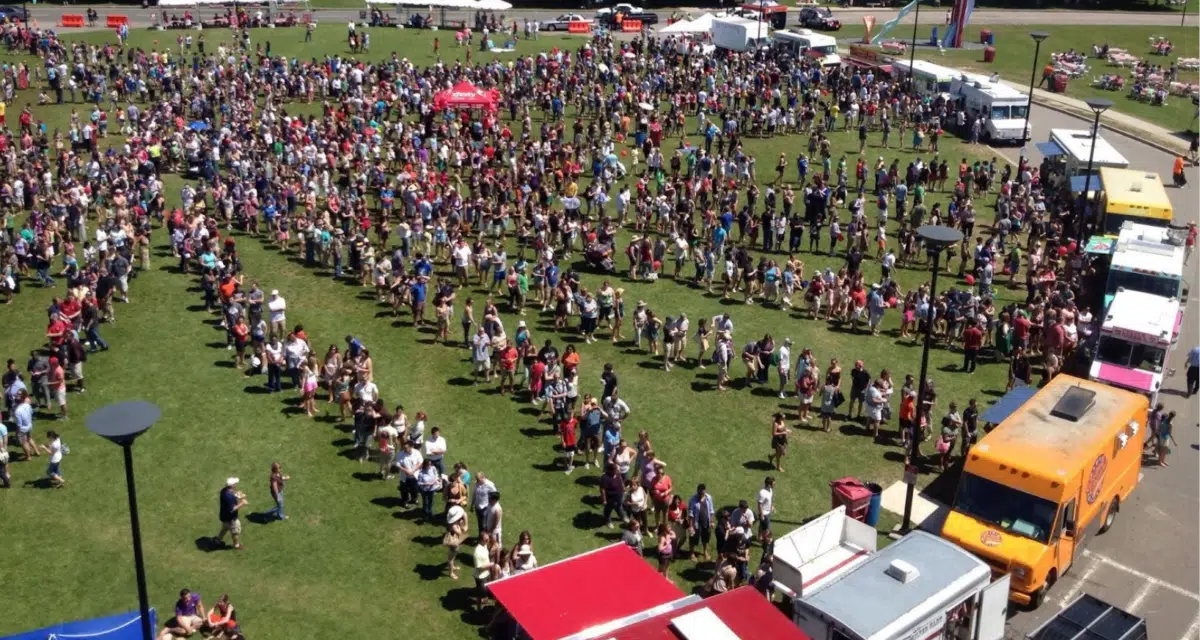 5. Cooking and Serving Equipment You Need to Start a Food Truck Business
Starting a food truck business is also about knowing the equipment you need to prepare your menus. With your truck and commercial kitchen, you can meet most of your primary equipment needs. On the other hand, if your menu calls for unique cooking items like wood smoke, roasting pans, or metal skewers, you may have to buy them yourself. And while commercial kitchens likely have mixers, tongs, and spatulas you can use, supplies in a shared kitchen may be limited.
You'll probably have to buy your small equipment, such as a food processor, baking sheets, and Cambro containers, to preserve your prepared food and transport it in your truck. Ensure your commercial kitchen rental agreement includes secure storage space so you don't have to lug your food processor every day.
You'll also need a few sturdy folding tables and reheating dishes to keep your food hot outside if you offer catering services. You can find most small equipment at a local restaurant or kitchen supply store. The very popular Sur La Table kitchen chain even discounts cooking professionals by 10%. However, you can also find these items at large distributors like Sysco. Table linens are the only type of equipment that is not worth investing in. You or your catering's clients can rent them to match the event's colors.
6. Invest In The Best Food Truck POS System
Recent studies have reported that 80 percent of consumers have used contactless payment methods in the past year, and up to 70 percent of millennials use smartphone payments. Using a cloud-based mobile POS system is the easiest way to accept card and digital payments.
But a POS system is more than just payments. A good food truck POS system will monitor your supply levels, alert you when your inventory is low, help you count inventory, and keep track of every cash transaction (thus reducing the likelihood of employee theft). Modern POS systems also feature tools that allow you to store customer contact information for targeted marketing campaigns, manage social media accounts, and stay on top of internet reviews.
KORONA POS is a cloud-based POS system specially built for retail businesses and quick-service businesses like food trucks. In addition to being ideally suited for food truck businesses, KORONA POS offers leasing options for businesses that want to finance their POS hardware through a lease. Feel free to reach out for a free product demo when you're ready to launch your business. 
7. How To Market Your Food Truck Business?
There are several ways to market your food truck business. Here are some ways to make your brand better known:
Social Media Marketing
Facebook, Instagram, and TikTok are great ways to connect with your local community and help potential customers find your business. Plus, Instagram is the perfect place to show off photos of your tasty dishes. As for TikTok, this platform will allow you to post videos of some of the dishes you prepare to better showcase your skills. 
For maximum impact, post regularly, and be sure to use all the local hashtags to help your business get discovered. Also, don't forget to indicate your location and hours so customers can easily find you. If you accept online or phone orders, include this information in your social media bio as well.
Join a street vending advocacy group
There are also food truck advocacy groups in many cities where the food truck community is thriving. By joining one, you'll be in contact with other like-minded business owners who can help you solve problems and send customers your way if their truck isn't available for an event. The additional benefit of joining an advocacy group is, of course, advocacy. These groups work together to encourage local regulations favorable to food trucks, which can only spur business for everyone. The National Food Truck Association is a great starting point.
Participate in local festivals and events
Festivals are a perfect opportunity to find customers and get information from other food truck owners and learn from them. Many cities organize outdoor events in the spring and summer, from fairs to farmers' markets. These events are an excellent way to promote your business and make more sales.
There are also many festivals dedicated to food trucks. Try to register for as many events as possible. You'll have a captive audience to market your business to, and you're almost guaranteed to make sales. If you attend several events, fairs or festivals, build a calendar of events to hand out to customers, so they know where to find you next time.
Get Started with KORONA POS today!
Tell us a little bit about your business and explore all features that KORONA POS has to offer. And there's no commitment or credit card required.
FAQs: How To Start a Food Truck Business
How to start a food truck business with no money?
You can start a food truck business with no money if you choose crowdfunding as a way to finance your project. There are several crowdfunding platforms where you can apply for such funding. You can also consider starting with a smaller business, such as a catering or tented sales business, to build a brand while you save up to launch your food truck.
Why do food trucks fail?
Lack of funding is the reason many food trucks fail in their first three years of operation. Difficulties can include unexciting concepts, strict regulations, poor sourcing, truck breakdowns, poor marketing, or poor truck locations. For this reason, it is advisable to take your time to learn the ins and outs of the business before getting started. 
What licenses are needed to start a food truck business?
You need three types of licenses to start a food truck business: food service licenses, general business licenses, and vehicle licenses. General business licenses include the vendor license and the wholesaler license. Food service licenses include health permits, food safety officer certification, etc.
How profitable is a food truck?
Successful food trucks can be very profitable, with annual sales of about $500,000, and sometimes as much as $50,000 per month. Getting to those numbers requires a well-targeted menu, excellent marketing, and a full-time commitment to managing costs and overhead.