The actual costs of opening a retail store vary depending on the type of retail business you want to start, the size of the store, and, last but not least, the location. However, according to vlogger and boutique owner Alli Schultz, the initial startup costs for opening a retail store can average up to $48,000. It's recommended that you budget between $50,000 and $100,000 to be sure you cover all costs.
Starting a retail store is an exciting moment, but it's uncharted or just plain terrifying ground for new business owners. This anxiety comes from not knowing how much it costs to start a retail store from scratch. Getting a storefront, paying utilities, stocking inventory, and paying rent and wages are often easier said than done. You'll also need to pay for special equipment, point-of-sale software, administrative expenses, and more. Opening a store requires a significant initial investment. So, wondering how much it costs to open a retail store? Check out this handy guide to help you set your start-up budget.
How Much Does It Cost To Open a Retail Store? Key Cost Points To Consider When Opening a Retail Store
The expenses associated with opening a retail store depend on the type of retail business you wish to establish, the size of the store, and, most importantly, its location. Also, before opening a new store, owners should be aware of the rising construction costs and ensure that they have adequate capital. The first few months following the opening of your retail store are challenging, and even if your books are all green, cash flow is a whole new ball game to deal with. Below is a breakdown of your retail store costs: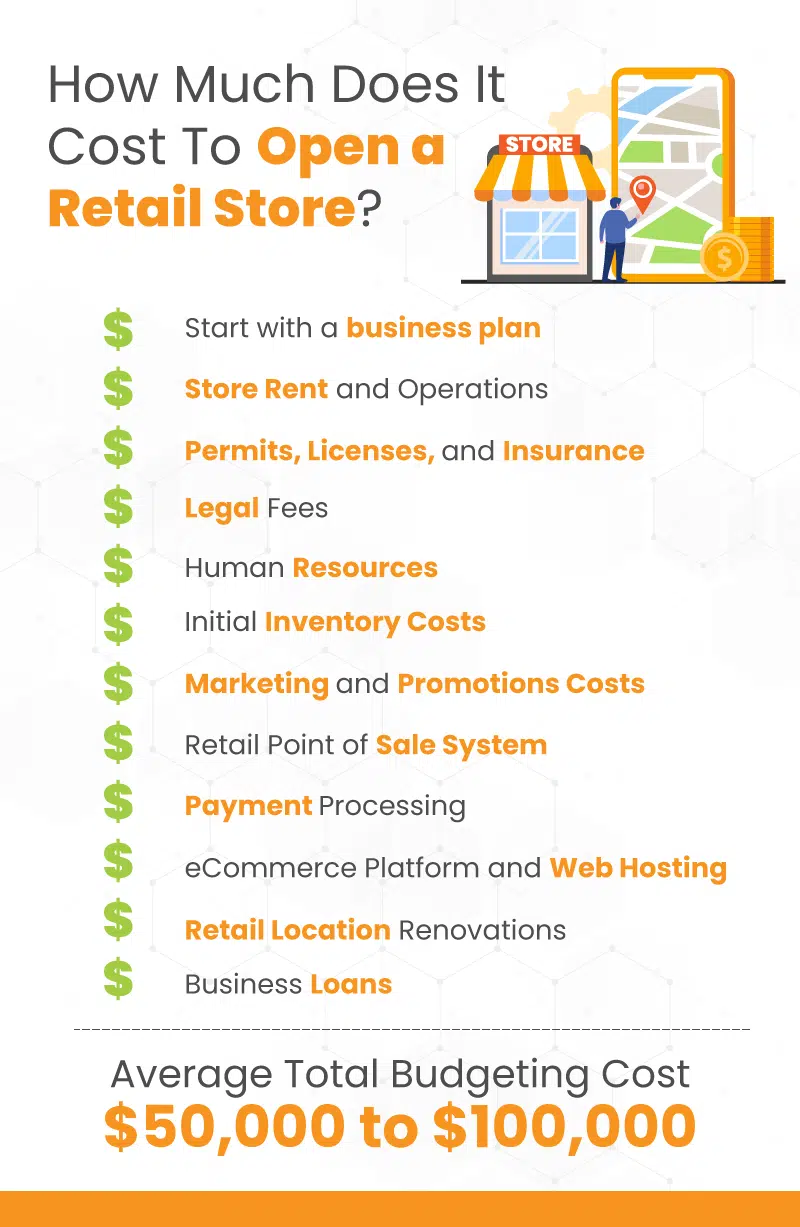 Start with a business plan
Knowing how much it costs to open a retail store first boils down to developing a business plan. The research you do in your plan is where you will put all the calculations, as well as the start-up costs and monthly operating expenses of your store. The business plan will also indicate how long your business will take to break even. Not only does it give you a clear picture of the expenses and funds needed for your business, but lenders will also require it if you want to get financing.
See related: 8 Alternative Financing Options for Business
Rent and operations
The lease is the most critical component of your business plan and the most considerable fixed expense. The total cost of rent and utilities differ depending on your location. For example, the average cost of rent in San Francisco is huge compared to the average rent in Tampa, Florida. After a downturn in 2020, retail rents increased in 2022. In western states, average U.S. mall rents have reached $26.84 per square foot. The average small to mid-sized store measuring between 1,000 and 5,000 square feet means a monthly rent of at least $26,840 if you want to open a store in California. When researching how much it costs to open a store, remember that rent is by far the highest initial cost of opening a retail store, especially since you need much more than a month's worth of costs in accessible capital. A great tip for saving on rent is to look to open your store outside of major cities and carefully study your market. If you don't want to lose the traffic potential of a city or other busy area, you can also opt for a smaller than average store. You can also open a short-lived store in a temporary location to test your market before committing to a long-term lease. You may find that, although a prime downtown location costs more to lease, the area generates a lot of foot traffic and increased sales.
Tip

Instead of signing a ten-year lease, for example, it may be best to sign a five-year lease with an additional five-year option for flexibility. You can also negotiate free rent for the first few months and have the landlord deliver the store to you in a vanilla shell, ready to be painted to receive dressing rooms and finishes. Most importantly, know and negotiate your landlord's responsibilities.
See also: Retail Lease Negotiation: 13 Tips to Getting a Great Lease for Your Store
In addition to rent, you must also pay utilities. The average cost per square foot for electricity is about $1.47, while gas is $0.29. Other costs include water and sewer charges, telephone and internet bills, and many others.
Permits licenses and insurance
All retail businesses must obtain licenses, permits, and insurance before operating.
Costs of creating an entity
But before the permits and licenses, there are the expenses associated with creating your business structure. A business entity is an organization that one or more people form to conduct business activities. The way a business entity is organized and operates is crucial because it determines how it is taxed and who will be responsible for paying its debts and obligations.
Most businesses are organized as follows:
Limited Liability Partnership

Partnership

S-Corporation

C-Corporation
License and permit fees
You will need to obtain an appropriate license for your store, depending on your location and the types of items you will be selling. For example, all liquor store owners are required to obtain a liquor license.
Below are some common items that you'll need before opening:
Employer Identification Number (EIN) for tax purposes

State and local licenses as specified by the SBA

Resale certificate (if you do not sell exclusively independent products),

Wholesaler licenses

Resale certificate (for those who do not sell exclusively independent products)

Vendor's license

Certificate of occupancy for your retail space.
These costs can range from $200 to $2,000, depending on your business and the state in which you operate. Check your state government website for more detailed information on the licenses you may need for your retail business.
Read also: Types of Business Licenses for Small Businesses
Business insurance cost
Opening a retail store will always have some risk elements, including unexpected events that disrupt your business, delays in your supply chain, cyberattacks that target your card payment systems, defective products, and employee issues. Just as you insure your health, life, and car, you must insure your business. Good business insurance coverage is vital to the long-term health of your business. Several types of insurance can help mitigate your new business's risks.
General liability insurance cost

: Also referred to as business liability insurance, general liability insurance protects you and your business from "general" claims involving bodily injury and property damage.
General liability insurance can help cover medical expenses and attorney fees resulting from bodily injury and property damage for which your business may be legally responsible. The cost of general liability insurance differs depending on your business's operations and policy limits, among other factors. Small businesses pay about $40-50 per month for this policy.
Professional liability insurance: Professional liability insurance, also known as errors and omissions (E&O) insurance, protects your small business from the financial risks associated with professional mistakes. If you own a bar, for instance, this insurance will greatly benefit you because of the increased liability your business has. Notwithstanding the policy limits, a small business's median cost of professional liability insurance is $60 per month ($720 per year).
Workers' Compensation Insurance:

This is a legal requirement in many states. Workers' compensation insurance policies protect workers who become ill or injured on the job.

Cyber insurance:

This protects your online store against losses incurred from cybercrime, such as hacking into your card payment system.

Business interruption insurance:

Business interruption insurance helps you replace lost income and pay operating expenses during a period in which you're unable to operate. This includes lost income, mortgage, lease or rent payments, loan payments, taxes, salaries, relocation costs, and training costs. According to Insureon, business interruption insurance costs between $40 and $130 per month, or $500 to $1,500 per year.

Commercial property insurance: Commercial property insurance protects your business against loss in the event of a fire, natural disaster, theft, or other problems. The median cost of commercial property insurance is $63 per month or $755 per year, with a $60,000 limit and a median deductible of $1,000, according to Insureon.
Although you won't know how much you'll have to pay until you get a quote from a local insurance company, most small retail stores pay about $600 to $1,200 a year for a business owner's comprehensive policy and an additional $1,070 a year for workers' compensation coverage. Factors that affect insurance costs, in general, are the size of the building, location, size of payroll and annual revenue, claims history, policy details, and the number of people who have access to your systems and data.
Legal fees
You will need to consider legal fees among the costs involved in opening a retail store. You can enlist the help of lawyers and other business professionals to complete all your paperwork correctly. However, working with a lawyer to incorporate your business will not be cheap. The average hourly rate for a business lawyer is between $100 and $400 per hour.
Human Resources
Again, the costs associated with managing your staff depend largely on the size of your business. One thing is for sure, though: running a retail store of any size is not a one-person operation. You'll need to find the right staff, so budgeting for their salaries is an essential part of the start-up costs of a retail store. Below are some of the crucial positions in a retail store and the average wages for each:
The above list of positions is far from being exhaustive. Positions such as customer service representatives, visual merchandisers, buyers, and assistant store managers, are all positions you may require depending on your business needs.
The staff you will need to hire depends on how you plan to operate. Will you have more than one register open during a shift? Do you plan to scale your business quickly? Be as realistic as possible; don't bring in people you don't need, but ensure all bases are covered for your busiest hours.
Once you've hired your first employee, it's a good idea to track their work using the employee management tools in your POS system. You'll be able to track employees' arrival and departure times and their sales performance. You can use the automated data to find out your best employees and schedule them at the busiest times to increase your profits.
Initial Inventory Costs
From an accounting perspective, inventory costs can help you determine how much profit your inventory can bring you. It will also tell you how much of your company's capital will be tied up in inventory and for how long. You need to have a full inventory on opening day and enough product to last at least four to six months. If you don't know the exact prices of your products, use an estimated mark-up assumption based on the rates you are likely to see from your distributors.
Also, to get a reasonable estimate of your initial inventory, you may want to determine the product lines you will be stocking. Then find out how many items in each product line you need and the manufacturer's suggested retail price for each. When researching wholesalers and manufacturers, you may find that not all prices are completely transparent until you sign a contract. This is also why you must opt for a wholesale license to create assurances between you and your suppliers.
Here are some resources for inventory management once you launch your retail business:
Marketing and promotions costs
While marketing is often seen as a side cost by many new store owners, it is critical in getting your retail store off the ground and should be factored into your start-up budget. How much you spend on each strategy will depend on your store and product type, as well as the location and saturation level of the specific area.
A study published by the business bank Tide suggests that the ideal marketing budget for a new business should be between 12 and 20% of gross revenue in the first year before dropping to between 6 and 12% thereafter. Areas where new retail stores can consider spending their marketing budget include the following:
Google advertising (both search and shopping streams)

Social media advertising – the average hourly rate for a social media manager is $26/hour, not including the budget needed for paid advertising campaigns
Flyers and posters in the local area

Website design and

SEO

Branding and logo design

Signage

Business cards and flyers
Retail point of sale system
In today's age of digital payments, it's no longer enough to have a cash drawer or cash register to meet all of your customers' payment needs. As technology advances, the number of people paying with cash will continue to decline. Given this preference, the best way to offer payment solutions to your customers is through a point of sale system.
Not only will a retail point of sale allow you to process transactions with all major payment types (credit card, debit card, cash, NFC, etc.), but you'll also have access to advanced reporting, inventory management tools, and employee management capabilities that can help you increase sales and run your business more efficiently. A good retail point of sale system should be cloud-based, allowing you to access all operations in your store without you necessarily being present. It's even possible to get technology that plugs directly into your phone or tablet to take payments. Remember that most systems require you to open an account and pay per month for the use of the payment processing equipment and software. Ensure your POS software allows you to work with any payment processing provider.
Learn more about retail POS systems with the resources below:
Purchasing a point of sale system for your store is essential in your start-up process. With no hidden fees or contracts, KORONA POS is an all-in-one point-of-sale solution that makes running a business easy. All plans come with free 24/7 customer support and the ability to choose your credit card processor. You can start with KORONA POS, starting at $59 monthly. KORONA offers several affordable options for businesses that want to finance their POS equipment through leasing.
Payment processing
Before accepting credit card payments, you must register with a payment processor. Payment processors charge a small commission or percentage on each credit card sale. So it's in your best interest to find a processor that will save you money in the long run. Some fee systems, such as flat-rate or tiered pricing, are unpredictable and will likely end up costing you more money down the road. Your POS provider should be able to help you find the best payment processors. Find a solution that offers you choice and transparency, so you'll always know what you're paying for.
eCommerce platform and web hosting
A brick-and-mortar retail store is no longer sufficient in light of the rapid rise of online shopping. After all, eCommerce sales are expected to reach $6.5 trillion by 2023. There are dozens of eCommerce platforms, and some are designed specifically to help retail stores ship their products and offer in-store pickup of online orders.
eCommerce platforms with native site builders and templates will save you money on site design. You will need to consider domain hosting costs, however. Domain hosting typically starts at $36 per year and goes up for premium domains. Platforms such as GoDaddy and Bluehost are some of the best web hosting platforms.
See related: How Much Does It Cost To Build an eCommerce Website?
Your inventory will be synchronized with online and in-store transactions by choosing an eCommerce POS integration platform. An eCommerce point of sale integration provides a streamlined connection between your eCommerce platform and your POS system. This synchronization allows you to pull detailed data from the system in real-time and process transactions and orders across online and offline channels. This will make it easy for you to offer local deliveries and curbside pickups, measures that appeal to customers and increase your return on investment.
Find more resources about eCommerce here:
Retail location renovations
Most of the time, stores or commercial premises require some renovation to meet your needs. And most of the time, it is your responsibility to pay for these renovations. The most needed renovations are painting, flooring, lighting, retail shelving, cash wrap, locksmithing, etc. Once your renovations are complete, your city will likely require you to obtain a certificate of occupancy prior to your opening. Check with your city's building department.
Borrowing costs
Starting any type of business requires an influx of capital. Equity and debt financing are two ways to acquire capital for a business. The most likely funding source for small business owners is debt, which takes the form of a small business loan. Business owners can often obtain loans from banks, savings institutions, and the SBA.
Like any other loan, business loans come with interest payments. These payments must be included in the business plan – the default cost is very high. Your financing can affect your expenses, including the repayment schedule and interest rate. Different loans have different costs, so do your research and talk to local startup capital lenders.
Starting a retail store is one of the most expensive business forms. That said, by understanding your budget well and knowing where you can save, you'll be well on your way to a profitable new business. The most significant expenses in opening a retail store include rent, initial inventory, employee payroll, technology equipment, and marketing your products and brand.
FAQs: How Much Does It Cost To Open a Retail Store
How much does it cost to open a small shop?
You should budget between $50,000 and $100,000 to open a retail store. Opening costs will vary depending on the size and location of your store. It will also depend largely on other factors such as the number of employees, initial inventory, administrative costs, etc.
How do I start my own retail store?
You can start a retail business in a few steps. Start by finding your niche. Would you like to open a convenience store, a vape shop, a grocery, or a liquor store? Next, develop a business plan to understand your initial expenses better. Register your business, then obtain licenses and permits and business insurance. Find a physical location, create an online store, and then invest in robust retail POS software.
How much does a retailer make?
The amount of money earned (net profit) at the end of the year is a function of the sales/revenues earned throughout the year. Pre-tax profit for retailers in the U.S. is generally between 3-5% of revenue. Some retailers make better profits, and some earn lower profits, depending on the different types of retail niches. 
Is retail a profitable business?
Retailers generally have low-profit margins due to the nature of their business. Online retailers tend to have higher profit margins than brick-and-mortar retailers due to the increase in online shopping and the reduction of overhead costs. A better way to increase your revenue is to have both types of stores to meet consumers' needs and new trends.