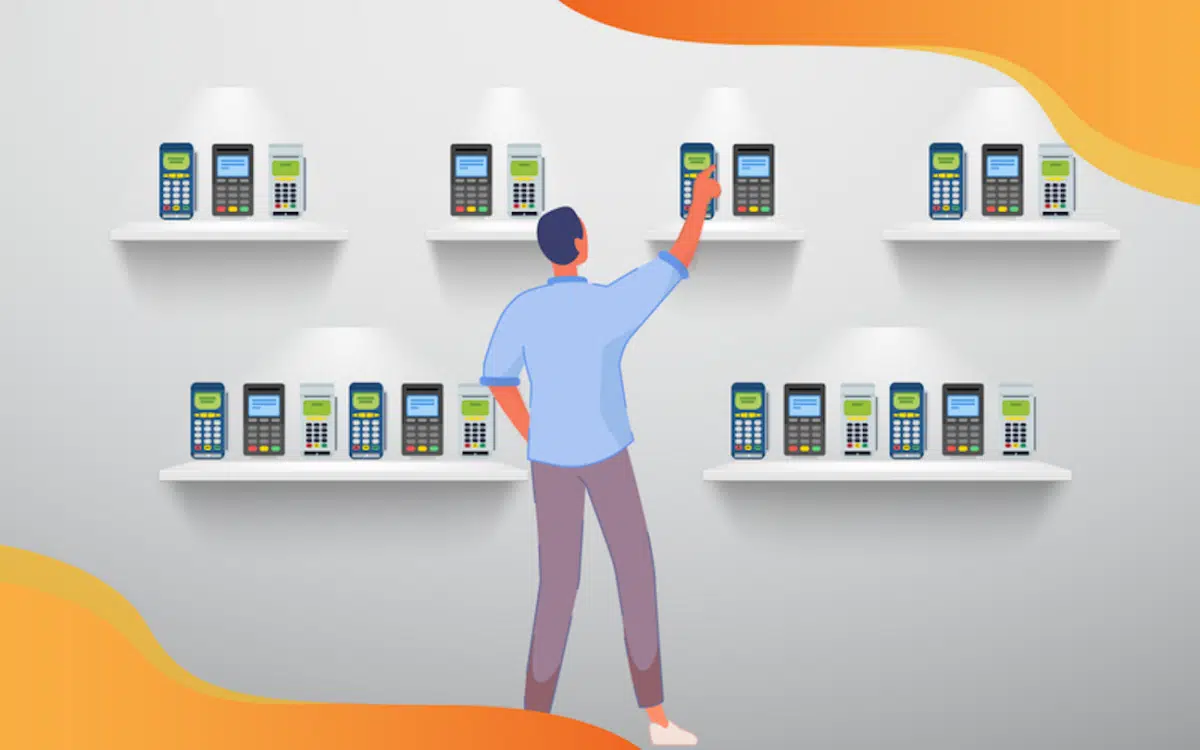 Credit card machines cost anywhere from less than a hundred dollars up to a thousand depending on who's selling it and what features your company needs. A reader that requires connection to your phone or tablet can be very inexpensive, while a machine that has multiple displays and processes off-site transactions can cost more than ten times as much.
However, the true cost of credit card machines lies in the fees that credit card payment processors charge per transaction, per day, or per month. Often, what is paid up front will be inversely related to the amount that you pay for processing credit card charges.
While this makes it difficult to precisely answer the question of how much does a credit card machine cost, we'll break down the various price ranges in some depth. Typically, a simple unconfigured credit card machine will cost $50-100, while pre-configured terminals with touchscreens and full customer support will range above $600. Read on to learn more.
Different Businesses Demand Different Machines
There are really three types of credit card processing machines when it comes to carrying out in-person transactions. Determining which credit card reader is right for you is crucial.
For a small business such as a barber shop that is only processing a payment every 15 to 30 minutes, a card reader that requires a connection to a smartphone could potentially be enough. However, for a liquor store that is processing dozens of transactions during a busy weekend rush, a fast machine compatible with Apple and Android Pay probably makes much more sense.
Furthermore, what you need to start your business might not be the same as what you need as you expand and grow. Hence, there are a variety of different types of credit card machines to suit different companies' needs and compatibility with payment processors and POS systems.
Here are the three main types of credit card terminals:
1. Credit Card Readers
The cheapest type of credit card processors on the market are called credit card readers. These readers require connection via an app to a smartphone or tablet to function, and are best for new small businesses with small inventories, few transactions, and mobile operations. While they are cheaper and convenient, they come with a slower, less seamless transaction experience, and lack features such as touchscreen, contactless (NFC) payments, and enhanced security.
2. Credit Card Terminals
These countertop terminals can be wired or wireless and perform the function of processing payments. They vary greatly in price, size and features such as touchscreen, built-in printer, QR code scanning, contactless payments, signature capture, and more.
3. All-in-One Credit Card Machines
Finally there are credit card processing machines that are built into POS systems. These often feature EMV credit card readers that are built into the actual POS hardware terminals.
Many such built-in terminals have non-negotiable credit card processing and subscription fees that come as part of the contract with the POS/merchant service provider. These fees are often higher than what you would find if you independently shopped around for the best available transaction rates through a third-party provider.
Built-In POS vs Agnostic Processing
To be sure, POS systems with built-in credit card machines, such as Square or Clover, are a great option for companies such as mom-and-pops stores and food trucks. Such a system is all that's needed for simple operations with fewer transactions and small retail spaces. However, if you use Square, for instance, then you use Square's processing. These processing fees can add up to substantial amounts by the end of the year, especially for higher-volume retailers.
Other point of sale systems such as KORONA POS are credit card agnostic, meaning that they will work with any credit card processor. This ability to shop on the open market gives business owners the opportunity to negotiate and drive down the final price, potentially saving a company thousands of dollars throughout the course of the year.
KORONA POS also offers preconfigured credit card machines and the best customer service support in the industry in case you run into any problems with your credit card processing operations.
Payment Processors
When choosing your credit card machine you should first consider which payment processor (also known as a "merchant services provider") you will be using to facilitate transactions. Like most services, different providers come with different pricing and different pricing structures.
These companies also have specific credit card machines with which they are compatible. Therefore, it makes the most sense to first compare different credit card processing companies' fees and then assess what features and support these companies offer when choosing your actual machine.
Different Types of Credit Card Processing Fees
It's essential to out for these processing fees when choosing payment processor. Ask questions to find out if and when you will be responsible for these charges.
Transactional
These transaction rates are set by the credit card company, issuing banks, and payment processors and gateways, and they vary depending on multiple factors. Risk is one of these factors; for instance, debit cards with pin entry cost less per transaction while purchases made as "card not present" cost more per transaction. There are a whole host of factors that go into the final cost per swipe rate.
Batch Fees
Batching is when the credit card authorizations of a particular business day are finalized and submitted to the payment processor. Some card processors charge fees for each batch. It's worth finding out if your processor charges them and what amount they are. Typically, these are avoidable.
Software Fees
In order for your credit card machine to function properly with your POS, your payment processing company might also charge a monthly software fee. If so, ask the company to explain what you're paying for and how it helps your business.
The Actual Cost of Credit Card Machine Hardware
A quick Google search will show many different prices for the same credit card machines. Purchasing a machine from eBay and Amazon can appear to save you a lot of money; however, these machines will almost always be incompatible with your company's payment processor software and network. Reprogramming, downloads, and support will waste a lot of extra time and money making this third party purchase really not worthwhile – sometimes costing more than the machine themselves.
You're much better off reaching out to processors or point of sale companies directly to find out what credit card machines they offer and at what prices.
As for machines, here are some that we recommend: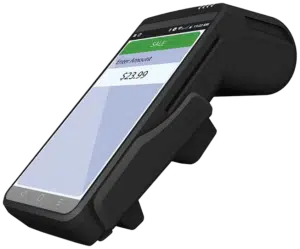 DejaVoo QD4 – $250 – $450
Built In NFC Contactless Reader

Quad-Core @ 1.1GHz

Ethernet, WiFi, USB

50 ft. paper roll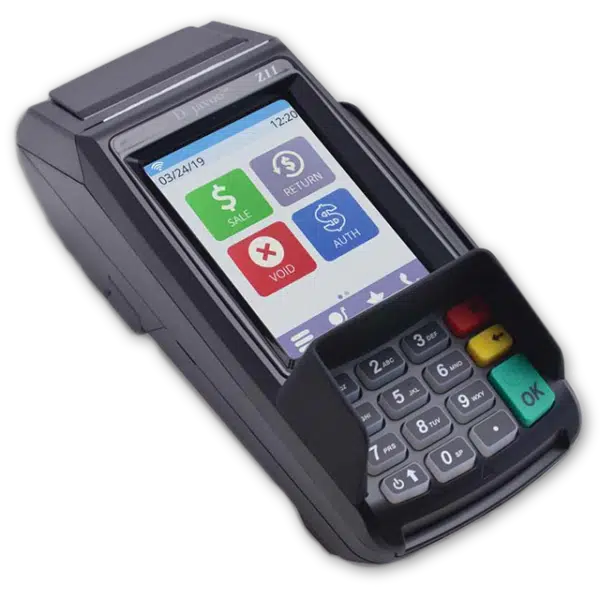 DejaVoo Z11 – $250 – $450
Built In EMV and NFC Contactless – EMV 4.x L1 and L2 certified

Tri-Comm capability (Dial, IP & WiFi)

Touch Screen Signature

2.4'' Color LCD Screen with backlight

192 MB of Memory

NFC Reader

SPIn integration

32bits 400MHz high speed microprocessor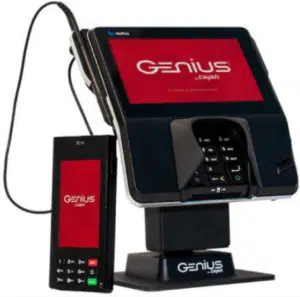 Cayan Genius $300 – $1000
Online payment gateway

Near-field communication (NFC)

EMV Payment Processing

P2PE Validated PCI

HSA and FSA Card Compatible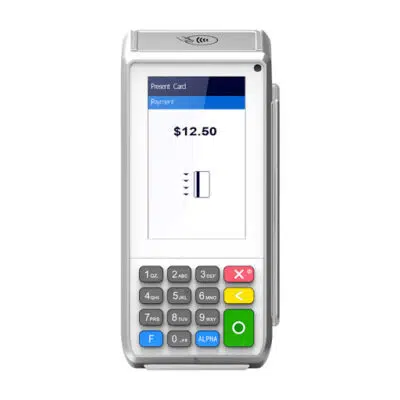 Pax A80 – $250 – $450
High Definition 4" Color Touchscreen

3.5" per second high-speed Printer

0.3 MP Fixed Focus Front Camera

Multiple Communication Ports

Wifi, Bluetooth, Ethernet and Dial

1GB DDR + 8GB eMMC|1 x Micro SD Card Slot

Supports up to 32GB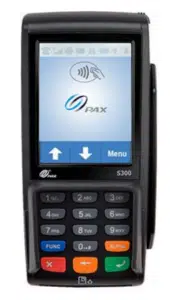 Pax S300 – $150 – $300
EMV®, MSR and NFC/Contactless

EMV & PCI Compliant

Large Memory Capacity

User-friendly Interface with Powerful GUI

Color Touchscreen

Signature Capture

USB and LAN connectivity options
Features of Credit Card Machines
Familiarizing yourself with credit card technology features and safety standards is a must. Assure that your business is equipped to function optimally and securely now and in the future as your business grows.
PCI Compliance
This is a must for all merchants when choosing their credit card machine. Payment Card Industry Data Security Standard (shortened to PCI DSS, and often just PCI) assures that your credit card machine is following all of the safety protocols to ensure that your transactions are protected from fraud and data breaches. All major credit card's require PCI compliance and failure to comply with regulations can result in major penalties.
EMV Chips Readers
These are the small square metallic chips on credit and debit cards that are "dipped" into credit card machines. The EMV chip functions in a similar way as the magnetic strip, relaying information about your credit card account to the payment processor. However, the EMV chip differs in that it creates a single unique code for each transaction that helps prevent fraud. While EMV readers can cost more money up front, they generally save the merchant in the long run through reduced processing fees and fraudulent transaction penalties.
NFC and Contactless
Some of the tech features that are available now, such as Apple Pay and Google Pay, allow customers to use their smartphone or credit card to simply hover over a credit card processor to complete transactions. This "near-field communication" technology is growing steadily as the preferred choice since it offers a no-touch solution that is fast and easy. Since more retail experts expect consumers to use more and more of these types of payments in the future, it pays to buy a machine that offers NFC capabilities now.
Finding the Right Credit Card Hardware with KORONA POS
Deciding what credit card machine to use for your retail location can be a bit daunting. There certainly is a lot to consider when choosing what is best for you. Nevertheless, there are people out there to help you with this extremely important business decision. Reach out to KORONA POS and we will work with you to figure out the best payment processing and credit card machine options for your business! We'll walk you through various hardware options and costs and even help explain exactly what you're paying for with your processing costs. Click below to request a call or product demo.