We've already discussed the exceptional benefits of email marketing. Not only does it average a ridiculous average return on investment, but it also gives businesses more freedom and flexibility. Email campaigns aren't at the whims of the unpredictable algorithms that control social media channels, there is no competition with ads, and emails can more easily be targeted and personalized.
But all of this great potential doesn't make it easy. This is especially the case during the holiday retail frenzy. Competition is fierce and consumers are getting bombarded with emails with all sorts of discounts, deals, and promotions. So it's important to make your stand out. Here are a few holiday email marketing ideas and tips on how to keep your audience engaged before and during this year's holiday season.
1. Mix Up the Content of Your Email Campaigns
There are over 100 billion emails sent every day. Most of these never even get opened. So for every business, it's important to engage your audience in any way possible. Keep people interested by changing your content and strategy (Also make sure your content is all optimized for mobile! 75% of Americans check their email on their phones).
The most important thing to remember is to avoid sending emails that are only trying to sell your product. There is a time and a place for salesy emails, but your customers are also looking for you to provide some value to them.

Free, useful content, like the Lonely Planet email below, is one way to gain more traffic in your eCommerce or brick and mortar store. It might not convert a ton of sales immediately, but it will help you build a loyal customer base over time.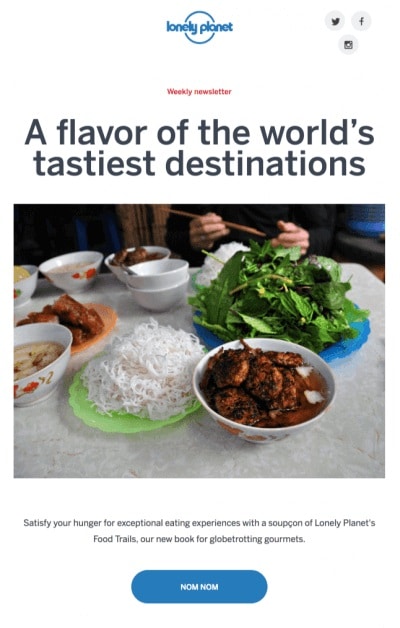 You might also send updates on new products or releases. Though this type of email will be somewhat promotional, you can also use it as an opportunity to educate your audience on why your products are valuable.

In addition to the content, make your themes and images more holiday oriented. Add catchy emojis in the subject line or simple graphics in the body. Holiday gifting guides are also a great item to promote. This will attract gift-givers who are unsure of exactly what they're looking for.
2. Send Emails with Different Formats
Similarly to mixing up your content, focus on targeting different specific groups with each email. After all, different formats have different conversion rates. Raising your conversion rates during the holiday season a few percentage points can mean a LOT more sales than raising your conversion rates the same percent in June.
The best conversion rates for any email marketing format are abandoned carts and order follow-ups. There are billions of dollars left in abandoned carts each year. Even if you recover a small portion of those, your business might explode over the holidays.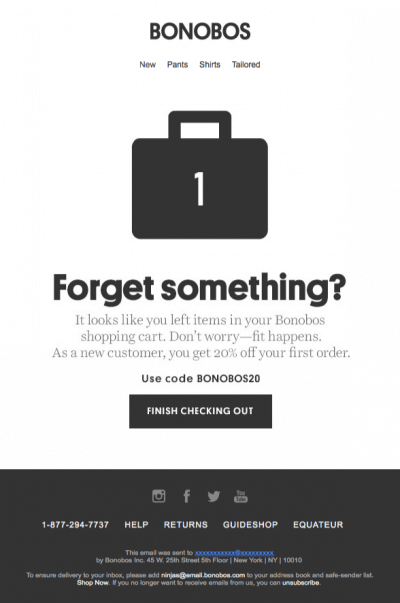 Order follow-ups are geared toward your most loyal customers. Use these emails to show your appreciation by offering them a holiday gift or discount. Market similar items or order refills to remind these customers to keep shopping with you.

It's also important to send lower-conversion emails as well. These include newsletters/blog updates, inactive customer emails, and new member follow-ups. Converting a curious new customer or a long-term lapsed member is no easy task, but an email campaign is a time-efficient and affordable way to still reach these consumers.
Finally, target specific types of holiday shoppers. The lowest hanging fruit is those customers who do all of their holiday shopping at the last minute. The week prior to Christmas and the New Year is a golden opportunity to reach out and remind your last-minute shoppers about your fast, free shipping, or your final sales of the year.
Conveniently, each of these formats can easily be automated using one of many customer resource management tools available to retailers.
3. Create a Timeline Prior to the Holidays
During the preseason consult your marketing team, conduct any necessary research, and devise an overall strategy. This is useful to keep everyone on their toes well before the holidays actually begin. Later, finalize images, graphics, photos, stats, templates, content, and audience.
During the actual season, simply implement everything that you planned beforehand. Proper preparation allows you to announce and release sales in real-time. If you have the work done and an automated email service, this is as simple as a few clicks.
Finally, prepare a plan for the postseason. Most retailers are left with a surplus after the holidays. Think about your timeline and potential promotions in the first few weeks of the year. These windows are typically small so it's important to market these post-sales aggressively.
4. Maintain Your List and Give the Customer Control
Email lists need to be pruned and segmented as often as possible. Sending a mass email to all of your subscribers is always an option, but you'll see far lower click-through rates (CTRs) and conversions.
Instead, separate each subscriber into inactive, moderately active and highly active. Send one last reminder to inactive members before clearing them from your list. Here, you might consider offering a generous coupon or promotion to pique their interest.

With your more moderately engaged audience, you might consider smaller promotions coupled with helpful information. This could focus on product knowledge or expert tips.

For your most active customers, be sure to find ways to reward loyalty. You also want to make their shopping experience easy by suggesting items they've purchased in the past as well as similar or complementary items.

Throughout this process make sure you delete the addresses for any bounced emails or those who have been inactive for too long. You never want to be annoying or spammy. It's bad for business, and, with the new General Data Protection Regulation (GDPR), potentially illegal. To prevent this, allow your visitors to segment themselves by offering different email options, like the Bonobos email below.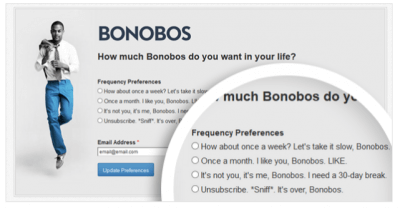 5. Focus on Timing and A/B Testing
Take advantage of the feedback that your email CRM provides. This will show you valuable information for each email campaign, including what percent were opened, what percent were clicked, as well as how many converted and how many unsubscribed.
Each one offers actionable data if you mix up strategies for each. For instance, compare the open rates for an email sent at 11 am on a Tuesday and one sent at 5 pm on a Saturday. There are no rules of thumb for best practices when an email is sent; this often varies between industries and audiences. But you can pinpoint higher productivity by altering small details each time to see what strategies work best.
Of course, this doesn't simply apply to the time the email is sent. You can also test subject lines, the copy in the body of the email, images, and graphics, as well as different promotions. The combinations are endless, but in order to make the most of the holiday season, it's important to make each and every email as beneficial as possible.
What Holiday Email Marketing Ideas Will You Use?
There are endless ways to approach your holiday email campaigns this year. And it's still not too late to form a basic strategy. Let us know what has worked for your business in past years. And subscribe to our blog for more retail advice! If you're curious about getting a new POS system next year, hit the button below to find out more about KORONA POS solution.
Get Started with KORONA POS today!
Tell us a little bit about your business and explore all features that KORONA POS has to offer. And there's no commitment or credit card required.