Last Updated: May 19, 2022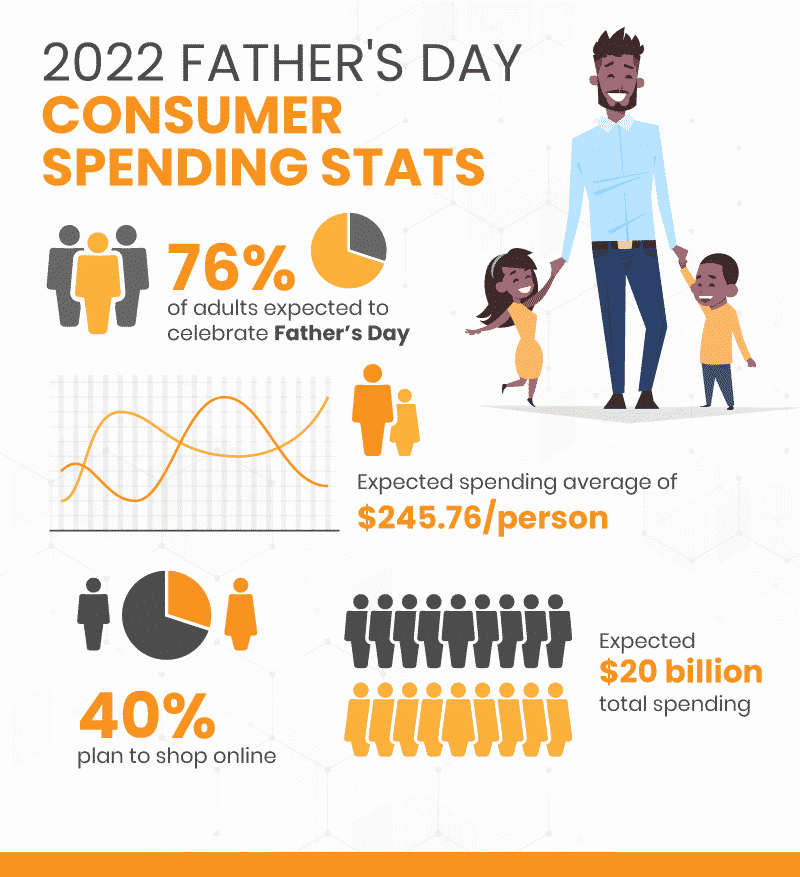 While retailers don't have quite prepare like you did for Mother's Day, the holiday celebrating our pops is still a big consumer day. In fact, if current trends are any suggestions, 2022 might break $20 billion in U.S. retail sales during the holiday.
But in order to cash in on the holiday, it's important to remember who's doing the shopping, who their shopping for, and what kinds of products the occasion calls for.
What Will Consumers Spend Money On for Father's Day?
According to the National Retail Federation, Americans will spend a lot of money across a lot of different shopping categories for Father's Day. Greeting cards alone will sell an estimated $830 million, for instance. The most money spent will invariably go to special occasion events, typically dining out for brunch or dinner. Meanwhile, aparell, electronics, tools/appliances, and car parts round of the rest of the top 6.
As far as where they're doing the shopping, the NRF estimates that nearly 40% will be making their purchases at department stores. Almost the same amount will be purchased online. The rest will be shopping at specialty stores, boutiques, and catalogs.
Does your business fit directly into any of these niches? If not, figure out how to relate certain products or lines to the occasion. Any retailer can find a way to appeal to fathers and Father's Day shoppers.
1. Send out a Father's Day Email Marketing Campaign
Email marketing is a good idea for any holiday marketing campaign. It's an easy way to reach a large number of people for a cheap price. If you already have an established email list, this will be rather easy to accomplish. Figure out what your promotion will be and send out an initial email followed by several follow-up emails. Even if they're buried in promotional folders or other filters, aggressive email marketing campaigns will increase your sales. They are one of the easiest and most proven marketing tools so don't miss out on a chance to take advantage.
Check out our email marketing guide for retailers. Remember to use a clickable subject line, attention-grabbing headlines, and clear calls to action.
2. Make Your Marketing Personal and Loving
Father's Day is a day to show love to any father in your life. So it's good for retailers to make the holiday fun and personal. Don't be afraid to get cheesy and bust out those sentimental cards, books, or t-shirts.
Some retailers might consider personalizing gift options as things that fathers and their kids can enjoy together. Outdoors stores can market camping equipment packages for a bonding trip later in the summer. Hardware stores might market starter tool sets so that dads can teach their kids some of the basics. Sporting goods store can do the same: find products that dads can use with their kids and market them.
3. Focus on Dad Things and Display Well
It's important to evaluate your store layout regularly, so use marketing holidays as an excuse to do so. Create great product displays around your store to catch the eyes of browsing shoppers.
Display areas are a great way to consolidate related items to encourage some impulse purchases or to remind shoppers of that great idea that they were forgetting about.
They are also retail real estate to highlight bundled deals, gift packages, or other deals. Attach small gifts to go with certain purchases, assemble thoughtful gift baskets, or upsell additional items with cool bundled packages. Liquor stores, for instance, often put together cocktail packages that make the shopping experience easy. Many shoppers don't know what they're looking for when they walk into a liquor store so use it as an opportunity to give them the idea. eCommerce stores can cross-promote virtually, too.
Finally, these types of displays are great spots to market small items that are easy to throw in a cart. Mugs, t-shirts, socks, notebooks, keychains, etc. all make easy Father's Day gifts and it's likely that shoppers will pick up a handful.
4. Sell to Moms, Kids….and Dads Themselves!
Again compliments of the NRF, estimates gauge that 53% of the Father's Day shoppers will be people buying gifts for their dads and stepdads. But many men and women will also shop for their husbands. Some are shopping on behalf of kids who are too young to do so, while others may just use Father's Day as an excuse to spoil their partners. Either way, 27% of Father's Day shoppers are doing so for their husbands. Lastly, 9% of Father's Day consumers are dads themselves! The most selfless dads out there just can't help themselves and even use the one day of the year dedicated to them to still spoil their kids.
With all of that said, it's important to market products that will attract each of these shoppers. It might seem more daunting, but it's just giving retailers more options. It also goes to show that any retail store can find a way to market for the holiday.
5. Offer Father's Day-Related Branded Freebies or Gifts
Holidays are a great time to be generous with gifts-with-purchase and reward your shoppers. It's important to find the right balance with what you decide to offer as a gift. You don't want the gift to be of little value to shoppers, but you also can't afford for the gift to come at a great cost to your bottom line. Analyze your inventory and revenue beforehand to determine which items on your shelves make the most sense to include.
Take the opportunity to brand these gifts as an additional form of marketing. Put a logo, phrase, or related image on the item to remind recipients where it came from.
Other retailers might partner with neighboring businesses to collaborate on cross-promotional items. Find a business that has a similar philosophy and related products and together choose products that would make nice additions to each other's stores. It will get Father's Day shoppers visiting places they might not have otherwise gone.
6. Add Urgency to Father's Day Discounts and Sales
Most retailers will want to start their Father's Day marketing campaign a few weeks out, but as you do, find ways to create a sense of urgency. Consumers will respond to added pressure to make a purchase, especially when they're shopping for a gift.
Create limited-time sales that end near the holiday, and market them loudly. Even better, offer better deals if consumers take advantage of the discount early. This allows you to send out more reminders before deadlines and build your brand identity.
7. Make Your Father's Day Gift Cards Visible
Gift cards are a popular gift for many different occasions. Father's Day is certainly included. Indeed, over $2 billion has been spent on gift cards for Father' Day each of the past several years.
Use your POS marketing area to promote gift cards. They are a common last-minute purchase and should be positioned cleanly throughout the checkout area. Train staff to remind guests about your gift cards as well. A simple suggestion can go a long way.
Finally, consider selling gift card "experiences." Many fathers wish to receive a gift that involves the whole family. Selling an experience is a great way to appeal to this segment of shoppers. Tickets to a concert or sporting event, theme park packages, or day trips to other outdoor activities are popular options.
8. Advertise on Social Media with a Contest or Giveaway
Start by running a simple ad campaign on your social media platform(s) of choice. These are easy to target and typically pretty affordable. Try out different ads and promotions to see what really catches eyes. Remember, it's always important to monitor your ad campaigns and A/B test different images, copy, and types of buttons.
Advertising a contest or giveaway is even better. Consumers love playing games or having a chance to win free things so you'll get more clicks, likes, shares, and overall traffic. It also builds brand recognition and trust. Winning a contest is memorable, and your customers will respond by visiting your store more often.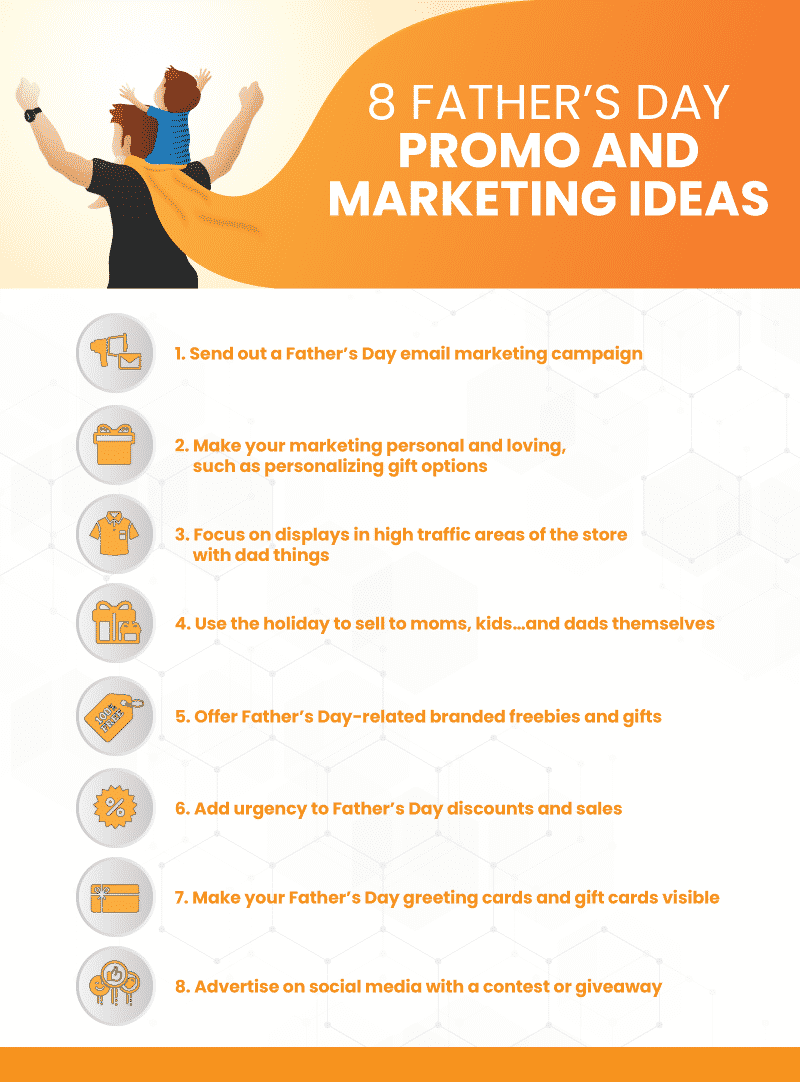 Run Your Father's Day Promotions and Sales with KORONA POS!
As with any marketing campaign, retailers need to make sure it's an overall boon for their business. That's why having the best retail point of sale system is so important. With inventory management, ordering suggestions, product analysis, pricing suggestions, and detailed sales reports, you'll be able to see exactly how successful each marketing campaign really was. Just selling a lot doesn't mean it's a success if your bottom line isn't good. Check out KORONA POS with our free trial. It's fast, easy to get set up, and comes with no commitments or strings attached. Plus, one of our product specialists will give you a virtual tour so you can see which features will improve your retail business.
To learn more about other holiday marketing strategies, click on our other guides below: