Labor Day has come and gone, and so too has the unofficial start to the fall season. Like any change in the year or big holiday, it's a great opportunity for small businesses to reconsider their product line, promotions, and marketing strategy. Making such changes helps keep your store fresh and attract a new group of customers.
And the fall season is the perfect time to bring in new faces – the summer lull is over and people are back in town, kids in school, and life back to normal. It's an important time of year to ramp up your fall marketing strategies and increase your brand awareness and overall sales. Check out the 11 fall marketing ideas below to get a start at your retail business.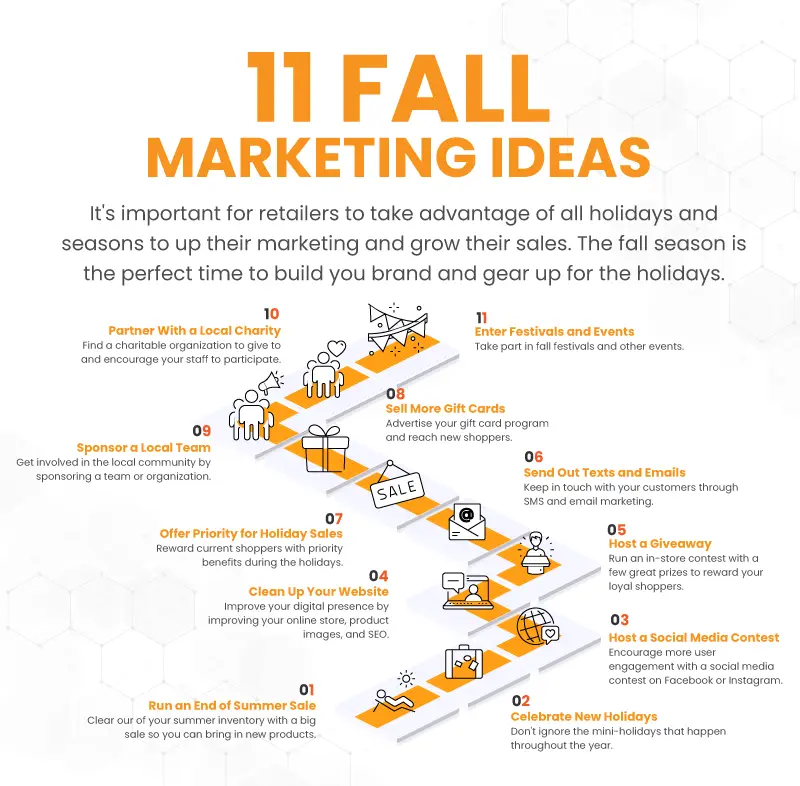 1. Have One Last Summer Sale
Hang on to those last vestiges of summer and have a final sale. Use it as an opportunity to get rid of some of your summer products, including clothing, beach items, summery alcohol, or whatever you sell.
Seasonal sales such as this allow you to recoup some of the costs of inventory while also freeing up precious inventory space. Plus, big sales are exciting for customers and a great way to build chatter about your brand.
2. Pay Attention to New Holidays
Yes, it's definitely a bit outrageous, but there are multiple holidays. For instance, the day this blog was published, September 15, has several unique holidays including National Linguine Day, National Online Learning Day (RELEVANT), and National Day of Democracy.
Check out some of the other daily holidays for the rest of the fall to see which you might be able to celebrate at your retail store. Pick out a few and get creative!
3. Host a Contest on Instagram
Encourage your shoppers to get creative, too. Especially if it involves them talking about your products/brand. Instagram photo contests are a great way to go. If you have a decent following already and have some extra money to offer a few prizes, set up a contest and reward your favorite contributions.
If your particular retail niche is best served by other social media platforms, do something similar on those.
4. Spruce Up Your Media
In addition to playing up your social media pages this fall, also revamp and clean up your branding, website, product images, videos, and marketing material.
This is especially important if you sell online.
Make sure all product pages are up-to-date and accurately reflect the item.
Clean up your eCommerce checkout process.
Create new seasonal marketing materials.
Edit videos and post accordingly.
5. Host a Giveaway for Fall Marketing Ideas
In addition to hosting an end of summer/beginning of fall sale to help move through inventory, giveaways are another way to move products productively. Choose items that need to go and use them to hand out to customers as a thank you. It'll put you on more people's radar and also improve your word of mouth marketing.
While you don't need to go all out for something like this, it's worthwhile to make the giveaway significant. You want people to be excited enough to tell their friends about it.
6. Send Out Weekly Deals
What better way to improve your small business's email marketing efforts than by sending out weekly emails with new deals and discounts. Reach even more people upping your SMS marketing campaigns, too.
Email marketing takes such a minimal financial investment yet is proven to convert new customers and help bring back lapsed shoppers. Sending out regular email blasts will help you A/B test different strategies and hone in promotions that build more business.
Make them fall-themed and highlight any seasonal sales you're running.
7. Offer Future Sales
Some retailers will promise a "buy now, save later" sort of promotion. Instead of saving money right away, you might consider offering a future discount of benefit. During the fall season, a lot of businesses will promise shoppers priority or special sales during Black Friday/Cyber Monday sales.
Check out your sales analytics first to see how this might affect revenue now and down the road.
8. Use Gift Cards
Gift cards will increase your total revenue. Hands down. They are easy impulse purchases or last-minute gift ideas. A shopper with a gift card will almost always spend significantly more money than what's on the card while at the store. Many gift cards are also never redeemed, meaning the store keeps the money.
Up your gift card marketing with a fall-themed gift card set and place them in a conspicuous area around your POS terminals.
9. Sponsor a Local Team
It's critical for small businesses to be involved in the community. Fall is a great time for outdoor activities and sports, so find a local softball league, municipal soccer team, or any other organized sporting event to sponsor. Doing so helps your community thrive and is a great marketing outlet.
10. Team Up With a Charity
Similarly, your business might partner with a charity this autumn. Find some local charities that are in need of more awareness. Partnerships such as these help raise brand awareness for both parties and get you and your team more involved in the community.
You can also give staff paid time off to volunteer at places of their choice. Set a small amount of hours to begin with and if it takes off, make it a bigger part of your charitable program.
11. Enter Festivals and Other Events
The fall season is often packed with festivals, concerts, community events, park outings, and more.
Like the sports leagues and charities mentioned above, get involved with fall festivals, renaissance fairs, concerts, music festivals, and more. Again, it will build your brand's presence and trustworthiness.
For more holiday and seasonal marketing tips, check out our other marketing guides below:
Get Started with KORONA POS today!
Tell us a little bit about your business and explore all features that KORONA POS has to offer. And there's no commitment or credit card required.