Last Updated: May 5, 2022
Sales through eCommerce have exploded, and all projections point to even greater growth in the future. With it accounting for 56% of all sales in the US in 2021, thinking about your eCommerce retail marketing strategy is essential for keeping the customers flowing and the sales growing. No matter how incredible your product is, if your marketing is lacking, you'll struggle to keep up.
Luckily for you, we have packed everything you need to know about eCommerce marketing into 5 essential tips. Read on to wise up on your eCommerce marketing!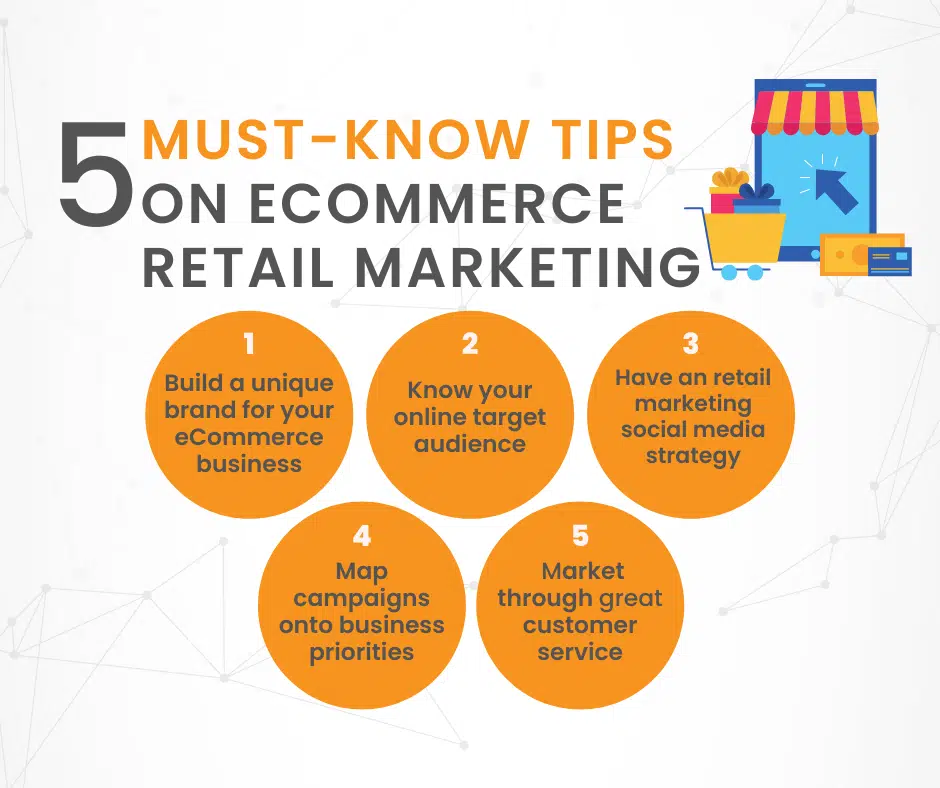 1) Build a Unique Brand for Your eCommerce Business
As of 2021, there are about 4.2 million eCommerce companies in North America alone. Establishing a brand for your company is non-negotiable if you're serious about generating a large customer base and tapping into the online shopping world.
This can sound like a scary business, with a lot of people's minds jumping to giant corporations like Coca-Cola or Apple. The truth is, making a recognizable brand for your eCommerce shop doesn't have to be too complicated. It's all about finding out what it is you want to say to the world — and why.
Branding goes beyond your company name, logo, and tagline. Think about the emotions and feelings you want to evoke in people. These core emotions should run through your entire customer journey and sales funnel.
Branding extends through to the style of your website, the content you create, and even the tone of voice used in your social media postings. For anyone looking for a minimalist eCommerce vibe, WooCommerce has online stores that fit the bill and a support network to help you build the right brand for your store.

Magento

's content management system (CMS) is also trusted by thousands of businesses, making it a solid foundation for your brand's messaging.

Make sure your brand has a clearly defined message and target audience so that it doesn't get lost out there. Focus on key differentiators and unique selling points, not bland platitudes.
2) Know Your eCommerce Target Audience
Knowing your target audience has always been a key pillar of marketing, and audience research has only become a more refined process as selling has moved online. The internet provides mechanisms for both measuring and reaching your audience in new ways, from targeted social media ads to Google Tag Manager. There are a plethora of digital tools at your disposal. Make sure you're using them to benefit your eCommerce business by only targeting potential customers based on their demographics, interests, etc.
Remember to check out what

your competitors

are doing, particularly the successful ones! Seeing the techniques they use to reach their target audience will likely get the cogs turning in your marketing brain.

Testing is a key part of refining your customer audience; run a variety of marketing campaigns, measure conversion rates in line with your drip campaign milestones, and track customer engagements throughout the campaign lifecycle.
3) Have an eCommerce Retail Marketing Social Media Strategy
I know what you're thinking, "Do I really need a general marketing eCommerce strategy and a social media specific one?" The short answer is yes. Social commerce is an important source of revenue for eCommerce businesses. Marketing your business on social media helps with both of our previous points – it helps solidify your brand and enables you to tap into your desired target audience. Tempting as it may be to flood your social accounts with product plugs, nothing is more off-putting than a never-ending stream of posts giving them the hard sell.
The best way to reach your customers – and actually make them amenable to further purchases – is to include a mix of product promotion (especially offers and reductions your customers might be interested in) dispersed with related content that will be of interest to your target audience, even if it doesn't specifically promote the product you're selling.
Here are a few ideas to get you started:
Instagram Stories are a great way to get customers involved in your brand and learn more about how your products are made and distributed.
Influencers and advertorial posts (again on Instagram) can be a fun way to seed your brand with a new audience. Work with influencers who share your brand values.
Facebook Ads have unparalleled audience targeting and are a must-have for eCommerce brands who need to make quick sales.
Curate, as well as create, content. It will help you keep your content marketing budgets down.
4) Map Campaigns onto Business Priorities
Running online marketing campaigns provide you with a resource to strategically reach your business's goals and objectives. This is where you should start when planning a campaign.
Order and strategy are at the heart of every good digital marketing campaign — you should know what you're doing and why you're doing it.
For example, if you're an apparel company and one particular brand of a t-shirt is underselling you may want to build a marketing campaign which prioritizes this product. Try to understand why the brand isn't selling as well as you'd like, and address that when planning your campaign – maybe your target audience isn't quite right, or perhaps the product names aren't hitting the right keywords?
The specifics are up to you and your eCommerce business; just make sure you use your campaigns to strategically boost online sales.
5) Retail Marketing Through Customer Service
Customer service and marketing are becoming intertwined as selling enters the digital realm – 93% of consumers admit their purchasing habits are impacted by reviews of a company or product. With customer reviews holding such sway over future prospect purchases, it pays to keep your customers happy.
The most obvious way to do this is to ensure your eCommerce business offers a stellar customer experience. And this starts even before a purchase is made. These days, user experience (UX) is considered as much of a part of customer service, as is the customer care post-purchase.
One-on-one customer support should be top-notch. Make sure you respond as speedily as possible to any customer queries or issues, and always maintain a polite and helpful manner. If your products regularly receive similar questions or queries, it could be worth setting up an automated chatbot or FAQ page on your website to promptly answer simple questions round the clock.
Unfortunately, you are bound to encounter a disgruntled customer from time-to-time. Dealing with this is always a far better option than ignoring it. Even in scenarios where you can't solve a customer's problem, you can always try to neutralize it. Replying to negative reviews (when left in a relevant space) also shows that you are an attentive company that cares about its customers' needs.
A stellar retail marketing strategy cannot exist in a silo. Your marketing campaigns and goals need to be aligned with your brand messaging and sales goals. Different aspects of your business, like your POS system, should be fully integrated with whatever marketing strategy and tools you choose. A more holistic approach will now lead to greater success down the road.
Get Started with KORONA POS today!
Tell us a little bit about your business and explore all features that KORONA POS has to offer. And there's no commitment or credit card required.
Frequently Asked Questions About eCommerce Retail Marketing
What is eCommerce retail?
eCommerce retail is the process through online purchases of products or services. An eCommerce store can only be online or they can have a physical location as well. Consumers can make purchases easily through mobile, tablet, or computer devices.
What are the types of e-commerce?
The three main types of ecommerce categories are b2b (business to business), b2c (business to consumer), and c2c (consumer 2 consumer).
Is there a difference between eCommerce and digital marketing?
Yes! eCommerce is the platform where services and products are sold through the internet. Digital marketing is similar to normal marketing, but rather how to get consumers to buy your products through online channels.