Today's marketing landscape demands the use of effective and real-time digital advertising tools. Many rewarding marketing technologies have been developed with some proving to be extremely beneficial to small businesses.
Like their larger counterparts, small businesses seek to maximize effective marketing solutions that present rewarding opportunities. Digital signage is one of the most efficient and powerful advertising tools that, if used well, can help draw the right audience to your brand. Thus, positioning creative digital signs in strategic locations that guarantee maximum visibility will drive more traffic into your small business that can later translate to increased revenue.
Like any new marketing endeavor, it's important to research digital signage design ideas and how much of an investment is worth making at your store. It's important to improve your brand recognition and customer reach but must be done so affordably. Here are some tips on how small businesses can take the full potential of digital signage marketing.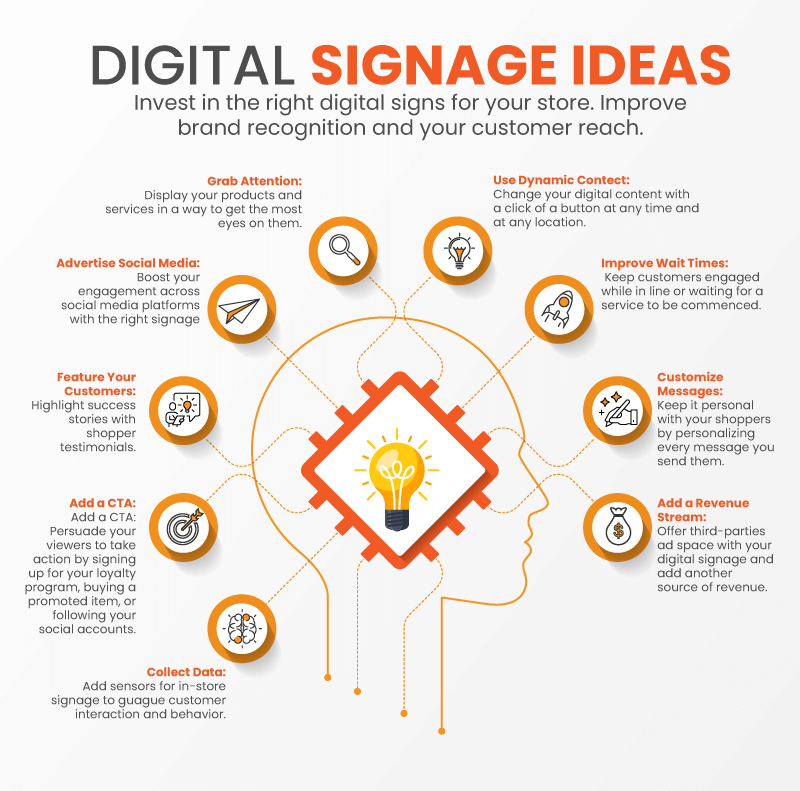 1. Using Digital Signage to Grab Audience Attention
First, you need to draw the attention of your target audience before you can convey your intended message. Here is where digital signage comes in handy. Incorporating this advertising tool into your marketing campaign can improve your brand publicity. Digital signage will have more impact if positioned in areas with high traffic. The idea is to appeal to a large audience with some flexible digital display applications.
Maximize your digital signage by sharing highly visual displays of your products or services that will catch people's attention. For small businesses that have limited resources, make sure to include digital signage in your marketing strategy. Aside from installing signage in high-traffic areas, you can also place digital signage inside your store to promote your products or services or share marketing promotions.
2. Make The Most of Digital Signage to Boost Social Media Engagement
Social media continues to transform the marketing landscape. Businesses today, big or small, include social media as part of their marketing strategy thus making it a crucial tool in modern marketing.
Sharing social media reviews on digital signage is a great way for small businesses to connect with their customers and show their appreciation for them.
Leverage your digital signage advertising displays by using them to promote your social media calls to action, such as "like," "follow," and "subscribe." This is a cost-effective and convenient solution that can help boost customer engagement on social media.
Make sure that people notice your social media accounts by placing them in a prominent area in your display and not just place them at the bottom. You can even include QR codes on your digital screen displays that will take them directly to your social media channels.
3. Feature Customer Interactions
Use your digital signage to highlight what your customers are saying about your business by featuring what people are saying about your products and services on social media.
Use your digital signage to not only display content about your products but to feature happy and satisfied customers as well. Sometimes, a customer testimonial can have more impact than your advertisements.
Use your digital signage to show customers' interactions with your brand. When people see positive customer testimonials, they see how your customers have a great experience with you which can make your business more relatable and appealing.
Try showcasing inspirational stories from customers or maybe reviews from them. You can find various content from your competitors' social media accounts for inspiration. Use eye-catching content especially for Facebook, Pinterest, and Instagram.
4. Use Digital Signage to Persuade Your Audience to Take Action
One of the secrets to a successful marketing campaign is to have a clear call to action. Customers should see the content displayed on your digital signage and know what action you are asking them to do. Do you want them to buy a new product, or do you want them to take advantage of a store promotion? How about signing up for your rewards program? Make sure that you clearly communicate your message.
Keep in mind that you should share content that engages your customers and not just push sales to them. You want to build a meaningful relationship with your customers while boosting awareness for your brand as well.
5. Use Digital Signage for Data Collection
This advertising tool fits your store and products with sensors to help capture people's reactions to your ads and their movement around your shop. The information gathered can help pitch products or services that meet your customers' needs and expectations. It can also save money since you get to invest in marketing strategies that prove effective for your brand.
Use digital signs to collect and analyze data for your existing and potential customers. That way, you can make decisions that will enhance the success of your future marketing campaigns.
6. Content Can Be Changed Quickly
If you are using digital signage in multiple locations, it is essential that you have consistent and up-to-date content. If you want to announce a new product or promotion using your digital signage, you should share it simultaneously to create a bigger impact on your target audience and create some buzz. 
The great thing about a digital signage system is that you can easily replace its content at a moment's notice. You can immediately communicate new sales or offers at the same time across different locations. Should you need to take something down urgently, you can also do it just as quickly. This is one major advantage that digital signage has over traditional billboards and other print marketing which take time to install and dismantle.
With your digital signage, you can establish a consistent brand experience for your customers wherever they are.
7. Make Wait Times More Bearable
One benefit of having digital signage inside your store is that it can help entertain customers if they need to wait. This enhances the customer experience by keeping customers engaged while in line or waiting for service.
It is easy to delight customers using digital signage. Explore having games on touch screens and give out rewards to customers who try it out. If you keep your customers entertained, they will barely even remember that they were waiting in line in the first place!
8. Customize Messages for Customers
With advancements in digital signage and artificial intelligence technology, brands can tailor messages to their audience more effectively. These days, more advanced digital signage also comes with proximity sensors and face-recognition technology.
This will allow businesses to understand what people are looking at when looking at a digital screen. They can also find out their gender, age, and even their mood. Businesses will be able to customize content based on these data, which can be accessed through a cloud-based network.
You can have the opportunity to customize your digital signage's content to specific customers and really stand out.
9. Generate Additional Revenue Stream
Your digital signage can also generate additional revenue streams by offering ad space to other companies. A little cross-promotion can go a long way, and it can be beneficial to both you and your partners.
If you have a big client base, other businesses can leverage your digital signage to reach your customers. Some would even pay to get exposure in your digital displays, which will then become additional income for you.
Depending on what kind of business you have, your digital signage can be used to display ads from other brands in between your brand's content. Keep in mind that your sponsors' content should complement what you are offering. You can also control the number of times your sponsors' content will appear. At the end of the day, your content should still be the top priority, but it won't hurt to have additional revenue.
Summary
The essence of marketing is to draw more customers to your brand, with the intent to increase sales and earn more revenue. Competition in the business world is heating up. You need to utilize advanced marketing tools that accelerate your success, promote your brand, and help you stand out from your competitors. Digital signage is one of the innovative technologies that will help build a successful brand.