Last Updated: December 1, 2020
Most businesses maintain a regular presence on at least a few social media channels. Between Instagram, Facebook, Snapchat, Yelp, Pinterest, FourSquare, Twitter, or Tumblr (to name just a few platforms), business owners have their hands full with social media management. And some of the effort is worthwhile; most businesses benefit from having a solid presence on relevant platforms, and the new marketing outlet has allowed smaller retailers to compete more directly with the big box chains.
But with some major legal and ethical issues clouding the future of these companies and the rising cost of advertising, it's important that businesses use diverse marketing avenues. So what are some affordable substitutes to social media and how can they benefit your business? Check out the rest of the blog to find out!
It's Risky to Rely Too Heavily on Social Media Marketing
All drama aside, it's risky to rely too heavily on one direction for any business strategy. Just as one would diversify their financial portfolio, so should businesses make sure they're reaching an audience from different directions.
Today, business owners have more marketing options than ever before, so it's especially foolish to rely on just one or two. Plus, taking advantage of multiple channels will increase brand awareness and name recognition. Each outlet will support the rest.
And of course, on top of it all, are the social media outlets themselves. A few of the major players in the game have made much of it prohibitively expensive for many small businesses. Plus, the secrecy and potential illegality with which they operate has raised more than a few eyebrows and left many searching for alternative solutions.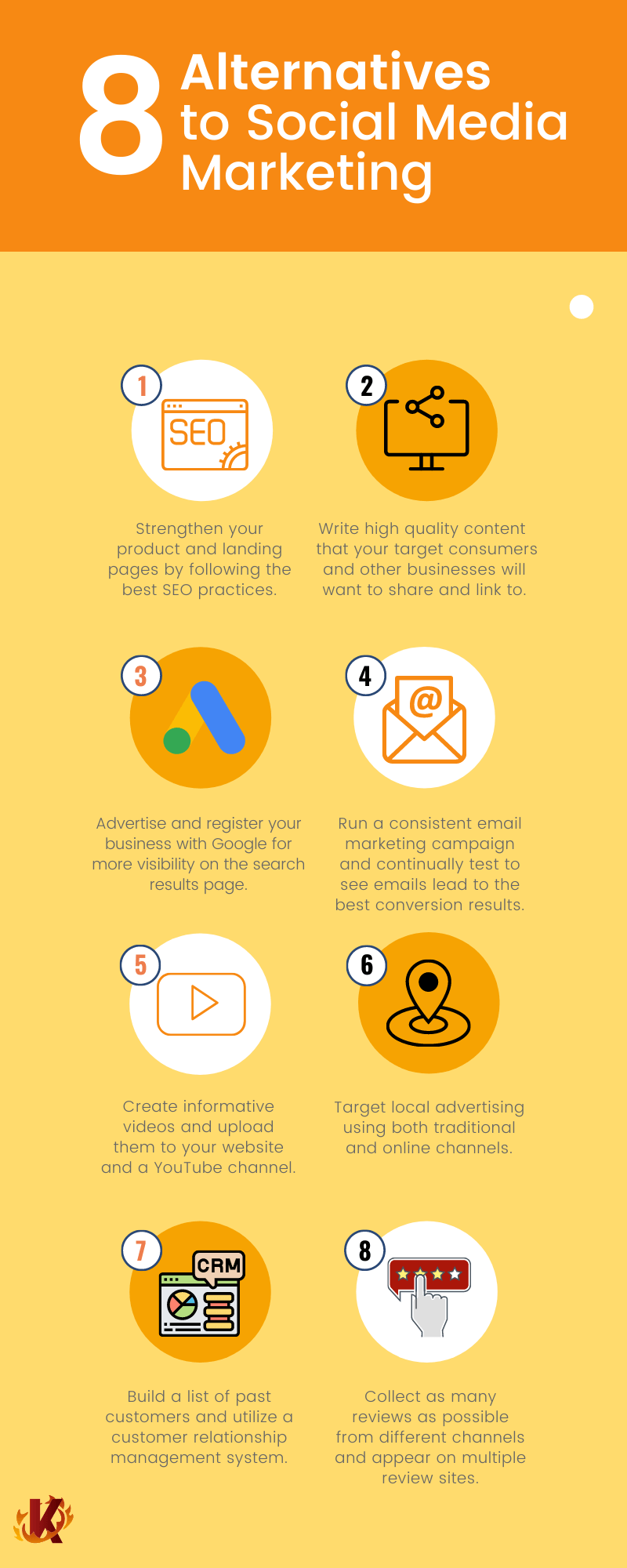 1. Strengthen Your Product and Landing Pages
Keeping your website updated and fully functional is vital for maintaining your visibility online. Start by following several SEO best practices:
Identify and map out a general SEO strategy with keyword research and overall site map structure.

Create an organized set of landing pages and make sure navigation between them is intuitive

Update product pages and images. Be particularly aware of checkout and cart navigation.

Use original images on each page and add relevant alt-text for each.

Optimize all titles and subtitles with your keywords.

Make sure all pages are optimized for mobile users – more and more eCommerce is being conducted through phones and tablets.

Add live chat or chat bots for quick customer inquiries.

If you're business is popular in non-English speaking countries consider translating your site to your users' languages.
2. Take Advantage of Your Blog
Your blog is the place for content. And you have some more freedom with the type of content on these pages that you do for your landing and product pages. Still, be sure to stay relevant to your product and the interests of your shoppers. Traffic to your blog is great, but it will only convert to sales if you're targeting the right shoppers.
Take our blog, for instance! We don't only write about POS systems. While that certainly comprises a chunk of our blog content, we also strive to provide more general helpful information for business owners. It's always important to add value to the customer experience.
Once well-established a great blog can more than compensate for your social media marketing. Great content marketing means that the information will be shared and linked by similar businesses and consumers, quickly growing your brand recognition.
3. Advertise with Google and Register Your Business with Google
While Google's social media platform, Google+, has quietly been retired, there are other valuable ways for businesses to engage with the company.
Google Ads is a great place to start. For a fee, you can have your business featured above the top results or below the final result on any given page. The pricing is on a sliding scale; typically, websites with better content and traffic will get cheaper ads. Google is always striving to give its users the best results on the internet, and this includes their ad platform.
All businesses should also register with Google My Business. By doing so, more basic business information will be visible on a search result page when someone searches for your business. Include your location, hours, photos, phone number, eCommerce site, and reviews. It makes the search more simple for your potential customers and will increase your online and in-store traffic.
4. Run a Consistent Email Marketing Campaign
We've talked plenty about the value of a great email marketing campaign. It is easy, automated, and reaches a vast audience instantaneously. Even better, email marketing services are very affordable, giving it a better average return on investment than any other marketing channel.
Email marketing is also a great way to start A/B testing marketing results. Ideally, you already monitor every marketing campaign to determine what works best. But if you haven't, it's easy on any modern email marketing platform. Simply change up your title, headers, images, and copy in various ways with each email and see which tactics lead to the most conversions. It's actually rather fun and interesting.
5. Make a Lot of Informative Videos
Google has started to value quality video content more highly. Users demand and respond to it more than most other sources of media.
Don't worry about making professional-quality videos. They can be incredibly basic technically if you're offering helpful content in the video itself. Many businesses are now hosting conversational videos or even producing podcasts.
Of course, many business videos are hosted on social media platforms, but you should also include them in a branded YouTube channel and upload them to your website. Follow our 9-step guide if you need help starting a business YouTube channel.
6. Target Local Advertising
Thinking locally makes your marketing more targeted and affordable. Advertising on social media reaches a vast number of people but ends with low conversion percentages. Taking a more narrow approach should bring in new customers at higher rates and with less cost.
You can target locally through online and offline advertising:
Online Local Advertising
To succeed in online local advertising, your business should be optimized for local SEO. This includes having a Google My Business account created with up-to-date information, optimizing for voice search and mobile use, and focusing on local keywords.
Make sure to have those set in place first. Once you do, try running local Google Ads campaigns and using local extensions. This sets you up for location-based searches and makes it easy for prospective customers to know where you are located. You might also consider call-only ads for customers to easily contact you on the go while they search for a business nearby.
In addition, have a strategy for Google Maps Marketing. We have a guide on increasing your brand presence on Google Maps so you have more chances of appearing on location-based searches.
If you have already tried these, another idea is reaching out to local news sites and blogs to be featured in their articles. This takes a little more effort but can bring you a great amount of traffic locally.
See also: What Is Location-Based Marketing? A Guide for Retail SMBs
Offline Local Advertising
Print ads aren't dead yet either. Without encouraging great amounts of waste(link to how to reduce retail waste blog), handing out postcards and business cards and putting up flyers in coffee shops and bakeries are manageable ways of spreading your name. It will also add to your community credibility.
If you have more on your budget, plan to host a community event. And then use that opportunity to network and show how you can be of service. Make it known the value your business provides while bringing friends and families together.
Besides hosting events, you can also try partnering with another local business to rent a space for a pop-up shop. This is a great way to collaborate with other business owners, and at the same time get to know your customers in person and allow them to get a more tangible feel of your business.
Even businesses that ship products all over the world will benefit from staying locally focused through more traditional marketing channels than social media.
7. Build a List of Past Customers
Start building your customer relationship management (CRM) immediately. Again, this will lead to higher conversion rates than social media marketing. CRM is meant to handle all interactions with past and potential customers. It helps retailers stay connected to their shoppers. It's easy to lapse from being a regular customer, so a friendly reminder can go a long way.
CRM is easy to begin. Once you have a system/platform in place, simply ask each shopper if they'd like to provide a phone number and email address. Many retailers incentivize sharing the information by creating a loyalty program or offering a one-time discount.
In the end, you want your CRM to benefit both you and your customers. You need to add value to their experience in order for the marketing to be worthwhile.
8. Get As Many Reviews as Possible
While still considered social media sites, we'll treat online review platforms differently for the sake of this blog.
Keep up with your review site profiles. Verify your business with Yelp, FourSquare, Trip Advisor, etc. This allows you to add additional information to your profile and to interact with reviewers.
Add nice photos of your space, and keep hours and menus (if applicable) current. Additionally, use these platforms to communicate with your customers. Thank those who leave a positive review and apologize and address a solution with those that didn't have a great experience. It's always important to make the most of bad situations.
Check out Google reviews, too. Especially since it will be the first review that people see when they search for your store.
Like your CRM, it might be worth incentivizing reviews as well. Offer a free item or gift card for those who take the time to leave 5 stars. Just go whatever route will increase your reviews.

Get Started with KORONA POS today!
Tell us a little bit about your business and explore all features that KORONA POS has to offer. And there's no commitment or credit card required.