Last Updated: June 30, 2021
While we've discussed the merits of content marketing in general in the past, we wanted to put together a more specific guide: content marketing strategy for eCommerce.
Building out content on your website will surely improve your brand awareness and extend your business's reach, but how about eCommerce content marketing that will actually improve your conversion rates and boost your online sales.
What Is a Content Marketing Strategy for eCommerce Shops?
An eCommerce content marketing strategy is meant to build traffic to your store and more conversions from your shoppers by stimulating interest and providing value in the form of writing, images, videos, and other types of media.
There are various areas of managing your online content marketing, including product pages, social media sites, landing pages, blogs, review sites, and more. Though this makes it more difficult than traditional marketing avenues, eCommerce content marketing is cheaper and has a greater effect on your bottom line.
It also is a great platform for you to deepen your relationship with your existing and potential customers. Offering valuable advice that is relevant to your target audience can engender more favorable feelings among those reading your content. Follow these tips to formulate an effective strategy for your store.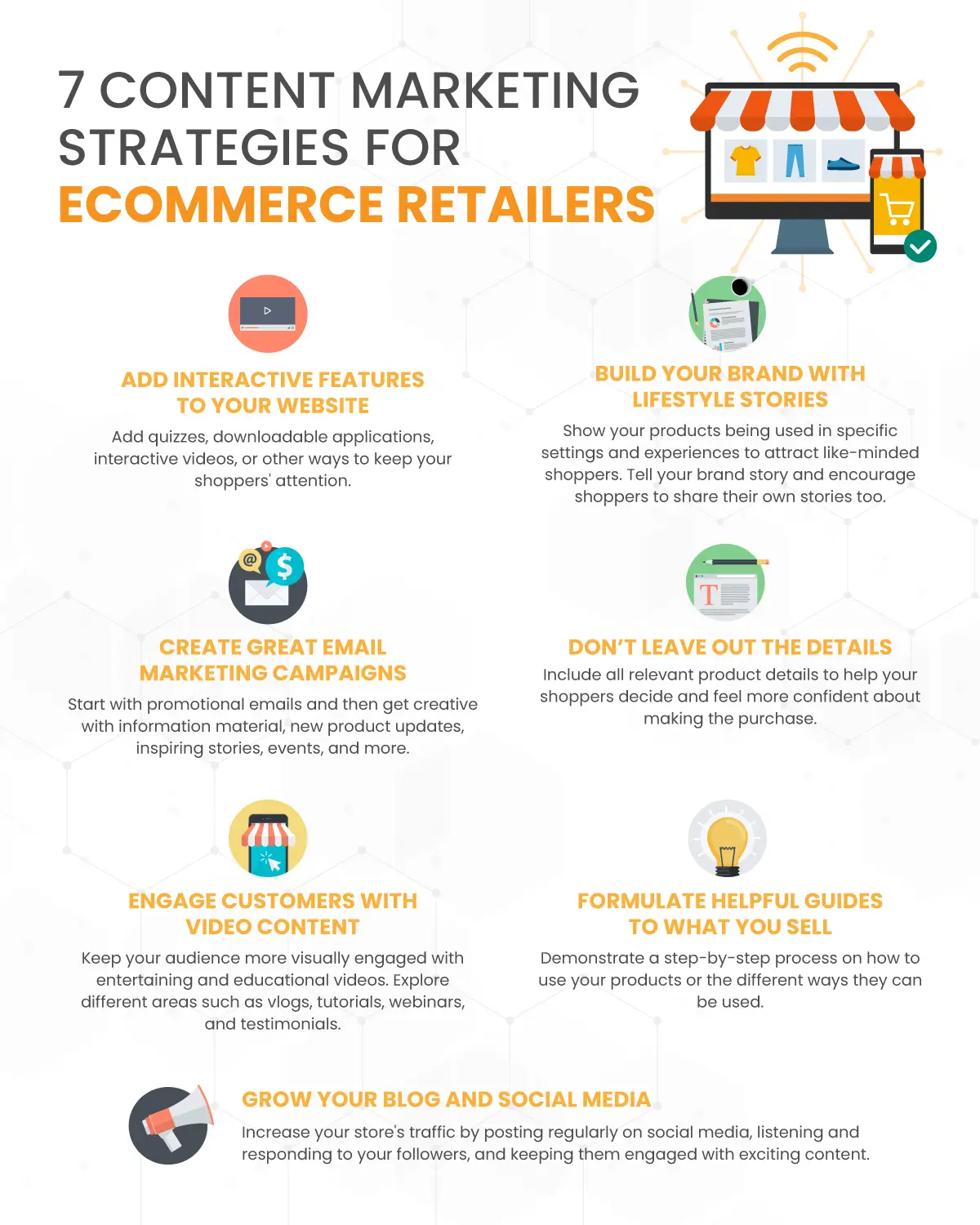 1. Add Interactive Features to Your Website
It's not too difficult to set up a basic website these days. Creating landing pages, product pages, and a blog are the staples of any well-operating site. But adding interactive content is a great way to boost your retail store's eCommerce content marketing strategy even more.
It's important because shopping is by nature an interactive process. In brick-and-mortar stores, shoppers are able to use all senses to experience the product. They can pick it up, get an idea of its size, and often even try it out. But online stores can't so easily offer this amenity. So instead, it's important to keep your shoppers' attention with a special feature.
For many eCommerce retailers, this means a virtual fitting room. Being able to see yourself with a shirt or pair of glasses on can make a customer feel more confident about buying a certain product. Guaranteed returns or refunds just don't cut it anymore. For a simpler solution, many stores add quizzes, downloadable applications, interactive videos, or other easy ways to keep shoppers on your site for longer periods of time.
To determine what is best to add to your eCommerce site, start by identifying issues that shoppers are having at your store. Ask them what could improve the shopping experience and create a page or several pages dedicated to this. Once you do, don't be afraid to advertise this in your header bar or call to action buttons so that customers know it's there.
2. Build Your Brand with Lifestyle Stories
Let's face it, whatever you sell, you face a lot of competition. So just building a website with an eCommerce store isn't enough anymore. Instead, you need to find interesting ways to appeal to potential customers.
If you know your target audience well, building your brand around a lifestyle is a great way to attract like-minded shoppers.
Outdoor brands are a great example of this. REI and Patagonia, for instance, have excelled at appealing to environmentally conscious individuals who love spending time exploring the outdoors. They don't simply market their products; they market their entire brand and lifestyle, focusing on the sustainability of their products and the work/life balance of their company culture. Together, they make a compelling case for consumers to shop with them.
Start by telling your own story of why you started the company and your goals in doing so. Be personal and add an "About Me" or "About Us" page to your website. This will make you and your business more relatable and memorable.
You can also encourage your shoppers to share their own stories, too. This makes them feel valued while also inviting them into the community of people that admire your brand. This type of approach will greatly improve your brand loyalty.
See related: Brand Awareness Strategies for Retailers and Small Businesses
3. Create Great Email Marketing Campaigns
While an email marketing campaign doesn't entirely fall under the umbrella of content marketing, we'll include it here because it's so easy and important.
Email marketing is proven to be the most cost effective form of marketing available to retailers. Getting started is cheap and it's a great way to reach a large, highly targeted audience.
Start by building a list of both past shoppers and anyone who has shown interest in buying something from your online store. Add a prompt that pops up when they are leaving your site to sign up for your promotional email list or blog. You can also gather emails at your brick and mortar store and enter them into a customer database on your point of sale.
But be careful not to get too pushy for private information. A lot of shoppers are wary of being spammed and don't always feel comfortable sharing their email addresses. Also, never require a sign-up form at checkout. This is a great way to boost your abandoned cart rates.
Once you have your email list ready, start coming up with email ideas. Promotional emails are the best way to get started. Just don't get too liberal with the deals – it's important to make sure that a promotion won't leave you with big losses to your bottom line.
You can also use your email marketing to send out informational material, new product updates, store hours notifications, events, and much more. With convenient email marketing services it's simple to segment your audiences and keep each email adequately targeted.
4. Don't Leave Out the Details
For the foreseeable future, shoppers will feel more comfortable shopping at brick and mortar stores. Again, this is because they are able to interact more with the product and walk away knowing exactly what they will be buying.
eCommerce stores struggle to provide the same. But in addition to adding interactive features that we mentioned above, including ALL relevant details about the product is equally important. And this really means ALL. A great product description will include the item's size, weight, dimensions (with reference sizes if necessary), materials, ingredients, hazards, health benefits, and any official certificates. Together, these should give the shopper a great idea of what the item is like.
Including a thorough description as part of your eCommerce content marketing strategy will also significantly reduce product returns since shoppers will have a better idea of exactly what they're getting prior to purchase.
5. Engage Customers with Video Content
No matter what your opinion on the matter is, fewer and fewer people are paying attention to the written word. Instead, they are getting the majority of their content through images and videos. And they're consuming a whole lot of it.
Create video content for your entire site. This could include a wide array of areas:
Vlogs
Landing page videos
Tutorials
Customer success stories
Branding
Webinars
Short ads
Videos are a great way to grab viewers attention as well as keep them on your site. Shoppers are far more likely to stay on a website if there is more to explore. Videos are a great way to keep them visually engaged.
See related: How to Start a Business YouTube Channel in 9 Steps
6. Formulate Helpful Guides to What You Sell
Whether you sell a product or a service, it's important to provide your customers with guides to what you sell. These could come in various forms, but should provide additional value for shoppers.
Start by creating video tutorials or step-by-step guides for your product. These help explain exactly what you sell and give your shoppers more confidence in making a purchase.
You can also include guides on topics related to your product or service. For instance, we know that each of our customers need payment processing solutions. So we've written extensively on how credit card processing works and how to save money by knowing the ways you can lower processing fees. Find ways to do this for your business.
7. Grow Your Blog and Social Media
Building a blog that's tied to your eCommerce store is another part of content marketing that can bring in added customers. It's one of the most important aspects of your search engine optimization (SEO) efforts and is a great way to bring in more traffic.
Likewise, your social media efforts will improve your store's traffic. Post regularly on all relevant platforms, look at advertising opportunities, and work to expand your follower list. For many brands, finding influencers to market their product is a great way to boost brand awareness and build your business.
See related: How to Use Social Media in Retail: 5 Social Media Networks to Consider
For more advice, subscribe to our blog. And to learn how your brick & mortar and eCommerce stores can be kept under one system, check out KORONA POS. We integrate with several of the most popular online sales platforms and can help your business manage each vertical. To learn more, click and set up a free trial!
Get Started with KORONA POS today!
Tell us a little bit about your business and explore all features that KORONA POS has to offer. And there's no commitment or credit card required.