Last Updated: November 1, 2022
So you've put in all the hard work of starting your small business. Hate to break it to you, but that's just the first hurdle. You still have to get known around town and on the Internet. The good part is, most consumers prefer to shop at small businesses. Big box retailers, massive coffee shop chains, and other "brand" names aren't necessarily stealing shoppers from you. The shoppers just don't know you're there. Of course, this is where marketing comes in. The second good part? Retail marketing in this day in age doesn't have to be a huge part of your budget. There are plenty of inexpensive ways to get your small business name out there. So let's take a look at some of the best cheap marketing ideas for SMBs.
1. Create a Small Business Website
It's nearly 2019 and it's imperative for every business to have a website, no matter what you sell or how big you are. Websites are easier than ever to design. If you're not technically minded, using WordPress or SquareSpace gives you sleek templates that are easy to fill with content. Plus, the templates and domain names are cheap.
Building a modern website can bring attention to your small business by itself, but it can also support other avenues of traffic.
Add the website to all business cards to give your store more authenticity.

Develop content on your blog to offer potential and existing customers advice and value.

Register your website and business on Google to increase visibility and accessibility.

Use your website or blog to cross-promote with like-minded retailers that have complementary products.

Link your website with all social media accounts.
This may take some time to develop, but anyone can do it. And take advantage of the process to learn about your website's search engine optimization. And all of it is either cheap or free.
2. Use Your Social Media
An arguably terrifying statistic, the majority of us use social media daily. But as a business owner, this is great news. It's never been easier to get your brand out there and reach a larger audience. Many new small businesses have lines out the door just because of their great Instagram page. Just check out Supermoon Bakehouse in NYC.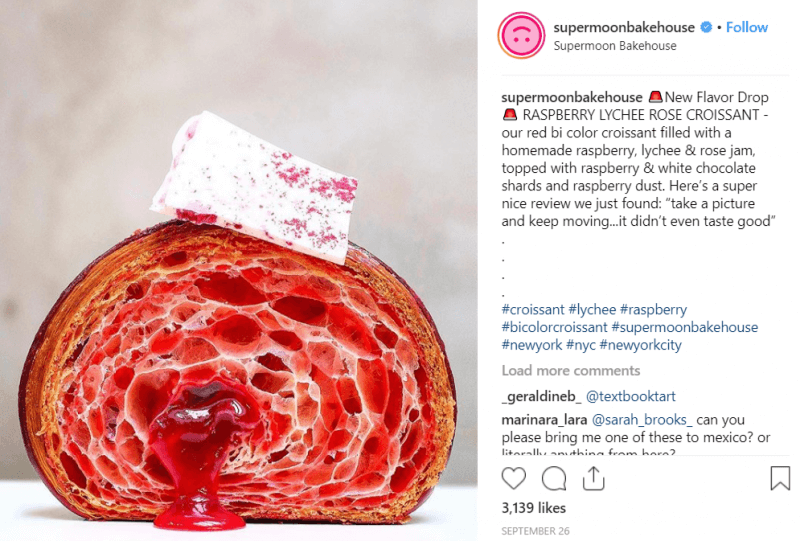 They have the product to back it up, of course, but the success of their Instagram presence is what has made them HUGE.
Basic social media pages are free and easier than ever to manage. There are affordable services that will manage all of your channels and provide analytics on the performance of each post. Focus on providing something valuable to the user experience. Inspire your followers with great photos, impeccable advice, or inspiring ideas.
Follow businesses on social media that inspire you. Curating your own feed will help you always have great ideas on how to market your small business.
And if you ever run out of those ideas, you can always buy ads on any platform. Facebook ads are ridiculously cheap (and they'll only get cheaper as users continue the mass exodus). Others might be a bit pricier but can pay dividends down the road if you gain traction.
Partnering with influencers is another paid form of advertising. Influencer marketing on social media has grown exponentially and is a popular strategy due to its high converting factor and return on investment. After picking your influencers carefully, you can collaborate on posts by offering them free products or a small paycheck. Look for influencers who generate a lot of comments on their posts.
Discussion surrounding your brand or product is much more likely to convert to future sales than simple impressions or likes. According to a poll by Tomoson, for every $1 spent on influencer marketing, businesses are earning $6.50.
3. Make Small Steps to Improve Your Branding
On top of branding your business with your social media platforms, take the proper measures to brand your physical products. Depending on your type of small business, there are many ways of establishing your brand.
Get your name and label on all to-go ware.

Find something that makes your in-store experience unique.

Get pretty business cards that you set by the POS area or door.

Start a referral program with substantial rewards.

Partner with other local businesses, charities, and events.

Host contests for the community.
Building your brand in the physical space can be just as valuable as doing it online. And it can also be cheap. You don't need to rent eight billboards along the interstate for a year. Just find small ways to get your name out there and in people's heads. Here are a few strategies for branding online:
Insert your logo in any of the creative media that you share.
Have a consistent color scheme, font, and style of editing.
Identify your voice and apply it as you share content and engage with people online.
Stick with your company values as you spread messages online.
Consider the experience your audience is having when they engage with, talk, or think about your brand. Does it align with how you identify your business?
Your branding also includes how you and your associates discuss your business and product. Come up with a clear and concise way of explaining to customers exactly what you do and why you do it.
4. Retain Customers with a Great Loyalty Program
The cool thing about loyalty programs is the number of options you have. A memorable loyalty program can be as simple as a punch card or as advanced as a multi-level membership program. It's up to you to decide what is best for your business.
The other great thing about customer loyalty platforms is that they also serve as customer relationship management (CRM) tools. Your loyalty program can collect valuable customer information so that you can better market to your client base in the future. And consolidating it all into one platform keeps your data clean and organized.
Once you have your loyalty program established it can build upon itself, turning new or semi-routine customers into your most loyal shoppers. Your regular clients will account for a disproportionate amount of sales and provide you with another free form of marketing: word of mouth.
It's worth noting that advanced loyalty platforms will cost some money. Companies such as bLoyal can provide remarkably powerful loyalty services for more membership-based, niche retailers such as wineries or museums. If you're looking for this caliber of loyalty program be sure that it integrates with your POS system first.
5. Improve Your Word-of-Mouth Advertising
The average consumer is much more likely to follow advice from a family member or a friend than your run-of-the-mill ad. In fact, over 90% of consumers say they would trust such a recommendation more than any other, beating the next best source (online reviews) by 22%.
There are many ways to grow your word-of-mouth presence.
Start by keeping a clean, well-organized, and generally welcoming shop. Great customer service and overall positivity can go a long way toward making someone's shopping experience remarkable. Think about the instances which have led you to tell a friend about a place. Often they contain an exclamation of "They were so nice in there!" or something similar. People like sharing helpful shopping tips with those around them, so make your store an easy one to mention.
Remember, too, that most people enjoy influencing others. Many of us want to be the first one to "discover" a new spot and share it with friends, family, or social media followers. And with social media in mind again, make your store easy to talk about online. Digital word-of-mouth may not convert the same percentage of customers as its more traditional counterpart, but it will reach many more potential customers.
Finally, encourage word-of-mouth advertising by incentivizing it. Many businesses offer discounts or rebates for referrals. Offering a free product or gift card is well worth it if it means you're gaining a new, loyal customer. Uber makes this simple and straightforward for both new and existing customers: every time a new account is activated through a unique referral code, both the existing and new customers get a free ride.
Your Low-Budget and Cheap Marketing Ideas for SMBs and Retailers
Improving your marketing is a long-term project, especially if you're on a budget. But there are plenty of tools available to any business that can help you grow and thrive. Find creative ways to communicate with as many people as possible and you'll be sure to see results. And remember, all of this is accessible to any retailer or small business owner. Better yet, these marketing ideas are cheap or even free.
Get Started with KORONA POS today!
Tell us a little bit about your business and explore all features that KORONA POS has to offer. And there's no commitment or credit card required.