Last Updated: February 25, 2022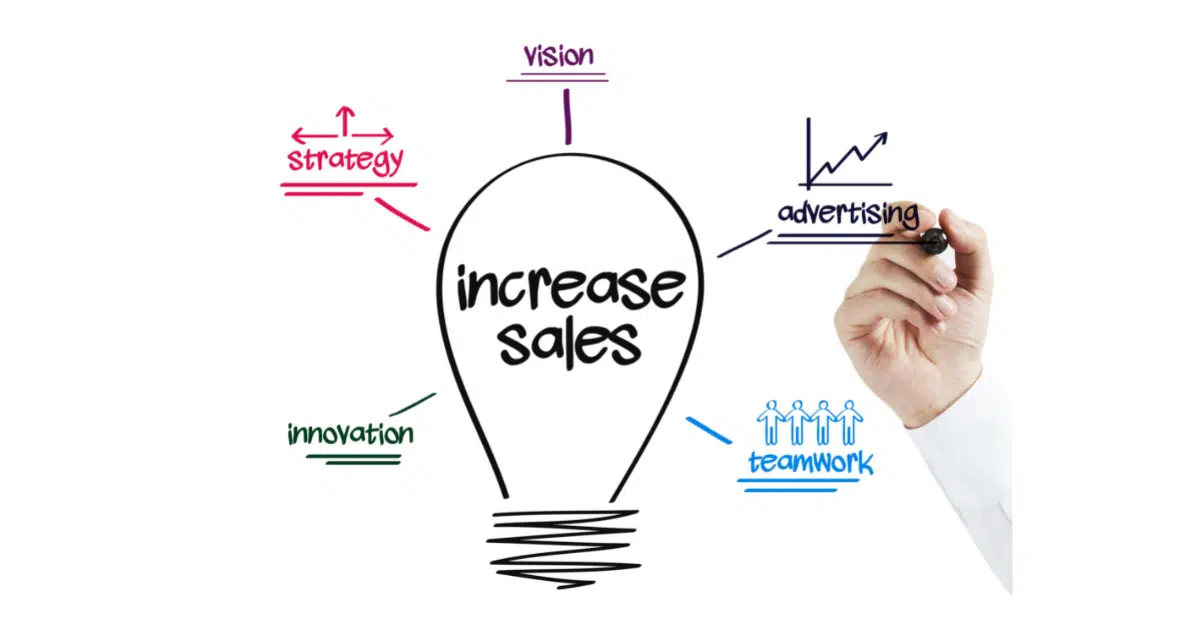 Success in any retail business requires a lot of planning, a little luck, and an ability to adapt. It is important that entrepreneurs establish business procedures that will inform decision-making and improve sales. Furthermore, it is only through systematic approaches that a retail business can scale accurately and deliver what the customers need.
Keeping a constant eye on simplifying and streamlining work while maximizing profit, you'll find yourself well on the way to long-term success. Not to mention, constantly looking to the future is also critical. Plan for later success with a solid framework with special attention to your retail space, retail POS system, and product line. Take a more in-depth look at the 10 steps on how to boost retail sales at your store.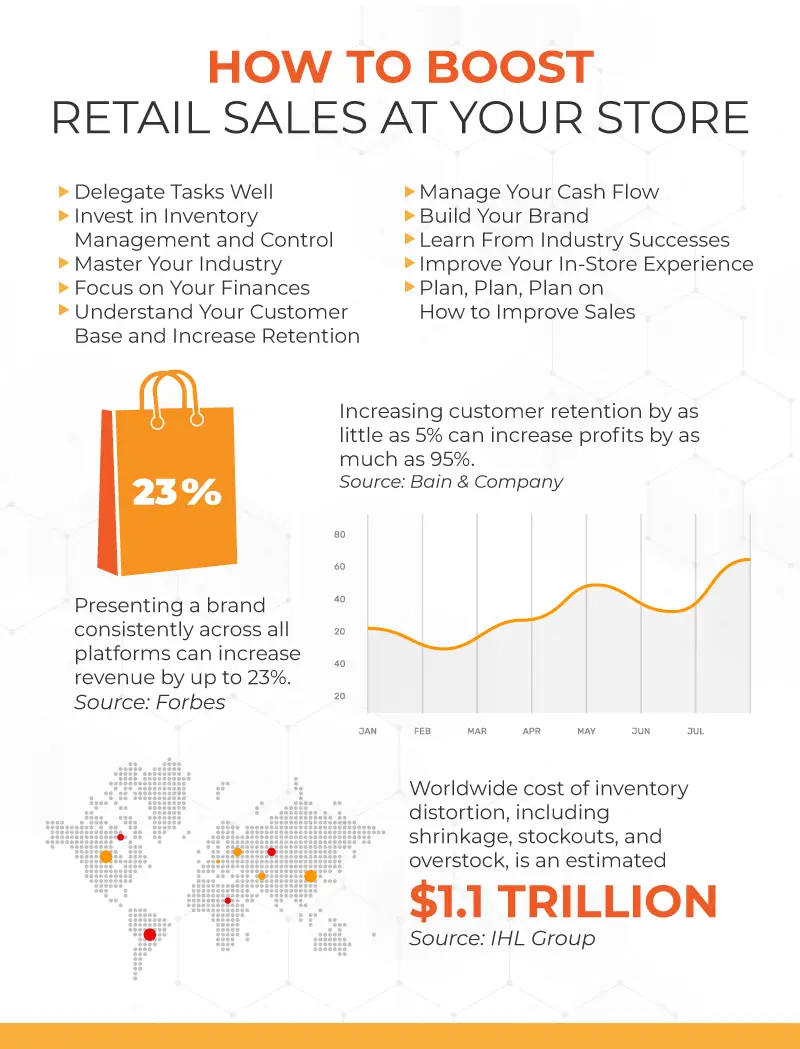 How to Boost Sales in Retail
1. Delegate Tasks Well
When trying to improve your retail business, it is imperative that you identify your own strengths, as well as the staff and personnel you hired. Delegate duties appropriately, and as a result, you'll have a happier staff, easier life, and a more efficient business. Running a retail business, even a small operation, is too much for just one person. Recognizing talent and character is a great asset for any business owner. All things considered, investing in these types of people will pay dividends down the road.
2. Inventory Management and Control for Higher Sales
Controlling inventory in a retail business is very challenging, especially for businesses that are trying to grow quickly. You can, however, set up a structured inventory system using your point of sale system. With a cloud-based backlog of inventory and advanced reporting that reflects discounts, coupons, and price changes, your inventory management system can do a lot more than simply count your products. In the long run, you will be more easily aware of product trends and inventory issues that affect your business.
See Related: ABC Retail Analysis – ABC Analysis Inventory Management Software
3. Master Your Industry
Truly understand the forces that exist within your retail niche. It must be remembered that a greater awareness of customers' desires and your products, will give you an instant edge on the competition. This is especially important for the formulation of strategies, goals, and the operational vision of your business. Vast knowledge of your industry also makes it easier to adapt to a changing market in due time.
4. Focus on Your Finances
Write a solid business plan from the beginning that outlines planned and potential expenses. Stay diligent in sticking to your plan and be frugal whenever possible. Determine the difference between expenditures that your business needs to make and things that can wait. Starting a business is an expensive endeavor and smaller money wasters can be overlooked or ignored. But these costs add up quickly and can have a major impact on your bottom line, especially in the nascent stages of your business. A proper evaluation of your financial records will help determine how much you can scale your business for long-term success.
See Related: The 10 Most Important Retail KPIs
5. Understand Your Customer Base and Increase Retention
In order to stay competitive in whatever retail niche you're entering, you must know who your customers are beforehand. Be sure to define your customer base in your business plan and explain to yourself and to your potential investors why these people would shop with you versus your biggest competitors. Understanding this from the beginning will better allow you to make adjustments to your retail space, product selection, pricing, marketing, etc. Without the groundwork, you'll be left scrambling for answers if sales are not what you had imagined.
Increase your customer retention by keeping in touch with them. Set up a great loyalty program to motivate them to keep coming back. Make them feel appreciated by giving away free gifts or offering a special discount. To maintain close communication, ensure you have an email marketing strategy in place and stay active on all your social media accounts. Research done by Bain & Company shows that even increasing customer retention by as little as 5% can increase profits by as much as 95%.
6. Manage Your Cash Flow
If you start a business with an expensive inventory, managing your cash flow will be one of the most difficult aspects of keeping your business healthy. It's unfortunately far too easy to have pricey products sitting on your shelves for far too long. Unless you have a Costco style layout, your shelf space must be used wisely. Product placement is important, but it's also necessary to monitor what is moving and what isn't. This way, you can balance your budget and keep a healthy level of your capital in your inventory.
7. Build Your Brand and Increase Your Sales
A successful brand identity is another way to set yourself apart from the rest of the pack. Make your retail store recognizable and easily discussed. Your brand should become a form of advertising in and of itself. One great way to do this through your point of sale system is through loyalty programs. Creating a better customer database allows you to manage email marketing campaigns and promotions, but it also adds a personal level to your customer's shopping experience and rewards returning clients.
8. Learn from Industry Successes
Don't be afraid to take inspiration from successful businesses in your retail field. As a matter of fact, look to see how those businesses weathered the storms and took advantage of explosive markets. Don't be afraid to ask, either. Generally speaking, people are often happy to share their stories and help out other entrepreneurs.
9. Improve Your In-Store Experience
Your retail space is valuable and every inch of it should be used to the fullest. With this in mind, make visiting your store a destination by improving the design and experience of your space. As discussed above, make sure it is branded well, but also look at layout strategies such as your point of sale marketing, shelf structure, and distraction techniques (this can be as simple as asking if you can help a customer). Together, they can greatly improve customer retention rates, a far more productive growth than trying to attract new customers.
See Related: 5 Simple Ways to Improve Your Customer's In-Store Experience
10. Plan, Plan, Plan on How to Improve Sales
This really goes without saying, but it also can't be repeated enough. Particularly, have a plan for every scenario or problem you can come up with. When a concern arises, which one most certainly will, it will save you time, money, and a whole lot of stress. Additional planning, like shopping early for a great POS solution, is probably always a good idea. If you're in the market, click below and try KORONA POS!