Last Updated: August 2, 2023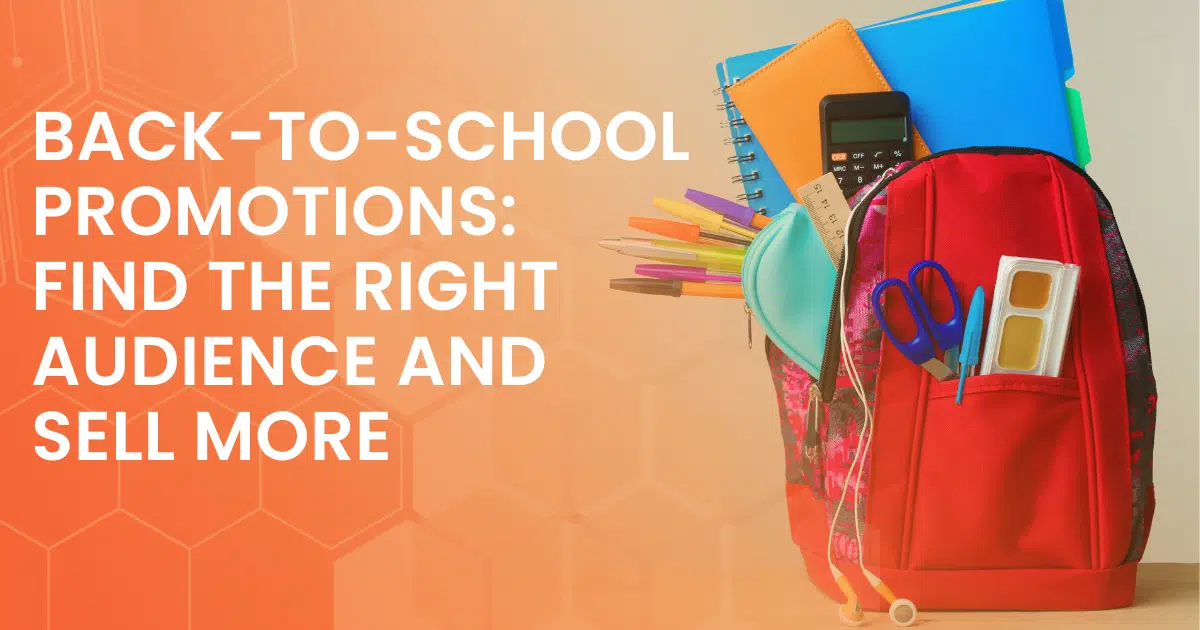 It's that time of year again! Well, almost. In most countries, kids return to school in person (cue the huge sigh of relief). 
Retailers need to be prepared to maximize their sales from back-to-school shoppers. Plus, most consumers took off from back-to-school shopping last fall, which means they'll be ready to stock up and spend this year.
The high demand for back-to-school items means that you'll have competition, though. And selling great products isn't enough to ensure a successful season. You'll need marketing, too. Use these back-to-school promotions as some inspiration for getting started.
Major holidays seem to get all the attention regarding retail spending, but back-to-school spending is rather substantial. And it's just about doubled since 2009.
Back-to-school spending reached over $30 billion in 2020, reaching an average of nearly $800 per household. The students are even getting in on the action – the average teenager spent nearly $50 on new items for school.
And once you factor in back-to-college spending, the total eclipsed $100 billion in 2020. Expect similar numbers for 2022.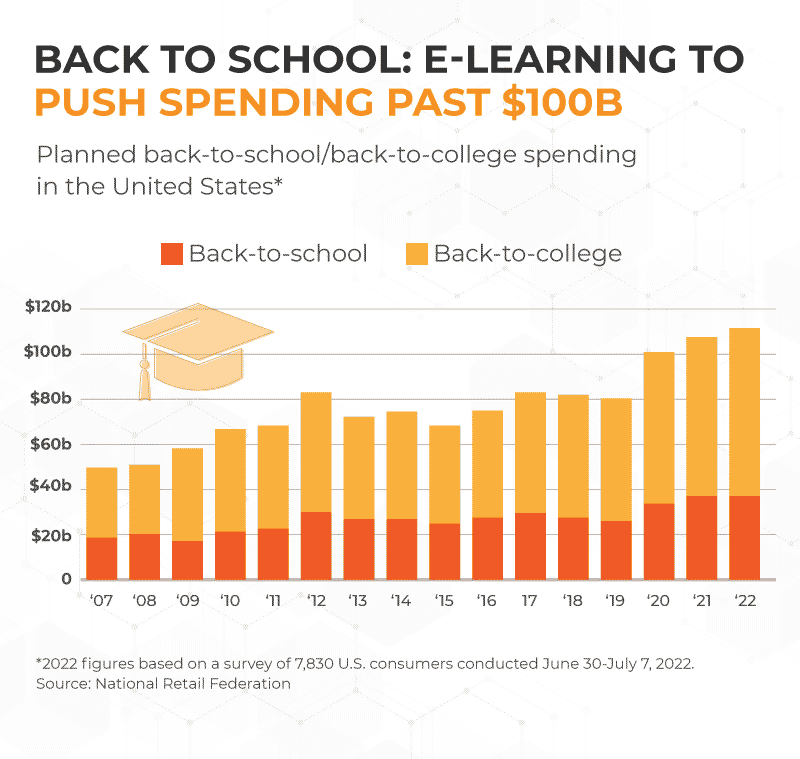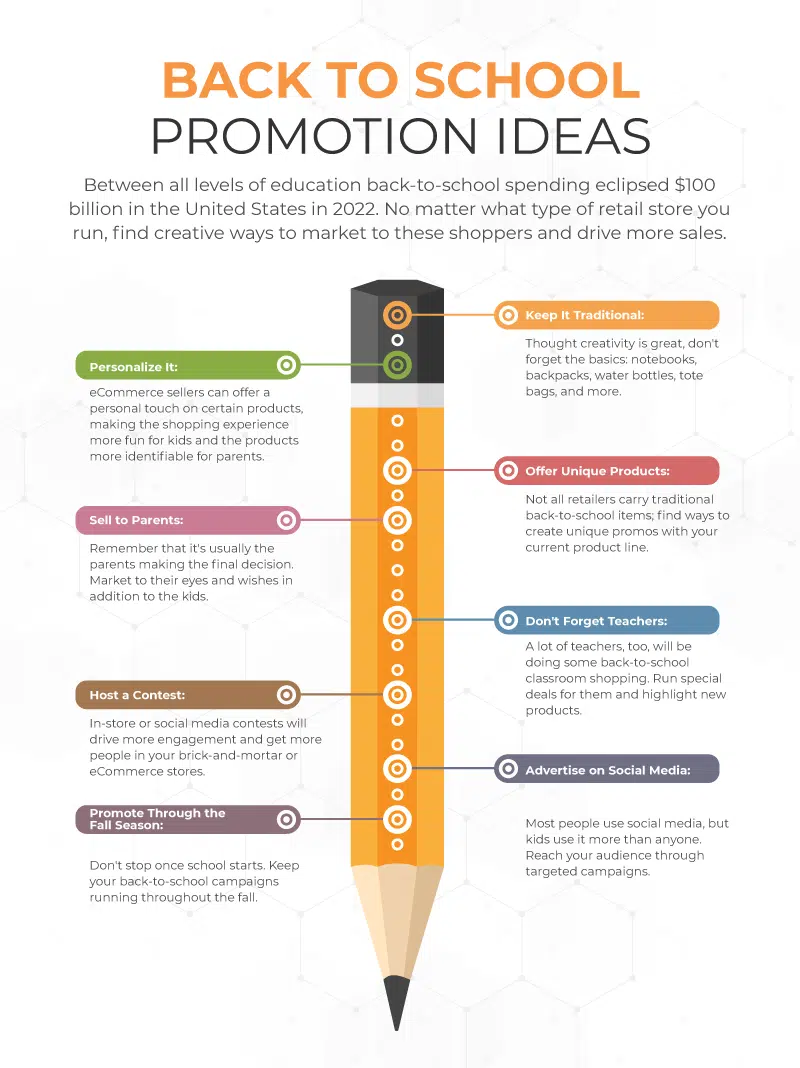 Keep Your Back-to-School Promotions Classic
At its heart, back-to-school promotions should be pretty simple. Don't stray too far from the basics.
Notebooks

Backpacks

Tote bags

Binders

Pens

Pencils

Athletic gear

Water bottles

Lunch containers

Thermoses

Tablets
Even if these aren't items that you normally carry, it's a good idea to try to do so during this season. If you have enough back-to-school-related items you'll be able to designate a certain section of your retail store to the event. This will help your promotion stand out and attract more shoppers.
A common way to promote these items is by pairing them or putting together bundled deals. Doing so helps remind shoppers of items that they're forgetting or even introduces them to new products that they didn't know they would like.
Personalize Your Back-to-School Merchandise
For eCommerce sellers, a great way to promote your back-to-school products is through personalization. Kids like having items with a more personal touch and parents like their kids having items that they can easily identify and not easily lose.
Though turnaround time might be more substantial, eCommerce platforms make it easy to offer personalized products. Adding names to backpacks, notebooks, and clothing will help you catch more eyes.
Just be sure to be fully transparent regarding extra costs and shipping times beforehand. You don't want to have to deal with angry shoppers at any time, let alone during a busy season.
Include Non-Obvious Products in Your Back-to-School Marketing
Not every retailer will be perfectly poised to sell back-to-school products. But that doesn't mean you can't participate in the fun. Come up with fun ways to tie in your existing products to a back-to-school promotion.
Aside from a few very niche retailers, like high-end jewelers or antique shops, there will be some ways to make a back-to-school connection work.
Market Towards Parents
Whatever you do, don't forget who's spending the money. Parents are typically still the ones footing the bill for back-to-school items.
In addition to that, remember that a lot of parents are trying to pinch pennies and get the biggest bang for their buck that they can find. While the kids might be more concerned about the products themselves, the parents will be much more concerned about their wallets.
With that in mind, take the time to highlight total savings with your promotions while still focusing on the overall value of the products. You want to walk a fine line between showing the parents that they're saving money while still appealing to the kids.
This marketing strategy also presents an opportunity for retailers that don't sell many school-related products. Businesses like salons, wine shops, outfitters, and others can promote some products for parents who are finally getting reaquainted with their free time. Make them feel excited about the prospect of their kids getting back to school and entice them with some special offers.
Create Promotions for Teachers, Too
It's not just parents and teachers shopping during the end of summer and early fall. Teachers will be out there, too. Most teachers get a (far too small!) budget for their classrooms each year. They'll often use this to buy extra school supplies such as pens and pencils, small chalkboards, book casings, folders, art supplies, etc.
Most teachers will be looking for these items in bulk since they likely have multiple large classes. Come up with some exclusive deals for teachers only that offer significant discounts for bulk purchases.
This will draw in an entire other segment of consumers and also highlight your business's culture as one that helps out your local community.
Host a Contest
Contests always draw attention, especially if there is a giveaway attached to it. You can help bring awareness to your back-to-school supplies by advertising a fun contest for shoppers to enter.
There are a number of ways you can structure contest giveaways:
Drawing/painting

Writing

Building

Photography

Volunteering
These encourage kids to stay productive over the summer and keep them engaged. It'll also make rewarding them fun and easy.
Try to make all prizes substantial. You don't want to give anything too valuable away but you also want to make sure that the contest draws significant attention and gains entries. Remember, a lot of the contestants will be likely to shop with you in addition to simply entering the contest.
Advertise Deals and Discounts on Social Media
Like it or not, most kids use social media. It will be the easiest way to market towards that demographic as you plan your back-to-school promotions.
Most social platforms now have incredibly powerful targeting tools. They've made it easier than ever for small businesses to run successful campaigns that reach the right eyes for the right price.
Improve your business's branding and make sure it's consistent across all social media platforms. Once in place, start running some campaigns and see which promotions get the most traction.
Continue Promotions Through the Fall
Your back-to-school marketing doesn't stop with the start of the school year. Kids and parents will continue shopping throughout the fall. So you should continue advertising to them.
A popular option is to run some steep discounts on items that you're overstocked on once the initial rush of shoppers subsides. It's impossible to perfectly predict what and how much to order. Rather than deal with overstocked inventory, it's wise to move through the product quickly and clear up shelf and warehouse space asap.
Small business owners can make their lives in this department a whole lot easier with inventory management software. Getting a retail POS with product management and sales reporting will give you more insight into your business, allowing you to order, price, and market more effectively.
Click below to learn more and schedule a product demo of KORONA POS.