Editor's Note: This post was originally published in March 2, 2017 and has been revamped and updated for accuracy and comprehensiveness.
Amusement parks are a place where families can enjoy spending time together, taking in the rides, shows, and corn dogs. What we don't always realize when we're there is that it takes a lot of time and effort to own and operate one of them. If you own an amusement park or any other type of business, there are a few things that you need to know to make your business stand out from the rest of the competition. With the right amusement park marketing strategy, your theme park will be next summer's big hit.
3 Main Groups of Strategies for Amusement Park Marketing
1. Solidify Your Marketing Plan
Stay consistent, achieve your milestones, and remain well-prepared with a solid marketing plan. Discuss your strategies for execution and map out all the steps you will take in order to reach every goal. Your business journey will never be a straight path, however, so remember to stay proactive. A solid marketing plan includes implementing well-thought-out loyalty and membership programs to increase your theme park's revenue.
A Theme for Your Theme Park Marketing Strategy
Amusement parks are often focused on a specific theme for each ride, store, kiosk, or waiting area. Do the same with your business as a whole. Use storytelling to explain your niche in multiple ways to potential customers. Your leadership team should tell a unique brand story that draws in customers. It doesn't have to be Disney caliber, but something that makes your theme park themed is a good place to start.
Plan for Emergencies
If a ride at the theme park suddenly stops working, the repair crew has to spring into action to get it back up and running right away. Any delay could mean injuries or even deaths. Do you have emergency protocols in place? What do you do to assist your current customers? How quickly are you able to resolve the problem?
Anticipate Infrastructure Changes
At some point along the way, a theme park will end up having to demolish an older ride. Whether it be that no one is riding it anymore or the technology is just too old, things happen. Planning for this protects overhead and paves the way for something better to come into the equation. Just as traditional business owners must plan to eliminate certain products from the shelves, so too much amusement park owners. It might not be a fun project to anticipate, but it's a smart business decision.
2. Marketing Your Theme Park with Your Website
There are many ways that your website can help with your amusement park marketing strategy. From search engine optimization to user experience, these actionable steps can get you to attract more amusement park enthusiasts.
Build Your Website's SEO
Increase your ranking and site traffic. Improving your SEO strategy is a large task, but one that can be done in small pieces over time. It's also important to always keep up with the current trends in SEO as they are always changing. Becoming more visible on Google and other search engines can make a huge difference to your bottom line.
Optimize for Local Search
Claim your business on Google My Business so that your business shows up on Google's search results page. Ensure you include your address to be publicly displayed so that it will also show on Google Maps. You can even set up ads directly on Google Maps, separate from the ads you can run on Google's main search results page. Aside from optimizing your GMB listing, be sure to set up profiles on multiple review platforms your visitors can talk about you on and collect as many reviews as you can. This helps tremendously in ranking higher on a user's local search results page.
Some customer review platforms your amusement park should be on:
See also: What Is Location-Based Marketing? A Guide for Retail SMBs
Allow Ticket Sales Directly Through the Website
With an eCommerce integration, theme parks can sell redeemable tickets through their website as easily as they can at the ticket office. This allows you to keep all sales and data in a single point of sale system for better inventory management and sales reporting.
Improve the User Experience
Pay attention to UX Design and add interactive features. Make sure your site is navigable and easy to make a purchase. Don't require extra steps during the checkout process. For ticketing purposes, add a simple interactive map so users can get an idea of what their ticket will get them.
Promote Your Deals Online
Make sure to promote online how customers can save and take advantage of your deals. 69% of shoppers are now looking for more deals and coupons online. Get strategic by taking all the high performing images and videos you've shared online and use them to create eye-catching ads to support your hard-to-resist deals. Also, create some retargeting campaigns to retarget your website visitors with an email, search engine display ad, or social ad that convinces them to visit your park soon. Try combining a special discount with a sense of urgency in your campaigns. And don't forget to utilize different online ad platforms such as Google Ads, Bing Ads, and Facebook Ads to maximize your reach.
Every good business owner should run promotions of some sort along the way. Not only is it a great way to get your name out there, but it also reaches a larger audience of people who might not have been able to afford something without the promotion in place. A great deal will boost your conversion rates. There are plenty of pricing strategies and retail promotion ideas that will bring more people through your gates and help your amusement park grow.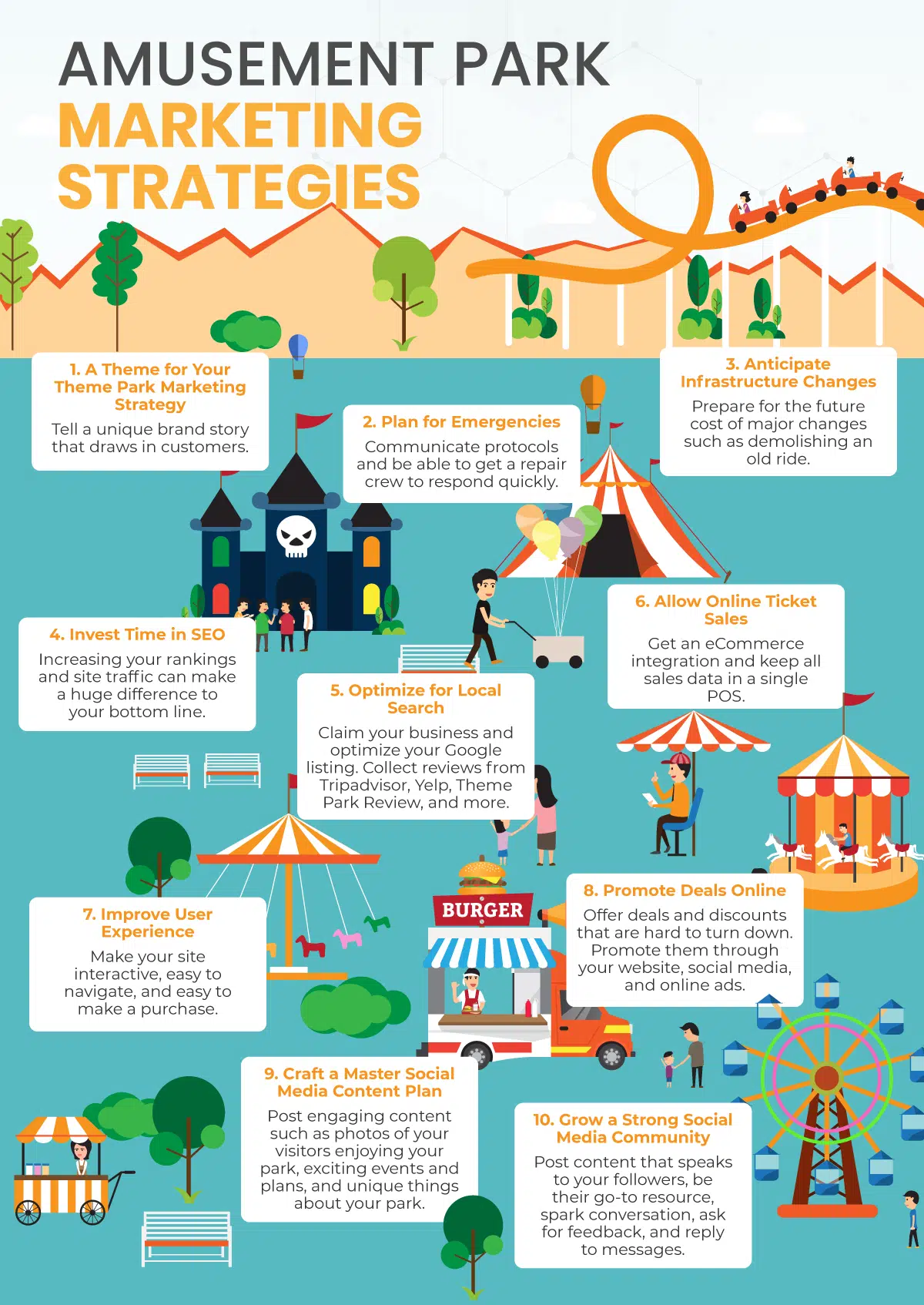 3. Social Media Strategies to Attract More Visitors
Whether your goal is to increase your following or convert more followers into visitors, the best social media strategies you can focus on is creating an efficient and effective content plan and putting a lot of effort into keeping your followers engaged.
Having lots of high quality content and a highly engaged audience on your social media is one of the most effective and important amusement park marketing strategies you can implement today.
Craft Your Master Content Plan
Keep a list of all kinds of content you want to post, the purpose behind each one, and how you plan to execute them. Then organize them into a content calendar, adding strategic captions and hashtags that aim to increase reach and engagement. Save time by batching processes like shooting pictures and videos, editing, and copywriting. And save even more time by scheduling them out to be posted automatically. Posting content often and regularly can be difficult but it works and can be done easier with automation tools and a strategic plan.
For specific theme park content ideas, here are a few you can take inspiration from:
Repost images and videos shot by your visitors

Highlight different services you offer

Highlight unique things about your theme park

Get GoPro footage of different areas of your park, especially your rides

Offer exclusive discounts to people who follow your page

Retell your unique story and the history behind your theme park

Share exciting new plans, events, and updates

Share customer reviews and experiences
Grow a Strong Social Community
Choose only a few social platforms and focus on the ones your customers are on. It's better to have fewer platforms with strong social followings than attempt to be in every social platform that exists. Set aside time to engage with your community. Don't just respond to your comments. Be the first one to reach out to show your appreciation, start a conversation, or ask for feedback regarding their experience.
Learn more social media marketing strategies by platform:
Amusement Park Marketing with KORONA POS
You can make your business as successful as you want it to be. It just takes time and patience to bring it all together and change things around. Experiment with these amusement park marketing strategies, focus on ones that work best for you, and continue to make improvements along the way. To take it a step further, find out more how an all-in-one amusement park POS solution can help your amusement park succeed. KORONA can handle your ticketing, kiosks, quick service restaurants, and gift shops all in one great point of sale system.
FAQs: Marketing Amusement Parks
How do you attract customers to theme parks?
From optimizing your website to local targeting and social media, there are many ways to attract customers to your theme park nowadays. Focus on building up lots of content, especially user-generated content, and show all the fun experience people can have when they visit your theme park.
What are some amusement park marketing strategies outside of SEO and social media?
SEO and social media marketing are great areas to focus on when promoting your amusement park but there are other options to consider. Try partnering with local hotels and creating promotional packages. You can also advertise at places where people travel such as buses, trains, and airports. Having billboards on major highways could be a good strategy too.
Generating lots of press coverage for your amusement park, like getting featured on popular travel blogs and media outlets like BuzzFeed can also be super helpful.
How can amusement parks use influencer marketing?
Influencer marketing, a subset of social media marketing, is a great strategy amusement parks can use to increase attendance rates. Theme parks can create a program where influencers create relevant content such as their experience, events taking place, and new attractions, food, or merchandise currently at your park.
4. What states have the strictest liquor laws?
The strictest states on alcohol are Pennsylvania, Utah and North Carolina. For example, in North Carolina, drink offers such as "buy one get one free" are completely prohibited.