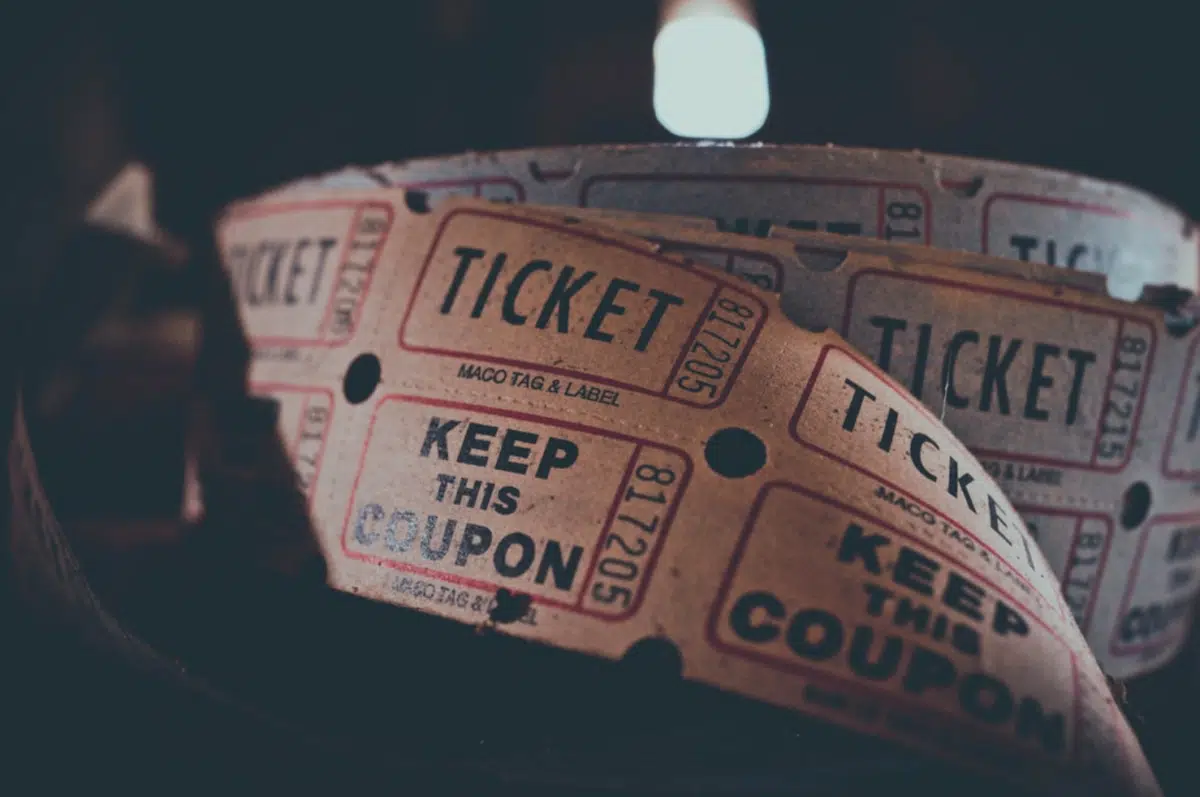 The event industry has been hit hard over the past two years by COVID-19 and continues to pay the price. Many museums, zoos, and other leisure centers were forced to suspend their operations. And only within the past few months has business truly begun to return to normal.
Still, as museums and cultural institutions work to reopen their doors, many are taking significant steps to facilitate physical distancing, contact tracking, and contactless access.
You May Want To Read: 7 Items to Consider for Museums and Theme Parks to Prepare to Reopen
One of the main ways organizations work within such constraints is through online ticket sales, particularly the introduction of timed ticketing to reduce lines and avoid crowds. But let's face it, online ticketing is no easy task. There are an array of ticketing platforms and pricing options. And choosing the right platform can be a bit daunting, whether you are new to the event industry or a seasoned veteran.
While paper tickets are still an option, they are not as convenient or cost-effective as online ticketing. And If you run a museum, zoo, theme or water park, you're likely prioritizing two things: how to sell tickets online and how to do so effectively. We've put together a step-by-step guide that will walk you through the process of selling tickets online and how to promote your event to engage with the right target audience in the right way.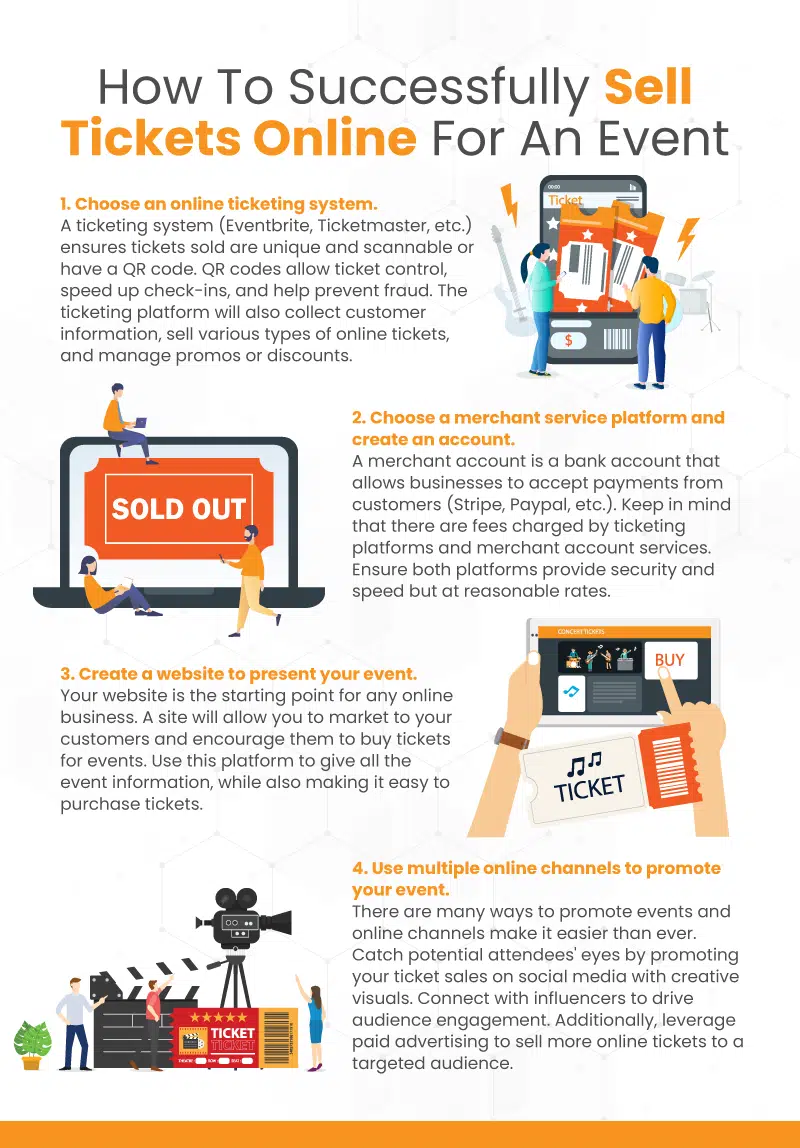 Table of Contents
Select a Reputable Event Ticketing Platform
Selling tickets online comes down to choosing a ticketing platform that will provide you with the necessary tools to manage the sales process. Your event ticketing platform also allows you to collect valuable information about your customers and the evolution of your sales.
An efficient ticketing system can also ensure that every ticket sold is tagged with a unique and scannable QR code. QR codes facilitate ticket control, speed up guest check-in at events, and help prevent fraud. The ticketing platform also allows you to sell different types of online tickets and manage special offers or group discounts.
How does an online ticketing platform work?
For any type of online ticket sales, the service will charge the purveyors of the tickets a fee. These fees will either be charged on a per-ticket sale basis or as a flat-rate package. However, it is essential to note that most ticketing platforms only advertise fees for the basic plan. Additional fees may be charged for more advanced event ticketing needs.
There are generally four main types of pricing:
Percentage charge on the value of each ticket sold

Fixed dollar amount on each ticket sold

Percentage and a fixed amount on the value of each ticket sold

A flat rate based on the number of tickets sold
There are several ticketing platforms on the market, each with its own features, customer support, and pricing structure. Therefore, it's up to business owners and managers to find the best solution that suits their needs.
For example, platforms like Eventbrite and Ticketmaster charge between 3% and 5% for their basic ticketing functions. This means that 3-5% is taken from the price of every single ticket sold. Unless ticket sales are only a small portion of your business's total sales, such a percentage is outrageously costly for businesses. Also, even then, you are not always guaranteed an unlimited number of tickets – some services charge a higher fee for selling more tickets.
Why should you use KORONA Event?
Unlike most ticketing platforms that charge a per-ticket fee, KORONA Event charges a flat subscription rate. To give you an idea of what most popular platforms charge, we've made a small comparison:
Ticketmaster, for instance, charges merchants 15% and your attendees an additional 10% for each ticket sold. Eventbrite charges 3.5% of the ticket value and a flat fee per ticket starting at $1.79. Stubhub, another popular ticketing platform, charges 10% to buyers and 15% to sellers for each ticket sale. On the other hand, KORONA Event offers a flat subscription rate, making it the most affordable ticketing software on the market. KORONA Event allows you to save on each ticket sale making your event that much more profitable.
Note
In addition to being a ticketing platform for museums, KORONA Event also operates as a retail point of sale system called KORONA POS. KORONA POS is specially tailored for retail sales and inventory management for museums, amusement parks, and water parks. Instead of using multiple solutions for different facets of your business operation, you can use an all-in-one system combining your POS and your online ticketing platform.
You May Also Want To Read: Museum POS Functions: 9 Features That Every Museum Must Have
Create a Merchant Account to Process Your Online Payments
Selling tickets online also means creating a merchant account to process credit and debit card information. A merchant account is a bank account that allows businesses to accept payments from customers in various ways.
Be aware that aside from the fees charged by the ticketing platform, merchant account services have their own fees for using their services. Some popular merchant account services include Stripe, Paypal, Paysafe, Helcime, etc. Be sure to choose a reputable merchant service that ensures security and speed but one that comes with reasonable rates.
Build a Website Optimized For The Event
Once you've chosen your ticketing platform and merchant account service, it's time to market your events through the website. Your website is the starting point of any online business, and it's where you can encourage your customers to buy tickets for your event. In addition, most guests will do some research on your business prior to making a purchase. Use this space as a chance to give a preview of what your visitors will discover, while also making it easy to buy tickets.
Businesses can create their own website with various popular tools like Squarespace. This is a great solution for many smaller operations that don't require custom features. KORONA Event offers this. But the solution also brings enterprise-level businesses a custom solution for both their online ticketing and eCommerce retail. Either option will keep your sales and inventory consolidated so that business can run smoothly.
Promote Your Ticket-Selling Website
Promoting your tickets gets the word out about your businesses and increases your sales. Here are some ways you can boost your ticket sales:
Promote your ticket sales on social media
There are several social media platforms that cater to different demographics. You need to take this into account in your marketing approach.
The most popular social media platforms for promoting theme parks, museums, and zoos are Instagram, Twitter, TikTok, and Facebook. You may also consider creating a YouTube account for your organization through which you can showcase what you have to offer to the public while linking to your site for ticket purchases.
It's best to post about your event often and regularly, even every day if possible. Use creative and eye-catching visuals to get people's attention. TikTok will be of great help in this case. Pay attention to hashtags and get your posts into the feeds of people who best match your event demographics, reducing the chances that the people most likely to attend won't see them.
Connect with influencers to drive audience engagement
Social media influencers have a significant level of knowledge and visibility in their field. Because of their high profile, they can influence the buying habits of a large number of people.
To find the best influencers to promote your event, first find out who your target audience follows on social media. Then, seek to connect with them and find a way to get them talking about your event.
Reach out to as many influencers as necessary, but be picky in your choices and ensure they fit your brand's image. When choosing influencers to work with, you may want to ask yourself some of the following questions:
What is the influencer's area of expertise?

How does your institution align with the influencer's audience and image?

Is a certain influencer and their audience using the same channels and platforms as your audience?

What does a typical follower of this influencer look like? Is this influencer likely to be interested in your institution?

What is this influencer's reputation? Are they generally well-liked?
Remember that every niche has its influencers:
Petfluencers, aka "pet influencers," are not just about dogs and cats. Many petfluencer accounts include rabbits, turtles, squirrels, horses, hamsters, hedgehogs, and more. Pet influencers are technically humans who post animal-related content on social media platforms. Just like regular content creators and influencers, each photo or video speaks to a specific audience and is designed to elicit a reaction and response. Petfluencers are perfect for attracting visitors young and old to a zoo.

Museum and art world influencers: The best example of how museums can leverage influencers is the Louvre's record-breaking 2018 attendance year following the release of Beyonce and Jay-Z's

Apeshit

video. The video used the Louvre as a backdrop, showcasing artworks throughout the museum. Following its release, the Louvre welcomed 1.2 million visitors in 2018, a 25% increase over 2017. While Béyonce and Jay-Z's sponsorships don't appear all the time, the same principle can be applied on a smaller scale to any cultural institution.
Finding the most followed influencer is not necessarily the best approach; you should seek out the person who has developed the best trust with your target audience. Carefully consider who you're approaching and their celebrity before approaching them. You are entrusting the reputation of your institution to a third party so you need to ensure that the relationship you build with them is what you are looking for and that the influencer represents your institution and your values.
See related: How to Increase Museum Attendance: 7 Ways to Increase Engagement
Leverage paid advertising to sell more online tickets
Social media marketing and partnerships with influencers are certainly profitable but may not be enough to sell all your tickets. People may know about your event but may not feel compelled to buy tickets. That's where paid advertising comes in. Unlike social media campaigns, where you often shoot blind and hope that promotions reach the target audience, Google ads can be geared to the demographics (gender and age) and the location of the people searching. Just be sure to cap the amount you want to spend on your ads. Omitting to limit your ad budget can mean you spend more than you earn. You can also leverage more ticketing-specific online ad spaces, such as Trip Advisor, Yelp, etc.
How To Sell Tickets Online For An Event Successfully: A Recap
Selling tickets online for your museum, zoo, gallery, etc. can be done in four steps:
Choose an online ticketing system like KORONA Event

Create a merchant account on a platform of your choice

Create a website to present your event

Leverage multiple channels to promote your event
FAQs: How To Sell Tickets Online
Where is the best site to sell tickets?
The best site to sell online tickets is one that allows you to sell tickets without charging enough fees to make your sales profitable. A good online ticketing platform should also give you the flexibility to choose the type of merchant service that suits you while also offering you various ways to customize your ticket sales. The online ticketing platform KORONA Event gives you all these advantages.
How do you sell tickets on the Internet?
You can sell tickets on the internet through a ticketing platform. The ticketing company lets you sell your tickets through their system, but in return, charges a fee on each ticket sale.  These fees will be charged depending on the ticketing system you choose.
How much does Ticketmaster charge to resell tickets?
Ticketmaster ticketing fees may include a service fee, an order processing fee, and sometimes a delivery fee. Typically, they charge customers a 10% service fee and the merchant 15% of each ticket's value.
What is a ticket tracking system?
A ticketing system is a software tool that processes and organizes customer service requests. The tickets must be properly stored with relevant user information. A ticketing system must be user-friendly for customer service representatives, managers, and administrators and offer reasonable usage rates.