Last Updated: March 23, 2022
Running a well-planned retail promotion is vital for any business. They can drive sales, help move through inventory, bring in new customers, and keep old ones. But like a good business plan, be clear with your goals and objectives. Do your research and make trial runs before committing large quantities of product so you can avoid any unwanted surprises. But also get creative and figure out what type of retail promotional ideas would be best for your small business. You can combine promos with in-store events, community gatherings, loyalty programs, holidays and seasons (check out our blog on summer promotions), or even ways to branch off into different markets for your small business. But for the purposes of this blog, we'll focus on some of the most common pricing promotions.
Before jumping into retail promotional ideas, a word of warning! Be diligent in your research and analysis before, during, and after running a retail promotion. Use your retail POS system to run sales reports. These will highlight the success or failure of certain promotions and give you a better direction in your planning.
Stacy Caprio of Accelerated Growth Marketing recommends, "carefully setting up the promotion so it won't hurt your bottom line off the bat. To do this, you can calculate your profit margin per item and make sure your discount is still above this point and in the profitable range." This is easy to do with a modern point of sale solution. During and following the promotion, she also advises paying close attention to your bottom line: "Double check to make sure it was a profitable time period. If it wasn't, you will want to make sure not to run such a steep discount in the future."
1. POS Marketing Displays
Take advantage of the space near the point of purchase and point of sale. POS marketing can make big changes to your bottom line. We all know what these items look like (how else would you know what Kirstie Alley has been up to for the last two decades?), but it's universal because it works well. Choose items that are more likely to be impulse buys or small products that customers may have forgotten while shopping. The space around your point of sale system is some of the most valuable in your retail store, so give it the attention it deserves. Check out these blog pieces: point of sale marketing & brick-and-mortar retail sales for a more detailed look.
2. Storewide Percentage Markdowns
Offering a flat markdown on all products is one of the most effective promotional strategies for attracting both returning and new customers. It's straightforward and applies to every client that walks through your doors. They are also less risky because you'll know exactly how the discount will affect your profits from the beginning.
Many retailers also combine such markdowns with charitable donations. Customers love getting a 5% discount while also knowing that 2.5% of their purchase is going to their local animal shelter. Your POS system can also categorize and analyze all of your promotional sales, allowing you to easily see trends and profits.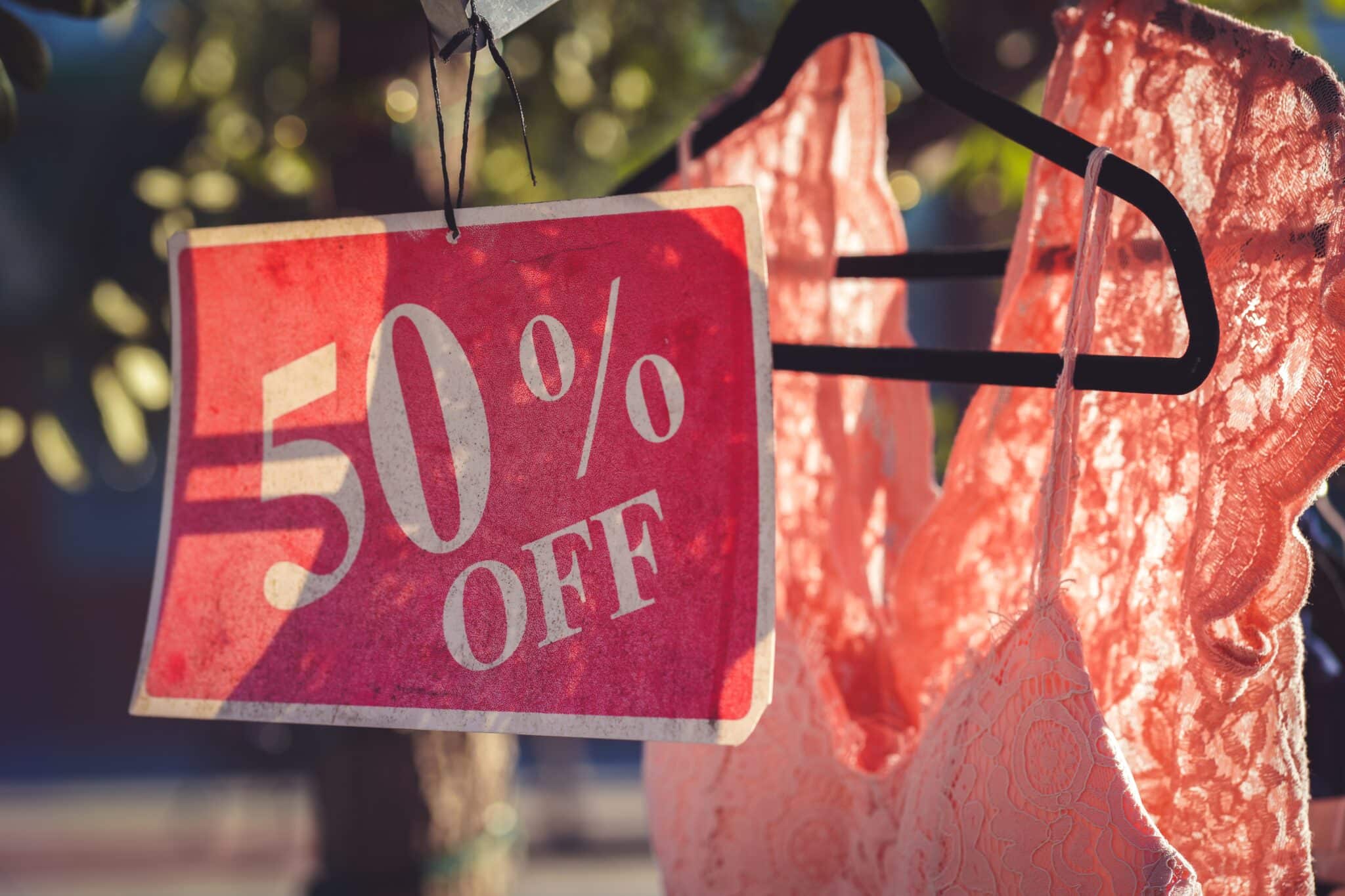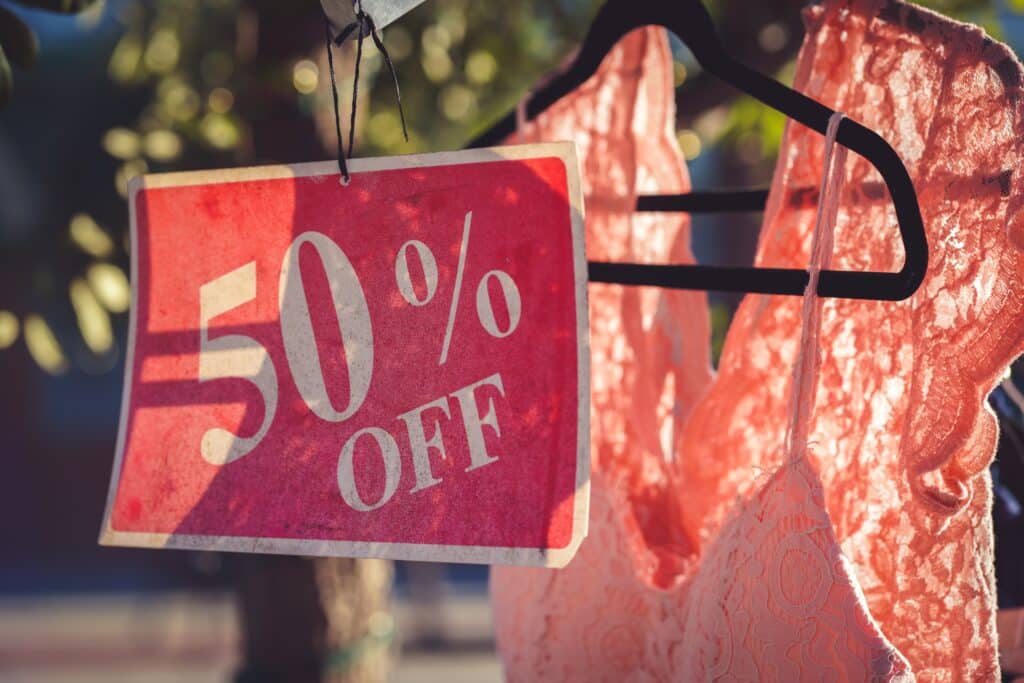 3. Actual Dollar Amount Retail Discounts
Offering coupons or dollar amount discounts is sure to entice new customers. Often times, even is this is less than a percentage promotion, it will look more attractive. This strategy is great for higher priced items. Casper Mattresses, for instance, almost always run $50-100 off promos. Even though 15% off would be a better deal for most of their products, seeing that $100 discount seems more like cash that stays in our pocket. Coupons offered upon purchase is another popular strategy. Your retail point of sale can easily print an additional bar or QR code on qualifying receipts. This encourages a quick return to your store.
4. Mailed or Electronic Gift Cards
Gift cards are an easy way to get people into the store. It's great for generating more foot traffic and returning customers. It's also nearly a guarantee that customers will spend more than the value of the gift card as well. Many retailers set a minimum purchase in order to apply the gift card. While not as generous, it protects profits and customers still appreciate the discounted price.
Electronic gift cards are becoming more and more popular. Use your email marketing campaign to send these out, encouraging those in your customer database to pay attention to your emails in the future. Mailings are also still effective but are more expensive and wasteful than email offers.
5. Bundled Pricing and Multi-Buy Deals
Buy one get one marketing is the classic example of bundled pricing but there are endless variations (buy one get one 50% off, buy 3 get 1 free, etc.) on this that might be better suited for your store or specific products you'd like the run.
This strategy is ideal for use with products that need to move. It also encourages higher-end purchases that the customer would not have considered otherwise. If you own a liquor store, running a BOGO on several nicer brands of bourbon or wine will get that product out the door much more quickly. And because of the higher perceived value of the discount, it's the easiest to convert with sales. But it's imperative to analyze the financial consequences of this promotion type even more than other strategies.
This retail promotion idea also performs better with commodities or "near commodities," especially those that are non-perishable. Such high demand items sell better in bulk. Just be careful to try not to the give a second for free if the customer was already planning on buying two. It's much more financially advantageous to give away product than to take a sale away from yourself.
6. Conditional Promotions
Conditional discounts are closely related to bundled deals. But in this case, retailers can combine a purchase with a storewide discount, loyalty benefits, or specific sale item. Below are a few basic examples:
Buy a certain item and save a percentage off your whole bill

Spend a certain amount and get a free item

Buy a certain number of a product and earn double rewards points

Reach a spending threshold and get a discounted specialty item
For eCommerce retailers, the conditional offer of free shipping is another popular strategy. Again, there are innumerable variations. Choose a strategy that makes sense and won't ruin your bottom line. And encourage the purchase of products that a certain customer wouldn't normally purchase.
KORONA POS Can Help with Your Retail Promotion Strategies
With KORONA POS, you have a 24/7 access to our support team. We always have ideas for each of our customer's stores and will help you navigate your point of sale to find the best retail promotion ideas for your store. Click below to start your free trial today!
Get Started with KORONA POS today!
Tell us a little bit about your business and explore all features that KORONA POS has to offer. And there's no commitment or credit card required.