Ticket printing systems need to cover a variety of tasks for the businesses that sell them. And different businesses have different needs when it comes to their ticketing software. Some only need common paper tickets, but others need wristbands, multi-day use, membership cards, gift cards, in-app tickets, or personalized cards with a photo ID. So why not go for the all-in-one ticketing POS system? Check out KORONA's software integrations that make it a powerful and versatile ticketing solution.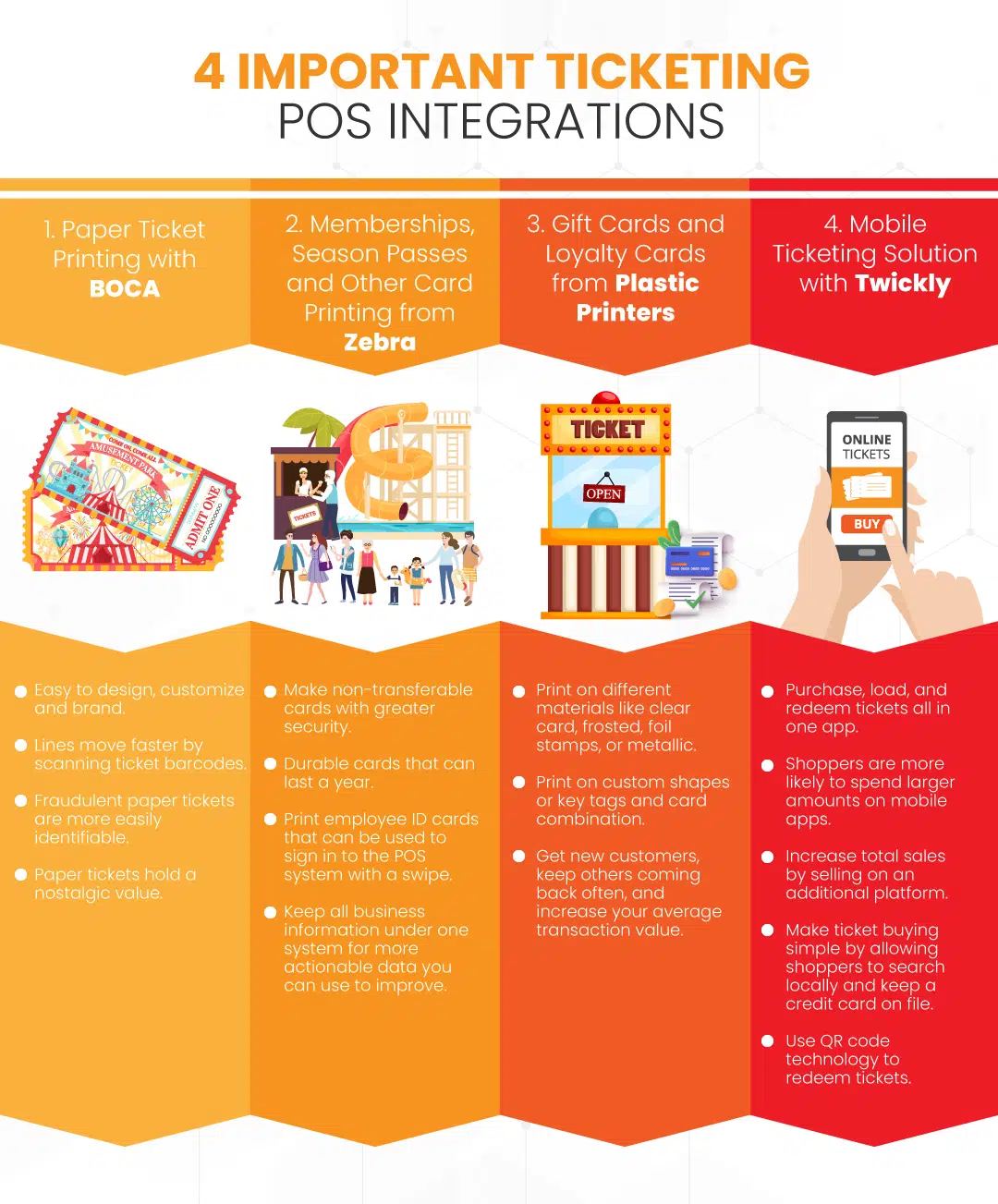 1. Paper Ticket Printing with BOCA
BOCA Systems invented the thermal ticket printer back in 1985. This makes their printers faster, more reliable, and cheaper. BOCA is also devoted to producing an environmentally sustainable product. All inks are water-based, tickets are chemical-free and paper is adherent to the Sustainable Forestry Initiative (SFI). Additionally, all tickets are recyclable and their printers minimize energy consumption.
BOCA's ticket printing is fully integrated with KORONA. They provide high-quality printers, great customer service, and vast ticket customization. While some businesses have moved to electronic ticketing, there are some advantages to offering paper tickets:
Paper tickets are easy to design, customize, and brand.

They still hold a nostalgic value. Many users love to keep a hard copy of a ticket they used to attend an event or space.

Lines move faster. Scanning ticket barcodes is fast and easy. Phone apps or other electronic ticketing leaves more room for user error and delayed lines.

Paper tickets eliminate the problem of a dead cell phone. A dead phone can hold up your lines and leave everyone in a stressful situation.

Similarly, fraudulent paper tickets are more easily identifiable. E-tickets that don't scan are very difficult to verify.
Paper tickets are great for businesses that only host single events so that the ticket never has to be reused. Don't offer paper tickets for annual memberships or re-entry events.
2. Memberships, Season Passes, and Other Card Printing from Zebra
While certain businesses only need a paper printing system, many other ticketing businesses need more durable car printing. That's why KORONA integrates with one of the best card printers on the market: Zebra. While Zebra can print gift and loyalty program cards, it's most valuable feature is the ability to individually customize each printed card.
Businesses that don't allow transferable memberships need cards with greater security features. Zebra can print each card with a name and photo ID to ensure that only the card owner can redeem any appropriate services. This is an important feature for zoos, pools, golf courses, museums, water parks, amusement parks, or any other number of membership-based venues.

Plastic cards are also much more durable. An annual pass can survive a year.

Zebra can also provide employee ID cards that can be used to sign in to the POS system with a swipe. This provides another layer of security for your staff. Any actions made on the point of sale can be identified by an individual since they will be signed in with their card.

These cards can be used in both retail and hospitality/services, making it a dynamic solution for most business types.

Finally, having all business information under one umbrella gives businesses more actionable data and analytics, helping you meet customer expectations and improve your business.
Since this is fully integrated with KORONA's amusement park and museum POS systems, any action made on the card will be reflected in your point of sale inventory and reports. It keeps all information organized and consolidated in one place.
3. Gift Cards and Loyalty Cards from Plastic Printers
KORONA works closely with Plastic Printers, our most trusted and reliable card printing service. For businesses that don't need cards with valid identification, this is a great solution.
Order directly through Plastic Printers rather than purchasing the card printer and completing each on-location. This saves money for the up-front purchase and maintenance of a large printer.

The cards are easy to customize to fit your business and marketing.

They print on different materials, such as clear cards, frosted, foil stamps, or metallic. Plastic Printers can also print custom shapes or key tags/key tag and card combination.

Gift cards

and

loyalty programs

should be an important part of your marketing strategy. They're great ways to get new customers in your doors, keep others coming back often, and increase your average transaction value.
For businesses that don't need a more nuanced membership solution, this type of card printing integration is a valuable option.
4. Mobile Ticketing Solution with Twickly
Twickly is KORONA's newest ticketing integration. It was built to make all ticketing operations mobile-friendly. You can purchase, load, and redeem your tickets all in one app.
You'll never have to worry about the print-at-home

option or long will-call

lines.

Mobile and in-app purchases are on the rise. And shoppers are more and more likely to spend larger amounts on mobile apps. Twickly allows your business to sell on an additional platform, increasing overall sales.

Twickly makes ticket buying as simple as it gets. Shoppers can search for shows in the area and keep a credit card on file. This will reduce abandoned carts or dead sessions.

The app uses

QR code technology

to redeem the tickets. Make sure your ticketing point of sale can read QR. More and more solutions are using this technology.
While Twickly may not be necessary for many events, app-based ticketing is the wave of the future. Even if you're not thinking about it just yet, keep it on your radar as the technology changes and becomes more ubiquitous.
See related: What Is the Best Online Ticketing System
Advanced Ticketing POS Peripherals with KORONA POS
Not only can KORONA POS integrate with each of these tools for ticketing sales, but it can also provide turnstiles and handheld scanners to facilitate the entry process. For gates without staff members, you'll need an automated scanning system connected to the turnstile. If you want more face-to-face interaction with guests, consider getting a handheld barcode scanner for entry. KORONA POS will work with either. To find out more about what makes KORONA POS a great ticketing POS technology, click below to register for your free trial and demo. We'll walk you through the software and each integration that will benefit your business.
Get Started with KORONA POS today!
Tell us a little bit about your business and explore all features that KORONA POS has to offer. And there's no commitment or credit card required.