Whether you run a museum, an amusement park, a zoo, or an entertainment venue, online ticket sales are most likely a big part of your revenue. However, finding the best online ticketing system to meet your needs is not a trivial matter.
And it quickly gets more complicated with the plethora of ticketing platform options on the market. Researching all options and understanding the pros and cons of each is a tedious process, and it's one that's going to be unique for each type of operation. While a non-profit performing arts center might need more advanced features for collecting and managing donations, for instance, a zoo or water park might be more focused on a powerful membership and CRM system.
In the end, the success of your business comes down to how to choose the best online ticketing system. What are the factors that go into making the best choice? All those questions will be addressed in this blog. Read on to find out more.
Table of Contents
What Is The Best Online Ticketing System?
The best ticketing platform for your event depends entirely on the needs of your establishment. On that note, there is no one-size-fits-all approach to ticketing, and each sector of activity requires different functionality. But ideally, ticketing and event businesses can find a solution that can fulfill all of your needs.
The best ticketing system is the one that improves your customer experience, drives sales, offers insight into your performance, streamlines operations, and, in the end, supports your efforts to scale your business. The best online ticketing platform also must support all segments of your operation. And for ticketing businesses, this can be a lot: online tickets, online retail, gift shops, quick-service restaurants, in-person ticket sales, valid ticket redemption, self-service kiosks, memberships, promotions, special exhibits, and more.
Moreover, it must be convenient and easy to use for your team. Whether it's organizing events, promoting your tickets, analyzing data, or managing customer service, the ticketing platform must enable you to navigate through all these aspects. Therefore, discussing your venue's needs with your team and other parties is important before making any decisions.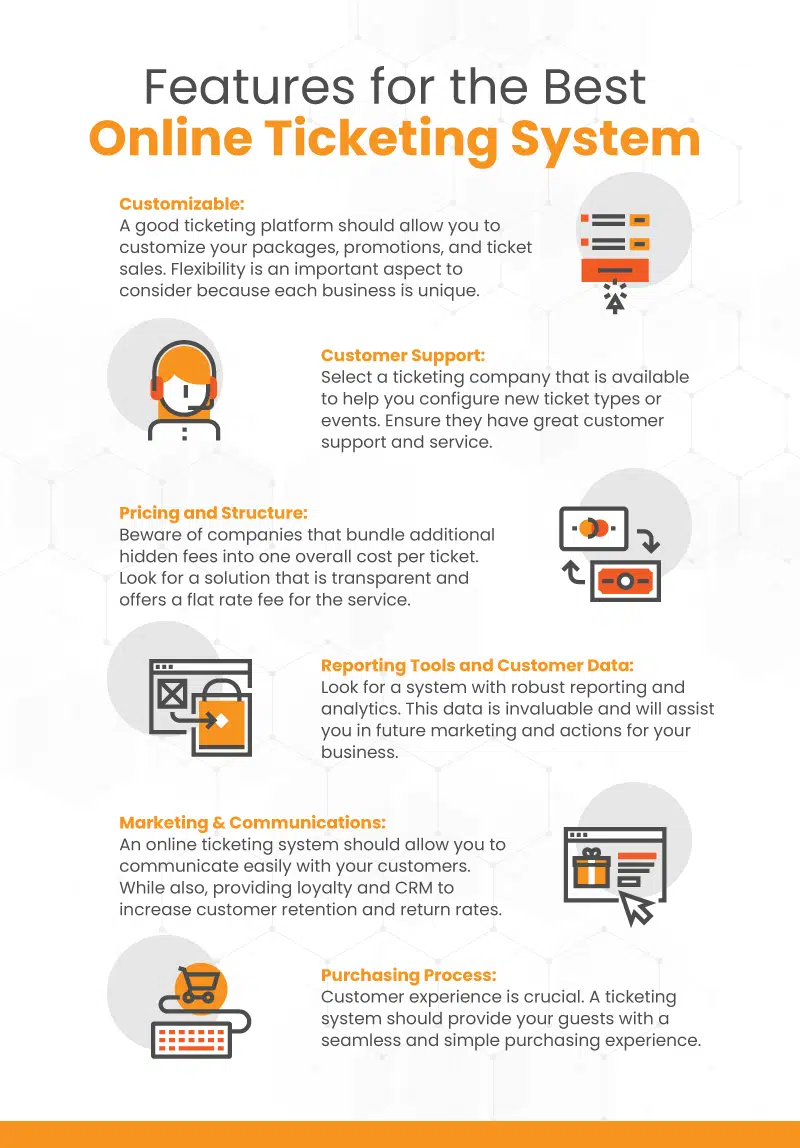 Points To Consider When Looking For Your Next Online Ticketing System
Before choosing an online ticketing platform, consider the following features:
Customizable: A good ticketing platform should allow you to customize your packages, promotions, and ticket sales. It's a hindrance to be limited to selling one or two types of tickets. Some event ticketing software providers may allow you to customize the platform to your preferences and will enable you to bundle certain items. This flexibility is an important aspect to consider when choosing a ticketing platform.
And such customization should extend to both online and in-person sales. A customizable eCommerce solution is just as important. Finally, make sure that the cashier functionality and layout is also adaptable. You want to make the checkout process easy for both you employees and customers. Plus, it's important to control access through various permissions. Overall, advanced customization helps make the software work for your business so you don't have to adapt to the software.
Customer support: Customer support should be one of your top priorities when choosing your ticketing system. There is no point in selecting a ticketing company that is not available to help you configure new ticket types or events. Can you do the customizations yourself, or do you have to contact your supplier? Do they help with onboarding and training? What is their customer support availability? How easy and fast is it to get in touch with someone? Check out product reviews on sites like G2, Software Advice, and Sourceforge to get more insight into this.
Pricing and structure: Ticketing platform pricing can be a minefield, and the impact on your event budget is often significant. With the countless number of online ticketing platforms, you'll likely encounter a multitude of options for fee structures that are downright silly. In general, the advertised price covers the costs of the ticketing platform, and the payment processing costs are added separately.
In such cases, the payment processing fee is usually passed on directly, and the ticketing platform does not take a margin of this cost. Beware of companies, however, that bundle these two fees into one overall cost per ticket. This reduces transparency and often results in the software provider adding a surcharge to your processing costs. Additionally, inquire about the pricing model. Many ticketing solutions charge on a per-ticket basis. For the vast majority of ticketing businesses, this adds to your overall costs, usually significantly. It's typically better to find a solution that offers a flat rate fee for the service.
Reporting tools and customer data: The first stage of improvement is knowing what needs improvement. That's why insights are one of the most essential features of a sound ticket management system. Based on the requests you receive, they will allow you to see what customers are looking for, how they are being answered, and how your team is performing overall.
Your online ticketing system should allow you to collect data about your customers, too. Additionally, look for robust reporting and analytics. This data is invaluable and will drive almost every action your business takes. Is your data cloud-based? Is it exportable to applications like Microsoft Excel and other applications?
Marketing & communications: Your online ticketing system should allow you to communicate easily with your customers. Are you able to automate pre-and post-visit messages? Can you send targeted and timely communications, and can you do so directly from your ticketing system? All of these questions need to be addressed with the online ticketing company. Ideally, your point of sale system is fully integrated with a CRM system to help you manage this side of your operations. Your loyalty and CRM are critical aspects of increasing customer retention and return rates.
Purchasing process: What is the buying process like? Is it attractive and engaging, or is it confusing? Do guests have to create an account to purchase tickets? If so, do you want them to do so? Is there a way for members or VIPs to access special tickets or exclusive offers?
Does your facility value the ability to offer the ability to purchase multiple events, memberships, and donations in one sales basket? Can you create a special event or exhibit entry? Again, the customer experience is so critical. You need your ticketing system to provide your guests with a seamless experience.
KORONA Event: The Best Online Ticketing Software
KORONA Event is an online ticketing system specially tailored for museums, zoos, theme parks, water parks, or event centers. The event management software allows for easy inventory management integration for your eCommerce and in-person retail side of operations and a customizable event platform with a simple calendar for ticket and tour booking. KORONA Event also enables you to create recurring events with the ability to add size and time constraints.
Unlike many ticketing platforms that charge exorbitant per-ticket rates in addition to credit card processing fees, KORONA Event instead charges a flat subscription rate. Another advantage of KORONA Event is that you can choose the merchant service that best suits you, allowing you to find more favorable rates. Plus, the customer support team is available to help you with onboarding, training, and ongoing support issues.
KORONA Event also comes in the form of an advanced POS software called KORONA POS. This means you can provide a smoother experience for you and your customers with the online ticketing system integrated with your POS system.
Other Event Ticketing Software
There are many websites that people can turn to in order to buy or sell tickets for a particular event. Each platform is unique and offers different features depending on the type of event.
Brushfire
Brushfire is an online ticketing platform for non-profit and ministry-related organizations. It is primarily tailored for concert organizers, camps, plays, sports, classes, and gatherings and supports multi-level ticketing. The software also offers a subscription model and a per-ticket model. The standard package costs $2,988 annually and covers 750 weekly or 2,000 annual attendees.
Ticketleap
Ticketleap is another event ticketing software where you can sign up for a free account, set up an event page, create different ticket price levels, and start selling tickets. Ticketleap also comes with customizable templates. In addition, it allows users to learn and grow as event organizers through their educational platform called Events University. The platform contains all kinds of information to help you plan your event. Ticketleap's fees include 2% + $1 per ticket paid, plus a 3% credit card processing fee. However, according to a Capterra study, Ticketleap is only suitable for one-day events.
Agile ticketing solutions
Agile Ticketing Solutions provides enterprise-class ticketing solutions that can be tailored to meet the needs of the smallest community art house to the largest film festival. From full-service ticketing, call center order entry, and online and kiosk sales to customer relationship management and reporting, Agile Ticketing Solutions offers a complete suite of fully integrated software and services designed to support your marketing efforts and ticketing operations. Agile Ticketing Solutions is tailored for universities, historic theaters, performing arts venues, and art galleries.
Eventbrite
Eventbrite is one of the most popular online ticketing systems used by entrepreneurs. It allows you to reach new audiences looking for events in their area while organizing the back-end information for your event. It integrates well with Facebook events, so people browsing Facebook can purchase directly from the app without going to Eventbrite. Track events on the go from any device. However, the app doesn't have enough customizable options for the event page. Eventbrite offers two packages for using its services: the Essential Package and the Professional Package. For the Essential Package, the service fee is 2% + $0.79 per ticket sold and 2.5% per order for Eventbrite's payment processing fee. For the Professional Package, Eventbrite's service fee is 3.5% + $1.59 per ticket sold and 2.5% per order for payment processing fees.
Bizzabo
Bizzabo is uniquely designed for medium to large professional organizations that host multiple events per year. The platform allows you to integrate your event registration form with your website and offers advanced statistics and analytics compared to many competitors, like Eventbrite. The software has integrations with over 750 platforms such as Mailchimp, Slack, Zapier, etc. But, according to some users, setting up your registration page takes more time than other event ticketing platforms. Also, some customers complain that it's difficult to customize the look and feel of event pages.
FAQs: Best Online Ticketing System
1.
What is the best alternative to Eventbrite?
There are several alternatives to Eventbrite. Online ticketing platforms like KORONA Event, TicketBud, Soapbox Engage, Ticketmaster, are all alternatives you can use in lieu of Eventbrite. 
2. What software is used in ticketing system?
Event organizers have several online ticketing systems at their disposal. The best platform depends entirely on the needs of your venue. It is therefore important to discuss your expectations with the ticketing company to ensure you have made the best choice.  
3. Which is the best ticketing tool?
There is no one-size-fits-all approach to ticketing tools, and different industries require different functionality. The best online ticketing system should be attractive to your customers and help drive sales and provide a positive experience. A non-profit performing arts center may need more advanced features for collecting and managing donations, while these features may be less important for a theme park.
4. What is online ticketing system?
An online ticketing system allows you to catalog all interactions that take place between your customers and your support team. The ticket system software assigns a number to each customer interaction and records it as a ticket in your database, which helps your team track, monitor, and resolves issues.